Umbrellas are very versatile; they have so many uses. One of such is that corporate organizations use umbrellas in their promotions. They are not only efficient when it comes to displaying your brand; they are also instrumental in terms of offering protection.
Because of their cost-effectiveness and utility, custom umbrellas are popular in the corporate world. You can get several designs and patterns in the market today. And choosing the right one is very important for your business and customers.
However, some business owners do not know the first thing about buying custom branded umbrellas. When this is the case, such businesses end up with custom umbrellas that are subpar.
If you buy inferior umbrellas for your brand, it would not be a good look for your company. In the end, your promotional items will end up doing more harm than good.
For this reason, we have written this article to guide you as you purchase custom branded umbrellas for your business or other branding activities.
What Are Custom Branded Umbrellas?
Custom branded umbrellas are best known for sheltering individuals and advertising brands. Umbrella manufacturers design these umbrellas to protect the users and showcase a business. They ensure that both users and non-users benefit from the umbrellas.
Some standard custom branded umbrellas include golf umbrellas, patio umbrellas, mini umbrellas, wooden umbrellas, beach umbrellas, etc. Whichever of these options you choose as your custom branded umbrella depends on your event, brand, and budget.
Custom branded umbrellas are convenient because you can use them on multiple occasions and for various reasons. Giving umbrellas as gift items to customers reminds them of your brand or event for as long as they continue to use the umbrella.
For example, a branded golf umbrella protects your customer during the sun or rain while playing golf. At the same time, it advertises your company or brand to other people that see the branded umbrella in use. Using a custom umbrella is smart for your business and a very effective publicity strategy.
Why Should You Use Custom Branded Umbrellas?
Principally, businesses use custom branded umbrellas for advertisement. They are a practical way of publicizing your business or your logo. Branded umbrellas give your business more coverage, helping you reach out to your target audience.
With portable umbrellas, your customers take evidence of your business everywhere they go. Stationary umbrellas (like the patio or market umbrellas) inform passersby about your brand.
Another reason you should use branded umbrellas is that they are budget-friendly. It does not matter if you have a small budget or a big one. You can customize branded umbrellas to fit in well with your intended budget. In essence, your brand is promoted.
These colorful, durable forms of advertisement are, no doubt, an excellent choice for your event and brand.
Things to Consider When Buying Custom Branded Umbrellas
There are several umbrella choices in the market today. If you have decided to use custom branded umbrellas, there are some essential things you have to consider.
Before you make your choice on custom branded umbrellas, there are some questions you need to ask yourself. Knowing the answers to these questions will help you make an informed decision when making your purchase.
What Type of Umbrella Should I Choose?
There are several types of umbrellas in the market today. When choosing your custom branded umbrellas for branding, you have to decide which type of umbrella you want to use.
Before you choose, you have to acquaint yourself with the various types. The most common types of umbrellas used by corporate organizations are golf, mini, automatic umbrellas, etc.
a. Golf Umbrellas

Umbrella manufacturers initially designed golf umbrellas to protect golfers and their belongings while on the golf course. Now, corporate enterprises use golf umbrellas for their brand and promotions.
Golf umbrellas are typically bigger than the classic umbrella. A golf umbrella can conveniently protect more than one person under its canopy because of its size.
b. Mini Umbrellas

These umbrellas come in a variety of fun colors and styles. They are unique because they are small enough to fit inside a jacket, purse, or bag.
Mini umbrellas are compact and easy to carry around. Due to this fact, when a company chooses mini umbrellas for their brand, it makes advertisement easier and more effective.
c. Automatic Umbrellas

This type of umbrella has a mechanism that allows you to open and close the umbrella automatically. You do not have to struggle before opening or closing the umbrella with this feature.
Automatic umbrellas are functional and useful in all weather conditions. Thus, they are in high demand and are very popular today.
d. Telescopic Umbrellas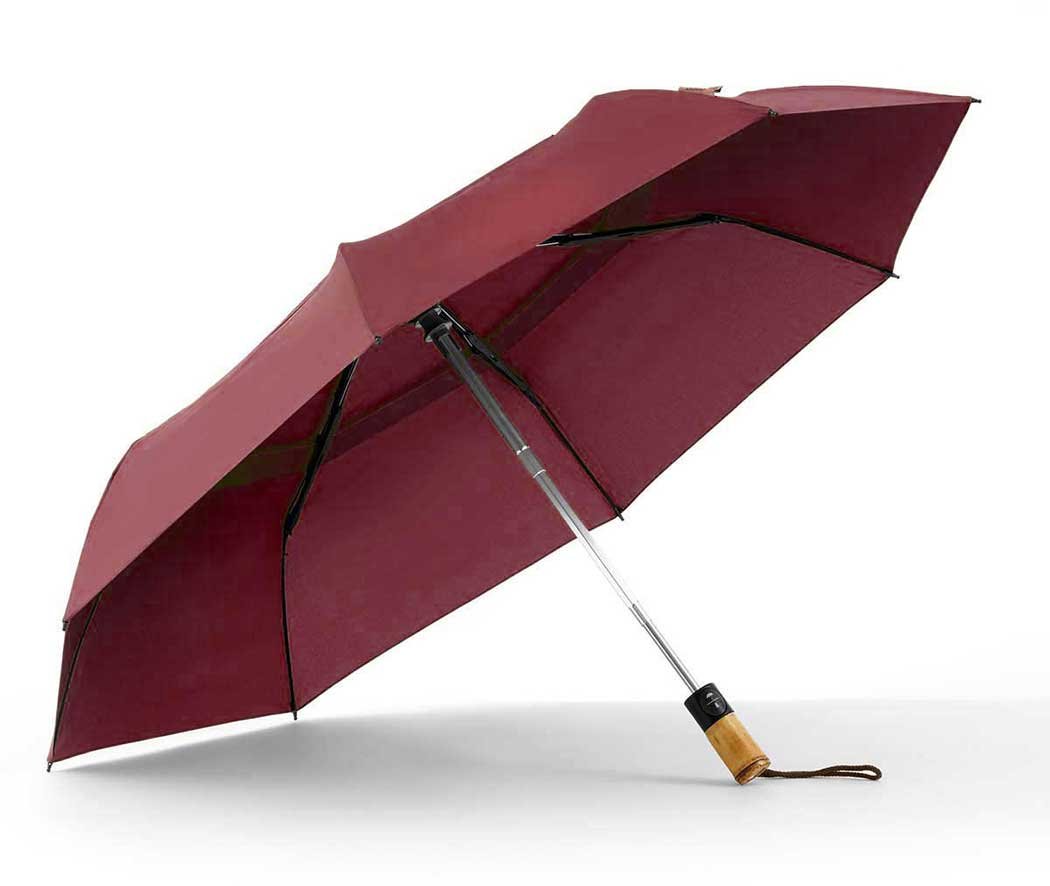 Telescopic umbrellas are excellent protection from the rain. They have a lightweight feel and are comfortable to hold or grip.
Manufacturers gave these umbrellas the name "telescopic" because their poles can become shorter by being folded, making them portable. Furthermore, a telescopic umbrella is stylish and efficient.
e. Bubble Umbrellas
When using bubble umbrellas, you do not need to tilt the umbrella's canopy in the wind or rain's direction. The bubble-like top keeps you protected from whatever angles the winds and rain are coming.
Some bubble umbrellas have their canopies extend to the user's chest or even waist. Bubble umbrellas usually have clear canopies making it easy to see even in the rain.
What Fabric Should I Choose for the Umbrella's Canopy?
Before you purchase your custom branded umbrellas, you have to get familiar with the different fabrics used in umbrella manufacturing.
When choosing the umbrella fabric, you have to select a durable and waterproof fabric. Some of the most used materials in the umbrella industry are polyester, nylon, pongee, etc.
a. Polyester
Polyester is a fabric made from a synthetic polymer called polyethylene terephthalate or PET. This fabric is exceptionally durable and resistant to shrinking or stretching.
Using polyester has other advantages. For example, the fabric makes your colors brighter. Also, it has a smoother feel. When it comes to prices, it is relatively cheaper than others. Lastly, it is easy to maintain polyester.
b. Nylon
People regard nylon as the most popular among umbrella fabrics, and for worthy reasons. This fabric is lightweight, flexible, and yet strong and resilient. Additionally, the nylon fabric does not easily allow water to seep in. After exposure to water, the fabric dries quickly.
When tightly woven, nylon fabric can block out UV rays when used as an umbrella canopy. If you rub the nylon umbrella against surfaces, you can be sure there will be no abrasion or friction.
c. Pongee
Pongee is a soft Chinese fabric made of thin, unbleached threads. The pongee fabric's threads are tightly woven, and it feels like cotton. It also offers top-notch UV protection.
Pongee provides adequate protection from harmful ultraviolet rays. It has a better waterproof function than the rest of the fabrics. Additionally, temperature changes do not easily change this fabric, and it does not have creases.
How Big Should the Umbrella's Canopy Be?
The ideal size for your custom branded umbrellas is dependent on certain factors. These include: where will the umbrella be used, who it is for, and what they will use it for.
You could choose an umbrella with a large canopy if you plan to use the custom branded umbrellas in cafes, restaurants, or hotels. Umbrellas in this category include patio umbrellas, market umbrellas, or beach umbrellas.
On the other hand, if you are looking for something with a more moderate size, you could go for a telescopic or classic umbrella.
Essentially, the size of your custom branded umbrella's canopy should match the specific needs of your customers and staff alike.
How Is the Weather Like?
If you live in a country like the United Kingdom, an umbrella might be the best choice for your promotions. With such unpredictable weather, your staff, partners, and customers will be glad to carry your custom branded umbrellas.
Some regions have strong gusts of wind that accompany rainfall. You will need a sturdy, anti-wind umbrella in a situation like this. As an example, you could choose one with a fiberglass umbrella frame.
If, on the other hand, you live where there is a limited amount of rainfall throughout the year, you'll need to reconsider your umbrella choice. For instance, if your business is in a warm and sunny city, you can use mini, colorful custom umbrellas as your promotional item.
What Type of Umbrella Frame Should I Go for?
You can determine an umbrella's durability by the materials used in building the umbrella's frame. It also determines the weight and size of the umbrella. Furthermore, the structure plays a significant role in the umbrella's overall design and performance.
You will find the shaft, ribs, stretchers, and runner in an umbrella's frame. Manufacturers commonly use fiberglass, wood, and aluminum to create the umbrella's structure.
a. Fiberglass Umbrella Frame
Fiberglass is in high demand in several industries, including umbrella manufacturing. This is because using fiberglass for the umbrella frame has several benefits. For instance, fiberglass would not rot or corrode.
A fiberglass umbrella frame is the best option for areas that have strong gusts of wind. And this is because fiberglass gives the umbrella frame the flexibility of bending with the wind without snapping.
Fiberglass is also solid, and it has a more vigorous resistance than steel.
b. Wooden Umbrella Frame
Choosing wood for your umbrella frame gives the umbrella a classical feel. You can find this type of umbrella frame in umbrellas like city umbrellas, walking umbrellas, or men umbrellas.
Wooden umbrella frames are sturdy, but only to a point. They are weaker than fiberglass umbrella frames, and they require more maintenance than the other two.
c. Aluminum Umbrella Frame
Aluminum umbrella frames are usually more practical than others. Although they are lightweight, they are durable and strong.
An aluminum umbrella is less likely to break in a strong wind, especially compared to wooden umbrella frames. However, aluminum umbrella frames do not last as long as fiberglass frames when tested in the wind.
What Printing Method Should I Use?
Before deciding on the printing technology you want to use for your custom umbrellas, you have to decide on the colors you will like to have on the umbrellas.
You have to select colors that will complement each other well. Choosing a canopy color that will drown out your logo or brand colors is not the best idea. Instead, choose colors that will make your graphics visible and recognizable, even from a distance.
There are several means of transferring graphics to an umbrella's canopy nowadays. However, some of these methods are more common than others. The most popular printing methods are:
a. Digital Printing
Digital printing is one of the most popular printing methods, and it is continuously on the rise. This printing technology uses printers similar to the printer you have at home. However, they are very different.
After you have selected your preferred umbrella's fabric, the manufacturer will pretreat it. The fabric will then pass through the special inkjet printers at high speed.
Before the printing starts, the manufacturer will enter your desired graphic into a computer. This graphic is what they will transfer onto the umbrella's canopy. This transfer is done with tiny droplets of ink.
b. UV Printing
UV lights for curing or drying ink were initially used to dry gel nail polishes. But, now it is adopted by the printing industry.
UV printing involves printing digitally but using ultraviolet lights to dry or cure the ink. The UV light dries the ink almost as soon as it makes contact with the fabric. This method makes printing faster.
The process is similar to traditional textile printing. The significant difference is the use of ultraviolet light to dry the inks.
c. Silk-Screen Printing
Silk-screen is a prevalent printing technique. Screen printing is simply the process of pressing ink through a stenciled, mesh screen.
In silk-screen printing, the manufacturer prints your desired design onto a sheet. The inks then get transferred to the sheet. They screen the inks and graphics on the umbrella's fabrics.
Using silk-screen printing allows you to use up to four colors in your design. It also gives perfect color reproduction; your graphic or logo will last long.
d. Dye Sublimation
Dye sublimation requires the right combination of heat, pressure, and time to take effect. It is sometimes called heat transfer printing.
Dye sublimation is the application of sublimation inks onto the umbrella's canopy. When the manufacturer applies heat, pressure, and time to the ink, it changes from a solid state to a gaseous state.
After the conversion, the ink will easily penetrate the fabric, and the graphic will be formed. Sublimation printing produces brilliant and long-lasting graphics.
What Is My Budget?
Nowadays, businesses are looking to cut costs regarding promotions and advertisements. One of such is creating a budget. Having a budget would make sure you do not lose too much money while attempting to make more money. You should always have a budget before you embark on your purchase.
In buying custom branded umbrellas, it is advisable to buy in bulk. Umbrella manufacturers often offer discounts and good deals to businesses that place a massive order for umbrellas.
In addition to buying bulk, you should also ensure you choose only superior quality umbrellas. If you purchase an inferior umbrella, it will not last long, and you'll need to get a new batch. You will, then, end up spending double and blow your budget.
Lastly, it would be best to do thorough research to find the best umbrella manufacturers who can work with your budget.
When creating your budget, however, do not be cheap.
Manufacturers of Custom Branded Umbrellas You Should Know
To ensure you portray your brand well, you need an efficient umbrella manufacturer that will surpass your expectations. Here are six excellent custom branded umbrella manufacturers handpicked for you.
1. Huifeng Umbrella
Company Profile:
With its headquarters in China, Huifeng Umbrella is a trusted name in the umbrella market. We specialize in umbrella customizing, manufacturing, and supplying. Our efficiency, excellent services, and quality products are testaments of our ability to deliver.
We have a wide collection of umbrellas for colors, styles, and patterns. This wide variety gives you multiple choices when selecting your custom branded umbrellas. You could also decide to customize your umbrella from the tip to the handle with us.
We deliver our umbrellas worldwide, especially to Japan, Korea, Australia, Europe, the UK, and the United States. Also, our prices are unbeatable! We offer such quality umbrellas for reasonable prices.
Products Offered
Golf Umbrellas
Beach Umbrellas
Parasols
Promotional Umbrellas
Kids Umbrellas
Website: www.hfumbrella.com
2. The Umbrella Workshop
Company Profile:
The Umbrella Workshop has been around for more than ten years. The years of experience attest to their beautiful, creative umbrellas. If you want unique umbrellas, they are an excellent choice for your needs.
They begin working on your order immediately, starting with as little as 50 pieces. They boast of excellent service and a 2-year warranty on their products. Delivery is available to anywhere in the world, from their headquarters in the UK.
Products Offered
Golf Umbrellas
Automatic Umbrellas
Telescopic Umbrellas
Walking Umbrellas
City Umbrellas
Wooden Umbrellas
Website: www.umbrellaworkshop.com
3. Branded-Brolly.co.uk
Company Profile:
Branded-Brolly is a UK-based umbrella manufacturer that provides quality umbrellas to the United Kingdom. Their umbrellas are designed, especially for you, to last long. Their watchword in manufacturing branded umbrellas is excellence. Furthermore, Branded-Brolly's dedication to providing the UK with high-quality umbrellas fuels their drive for excellence.
Asides from using the most modern forms of technology in producing their umbrellas, their services are top-notch. They are readily available to walk you through your entire process of ordering.
Products Offered
Telescopic Umbrellas
City Umbrellas
Parasols
Kids Umbrellas
Golf Umbrellas
Website: www.branded-brolly.co.uk
4. Davek New York
Company Profile:
The Davek NY umbrellas are luxurious, superior umbrellas. They have beautiful umbrellas perfect for all occasions. Each part of the umbrella is crafted delicately for an overall sturdy umbrella.
They produce long-lasting umbrellas that have the promise of being "the last umbrella you will ever need." Should your umbrella develop a fault, Davek New York will fix or change your umbrella at no extra cost.
They have branches in the USA, Australia, Canada, Germany, and Europe.
Products Offered
Golf Umbrellas
Mini Umbrellas
Cane Umbrellas
Website: www.davekny.com
5. Totes Umbrellas
Company Profile:
Totes Umbrellas came into existence in 1924 in Ohio. With more than 50 years of experience, Totes has perfected its umbrella production skills. They even produced the world's first foldable umbrella!
They guarantee their umbrellas will last you a lifetime, and they do not make this promise lightly. Their umbrellas are sturdy, and they come with a lifetime warranty.
Their goal has always been to provide you with products that keep you dry while it rains. And their umbrellas have remained true to this goal, till today.
Products Offered
Compact Umbrellas
Golf Umbrellas
Bubble Umbrellas
Kids Umbrellas
Stick Umbrellas
Website: www.totes.com
6. Fulton Umbrellas
Company Profile:
Fulton Umbrellas was founded in 1956, and they supply the umbrellas the Royal Family uses to date. It is the largest umbrella manufacturer in the United Kingdom. They are well-known for always using high-quality materials to create their umbrellas. Their refined designs are hand-finished to suit your needs.
They are detail-oriented and are committed to making umbrellas that stand the test of time. Fulton Umbrellas design their products to protect you from harsh weather conditions. And they are incredibly stylish, too!
Products Offered
Clear Umbrellas
Golf Umbrellas
Windproof Umbrellas
Website: www.fultonumbrellas.com
Conclusion
Selecting the right custom branded umbrella can be overwhelming if you do not know anything about the process. When you adopt this buying guide in your purchases, you will get the very best umbrellas for your brand.
At Huifeng Umbrellas, we are readily available to help you with your custom umbrellas. We use superior quality materials, and we will follow your instructions to the letter. With us, no order is too big or too small.
If you have more questions about custom branded umbrellas, you can contact us at info@hfumbrella.com today.