How Our Umbrella Factory Works?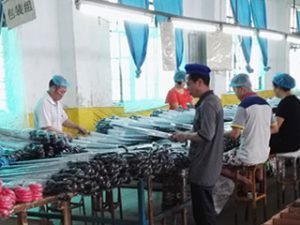 Our umbrella factory created a complete design and manufacturing system to guide the process of manufacturing custom umbrellas from start to finish.  Whether you are a designer or not, we will work with you to create umbrellas that fit your specific needs.
Umbrellas are complex to craft, involving a lot of attention to detail at every step.  Our team pioneered techniques from printing to fabrication so your umbrellas will be beautiful and durable.
R&D
We insist on the R&D ideal of "Fashion, stand wear and tear, make varied".
We always keep developing materials and patterns, improving quality day by day.
Our R&D Department
Our R&D is undertaken by the Technology Research Department, which consists of the Sample Exhibition Center (SEC), the CAD-Technology Center (CADTC) and the Sample-Working Center (SWC). The SEC displays thousands of samples covering most of our product range. The CADTC is responsible for plate/pattern making, style designing, calculating predicted consumption, graphics processing, and photo production. The SWC mainly functions as a sample design and production center.

OEM Service
We can put your logo on all the products from our OEM / ODM section. Our terms are very flexible: we offer to print of your own logo on the product for Minimum Order of 100pcs. If your order exceeds certain order q'ty (depends on different products)- the printing tooling cost service will be free of charge. If you require custom packaging, we can offer that for orders of 1000pcs and above. Usually, the whole process takes 10 days or less.
ODM Service
More and more companies decide to differentiate their products in the market with a unique design. We can provide assistance in developing your own, exceptional products, based on our solutions.
We would encourage you to use the below form to contact with our OEM/ODM Department for more details, we will reply to your email within 12 hours!
OEM/ODM Manufacturer and supplier of high-quality rain umbrellas, fashion umbrellas, Parasols, golf umbrellas, kids umbrellas, beach umbrellas, pop up tents,
Our  Customers
Frequently Asked Questions
Q: What is the production capacity of your umbrella factory per month?
A: Now we can manufacture more than 200,000 piece umbrellas per month.
Q: What is the strength of your umbrella factory?
A: Under the guaranteed quality and competitive price, we have a good reputation and creditability in EU, UK, USA, and South American market.
Q: What are your payment terms? Normally the following 3 payment term is acceptable.
A: 1) For small order, we will request cash or T/T payment for the full amount in advance.
2) Order value less than US$50,000, 50% deposit by T/T, balance payment TT before shipment.
3) Order value more than US$ 50,000, the payment term can be negotiated.
Q: What are your holidays in an umbrella factory?
A: We have 2 major holidays. 1) Chinese New Year, the dates are different each year and usually are in late January or February for 10-14days.
2) National Holiday, from October 1 to 7 Ordering Samples
Q: How much for a standard sample?
A: Sample cost plus US$80 for handling cost and freight charge. You may also provide us with your freight collect account number with one of the major worldwide express companies (eg.: DHL, UPS, FedEx, TNT, etc.). All expenses are payable prior to a sample being sent. Long-term customers may not be charged except for the freight charge.
Q: How much for a 100% correct sample without placing the order?
A: Sample cost plus US$100 for handling cost and freight charge. Please note that normally 100% correct samples are not possible due to MOQ for the fabrics and trims in your customized color.
Q: How much for a correct sample if I have placed an order?
A: There is no sample charge if you have placed the order already, just signing back the Proforma Invoice and arranging the deposit except for the freight charge.