Hfumbrella:  H-high quality F-fast delivery
Hfumbrella is a leading umbrella manufacturer in China, with an endless list of clients in all corners of the world. We specialize in a wide variety of umbrellas that caters for the niches in fashion, marketing, weddings and events, commercial outdoors, and travel, among others.  At a time when reliability is a rarer and pricier commodity, Hfumbrella is meeting and exceeding customers' expectations in Australia, Korea, Europe, UK, Asia, and many other places.
We love to be part of your story
We have walked with businesses through the stormiest of economic environments, and have been part of the solution with impactful promotional umbrellas. We Shared in the joy of beautiful outdoor weddings and played our role with inspiring bridal parasols. We have joined the quest for trend-setting fashion and furnished both individuals and businesses with stylish umbrella pieces. Tell us your story today. From the parties to the streets, to the beaches and to the office, we will walk with you.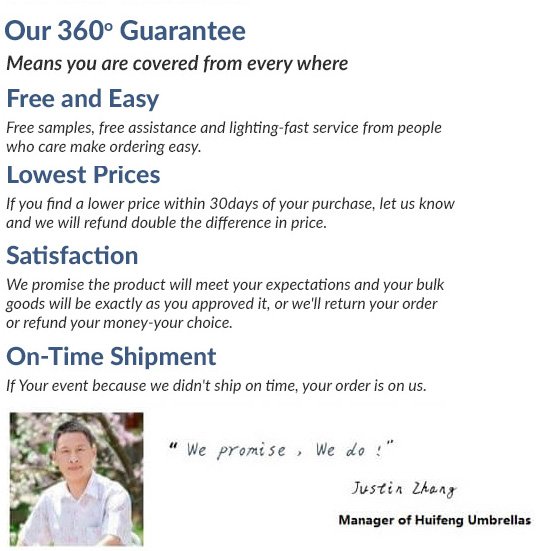 Business Principle
The strides we have made in our company can all be attributed to the collaborative effort of every individual in our team. All our teams share a common objective, which always is to make our customers happy.
We know for a fact that our success depends on your success. For that reason, we push all the limits in quality, style, functionality, versatility, and cost effectiveness to help you achieve your goals. In return, our business grows from the symbiotic relationship.
Teamwork is our biggest asset.  We have learned to leverage combined effort to achieve the best results. This strategy helps with quality and fast delivery in all orders. Every member of our team shares in the same agenda of delivering the best services and products to our clients and shareholders.