What is a golf umbrella?
Golf umbrellas are specially designed for golfers to protect them from the sun and rain. These are larger than standard umbrellas and are designed to protect the golfer and basket. Some non-golfers also use these large umbrellas to better protect themselves from the heat and rain. Commonly seen on the golf course, this is an essential part of golf games on the field. They use it for promotion and as a corporate gift.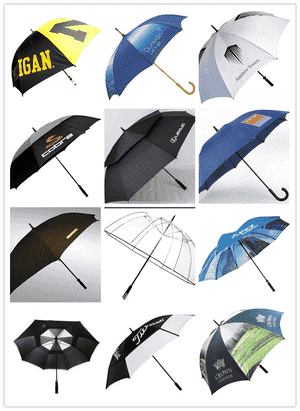 Golf umbrella type
The number of folds- two folds and three folds, straight umbrella.
The canopy structure- a single layer and a double layer umbrella.
The canopy shape -round and square-shaped umbrellas.
The way of opening- manual open and Auto-open
Fabric -material, pongee golf umbrella, nylon golf umbrella, a polyester golf umbrella, and a PVC transparent golf umbrella.
The shape of the handle-straight handle and curved handle
Golf umbrella size
Golf umbrellas are available in sizes 23,25, 27, 30, 32, 34, 36Inches
Difference between a golf umbrella and a normal umbrella
In general, these umbrellas extend over large areas and measure between 60 and 65 inches. Some umbrellas are even bigger and measure 70 inches. Because of its large size, it is normal that it is very heavy to handle. To avoid this problem, it consists of a fiberglass drum. The axle and the separators are made of this material, which makes the umbrella light and easy to transport. Fiberglass used for umbrellas makes them resistant to lightning and is a protection for golfers.
Umbrellas are very strong and resistant and prevent the canopy from turning due to the wind. Another important feature of this large umbrella is that it has an ergonomic handle. This ensures that when the golfer holds it, the hand stays in the natural position and the hand is not gripped by the handle of this large umbrella. This does not affect the golfer's swing.
The purpose of a golf umbrella
People often use these umbrellas for promotional purposes. Several companies and organizations use it to spread the name of their company. The embossed company logo, company name, site, address, and umbrella phone number will be visible to everyone on the golf course. These golf umbrellas are offered for this purpose to customers and employees of the company. Every time the umbrella is open, the company's message reaches out to thousands of people.
Company ofter give promotional items to customers. Some popular golf items include Birdie golf shoe bags, fancy velvet napkins, dashboard mounts, forks, and gloves. Some of them are small and light, while others are big items. The vendor prints their company logos on the golf umbrella and uses it for copromotional purposes.
Golf tees are another important element used to support society. Golf gifts are very popular among businesses because they attract large business investments.
Using golf articles and umbrellas to advertise with the company logo is an excellent marketing strategy.
What's the best golf umbrella?
Golf umbrellas are an essential element for those who love sports and even for those who just want a big umbrella. When you are in the field, having one will be more resistant to wind and dust. The benefits of having quality items will be rewarded many times in the future, so buy an umbrella that offers protection, style, and value.
There are several essential elements to consider when buying golf umbrellas. Once you have decided on the size and style you want, you can optimize your shopping experience.
a.Golf umbrella materials
The material of the stem will be important. Try to find a fiberglass handle to allow some flexion during a storm. In addition, you do not want a steel handle in case of relief.
b.DESIGN
The essential for each game is to be able to express your personality. As you expect to spend a lot of time in your golf game, find attractive golf umbrellas visually. Sports logos, bright colors, stripes, or other patterns lend themselves perfectly to the customization of your umbrella. Get an umbrella that would suit the class as well. This will also facilitate identification when other golfers have removed their umbrellas.
c.CUT
Size matters when buying an umbrella. Although the variations are less important, it is advisable to obtain the largest size for maximum protection. You do not want to get caught on the field with a bag filled with golf clubs and then face a storm. A bigger umbrella will protect you and your team.
d.WIND RESISTANCE
When looking for golf umbrellas, make sure you know the wind resistance of the umbrella you want. When he's outside homeless nearby, the last thing he wants to fight is an umbrella that's turned around. The design of the canopy or other forms of ventilation slots will prevent the umbrella from turning around when the wind suddenly takes hold.
e.ADDITIONAL FEATURE
Having a long plastic peg at the end is exclusive to a golf umbrella instead of normal street umbrellas. This is used to hit the end of the turn when you hit a shot.
This will prevent him from getting away from you in case a gust of wind blows. The shape of the handle is also an important feature. An ergonomic handle will make the umbrella more comfortable when held, whether open or closed. Be careful that the handle is the style you prefer.
Buying umbrellas has never been easier. You no longer need to go to a store, but with the convenience of buying online, you can buy more colors, designs, and sizes than those offered in an independent store. Take a look at the many styles of umbrellas available online and, once you've found one or two that you like, read a few comments. Consumer feedback is a great way to find out if an umbrella will work as you wish.
The history and origin of golf date back to the 14th century. Then people play golf with a big stick and a ball. Little by little, the game of golf has become more organized. With the formation of clubs and associations, the use of stylish accessories, golf has become popular as a style and luxury game.
Golf courses have been built in all parts of the world. Golf is largely an outdoor game. Players are exposed to the sun, rain, and wind. Therefore, it is essential to use protective equipment such as golf umbrellas. These golf umbrellas are very useful and provide relief and shade to golfers.
Standard umbrellas are good enough to protect us from the sun and rain. We are using a golf umbrella for similar purposes. However, the golf versions are much larger than normal. Indeed, we use golf umbrellas to protect both the cart and the player. We also use them as ordinary umbrellas, as they offer better protection against rain.
When choosing an umbrella, one that measures about 152 centimeters or more can be a good option. They can also reach 175 centimeters. These umbrellas usually have a straight handle. This ensures that they fit easily between the clubs in the golf bag.
Umbrellas are made from fiberglass material and also use spreaders that keep the awning open. This makes them lighter and more resistant, even at the risk of lightning. Recently, ergonomic umbrellas have gained popularity in the golf market. This allows the hand to be in a natural position while holding it. These are
also, lightweight, which can help prevent fatigue.
Finally, the best umbrellas are those that can withstand the strong wind. Canopy golf umbrellas tend to better withstand high winds. Protects from wind and water with two layers. This type of umbrella can easily cover the golfer and his accessories. Umbrellas are an essential accessory for any golfer. It protects it from sudden rain or hard sun. If you choose carefully and handle it carefully, your umbrella can last a long time.
Few things to consider before buying golf umbrellas
If you play golf regularly, you must have all the important elements related to the game. In addition to the golf club and gloves, even umbrellas are necessary for golfers. Often, rains or strong winds spoil the game and the only way to cope with these climatic conditions is to use an umbrella.
The main purpose of these umbrellas is to protect players from rain and sunlight. If you plan to buy golf umbrellas in the near future, you need to consider some important points.
Umbrella Size
This is one of the most important factors to consider before making the final decision. We always recommend our friends to buy a large golf umbrella offering maximum protection to users. The best thing to do is that they also protect your golf equipment from the rain.
Soft material
Make sure the umbrella is fiberglass for more flexibility during the rains. Avoid buying an umbrella with a steel handle as it can be dangerous at the moment of lightning.
Long plastic peg
Get an umbrella with a long peg, as it will allow you to easily put the end of the lawn. This feature will protect your umbrella during a gust of wind.
Easily withstand wind
When you buy an umbrella, you need to make sure it stays firm in the wind. Most of the newer umbrellas are with a double roof that protects them so they do not turn around.
Umbrella Design
Currently, golf umbrellas are available in different designs and colors. Some of the umbrellas also wear stripes. Select an umbrella that suits the game and your personality, allowing others to identify you remotely.
Custom Printed Golf umbrellas: Choose the best of best
Tips to buy custom golf umbrellas
Custom golf umbrellas come imprinted with your personal promotional logo or message. It's a popular corporate gift for Golf Tournaments as well as Client Gifts. They are probably the most cost-effective promotional items in any Golf league, plus people love them during hot sunny days or when unexpected showers show up.
A large, colorful canopy with your large logo on it is a sure way to get those elite customers to notice your brand and business. If you're considering buying custom golf umbrellas but you're not sure how it goes, here are some quick tips to get you started.
Know your Specs
Before you even start searching for the best custom golf umbrella manufacturer, you need to outline the features you're looking for. This includes things like material, size, weight, open and close system, style, design, coverage, and grip. Ideally, you want an umbrella with a high-quality, lightweight canopy, easy to open and close, and strong with a comfortable grip.
If you've already identified a manufacturer, they will typically help you come up with the best design based on your unique needs. Or you can simply choose from one of their predesigned samples and have them imprint a logo and any other personal info on it.
Identify the Best Manufacturer
It's important to identify a custom golf umbrella manufacturer that has been in the market for a long and has a positive reputation online. You can always search for them online based on your preferred location. Find out their online ratings and reviews, and how their products stand out in terms of functionality, quality, and durability.
Durability
Talking of durability, custom golf umbrellas are generally more costly compared to regular rain umbrellas. So, you need to make sure that however good the umbrella looks, it will last for years to come. Since these umbrellas will be mostly subjected to strong winds, rains, and sometimes storms, you want a sturdy construction that will not easily bend, flip or break.
Coverage
It's imperative that your clients or umbrella gift recipients stay dry when playing in the rain. Look for umbrella designs that offer maximum coverage for their size and weight. Most Golf umbrellas typically come in 62" arc canopy size, but you can find anything between 46" to 68" depending on your preference. As you would imagine, the bigger the better.
Start With A Sample
If you're ordering a relatively large number of pieces, most manufacturers are more than happy to design and share a sample just to make sure everything turns out the way you want it before producing in large numbers. Since custom umbrellas are unique to you or your business, you don't want to end up stuck with hundreds or thousands of pieces that don't meet your design requirements or the needs of your recipients.
The Bottom Line
Custom Golf Umbrellas are the best way to spread the word around about your business or brand, while at the same time staying unique. Whether you want to sell them to your customers at a subsidized rate or gift them to your loyal clients, you can be sure they will be your brand ambassador wherever they go.
When buying your personalized golf umbrellas, keep in mind the above 5 tips in order to get high-quality, durable, reliable, and valuable umbrellas that really meet your needs.
Outsource: The 8 Best Golf Umbrellas of 2021
Consider all the points mentioned above and add an appropriate umbrella to your golf kit.
Custom golf umbrellas with the China golf umbrella factory to save your 30%-50% cost now!
Contact:info@hfumbrella.com
Get A Golf umbrella Quotation Now!
Model: HF20050801

Details / Buy

Model: HF2020050701

Details / Buy

Model: HF20061902

Details / Buy

Model: HF22101001

Details / Buy

Model: HF20082201

Details / Buy

Model: HF2020052101

Details / Buy

Model: HF2022083101

Details / Buy

Model: HF20061901

Details / Buy

Model: HF2023040301

Details / Buy