Can I Custom Print my Business Logo on the Umbrella Canopy or the Valance?
Are you looking for new and innovative ways to promote your business? You should consider using a custom print umbrella to create the much-needed awareness about your brand or any new product you just introduced into the market. Research indicated that people need to see your offer multiple times before they can take action. One of the best and inexpensive ways to keep your brands/product visible in the front of your targeted customers is by using a custom print umbrella. This way, you will have people doing free promotions for you when they go about with an umbrella designed with your logo or your company message.
Once you've decided to attract new customers to your business, you will need to meet with a reputable company that can print custom umbrellas for your business. You will need a company that will get the job done well the first time. Not everybody that claims he can design custom umbrella has what it takes. Hence, you will need to do your research and compare different companies and designers before making your choice. This will enable you to choose the best company as well as get the best price.
Where Do I Print my Logo, on the Umbrella Canopy or Valance?
Once you have selected the company that you want to use in designing your logo, you will need to sit down and tell them what you want. We suggest that you demand portfolio, this will enable you to see the previous works done by the company and choose the one that you want. The company can as well be able to make some suggestions that you can find extremely useful.
When you want to have your log printed, you will have the choice of printing the logo on top of the canopy, on the valance all around the side or both.
To decide which one you want to go for, we will help you by first printing the logo on the metrical before sewing, after printing, you will receive the proof including matching colors and then you can approve or decide which one you want; we then go ahead to complete the job once you have decided which one you want to go for.
This is an extremely painless process. You will be guided all through the process by a professional who will speak with you to find out exactly how you want your umbrella printed.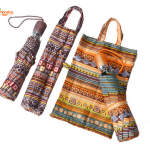 Who is Custom Print Umbrella for?
Most people think those custom print umbrellas are made only for big corporations or organizations. The truth is that anyone can order for the custom print umbrella. What makes this extremely attractive is that they are usually very affordable no matter how many you want to order. In fact, the cost per one reduces as you order more umbrellas.
Custom print umbrellas are not only perfect for creating awareness about your business; you can as well use it as a gift in your wedding or birthday parties. In fact, most of the custom print jobs we get are people looking to distribute umbrellas as a gift on their wedding day.
Custom print umbrellas can be used by
Big corporations
Small businesses
Medium businesses
Companies
Organizations
Politicians
Churches
NGOs
Government agencies
Protesters
Students
Individuals
Wedding events
Birthday gifts
Where Can I Print Custom Umbrellas?
When you want to have custom umbrellas designed, you will need to get a reputable company that knows what they are doing. Fortunately, we have been in this business for years. We have successfully completed custom print jobs for big organizations, churches, students, small businesses and even individuals. Moreover, people trust us because we have an unbeatable price and we deliver quality. You will be totally satisfied anytime you design your custom umbrella at Huifeng Umbrella.