What Are the Color and Design Options of Promotional Umbrellas?
No doubt, custom umbrellas are one of the hottest picks. In fact, almost every new business is now leveraging promotional umbrellas to give their business a boost and bring in more customers.  What make this type of promotional strategy perfect is that umbrellas have wide range of applications in our daily lives. Almost all the small and even big corporations in the United States and UK are using one type of customized umbrella or another for their business promotion. As a new business, you will need to find something unique, something that will make your business stand out.
Big custom umbrella makers such as Hfumbrella always provide variety of promotional umbrellas. You can get these types of umbrellas in various colors, designs and sizes. In fact, there are endless variety and styles of a customized umbrella. The great thing with this tool is that if you do not like the designs you see, you can demand for a custom design or come up with your new and unique idea and we can transform that idea into a beautiful custom-printed umbrella.
Umbrellas are commodities that are used on regular basis and this is what made them very attractive as a promotional tool. Most people love getting umbrellas as a gift when they attend events host by companies. The truth is that umbrellas have so many practical values and when you brand an umbrella before giving it out, it will constantly keep your business name in front of your potential customers.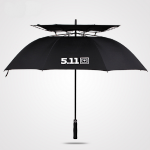 Choosing the Best Color and Design for your Umbrella
When you want to make a promotional custom umbrella, it is important that you spend time considering the color, style and size you need.
We usually recommend that businesses choose the same color as their business color. You will also need to decide if you want to see your company logo or your business slogan on the umbrella.  If you can't figure it out yet, no problem, you can sit down with a representative from Hfumbrella and listen to some of his recommendations.
You have the liberty to design and customize your company's customized umbrellas in the way that you like. This is why it is very important that you work with a company that has experts with lots of creativity and imagination. Creativity and imagination will give your custom umbrella a nice, refreshing and awesome look that will attract the attention of anybody that sees it including customers and business partners. It will as well make it desirable and easy for people to accept to carry it around.
When you have a designer that makes a custom umbrella that is not attractive, nobody will like to carry it around thereby you won't achieve your promotional objective. This is why it is so important that you only work with experienced and trusted custom umbrella maker such as Hfumbrella. We have years of experience in making of custom print umbrella. We don't only supply individuals, both we also cater for small businesses, big companies, governments and non-profit organizations.
The benefit of investing in an experienced custom umbrella maker is that you will get it right the first time. In most cases, especially if this is your first time of making custom print umbrella, you will be a little bit confused about what you want. An experienced custom print umbrella maker can help you figure out exactly what you want as well as make it become a reality. This way, you won't have to return umbrellas after they must have been shipped to your location thereby messing up with your schedule and adding up to your expenses.
When you want to make your umbrella, you can always choose any color your want. You can choose red, blue, green, silver or mixtures of these colors. You can as well choose the size of the umbrella you want. There are also umbrellas of different styles and forms such as folded umbrellas, stick umbrellas, three fold umbrellas and many more.   Another thing you will need to consider is where to place your logo or slogan on the umbrella. You can discuss this with your custom umbrella maker to find out what works best for you.