"Shopping for a kids umbrella is not as easy as you might think"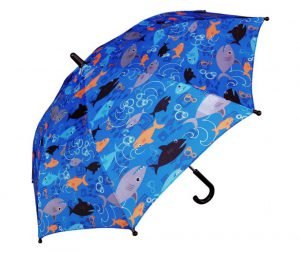 The number one priority for any parent is to find an umbrella that will offer their precious little one maximum protection. The kid on the other hand just cares about their umbrella being cool or pretty, so if you're a parent, you need to strike the balance between the two of you.
A good kids umbrella is one of the best defenses against harsh weather conditions, whether it's snowing, raining or sizzling hot.
We all know how our little ones can be susceptible to weather elements; sunburns, colds and all. Other than protection, parents also buy their kids umbrellas as part of a costume. In this case, it could be anything from a cosplay ensemble for a convention, to a Halloween costume. Here, you want to find an umbrella whose print design and fabric decor fit in perfectly with the theme they are going for.
Kids umbrella can be also a great way for them to express their sense of fashion, after all, most fashion umbrellas or predominantly designed for adults.
If your child wants to express themselves through fashion, then an umbrella would make a perfect accessory. It could be a cute parasol-style umbrella to go with their beach outfit or a young gentleman's little black umbrella to match their classy little pageboy tux. In this case, ordering directly from the manufacturer can allow you to add a few custom features and designs here and there.
Talking about features, do you know what you should look for when choosing or designing kid's umbrellas?
Contrary to popular belief, there is more to a good child's umbrella than simply shrinking the dimensions to a smaller scale. For instance, most kid's umbrellas require a short shaft of about 65 cm. The length of the shaft determines how stable the umbrellas will be in the kid's hands, and if it's too long, the kid might not be able to support it against strong winds.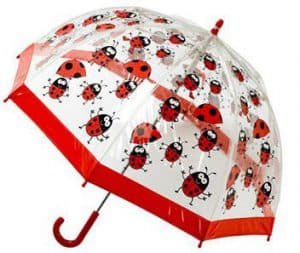 Another thing to consider is the fabric. Considering it's the first and only line of defense between the kid and weather elements like rain, snow and the scorching sun.
It is, therefore, best to invest umbrellas with strong materials like polyester which is tough, completely waterproof and yet light. Preferably, your kid's umbrella of choice should weigh about 300g. This enables them to carry it around without being a tedious and an inconvenient extra load.
A good kids umbrella should also have a sturdy frame.
We achieve this by using strong materials like reinforced steel or fiberglass to make the canopy ribs and stretchers. It is important as it ensures that the umbrella retains its shape, especially against extremely windy weather.
We all know kids are all about colors and shapes. So once you are satisfied with the practical design and measurements, it is time to throw in some interesting bright colors. These are fun with the vibrancy matching the little ones' energy and vibe. If the child has a favorite color, then choosing the right kids umbrella for them should be a lot easier.
While at it, why not include a few animal and cartoon prints? It is not enough to just have a bright color.
The more visual attractions there are the better. When it comes to umbrellas for little ones, you can never go wrong with animals and cartoons. Floral prints and other multi-colored images also make for a safe bet in this case.
And if you're really all about fun and want to add a little quirky edge to your designs, 3D additions can set your offers apart. It could be a pair of mouse ears on the canopy to complete the Disney theme. It could also be something like colorful tassels at the tips of the umbrella ribs. In which case, our company will leave you spoilt for choice with the variety of designs we have to offer.
Whether you're looking for umbrellas for your kids, your retail business or kid's event, the above considerations are important to have in mind.
Here are the  TOP 10 BEST KIDS UMBRELLA 2019
If you're ordering a custom-made umbrella straight from the factory, the end result should be a perfect combination of functionality and fun aesthetics.
We sure our large collection of designs and colors will not disappoint. Or better yet, you can request us to build a unique line of kid's umbrellas with all your custom features incorporated.