Kids umbrella, share your love with your kids.
We all love to buy the best things for our children, ranging from sophisticated toys to extreme-weather
shields like umbrellas.
As insignificant as umbrellas may seem when it comes to shopping for our kids, the right ones are not easy
to find. This is made more difficult if you have a child that is hard to please. Asides being durable, they have
to be colorful, skillfully designed and lightweight.
If you have gone shopping for an umbrella before, you'll know that these specifications are not easy to come
by. However, if you know where to look and what to look for, selecting an umbrella for your child will
mostly be a walk in the park.
In this review, we have picked the top kids umbrella 2019 out there in the market currently to aid your search.
1. Bugzz Dome Umbrella For Children
This exciting children's PVC dome umbrella, in all-new cute designs. It is perfect for kids that have a bias for brilliant color combinations and animal designs. Other designs that you may find include sharks, cows, elephants, zebra, etc.
Asides its aesthetics and unique designs, the umbrella has been tested to comply with stipulated European safety standards. In other words, you do not have to worry about the safety of your child while he/she is taking a walk down the street unsupervised.
To add to all of this, the umbrella comes with an exclusive runner that makes opening and closing very easy. The Bugzz PVC Umbrella is built for safety and will likely become a must-have anytime your child wishes to step out of the house to play or take a stroll at the neighborhood's park.
The umbrella comes with a colored handle that is quite is easy to swing up and down. The opening fiberglass
is not automatic but comes with 8 ribs. At 300grams, your child should have no problem carrying the
umbrella around.
There really isn't a lot to dislike about the Bugzz Dome Umbrella, but note that it is not suitable children
below the age of three. Asides this, your child should have a great time using this beautifully designed
umbrella both in the sun and rain.
2. Children's Color Changing Umbrella
This is a brilliant umbrella that will sweep your child off his/her feet. It comes with a canopy design that changes color when it starts to pour. The canopy also features a see-through design with fun-looking construction vehicles.
The umbrella comes with a children's safety-catch design and a radiant red crooked handle that can allow a kid's hand can to fit right through. Most importantly, the umbrella has no pull-offs and has safety plastic tips. The canopy color change when it starts to rain is a beauty to behold and your child will certainly love it.
The umbrella is also not suitable for kids below 3.
3. Joules Junior Kids Umbrella
This best selling umbrella comes with a blue canopy bearing hammerhead shark designs. Unlike the previous two, this umbrella comes with an easy glide opening system. The glide knob is designed to accommodate the small and delicate fingers of children. This is a fun-packed brolly and your child will certainly love to have one.
The simplicity and blue color of the canopy are difficult to ignore. Also, the small size and weight of the umbrella means that your little one will have no problem carrying it around.
The umbrella's small size may mean that your child will quickly outgrow it, and then you'll have to start thinking of buying a replacement.
4. Kidorable Dinosaur Umbrella
Does your child love dinosaurs? If yes, then you should not have second thoughts about buying this umbrella. It is a unique and equally practical umbrella that is suitable for use under the sun, rain or just for fun.
The design is simple and it features a small handle that will fit into small hands. Also, the canopy is 100% nylon which features some lovely tiny plastic tips. While the design is brilliant, some children may prefer an umbrella with a little more color and design. Well, this shouldn't pose a big problem anyway if your child is into dinosaurs.
5. Pink Ballerina Umbrella
This is the perfect gift to get your little daughter who is aspiring to be a ballet dancer. It comes with a sweet looking ballerina design that your daughter will love.
It also comes with an easy to push open and close button.
The whole concept of the umbrella is impressive. From the lovely ballerina design to the perfectly shaped frame, this is a top umbrella for little girls.
6. Spiderman's Children's Umbrella

Let's go a little into the world of Marvel heroes. This umbrella features a design with one of the Avengers heroes, Spiderman. Most kids love spiderman, so there is a huge chance that your child will also.
The Umbrella is suitable for children above the age of 3 and comes with an automatic opening and closing system which kids should find very easy to use. The system is fiberglass material so the frame is strong but light enough for children to carry around.
The only problem with this umbrella is if your child isn't into Marvel Heroes (very rare). Otherwise, you are good to go.
7. Meteors and Dinosaurs Umbrella
This is another children's umbrella that comes with a unique dinosaur design. This time, however, the design features meteors to give children a feel of the apocalyptic event that destroyed dinosaurs 66 million years ago.
Don't get carried away though, this umbrella is not designed to shield against meteors but it will most certainly, protect your child from the effects of the sun and rain.
The umbrella features a captivating apocalyptic design that will get the attention of every child. It's blue crook handle and plastic tips serve as an icing on the cake. The Dinosaur and apocalyptic meteor shower design may scare some kids. Hopefully, your child is a brave one.
8. Stephen Joseph Pop-up Umbrella
This umbrella is the right fit if what you are looking for is a pop-up umbrella without a button that can hurt your little one's fingers. The umbrella is designed to be pushed and pulled easily in order to open or close the umbrella. All you need to do is to teach your child how to use it.
The pop-up umbrella is lightweight and can be washed easily.
The umbrella may not be able to withstand very strong wind
9. Kids Windproof Umbrella
This is one of the best kids umbrella simply because of its strength and its ability to shield children from heat and rain. The canopy is made from a strong fabric and can withstand harsh weather.
It features a well-constructed frame and the ribs are made from aluminum
The strength of the material used in the manufacture of the umbrella adds to its overall weight and makes it heavy
10. Kitty Lace Umbrella For Children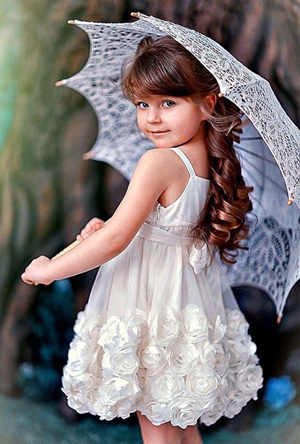 This umbrella is well crafted and it is made from Battenberg lace (cotton).
It is beautiful and meant for special occasions.
It is stylish and most little girls will love it.
Umbrellas are meant to protect people from the weather but this one, in particular, doesn't do a lot of that. It is not waterproof and gets dirty easily.
Conclusion
When it comes to Kids Umbrella. as you can see, the choices are almost infinite. However, you need to
know your child's preference before you go shopping for an umbrella for him/her.
If you are confident that you now know what you are looking for, pls ask for an umbrella expert (info@hfumbrella.com)first. Hfumbrella is the professional umbrella factory in China and producing OEM/ODM products for many famous kids brands.