Promotional umbrellas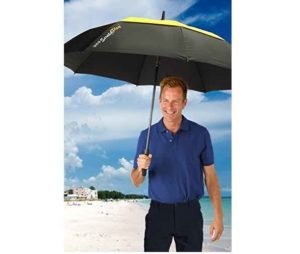 Find a good tool to market your company and brand!
As a business or company, there are a number of ways to market yourself and effectively improve your brand image. The best way is to use Umbrellas which are custom-made and designed for promotional use. This may include putting a logo of your company on the umbrella to help boost brand visibility and market your company. A number of big companies have pre-made promotional umbrellas with their logo and brand name designed to boost their marketing strategies.
What're benefits of promotional umbrellas when compare with other promotional products?
As a company or business, you can have one custom made with your products and brand name for effective marketing. Despite the fact that marketing using promotional products like pens, mugs, T-shirts, and many other small items is widely used, it might not really be a revolutionary marketing approach for many marketers. A promotional umbrella is a proven marketing product that reaches a wider target and effectively enhances brand visibility to many potential customers. They are currently the best marketing prowess that is being adopted by many companies due to their benefits and utility to customers.
The secret of marketing is to have a variety of marketing products with varied features that will excite customers in different ways without getting bored by the same product over and over again. Umbrellas have become a favored promotional product because they come in different colors and can be branded using different types of technology. They are produced and crafted with high-quality material which attracts many people and by so doing will make them the best promotional product.
Umbrellas are also long lasting which will ensure your brand name stays in view for the longest time possible. This is a characteristic that makes the umbrella to be the most soughed-after promotional item unlike caps and other accessories that have a short lifespan.
Another attribute of umbrellas that make it stay on top of the game is mobility. They are portable and people carry them easily to different parts which mean your brand name will spread far and wide. This is a remarkable brand exposure approach where the user of the umbrella unknowingly becomes a brand ambassador for your company. This will greatly help to attract potential customers to your company by exposing and making it visible to many people.
For the best marketing approach using promotional umbrellas, it is best to imprint company logo using the latest technology. The umbrella can be printed with company name, logo, company website URL, a brief call to action message, or even contact information. By designing these umbrellas with personalized logos and brand images, it becomes worth to the company and the cost should not be a hindrance. For a greater visibility, a company can give out umbrellas as gifts or give out freely to employees in order to effectively market the company.
What should you consider when buying promotional umbrellas?
1 : Promotional umbrellas need to be well-designed and the company or brand owner has a greater say in the overall design or look of the umbrella. You get a chance to choose how you want the logo to look like, what message will appear on the umbrella or even the color of the umbrella. For the best design, it is advisable to first study other existing designs and choose which one best suits your company. This will offer you a good idea of how you will want your design to look like.
2: Cost of promotional umbrellas is also another factor that should be considered in order to market the company and at the same time minimize profits. It is advisable to order in large quantities directly from the factory as this will attract discounts and you will be able to cut on cost. Also, choose the best fabric for your umbrella as this will also guarantee a quality of the print.
3: Before ordering the umbrellas, ensure you have scrutinized the product well and ascertain that it has the right features you want. Contact the manufacturer and place your requirement and ask for product information that may not be included in the products descriptions. Inquire whether modifications are possible and if it attracts additional costs to get the exact price before comparing with others.
Conclusion:
Promotional umbrellas are no doubt the most effective marketing tool for every business. They are cost-effective and are an essential investment worth diving into. You can supply custom-made umbrellas to cover an event and in return, you will be enhancing an effective brand visibility. Critically figure out and study the type of design you need in order to get the best that will effectively market your company.
Custom Promotional Umbrellas online: info@hfumbrella.con