Folding umbrellas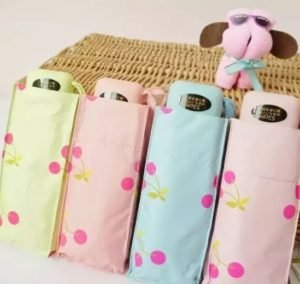 Folding umbrellas offer the same protection as the full-length umbrellas. They can easily be folded for easy storage and portability. They come in many different styles, but the tote folding umbrella is by far the most popular. A tote folding umbrella is a kind that comes with a small tote in which you can store the folded umbrella.
Tote folding umbrellas are uniquely designed to be very compact as most of them can be folded twice. The tote or the pouch that comes with the umbrella usually has the same color as the umbrella itself, which is not only stylish, but it can significantly help in keeping the umbrella compact and easily storable.
Keep in mind that not all folding umbrellas are created equal, especially when it comes to the build quality, materials, and the fabric. As a consumer, it's best that you do a bit of research to ensure that you get the best one that fits to your style and budget.
Folding umbrellas are always lightweight and gorgeous-looking, especially if you compare it to the full-length umbrellas. Women are probably the most prominent users of a folding umbrella because they can easily slip into their handbags whenever they are out exploring the world.
As mentioned before, one of the most attractive features of a folding umbrella is its convenience factor. Unlike full-length umbrellas that often come with a fixed shaft, folding umbrellas have a collapsible pole for maximum space-saving. In fact, most folding umbrellas can be stored in most purses and bags. Opening the umbrella is also easy to do and can be done in less than a minute.
Not all folding umbrellas can be folded twice though. This is especially true for the bigger versions. As a shopper, it's best that you choose or order the right version for your situation. For example, if you are usually with your significant other or a child. You might want to get the bigger version (despite of it being less compact) to ensure that you don't get wet or scorched when the weather turns unfriendly. If you are usually out alone, then a small and very compact folding umbrella is enough.
When choosing a folding umbrella, make sure that you choose the right frame and fabric in terms of durability. If you are in an area where rainfall is usually accompanied by strong winds, then it's best that you get a folding umbrella that has a frame and fabric that can withstand the elements.
Folding umbrellas can also be automatic or manual. Manual version has been around for ages, and most people know how it works. The automatic version is the newer version. It comes with a button that you push for the umbrella to unfold automatically. Since this kind of umbrellas can be operated with one hand, it's a great umbrella to bring during the times when your hands are full.
Folding umbrellas are also the best option if your location features unpredictable weather. Unlike full-length umbrellas, you can easily conceal a folding umbrella and only pull it out when the weather takes a turn. Also, folding umbrellas come in different colors and style which makes it easier for you to find one that is a perfect match for your fashion style and preference. For example, if you love dolphins, then you can easily find a folding umbrella with dolphin prints. If you are feeling bold, then a solid bright yellow design might be your best fit.
Folding umbrellas come in different lengths too, usually from 6 inches to 12 inches. The shorter lengths are geared towards easy storage. It makes them easier for you to store in a purse or the glove compartment in a car. Another great thing about folding umbrellas is that you don't need any additional equipment when you store them. The same can't be said for full-length umbrellas that usually require an umbrella stand to prevent bending or damage.
Everyone needs an umbrella at some point in time. In fact, the more umbrellas a person has, the wider is his or her options when it comes to protection, functionality, and style  whenever the weather turns unfriendly.
Whether you're looking for a number of pieces for your own personal, or thousands of units of your retail business.  Ordering directly from the factory can save you some cost. Ensure that you get the best quality and you can even have them custom made to your specific needs.
Custom folding umbrellas from direct factory : info@hfumbrella.com