The primary goal of every business owner is to boost sales and maximize profit. As such, every enterprise invests in producing better strategies to sell their products to customers. One of the best ways to do that is through promotional advertising. In addition, promotional advertising helps to attract customers to your products through incentives.
Those incentives could sometimes be promotional items. They could be anything valuable like cups, T-shirts, calendars, etc. Umbrellas are usually the best choice of promotional products because of their versatility and universality. For umbrella business owners, parasols are an excellent choice for promotional umbrellas.
However, you'd have to take extra caution when selecting your promotional parasols. That's because, as an umbrella business, your promotional parasols represent your brand. Poor-quality promotional umbrellas give your brand a negative reputation. So, if you wish to discover tips on how to purchase the best parasols for your business, read this piece.
What Is a Parasol Umbrella?
A parasol is a small umbrella that people use as shade from the sun. While some people use parasols and umbrellas interchangeably, there are some notable differences between them in the strict sense. A regular umbrella is a hand-held device used to create shelter from the elements. Most times, it's a circular, plastic-made object with hinges that attach it to a pole.
Parasols are specifically used as sunshades, especially by women. Parasols mean "for the sun" in Spanish, and therein lies the difference between it and other umbrellas. While umbrellas are generally used to protect their users from rain, parasols cover them from the sun. As such, umbrellas are made from waterproof materials, while parasols generally have a more delicate look and mustn't be waterproof.
Again, umbrellas are usually much larger than parasols. Generally, Parasols are much smaller than umbrellas, except beach umbrellas and patio parasols that shade two or more people. In summary, umbrellas are general terms for a device that provides shades. Consequently, parasols are umbrellas, except that they're specifically suited for the sun only.
Parasols symbolize different things for different cultures. In some cultures, they are symbolic of femininity, fashion, and royalty. In some other climes and times, parasols represented art and religion. They're usually made from materials like cotton, linen, silk, lace, and canvas.
Parasols trace their origin back to China, India, and Egypt, shielding royalty from the sun. They were made from feathers, palm leaves and transformed into fashion accessories in Europe in the 16th century.
There are different kinds of parasols— tilting parasols, cantilevers, good parasols, etc. Wall-mouthed and balcony parasols are also amazing options for parasol umbrellas.
Why Does Your Umbrella Business Need a Parasol Umbrella?
Do you wish to expand your umbrella line, or you want a promotional product idea? Parasols are always a great option to choose from. We've compiled six reasons why your umbrella business needs a parasol umbrella below: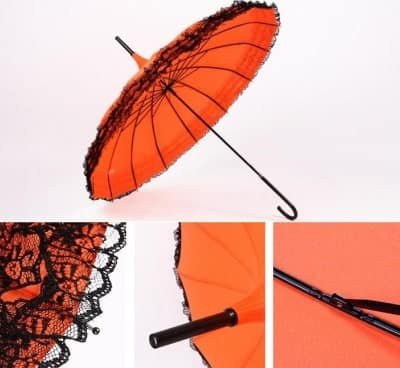 Parasols are Effective and Functional
As an umbrella business, you'd love to stock products that are useful for your customers. With the increasingly longer summers and hotter days, parasols have never been more functional. Your clients would want to protect themselves from the harsh effects of the sun on those days. Since parasols are best suited as sunshades, stocking them up is great for your business.
Furthermore, because they're so effective, you can create awareness messages around them. By introducing your customers to more effective ways of preventing sunburns, you increase your brand appeal. That creates a win-win situation for both your business and your clients.
They're Fashionable
Parasols are regarded as one of the oldest fashion accessories in existence today. They've been around for over 4,000 years, even before pants were invented. Over time, parasols become more sophisticated to suit changing times and trends.
Today, these umbrellas are used to create beautiful photography props for pictures. Parasols are appealing to customers who love to stay fashionable and in vogue. They can serve as beautiful accessories to enhance your client's looks for events and parties.
They're particularly appealing to women and add some allure to any outfit. So, if most of your clientele are female folk, you need parasol umbrellas.
Parasols are Beautiful and Enhance Your Business Appeal
If you have an umbrella business and you need promotional umbrellas, parasols are always a great choice. First, you need your business outdoor space to be organized and attractive. Having a parasol in your business space not only makes it more appealing but also doubles as a sunshade for your clients. Since parasols are such ornamental umbrellas, they always make your outdoor business space come alive.
Again, everyone loves beautiful things around them. You can be sure that when you offer parasols as promotional items, your customers will love them at first glance. They'd be more inclined to take them everywhere they go because of how attractive they are.
Parasols are Cost-Effective
One of the most important things to consider when buying parasols for your umbrella business is affordability. Not only should they be affordable for your brand, but your clients must also find them inexpensive too. While affordability can be pretty relative, you must ensure that you're creating enough value for your clients.
Parasols are functional and provide enough protection from the sun. They can also function as fashion accessories or photo props. As such, they always make a cost-effective product choice for your umbrella business.
They're Great for Relaxation
One way to attract customers to your umbrella business is by demonstrating just how much a parasol helps them relax. You can do this by stationing your outdoor parasols in a garden or somewhere as close to nature as possible. Your clients can use it as a waiting area while you attend to them.
Not only will your customers feel relaxed, but it's also a great way to display your products. Also, clients can use them in their balconies to relax while viewing their landscape. Parasols don't take up a lot of space. Since they're also sun shades, they are just the perfect types of umbrellas for your clients' patios.
Parasols are Versatile
While parasols are primarily made for the sun, they can easily be adapted to suit other objectives. For example, some parasols are made from water-resistant materials that make them the emergency options for wet seasons. So, you can have a parasol umbrella as a replacement for other types of umbrellas that you haven't stocked yet.
7 Tips to Find the Right Parasol Umbrella
Parasols have numerous amazing features that make them highly necessary for your umbrella business. However, you shouldn't buy just about any parasol you see. There are some factors you must consider to get the parasols that are precisely what suits your brand. You'd only get the sales and brand awareness that you desire when you're deliberate about making the right parasol purchases.
If you're an umbrella business owner and you don't know how to get the right parasol umbrella, we've got you. Below are seven essential tips to help you get the parasols that are just right for your brand:
1. Understand Your Target Audience and Examine the Existing Umbrella Market.
Like every other business owner, you must study your clients' peculiar needs before selling any product. Who are your clients, what do they do for a living, and what types of parasols will they love? Your answers to those questions determine the kinds of parasols you need to sell. The key to succeeding in your umbrella business is selling precisely the kind of parasols your customers love.
Again, you can determine your client's needs by studying the local umbrella market. Most of the time, your competitors would sell the kind of parasols that suit the clients in your vicinity. Studying your competition will also help you develop better sales strategies for your brand.
2. Study the Climatic Conditions in Your Locality
Another tip to purchasing good parasols for your umbrella brand is to examine the weather trends in your locality. Remember that the aim is always to stock up the kind of parasols that your clients need. So, if the area is always sunny, you must provide parasols that offer the best sunshades. For climates with equal rainy and sunny times, you can stock up water-resistant parasols for the purpose.
You can determine the climate of your locality by catching up with methodology updates. For example, if the summer season spans for a long time, you can be sure that your parasols will be high in demand.
3. Pick a Suitable Fabric
Fabrics are always an important part of any parasol umbrella. You mustn't neglect to consider this as you buy parasols for your umbrella business. First, the fabric material must always be of top-notch quality. Next, they should be as durable as possible. Below are the most common fabrics for parasols:
Acrylic Fabric
The acrylic fabric looks and feels like wool fibers. It's a soft, lightweight, synthetic fabric that undergoes similar production processes with polyester and nylon. This fabric repels water and is quite durable, lasting much longer than many other parasol materials.
Acrylic fabric is very beautiful and comes in a lot of amazing colors. It doesn't wrinkle and can retain its colors for a long time.
Polyester
Polyester is one of the most common materials used in making parasol canopies. It's short for polyethylene terephthalate (So here'swhich is a combination of air, water, and petroleum reaction). Like acrylic fabric, polyester doesn't retain water. However, it's a much cheaper option than acrylic and tends to fade pretty quickly.
Polyester is soft, color-rich, and easy to clean. It also has natural sun-resistant properties.
Olefin
Olefin, another name for polypropylene fiber, is a high-grade material with excellent UV resistance properties. While they are not exactly waterproof, olefins are water-resistant and get dry easily. Like acrylic fabric, olefin is extremely durable, doesn't fade easily, and comes in many color choices. It's lightweight and soft and, coupled with its attractiveness, is one of the best materials for a parasol.
Raffia
Raffia is a natural fiber from palm trees. It's soft, durable, and biodegradable. They're best used in parasol making for fashion and exclusivity because they are rare and distinctive. It's a durable and sustainable choice of parasol material, although you may be limited with colors. They're valued for their ornamental qualities and cater well to a clientele base with tastes in high fashion.
Sunbrella Fabric
Sunbrella possesses a lot of amazing qualities that make it perfect for parasol production. First, the sunbrella is fade-resistant, and you can be sure that its color will remain vibrant and not wash out. It's also sun-resistant, automatically making it the choice option for parasols. Also, the sunbrella has UV protection, mildew-proof, durable, and comes in a wide range of colors.
In summary, selecting the perfect material for your parasol depends on what matters most to your brand. If you prioritize durability, Olefin and Acrylic fabrics are the way to go, especially considering their anti-fading properties. However, if you'd prefer a less costly option, you can stick with the polyester fabric.
4. What's the Right Parasol Size and Shape for Your Business?
There are different parasol umbrella shapes you can choose from. Usually, parasols and every other umbrella are circular or round. However, there are other shapes like rectangles, squares, octagons, etc. Choose a shape that goes well with your umbrella tables and business landscape.
Parasol size is essential when buying them for your umbrella business. If you need your parasols to create a waiting area, you must consider the amount of space you have. If you're buying a parasol as a promotional product, you must consider the size that suits your clients best.
Overly large parasols can be overwhelming for a small space. In the same way, a small umbrella for a large space is pretty inadequate. Here's a simple size guide that you can follow:
For 30-36 inches tables, use a 6-8 feet diameter umbrella.
38-48 inches umbrellas need umbrella diameters between 37-89 inches
For a 54-60 inches table, parasols of 11 feet and higher suit it nicely.
You must also consider your umbrella's pole and height size. Be sure to use measurements that align with the amount of space available for you. Pole and height size goes a long way in determining how stable your parasols will be. A great tip is that your base diameter shouldn't exceed .25″ of your umbrella pole.
5. Consider the Type of Parasol Frame You Need
The following are the most common frame types to choose from:
Wood
Wood is one of the oldest materials used for parasol frames. They are beautiful and classic and also give off sophisticated looks. While they may be expensive, wooden frames are cost-effective, especially when they're well cared for.
Aluminum
Aluminum frames are sleek and more cost-effective than wood frames. That's because they're less expensive and last longer. In addition, they're lightweight, anti-corrosion, and sturdy.
Fiberglass
Fiberglass is one of the most durable parasol frame materials you can find anywhere. They are sturdy and can withstand strong winds better than other frames.
Metal
Like aluminum frames, metal frames give your parasol a sleek feel and look. They're rust and corrosion resistant and are pretty affordable too.
6. Choose a Printing Technique
If you want to use your parasols as a promotional product, you'd like to represent your brand adequately. As such, you'd ensure that you buy colors and designs that align with your brand. You'd also have to choose a printing technique that goes well with the type of parasols you purchased. Most umbrella business owners use the following printing techniques for customizing their parasols:
UV Printing
UV printing is a type of digital printing that uses UV light to make and dry inscriptions on the parasol. Many businesses prefer this type of printing because it makes for a high-quality finish. It can also print on parasols that are made from delicate materials.
Embroidery
Embroidery uses needles, threads, or yarns to customize your parasols. It's a durable but expensive customization technique.
Digital Printing
Digital printing makes use of LaserJet or Inkjet printers to script your logo or graphics on the parasol. It's a modern printing method. It's also fast and cost-effective.
Screen Printing
Screen printing is also called silkscreen printing and is an old method of umbrella customization. It uses stencils to impress your designs on the parasols. Screen printing is a durable and cost-effect method of parasol customization.
7. Calculate the Costs
As an umbrella business owner, you'd want to purchase as many types of high-quality parasols as possible. While that's not a bad idea, it's always wise to do so within your stipulated budget. One essential tip in buying a business-suited parasol is first to create a budget. You can then use the budget as a guide in bargaining for the types and quantity of parasols you want.
The Best Parasol Umbrella Manufacturers
If you're contemplating buying parasols for your umbrella business, you should begin sourcing for reliable manufacturers as soon as possible. Having the best manufacturers for your business means that you get high-quality parasols for the lowest prices possible. Only choose honest and expert manufacturers that will make growing your business their priority.
Here is a list of our top five (5) parasol manufacturers worldwide:
HFUmbrella (Huifeng Umbrella)
HFUmbrella produces the best quality and most affordable parasols ever. For over 30 years, they've constantly provided different types of parasols for China and other foreign locations. Customer satisfaction is their focal point, and they've succeeded in putting smiles on their customers' faces all these years.
No matter the kind, type, shape, or color of parasols you seek, there's always something at HFUmbrella for you. If you want the best-customized printing techniques for your parasols, HFUmbrella will deliver precisely what you desire—and more.
Frankford Umbrellas
Frankford umbrellas have been a big name in the umbrella manufacturing industry for over 120 years. Their parasols are always beautifully unique and of premium quality. They are the perfect blend of cost-effective and customer satisfaction.
TUUCI
TUUCI has manufactured parasol umbrellas for about twenty years and is fast becoming a formidable force in the industry. They create the best parasol designs ever and specialize in customizing trendy, creative, and unique umbrellas. TUUCI is one manufacturer that you can depend on to deliver rivaled parasol styles and designs. Your fashionista clients will love any parasol you get from them.
BeachBUB USA
When you're on an adventure on the beach, you need a suitable parasol that helps you block the harmful UV rays. Asides from that, you'd want your parasols to be durable, beautiful, and wide enough to accommodate your guests. Fortunately, with BeachBUB umbrellas, you don't have to worry about meeting your adventurous clients' parasol needs. They're specialists in manufacturing the best beach parasols that you will love. Their umbrellas are of premium quality and come at the most amazing prices. They are also durable, easy to maintain, and convenient to operate.
Global Parasols
Global parasols started manufacturing umbrellas in 1999. Since then, they've never failed to amaze their teeming clients with their top-notch parasols quality. Like their name, they provide value for customers around the world and have cutting-edge manufacturing technology for fast production. From cantilever parasols to centre post and jumbo parasols, Global Parasols offers a wide variety of beautifully designed umbrellas to choose from. They are also specialists in branding and printing, offering affordable customization options for both individuals and businesses.
Conclusion
There are different kinds of parasols that you can purchase for your umbrella business. From tilting parasols to cantilevers and others, there's a lot of options to choose from. So, it can be quite challenging to make a decision. However, if you diligently follow the guidelines in this article, you'd find the perfect parasols for your business much easier.
Regardless of your final choice, finding a reliable umbrella manufacturing company is always paramount. That's why at HFUmbrella, we are dedicated to providing you with the best quality parasols you can get nowhere else. Our pricing is affordable, and you can be sure of top-notch professional advice on any concerns you may have. Contact info@hfumbrella.com to get started today.