Patio umbrellas have gone from being a means of protection for the hot weather or rain to highly functional tools for the growth of many outdoor businesses.
Regardless of whether you run a coffee business, restaurant, or grocery store, patio umbrellas provide incredible advantages to your business in many ways. If you were wondering how patio umbrellas can contribute to your outdoor business's growth, you are reading the right article.
This article covers the core reasons to purchase a patio umbrella for your outdoor business and how taking this single step can immensely contribute to your business's development.
Reasons Why Your Business Needs a Patio Umbrella
The apparent reason to acquire a patio umbrella as an outdoor business is to provide a shade for your customers.
No matter the kind of outdoor business you run, a patio umbrella serves as a shield for your customers. It protects them from the sun and rain while waiting to get attended to or waiting to continue their journey after doing business with you.
While many outdoor businesses do not often come with the option of shaded places for customers, a patio umbrella helps you make up for that by being a place where your customers can stay in till they feel ready or comfortable enough to leave.
A patio umbrella functions as a shop for your outdoor business and serves as a shade against uncomfortable weather for your business.
1. Make Your Outdoor Space More Appealing to Your Customers
Your customers are visual beings. This means making your outdoor store attractive to your customers would make them want to stop by, invite their friends to tag along and do business with you.
2. They Help You Maximize Your Space
A patio umbrella helps you maximize your outdoor business space.
An area that could otherwise be a wasted space can be put into good use with a patio umbrella.
Businesses can use the space around their outdoor business to create a place where customers can sit, relax, and get entertained.
3. They Protect You and Your Customers from UV Rays
Like earlier mentioned, patio umbrellas help protect you and your customers from the heat of the sun.
But most importantly, patio umbrellas help protect you and your customers from UV rays.
Standing or sitting under the sun for a long time puts you and your customers at risk of the harmful effects of the sun.
However, patio umbrellas serve as a barrier between you and the sun so that you can stay protected from UV rays.
Your customers will also feel protected when they know they won't have to leave the comfort of their homes to patronize you under the hot sun. Your customers will feel safe coming to shop from you knowing fully well they are protected from potential sun-induced skin damage.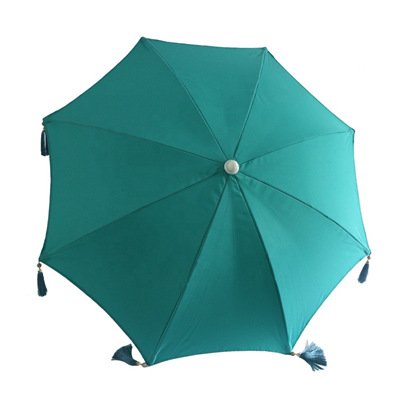 4. Patio Umbrellas Are Versatile
Are you thinking of getting permanent shade structures for your business? Think again. While permanent shade structures are suitable and offer some sort of stability, they do not provide the versatility you need as an outdoor business.
On the other hand, patio umbrellas can be used for almost any purpose. Whether you want it to be installed in a place for your customers to sit, or you want to make it your stand. Whatever you want to use it for, the patio umbrella does a great job at it.
5. They Offer Easy Installation
The patio umbrella is quick and easy to set up. You don't have to possess a special skill to install a patio umbrella in your outdoor space, and you don't have to spend a lot of time on installation.
So, if you are an outdoor business owner who moves from place to place on business, then patio umbrellas are just what you need.
You can easily install a patio umbrella in minutes at the beginning of the day and uninstall it whenever you want to change your business location.
Patio umbrellas provide you with the right amount of mobility needed to run an outdoor business.
6. There are Options to Pick From
Patio umbrellas come in various shades and sizes you can choose from.
This means you won't be restricted to one option; you can choose from the variety of choices available to meet your specific needs.
If you have a small and compact outdoor business space, you can opt for a smaller patio umbrella, or you can go for bigger patio umbrellas if you operate in an ample open business space.
Patio umbrellas give you a wide range of options to choose from, so you are not restricted to one style, one shade, and size. Patio umbrella's styles and designs range from cantilevers, pagodas, and many others. This gives you the liberty to choose the style and designs that work best for you.
7. Give Your Customers a Place to Relax
Installing a patio umbrella in your outdoor business space gives your consumers the space they need to cool off after a long day, sit and chat with friends, and build relationships with new people.
This is especially ideal for food vendors and cafes. Since your business is outdoor, allowing your customers to relish your food and drinks in the open space without proper covering won't allow your customer's repeat customers to relax and have a good time while enjoying your product.
With Patio Umbrellas, your customers get the coverage they need from the sun on hot afternoons and the coolness that comes with the evenings. Your customers can drop by any time of the day to relax and unwind.
8. Create Great Customer Experience
Your customers no longer base their loyalty on how good your product or service is; their loyalty now lies on the quality of customer experience you offer.
To retain your customers and attract new customers, you need to go beyond creating a good product for your customers to ensuring every contact they have with your business is an enjoyable one. Installing patio umbrellas for your outdoor business space helps you create a great customer experience for your customers by making them comfortable when they do business with you.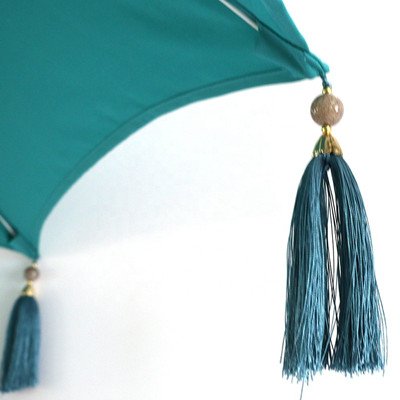 Key Benefits Your Outdoor Business Gains from Patio Umbrellas
We've identified the different reasons to install a patio umbrella in your outdoor business space, but how exactly do these reasons contribute to the success of your business? Let's discuss these benefits below:
1. Attract New Customers
Patio Umbrellas improve the look and feel of your outdoor business. Patio umbrellas come in different beautiful shades, designs, and styles, so, you can always pick the colors and designs that complement your outdoor business setting.
If you plan to install more than one patio umbrella, mixing different shades would make your outdoor business more attractive, and you can also go for a single, unique color to create harmony. Patio umbrellas turn your outdoor business from basic to welcoming and attractive.
Patio umbrellas create beautiful scenery for your outdoor business space, and people love to associate it with beauty. The beautiful scenery patio umbrellas give your outdoor business space fascinates new customers to drop by to buy your products to experience the beauty of your space.
2. Retain Your Customers
When your customers have a wonderful experience with your brand, they become returning customers.
Research reveals customer experience covers about 45% of the reasons customers return to patronize a brand, while product takes about 33.6% and pricing takes about 20.5%.
From the above statistics, we can conclude that customer experience is the most significant factor that determines if your customers will come back to your business or not.
By giving your customers a place to conveniently stay while waiting for their orders, a place to consume your product, and a place just to hang out and connect with friends, you create a good experience for your customers. By enjoying pleasant experiences with your brand, your customers are motivated to come back and do business with you.
3. Gain Increased Referrals
Customer experience doesn't stop at ensuring repeat business transactions with your brand.
It goes beyond that to turning your repeat customers into your die-hard fans.
Your repeat customers will become your business advocates and promote your brands to their families and friends.
According to statistics, people are 4x more likely to patronize a brand when referred by their friends. This is because people trust their friends and family members more than commercial Ads and other means of advertisement.
The best part about customers obtained through referrals is that they are more likely to become your business advocates too. Referred customers have an 18% lower churn than customers obtained through other means. This helps you increase your customer base immensely and ultimately grows your outdoor business.
4. It Gives You an Edge Over Your Competitors
Although patio umbrellas are widely popular, few businesses have tapped into the excellent advantage patio umbrellas have to offer enterprises because many people still see patio umbrellas for home and personal use only.
By tapping into the opportunities that patio umbrellas open for your outdoor business, you will stand out and also have an edge over your competitors.
You will attract your competitor's customers who want comfort and convenience and win them over to your side.
5. Make Your Brand Memorable
Patio Umbrellas make your outdoor business unique and recognizable.
With patio umbrellas, your business will become more identifiable to people living where your business is located, and your outdoor setting becomes identifiable wherever it is found (on social media, magazines, etc.).
People can connect and relate better with your brand because they can identify with your business settings and aesthetics.
6. Build a Good Brand Image
Installing a patio umbrella goes beyond creating coverage for your customers.
It goes a long way to present you as a brand that holds its customer's needs for comfort, convenience, and satisfaction in high esteem. People want to associate with such brands.
Customers are drawn to empathetic brands, and if your customers perceive your business as an emphatic brand, there is a higher chance they will connect better with your brand and ensure continuous patronage.
The Ultimate Patio Umbrella Buying Guide
Choosing the right patio umbrella can be a bit challenging especially when there is a wide range of options.
This is why we compiled the crucial factors to consider when you want to make your patio umbrella purchase.
With this information, you will be able to make the best purchase of patio umbrellas for your outdoor business space. Let's get right into it.
1. What Patio Umbrella Style is the Best for my Outdoor Business?
This is a crucial factor to note when purchasing your patio umbrella for your outdoor business space.
You need to consider your space limitations, the kind of environment your business is situated in as well as your furniture structure.
However, this could still be a daunting task even after considering these factors if you don't know the different types of patio umbrellas available and which of these umbrellas best suits your needs.
The center pole umbrella is the most popular type of umbrella used for outdoor activities, and its primary function is to ensure coverage from the sun.
The second category of patio umbrellas is the offset umbrella, which is commonly referred to as the cantilever patio umbrella.
The cantilever patio umbrella is considered most suitable for outdoor businesses that have enough space at their disposal. It can be covered for a large area and doesn't come with the center pole umbrella's obstruction.
Cantilever umbrellas also offer a 360-degree shade, which makes them practical for outdoor businesses.
2. What's the Suitable Pole Material to Use?
After selecting the patio umbrella style to opt for, the next factor to consider is the type of frame material your patio umbrella needs to have.
Choosing the suitable material is mainly based on your preference and purpose. For example, you can decide to consider getting a pole material that complements your furniture's color. You may also want to go for a furniture type that goes with your outdoor space, or your primary focus can be based on what material is most durable and would do a long-lasting job.
Regardless of what your purpose is, you should consider exploring the three primary patio pole materials to know what materials work best for you.
Wooden Poles
Wooden pole materials complement a lush green environment, and they can make the entire set-up look effortlessly sophisticated.
Bamboo and teak are the most typical materials used to produce poles for patio umbrellas. However, they tend to be more susceptible to insects and damage from severe weather conditions.
Fiberglass Poles
Patio umbrellas with fiberglass materials are usually the most durable, and they offer flexibility for easy mobility.
Fiberglass patio umbrellas are light-weight, so it's easy to carry if your outdoor business requires regular movement from one location to the other.
Fiberglass patio umbrellas are also suitable for outdoor businesses because they have high resistance to rot. Therefore, regardless of how often it rains, you can be sure your fiberglass patio umbrella would remain in perfect condition.
However, patio umbrellas with fiberglass poles tend to be more expensive than other umbrella types. Still, when you consider the high durability they offer and their resistance to rust and rot, the price can be easily overlooked.
Patio umbrellas with fiberglass poles are coated in different shades, so you can always select the fiberglass patio umbrella that blends better with your outdoor business space aesthetics.
Aluminum& Stainless Steel
Patio umbrellas with aluminum and stainless steel poles would blend well with a minimalist designed outdoor business space.
Patio umbrellas with stainless steel poles contain Chromium and nickel content, which makes them resistant to chemicals and harsh weather conditions.
Patio umbrellas with aluminum poles are usually lightweight and long-lasting so, they are also a perfect choice for your outdoor business space.
They are resistant to wear and tear and can withstand tough weather conditions.
Aluminum poles are flexible and can bend without breaking, which means they can be formed to take varying shapes.
This also means they can snap back into shape during heavy winds. So, you won't have to worry about high winds, harsh weather, and extreme weather conditions when you install a patio umbrella with an aluminum-shaped pole for your outdoor business.
Patio umbrellas with aluminum or metal poles aren't prone to insect, decay, or environmental damage, so they are easier to maintain and offer a longer-lasting use.
3. What's the Right Patio Umbrella Size to Go For?
When determining the suitable patio umbrella size to use for your outdoor business space. There are certain factors to consider.
To start with, you should consider how much space you have and if there are other factors that can limit your space.
While small-sized umbrellas are usually more convenient to handle and suitable for outdoor businesses trying to maximize their space, they can barely accommodate enough people and also provide coverage at all sides.
The trick to choosing the right patio umbrella that fits perfectly into your outdoor space is to take accurate measurements.
First, you should measure the table you want to use and also consider the number of chairs that would be placed under the patio umbrella.
Another factor to consider is the shape you want to go for. Do you want to go for a round, square, or rectangular-shaped patio umbrella?
Round-shaped patio umbrellas are suitable for symmetrical space.
Square-shaped patio umbrellas are also ideal for symmetrical space and tend to offer 360-degree coverage. Rectangular-shaped patio umbrellas are great if the lounging tables are extended.
4. What Type of Canopy Fabric Should I Go For?
Your canopy's fabrics are an essential factor to consider when choosing the right patio umbrella for your outdoor business.
They offer protection from the sun, and most times, the quality of the protection they offer is usually based on their material type.
Canopies made from acrylic fabric that offers maximum protection against UV rays. Canopies made from acrylic fabric are suitable for outdoor business use due to their high UV protection quality and their ability to retain it's color for a long time.
Canopies made from polyester fabrics also offer highly durable features and come in great colors for your outdoor business space.
5. What Patio Umbrella Base is Most Suitable?
Another factor to note when purchasing your patio umbrella is the type of base that is most suitable for your type of business.
Patio umbrellas come in mobile and fixed bases. Although heavy, patio umbrellas with a mobile base are easy to move from one place to another.
Patio umbrellas with a fixed base are immobile, although they are mostly considered suitable for windy conditions.
6. What's the right Patio Umbrellas' base Weight?
When determining how heavy or light an umbrella base should be, you need to consider factors like your umbrella canopy size, your environment, and if there's a table to put the pole in or not.
Freestanding center pole umbrellas should weigh about 10 pounds per canopy foot; however, if there's an umbrella table already present, then your patio umbrella base should weigh about 5 pounds per foot.
Brief Summary
Patio umbrellas don't only protect your customers from sun rays, rainfall, and windy conditions; they also help create the best experience for your customers if you run an outdoor business.
The benefits of this are immense. They attract new customers, increase returning customers' rates, generate more referrals, complement your brand's identity, among other benefits.
Conclusion
This article discussed in detail the different reasons to install a patio umbrella in your outdoor business space, the various benefits patio umbrellas offer your outdoor business and included an ultimate buying guide to help you through your purchase process.
If you work with the information provided in this article, you can maximize the vast opportunities patio umbrellas will provide your outdoor business.
At HFUmbrellas, we produce the best patio umbrella to suit your outdoor business's unique needs.
To purchase quality patio umbrellas that fit into your outdoor business goals, contact us at info@hfumbrella.com.