Manufacturers are constantly looking for ways to use environmentally-friendly materials in making their products to reduce pollution. In the umbrella industry, a lot of products are not made from recyclable plastic and cannot be recycled. Nevertheless, a handful of these manufacturers are going out of their way to make recyclable umbrella fabric.
In this article, we'll introduce you to RPET umbrellas, highlighting how their fabrics are made, their benefits, and why you should choose them.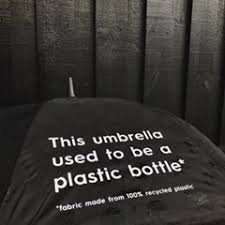 What's an RPET umbrella?
RPET stands for Recycled Polyethylene Terephthalate. It's a fairly new type of material used in making products like pens, vests, caps, raincoats, and umbrellas. An RPET umbrella is one whose fabric is entirely RPET. So, for this type, other parts like the handle and pole could be made from plastic, just like in conventional umbrellas.
RPET umbrellas come in different forms and colors (depending on the need of the customers), and Huifeng Umbrella Co. Ltd is the first manufacturer of this type of umbrellas in the world.

How are RPET umbrellas made?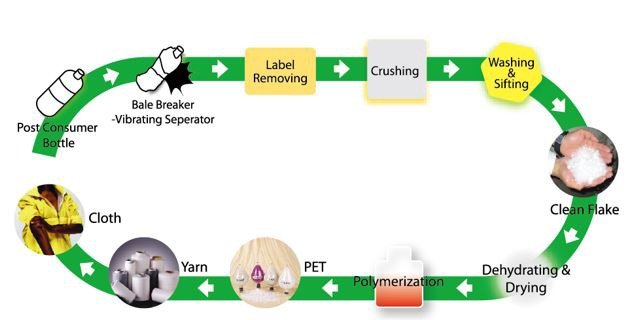 From its name, you should have an idea of what this type of umbrellas is made from. RPET umbrellas are gotten from plastic bottles, and the process is pretty straightforward. Here is how this type of umbrella is made:
Collection of plastic bottles: Recyclable plastic bottles are collected so they can be used in making the RPET umbrella. To know if a bottle is recyclable, a logo with 'RPET' or 'recyclable' should be on its side.
Cleaning, sorting, and shredding the bottles: After the collection stage is completed, the bottles gathered are cleaned and shredded into pet chips. Infrared scanners are used to sort the bottles out if there's a need for that. Subsequently, color sorting is done.
Fiber extrusion: After getting PET chips from the shredding process, fiber is then extruded. The PET chips are spun, heated, and then stretched to get the fibers.
Yarn production: At this point, thousands of fibers are joined together to form a yarn. The fiber appears fluffy, just like a cotton bud, after which it is sent to a manufacturer to make the umbrella's fabric. A high-quality fiber should be snow white. Any other color suggests that there are impurities in it.
Fabric production: On getting the yarn, the manufacturer uses it to make the umbrella's fabric.
Placement of other parts on the umbrella: The fabric is important, but so also are the other parts like the pole, ribs, runner, and so on. At this stage, every other thing is put in place to get a functional umbrella.
Benefits of using RPET umbrellas
Having cleared the air on what RPET umbrellas are and how they are made, the next question to answer is why you should use them. What benefits does using an RPET umbrella have? Here are a few of them:
They are made from recycled materials, and so are high-end products: The factor following the appeal of any umbrella in the heart of customers is its price. Since the materials used in making RPET umbrellas (recyclable bottles) are carefully processed, these types of umbrellas are often regarded as high-end and reliable products.
RPET umbrellas are high-quality and are comfortable to use: Compared to the conventional type of umbrellas, RPET umbrellas are high-quality. More so, they're just as comfortable as any other type of umbrella. They are usually large enough to accommodate two people and are sure to last for a long time.
RPET umbrellas are environmentally friendly: Pollution is destroying our planet, and manufacturing plants are the major contributors to global warming. RPET umbrellas are made from recycled plastic, which reduces carbon dioxide emissions by almost 70%.
RPET umbrellas come in fancy designs and bright colors: Thanks to the creativity of RPET umbrella manufacturers and designers, the majority of this type of umbrellas are well-styled and colorful. If there's a particular pattern you like on your umbrella, and can't find it on any other kind, the chances are that you'll find it on RPET umbrellas.
RPET umbrellas have fancy features: A lot of RPET umbrellas have exciting features like UV protection, shrink resistance, anti-static, and so on. These features make them useful in any situation.

Where to find RPET umbrella manufacturers
Getting an RPET umbrella manufacturer is not difficult. There is a handful of them out there, and you can also find some others on B2B platforms. A couple of places to find umbrella manufacturers include;
Huifeng Umbrella: As we mentioned earlier, Huifeng Umbrella Co. Ltd is the first manufacturer of RPET umbrellas in the world. Having such bragging rights can only mean that it is one of the best manufacturers of this type of umbrellas. You can have a logo printed on the RPET umbrella you get from Huifeng.
Alibaba: Alibaba is a B2B platform known around the world for having virtually all household products that one needs. On the site, you'll have lots of options to pick from, because this is where RPET umbrella manufacturers come to find customers. There are over a thousand search results for RPET umbrellas. You can contact the manufacturer directly when logged on to Alibaba's page on RPET manufacturers, and find out details about the umbrella, like its size, minimum order quantity (MOQ), and handle length.
Amazon: Another popular B2B platform where you can find manufacturers of RPET umbrellas is Amazon. Although a lot of products on this site are not explicitly stated as being made from recycled bottles, a little digging will reveal that a good number are RPET umbrellas.
In conclusion
Pollution is a major problem in the world today, and every manufacturing process contributes to it. Since we cannot do without umbrellas, especially during the rainy seasons, it makes sense to use the ones made from recycled materials to reduce this pollution.
If you are looking for a fashionable and high-end umbrella to get, then you should consider RPET umbrellas. They come in different sizes and have cool features that you'll love in an umbrella.
10 Best Eco-Friendly Umbrellas for 2021
In the past, people only cared about getting a good and sturdy umbrella to protect them from the sun and rain. Although protection from harsh weather is essential, we can achieve more with our choice of umbrellas. So, nowadays, people also consider an umbrella's impact on the environment before buying it. The earth is dying because of human activities. Any means or activity that can help slow this process is a noble cause to be explored. That is why many people are resorting to using eco-friendly umbrellas.
Eco-friendly umbrellas are the product of increased environmental consciousness. This consciousness is because industrial products have caused harmful effects such as global warming, climate change, and ozone layer depletion. To rid the earth of these toxic effects, umbrella manufacturers make eco-conscious umbrellas with materials that are harmless to the environment. They are usually green, recyclable, or biodegradable materials. Whichever material is used, eco-friendly umbrellas typically turn out to be long-lasting choices aiding us in saving the planet.
Must-Have Eco-Friendly Umbrellas
Choosing an eco-friendly umbrella can be challenging, especially if you're recently getting conscious of how your umbrella affects the environment. You may not know which umbrella to buy. That is why we have outlined the ten best eco-friendly umbrellas which you should consider buying in 2021.

The Totes Eco Brella is an exceptional, environmentally friendly umbrella. Its canopy is made with 100% recycled Polyethylene Terephthalate (PET) bottles. And the frame is also made from recycled aluminum materials. The manufacturers fitted the umbrella with a carefully constructed bamboo handle and a waxed hemp strap. Furthermore, the canopy fabric is made from only materials that are confirmed harmless to the environment.
The Totes Eco Brella features a 44" arc and has two lengths, 6 inches, and 11 inches. Both sizes cost around $22-$35. They are also available in many colors, including leaf green, black, khaki, and pool blue. As the name implies, the umbrella has an automatic open and close feature, which you can operate with the click of a button. This feature means that the umbrella allows for one-handed usage. To cap it up, the umbrella displays a recycling symbol to always remind you of your duty to protect the environment.

The Brelli umbrella is another eco-friendly umbrella with outstanding features. Brelli deserves to make this list because it is the first biodegradable umbrella in the world. It is designed to be biodegradable in aerobic and anaerobic landfill environments. The manufacturers of this umbrella are confident that a discarded Brelli umbrella will biodegrade in less than five years.
In an aerobic environment, it will biodegrade in the same manner as leaves and other plant parts. But if it is discarded in an anaerobic environment, it will biodegrade into biogas. Eventually, the biogas will transform into energy to replace the energy used in producing the umbrella.
Apart from its eco-friendly nature, this umbrella also has a transparent bioplastic canopy that adequately shields you from the sun. It is held up and framed by bamboo struts, which is also healthy for the environment. This clear canopy guarantees you 99% protection from UVA, UVB, and UVC sun rays.
Furthermore, the Brelli umbrella is a beautiful fashion accessory. It is artistically handmade and available in two different sizes, a smaller 37" diameter, and the larger 52" diameter.

ShedRain products are usually durable and strong such that you don't need to bin them early. The case is not different with their Ecoverse umbrella. With this umbrella, ShedRain makes it very easy to go green. As you expect, this umbrella's canopy fabric is made with 100% recycled PET soda bottles. The umbrella case is also made from the same material. The canopy offers broad protection with its 42-inch arc. This width should be able to protect at least two persons at the same time.
The manufacturers made the umbrella handle from renewable bamboo. And its shaft and ribs are all made from recyclable aluminum and plastic, respectively. So, one more win for the environment.
A downside of this umbrella, though, is that you need to open and close it manually. However, this shouldn't be much of a problem because saving the earth is worth the extra energy. For now, this eco-conscious umbrella is available in an attractive black color on Amazon, and with just $21, you can be the proud owner of this piece.

This eco-friendly umbrella is a trademark of London Undercover Classic umbrella lines. London has a necessary tradition of using umbrellas. So, it is not surprising that a London umbrella manufacturer will be forward-looking and ecologically conscious.
The umbrella canopy is made from 100% recycled PET fabric. The interior of the umbrella, as the name implies, is made in camouflage color, while the exterior is black. This double-layered canopy opens to around 105cm/41". By all standards, this guarantees fairly comprehensive coverage from harsh weather conditions.
Furthermore, the 90cm/35" umbrella stick is made of wood and has the London Undercover logo etched on it. It also has a woven London Undercover label within the exterior seam. A steel frame with strong and sturdy ribs makes this Ecobrella more reliable. For only £71, you can be the proud owner of this umbrella.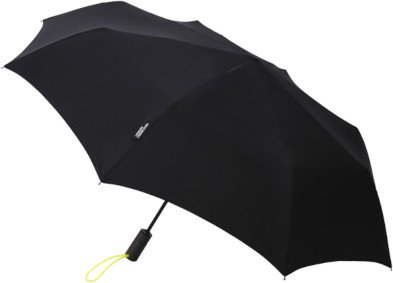 With this umbrella, London Undercover Umbrellas created a compact and yet cheap Ecobrella. This beautiful piece costs just £33 and is one of the smallest and lightweight umbrellas from London Undercover. The umbrella has a stud button, with which you can automatically open and close it. This auto open and close feature allows for a one-handed operation.
The canopy is also made from 100% recycled PET materials and is supported by a robust 3-section steel frame. Furthermore, it is fitted with a black wooden handle with engraved branding to add to its environmental sensitivity. It also comes with a matching sleeve with London Undercover Grosgrain Label.
At 30.5cm long, this umbrella opens to 96cm in diameter, a vast enough space for a compact umbrella. A fitting description of this is a lightweight, compact, automatic, and environmentally friendly umbrella from London Undercover.

The Monsoon Vermont is another ecologically sustainable option you can get for $60. This umbrella is the product of a recent trend called Trashion. It sounds like fashion, right? Trashion refers to the making of fashion products from trash. This beautiful creative idea involves the making of these products from materials that have been discarded. The concept is a creative way to eradicate waste.
Trashion products are made from discarded materials such as bottle corks, newspapers, or sheet metal. For the Monsoon Eco Brella, the manufacturers used disposed plastic bottles picked off the streets by scavengers in Indonesia. It is part of their Scavenger Project Line. This company's extra effort for a healthy environment while also creating employment is worthy of appreciation. The end product of their production process is a very artistic and colorful umbrella.
7. Crate & Barrel Auto Open/Close Coby Eco Umbrella
This 38″ eco-conscious umbrella is another great piece. So confident are the manufacturers of their umbrellas' quality that each umbrella comes with a 30-day money-back guarantee. The Coby Eco "Brella is also available in multiple colors and attractive designs, making it an appropriate fashion choice.
The canopy of this umbrella is entirely made from 100% recycled plastic bottles sourced off the streets. Unlike some other eco-friendly umbrellas, most parts of the Coby Eco Brella are environmentally sensitive. The umbrella frame is also the result of 70% recycled material. In the same manner, its lovely handle is made from renewable bamboo. It also has a super durable hemp strap.
As a medium-sized umbrella, it has an original auto open and close button. This feature will allow you to hold your bag or briefcase in one hand and effectively shield yourself from the sun or rain with your other hand. You can get all the protection this umbrella gives for just around $30.

Here's another eco-friendly umbrella from the Alexander McQueen collection. The skull-shaped handle of this umbrella is its most prominent feature. However, the handle is not what excites eco-conscious umbrella shoppers. Instead, this umbrella's true beauty is that it is made from 100% sustainable Econyl polyester. This canopy fabric was directly sourced from recycled fishing nets and nylon.
The Italian-made umbrella explores dark aesthetics with its predominantly black color. The interior and its exterior are both black. It also has a red logo-jacquard edge. The Econyl canopy is supported with an eight-rib frame. And you can easily open it with a push-release button. The umbrella measures around 11.8in/ 30cm and it costs a whopping $170 on online shopping malls.
Ginkgo Umbrellas started with a clear understanding of how harmful umbrella parts affect the environment. Only such knowledge can explain the careful detail with which their umbrella components were made and assembled.
All parts of the Ginkgo Eco Brella are made from the same 100% recycled polypropylene. This excellent umbrella that comes in many colors and designs is very sturdy and can withstand sun and rain. Even if the umbrella falters under harsh weather, and you decide to bin it, it doesn't adversely affect the environment.
Instead of making one whole umbrella that cannot be dismantled, it was made in flexible, piecemeal, interchangeable parts. These parts are just 20 in number, unlike other popular umbrellas that have over 120 different parts. By reducing its parts, Ginkgo has effectively reduced the number of materials the environment has to deal with. It also ensures that the umbrella is lightweight.
Furthermore, these parts are joined by snap-fit joints, discarding the problematic screws. Finally, Ginkgo parts can even be used to assemble another umbrella should the original one get spoilt. This solves the problem of spoilt umbrellas littering the environment after a heavy storm.

You most likely see x-ray films at the doctor's or during a medical appointment. But have you ever wondered what you could do with a used x-ray film? An umbrella manufacturer is converting some of these x-ray materials to umbrellas. This innovative idea for materials that are mainly known for only one usage is excellent for the environment. After use for detecting medical conditions, x-ray films are thrown away where they add to landfills. Essentially, the manufacturer is cleaning up the planet after medical institutions pollute it with discarded x-ray films. By buying this umbrella, you'll also be actively participating in cleaning up the environment from medical waste.
The umbrella maker, Anastacia Spada, built this umbrella with water-repellant sheets of skeletal x-ray film. This unusual canopy is sure to add another color to your rainy days. Using discarded x-ray films with little or no value, the producer effectively reduced production cost, which will indeed affect the purchasing price. This material choice means that an X-ray Eco-Friendly Umbrella would be way cheaper than your typical nylon fabric umbrellas.
One would think that their unique x-ray film "material" makes the umbrella less reliable and unfit for harsh weather conditions. However, the reverse is the case. An x-ray umbrella can keep you as dry as a bone under the heaviest of storms. You can get this aesthetically appealing umbrella in solidarity with the earth.
Conclusion
It would help if you saw your need for an umbrella as an opportunity to also do right by the environment. All you need to do is switch from an ordinary umbrella to an eco-friendly umbrella. If you're looking to produce or buy eco-friendly umbrellas in bulk, HF Umbrellas can help you do this. With our years of experience building quality umbrellas, we are confident that we can satisfy your production demands. You can send us an email at info@hfumbrella.com now to start production.