Manufacturers are constantly looking for ways to use environmentally-friendly materials in making their products to reduce pollution. In the umbrella industry, a lot of products are not made from recyclable plastic and cannot be recycled. Nevertheless, a handful of these manufacturers are going out of their way to make recyclable umbrella fabric.
In this article, we'll introduce you to RPET umbrellas, highlighting how their fabrics are made, their benefits, and why you should choose them.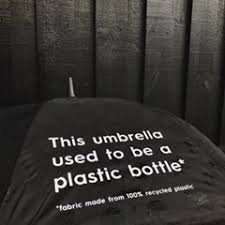 What's an RPET umbrella?
RPET stands for Recycled Polyethylene Terephthalate. It's a fairly new type of material used in making products like pens, vests, caps, raincoats, and umbrellas. An RPET umbrella is one whose fabric is entirely RPET. So, for this type, other parts like the handle and pole could be made from plastic, just like in conventional umbrellas.
RPET umbrellas come in different forms and colors (depending on the need of the customers), and Huifeng Umbrella Co. Ltd is the first manufacturer of this type of umbrellas in the world.

How are RPET umbrellas made?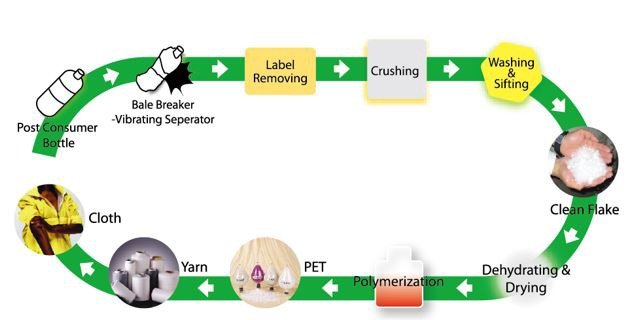 From its name, you should have an idea of what this type of umbrellas is made from. RPET umbrellas are gotten from plastic bottles, and the process is pretty straightforward. Here is how this type of umbrella is made:
Collection of plastic bottles: Recyclable plastic bottles are collected so they can be used in making the RPET umbrella. To know if a bottle is recyclable, a logo with 'RPET' or 'recyclable' should be on its side.
Cleaning, sorting, and shredding the bottles: After the collection stage is completed, the bottles gathered are cleaned and shredded into pet chips. Infrared scanners are used to sort the bottles out if there's a need for that. Subsequently, color sorting is done.
Fiber extrusion: After getting PET chips from the shredding process, fiber is then extruded. The PET chips are spun, heated, and then stretched to get the fibers.
Yarn production: At this point, thousands of fibers are joined together to form a yarn. The fiber appears fluffy, just like a cotton bud, after which it is sent to a manufacturer to make the umbrella's fabric. A high-quality fiber should be snow white. Any other color suggests that there are impurities in it.
Fabric production: On getting the yarn, the manufacturer uses it to make the umbrella's fabric.
Placement of other parts on the umbrella: The fabric is important, but so also are the other parts like the pole, ribs, runner, and so on. At this stage, every other thing is put in place to get a functional umbrella.
Benefits of using RPET umbrellas
Having cleared the air on what RPET umbrellas are and how they are made, the next question to answer is why you should use them. What benefits does using an RPET umbrella have? Here are a few of them:
They are made from recycled materials, and so are high-end products: The factor following the appeal of any umbrella in the heart of customers is its price. Since the materials used in making RPET umbrellas (recyclable bottles) are carefully processed, these types of umbrellas are often regarded as high-end and reliable products.
RPET umbrellas are high-quality and are comfortable to use: Compared to the conventional type of umbrellas, RPET umbrellas are high-quality. More so, they're just as comfortable as any other type of umbrella. They are usually large enough to accommodate two people and are sure to last for a long time.
RPET umbrellas are environmentally friendly: Pollution is destroying our planet, and manufacturing plants are the major contributors to global warming. RPET umbrellas are made from recycled plastic, which reduces carbon dioxide emissions by almost 70%.
RPET umbrellas come in fancy designs and bright colors: Thanks to the creativity of RPET umbrella manufacturers and designers, the majority of this type of umbrellas are well-styled and colorful. If there's a particular pattern you like on your umbrella, and can't find it on any other kind, the chances are that you'll find it on RPET umbrellas.
RPET umbrellas have fancy features: A lot of RPET umbrellas have exciting features like UV protection, shrink resistance, anti-static, and so on. These features make them useful in any situation.

Where to find RPET umbrella manufacturers
Getting an RPET umbrella manufacturer is not difficult. There is a handful of them out there, and you can also find some others on B2B platforms. A couple of places to find umbrella manufacturers include;
Huifeng Umbrella: As we mentioned earlier, Huifeng Umbrella Co. Ltd is the first manufacturer of RPET umbrellas in the world. Having such bragging rights can only mean that it is one of the best manufacturers of this type of umbrellas. You can have a logo printed on the RPET umbrella you get from Huifeng.
Alibaba: Alibaba is a B2B platform known around the world for having virtually all household products that one needs. On the site, you'll have lots of options to pick from, because this is where RPET umbrella manufacturers come to find customers. There are over a thousand search results for RPET umbrellas. You can contact the manufacturer directly when logged on to Alibaba's page on RPET manufacturers, and find out details about the umbrella, like its size, minimum order quantity (MOQ), and handle length.
Amazon: Another popular B2B platform where you can find manufacturers of RPET umbrellas is Amazon. Although a lot of products on this site are not explicitly stated as being made from recycled bottles, a little digging will reveal that a good number are RPET umbrellas.
In conclusion
Pollution is a major problem in the world today, and every manufacturing process contributes to it. Since we cannot do without umbrellas, especially during the rainy seasons, it makes sense to use the ones made from recycled materials to reduce this pollution.
If you are looking for a fashionable and high-end umbrella to get, then you should consider RPET umbrellas. They come in different sizes and have cool features that you'll love in an umbrella.