Gift is an integral part of the corporate world. However, finding a perfect gift that has both aesthetic and functional purposes is not that easy to find. Here comes a custom golf umbrella to rescue.
Golf umbrellas offer both aesthetic and practical purposes. Players can take a break from the hot sun or rain; at the same time, brands can display their names. You can use the company's name and logo on custom golf umbrellas to enhance brand visibility.
You have huge options when using a custom golf umbrella as a corporate gift. Here, we will talk about the customization options, the benefits of custom golf umbrellas, and how you can get one.
Benefits of Golf Umbrellas as Corporate Gifts
You need to consider several things while selecting an appropriate business gift. However, the personality of the recipient is an essential consideration. Golf umbrellas are a great gift for a group of people that share a passion for the sport. Some advantages of providing golf umbrellas as corporate presents include the following:
Golf umbrellas serve a useful purpose. Protect players from the sun and the rain with a golf umbrella. They're useful not just for picnics and hikes but for any outdoor activity.
They're fashionable. You may find golf umbrellas in a wide range of hues and designs. This means you can pick an umbrella that complements the aesthetics of your organization or the individual receiving it.
Golf umbrellas are affordable. When purchased in large quantities, golf umbrellas can be given as inexpensive business presents. This makes them a great option for those on a strict spending plan.
They last for a very long time. Because of how well-made golf umbrellas are, they will be useful to the lucky recipients for many seasons to come. They'll think of you every time they use their golf umbrella.
Golf umbrellas are easy to transport. You can fold them easily and carry them inside a golf bag.
Create a Long Lasting Impression with a High-quality Custom Golf Umbrella
A high-quality golf umbrella imprinted with a company's logo or branding can make a memorable impact. You can promote your business and have a deep impact on many people's minds.
The following are some of the benefits that companies might expect from giving golf umbrellas as corporate gifts:
A high-quality golf umbrella with a company's logo or branding can make a lasting impact on the recipient.
Golf umbrellas are often considered luxurious items, and recipients will appreciate the quality of a well-made umbrella.
Golf umbrellas are large and sturdy, making them an excellent present for business clients or customers.
An imprinted golf umbrella is a great promotional gift because the receiver will be reminded of the company's name every time they use it.
A quality golf umbrella is a practical and useful gift that will be appreciated and used for many years to come.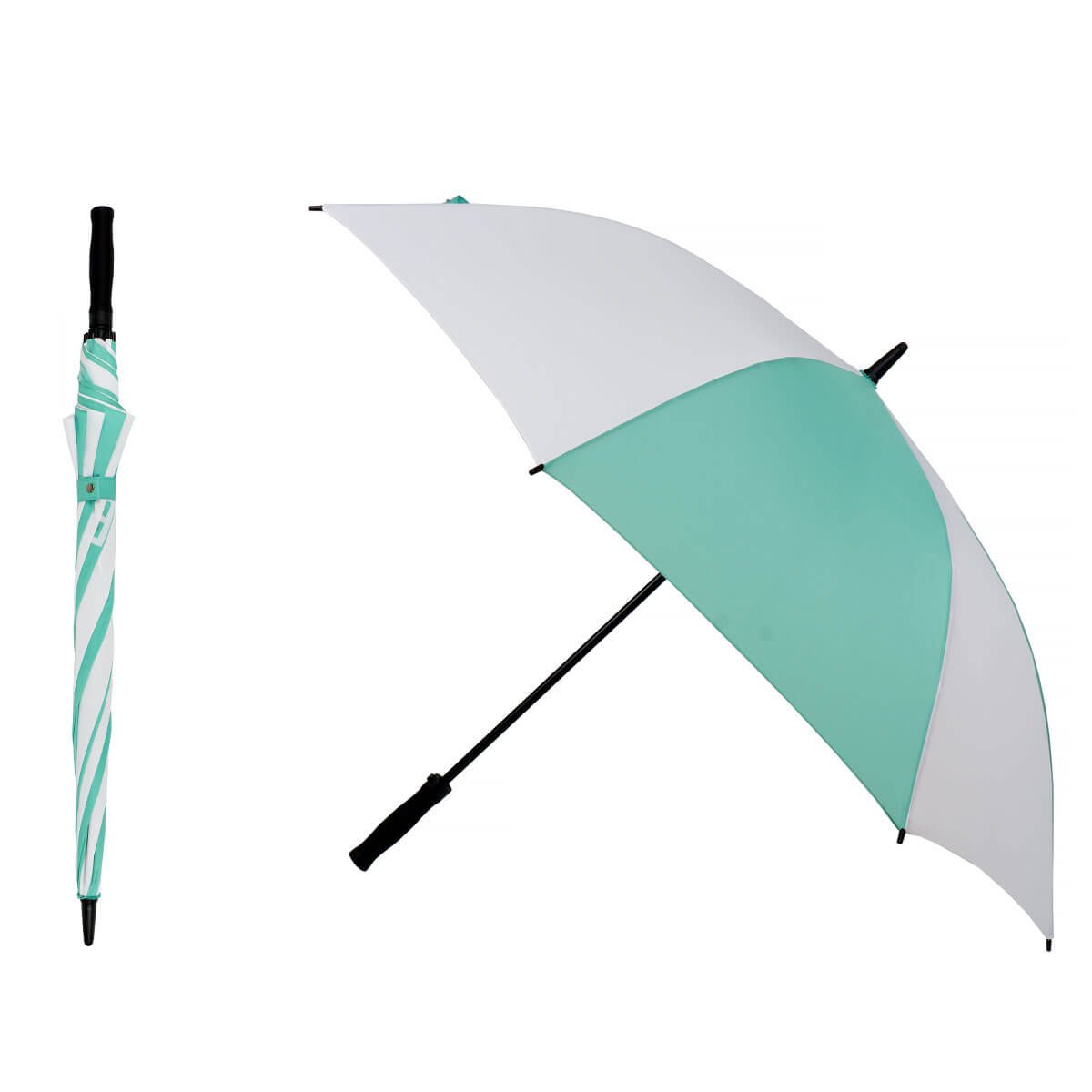 Customization Options
Personalized golf umbrellas are a great way for companies to show their appreciation to employees and promote their brand. Among the many golf umbrella customization options are:
Color Options
Golf umbrellas can be customized in a rainbow of colors, from traditional black and navy blue to eye-catching pink and lime green. You can consider both the company's brand color and a person's individual preference to make a mixture.
Logo Placement
The canopy, handle, or umbrella sleeve are all suitable locations for a logo. Businesses can choose the position of the logo that they feel best represents their brand, taking into account the size and style of the umbrella.
Design Feature
Stripes, patterns, and other visual embellishments are just some design characteristics that can be added to a golf umbrella during customization. This might help you make an original and interesting present that stands out from the crowd of standard umbrellas.
Customization Options
There are tons of different customization options available for custom golf umbrellas. This can make the present more meaningful and foster a closer relationship between you and the recipient.
Materials
You can select from various materials that fit your design and budget. A good custom golf umbrella manufacturer can offer several options and give you expert options about the materials you can use.
Take Advantage of Custom Golf Umbrellas for Branding
Corporate gifts, such as golf umbrellas, can have a significant visual impact when designed to match a company's branding.
You can achieve this by choosing a color that fits the company's brand. This can help the umbrella look consistent with the rest of your branding efforts and make it a very special and memorable present.
For instance, A tech firm might have neon-colored golf umbrellas made specifically for them to project an image of youthful vitality and forward-thinking.
Putting a company's logo on a golf umbrella is another option for personalization. Businesses can raise brand awareness and leave a long-lasting impression on customers by doing so.
Depending on the company's needs, the logo can be modified in size, position, and color. For instance, the logo of a financial services provider would look fantastic in a contrasting color at the umbrella's top.
Golf umbrellas can be unique in more ways than just the color or where a brand is sewn.
Adding a custom phrase or tagline to the umbrella is a great way for a company to reinforce its brand's message further. They might make their designs stand out more by including bands or designs.
Successful Corporate Gifting Campaigns
When organizing a corporate gifting campaign, you must keep a few things in mind. Choosing appropriate presents is the first step. Second, guarantee the quality of the offers, and third, organize your campaign around a central concept.
When planning a corporate gifting campaign, giving employees and clients something they can use and enjoy is crucial. Because of their practicality and style, golf umbrellas make fantastic business presents.
Your customers and workers can utilize them on the course, and they'll also be a walking billboard for your brand.
Selecting high-quality golf umbrellas that can survive the elements is vital to any corporate gifting strategy. Investing in a higher-quality umbrella is a good idea because less expensive ones tend to break easily and don't last very long.
Here are some of the companies that used to provide custom golf umbrellas to their employees:
Coca-cola
BMW
American Express
Microsoft
Barclays Bank
Nike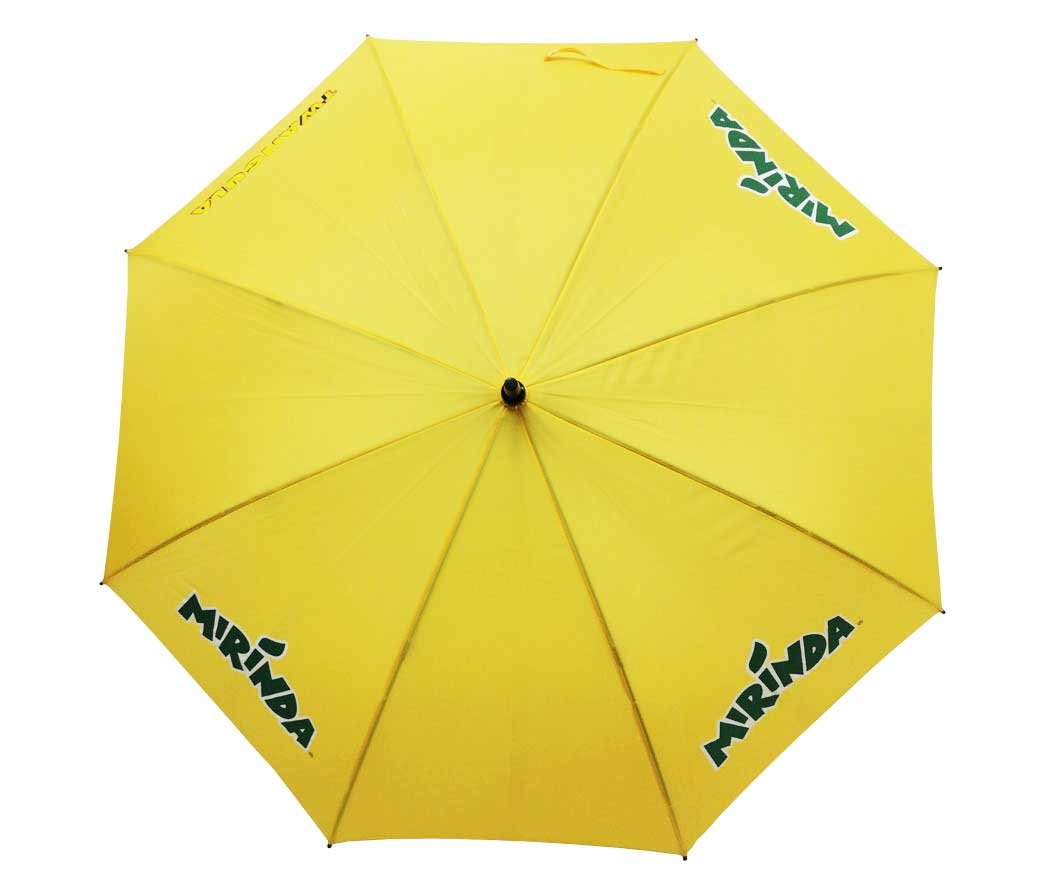 Choosing the Right Golf Umbrella Manufacturer
So, are you ready to offer a custom golf umbrella as a corporate gift? The main challenge is it's not easy to find a reputable manufacturer these days. So, before you order your next lot of custom golf umbrellas remember the followings:
Quality
Avoid sacrificing quality for the sake of cost. You might end up with goods that aren't very good. High-quality materials, such as waterproof fabric, sturdy frames, etc., should be used throughout production. You should evaluate the product's quality first before buying it. To ensure quality, you may request a sample.
Cost
You should keep your budget in mind. Businesses should find a supplier from whom they may get high-quality goods at a reasonable price. The price must be considered alongside other elements, including quality, personalization, and turnaround time.
Lead Time
The term "lead time" refers to the length of time it takes for the manufacturer to create and ship golf umbrellas to the customer. Businesses must choose suppliers who can work with their schedule and deadlines to give a reasonable lead time. Delays and dissatisfaction can be avoided if deadlines are clarified upfront.
Options for Customization
If you are looking for a Chinese manufacturer of golf umbrellas, be sure they provide options for customization. Organizations should seek suppliers who can modify their orders in several ways, including color, brand positioning, and special features. Because of that, companies may ensure that their presents are consistent with their image.
Minimuim Order Quantity(MOQs)
This is a very important factor for any company. You don't want to manufacture too many golf umbrellas at a time. Many manufacturers have a high number of MOQs. So, before placing an order, you must know how many umbrellas you will need.
Brand Image
When looking for a golf umbrella maker in China, finding one with a good reputation and responsive customer service is mandatory. China has many custom golf umbrella manufacturers, but not all of them offer good quality products. Therefore, you must do thorough research and find a manufacturer with all the necessary documentation, certifications, and experience.
How Hfumbrella Meets the Requirement of Corporate Clients
When you work with Hfumbrella, you'll get a golf umbrella that will last and look great for years to come. To guarantee the durability of our umbrellas, we source only the finest materials and give each item a thorough inspection to guarantee it lives up to our exacting standards.
Moreover, we have our own factory, digital printing system, and a dedicated quality control team to check your custom golf umbrellas in the various phase of the production time.
Price: Our golf umbrellas are high-quality yet affordably priced. We offer competitive pricing because we want our consumers to feel like they are getting the most for their money.
Lead Time: We know that deadlines for corporate giving campaigns are crucial, and we always make sure to meet them. That's why we consult with our customers extensively to make sure our lead times are adequate. Our bulk product delivery time is 15-30 days, and we deliver samples in under 3 to 5 days.
Customization options: To assist our customers in making a big visual statement with their golf umbrellas, we offer a wide range of customization possibilities. We collaborate with our customers at every stage, from deciding on colors to deciding where to put a brand.
Minimum Quantity Required or MOQs: As we have our own factories and digital printing facilities, we have no minimum order requirement for custom golf umbrellas. You can order just the amount you need.
Customer Service and Reputation: We have customers all around the world. We have earned their trust by providing top-quality umbrellas on time. One important note, we never share customers' information with other customers.
Conclusion
A golf umbrella is a one-of-a-kind and useful business present that may make an everlasting impact. Companies may make a huge visual impact with their presents by printing or embroidering them with their logo.
Our golf umbrellas are of the highest quality, and we provide a wide variety of customizing options at Hfumbrella. We also offer competitive pricing, prompt shipping, and friendly service. Close collaboration with our customers allows us to create unique and unforgettable gifts.
Get in touch with us right away for more information about our services. Also, you can talk to our Umbrella expert.