Regardless of whether you're a newbie or a seasoned golfer, you'll agree with us that a golf umbrella is one of the most crucial tools you should never miss carrying to the golf course. Right? When the weather unexpectedly goes south, a golf umbrella can be a lifesaver on the unforgiving rain-whipped green. It will protect both you and the clubs from the torrential downpour.
Heavy winds and scorching sun rays can also affect your ability to play the game by causing an unwanted extreme disturbance. However, if you select the right golf umbrella, you can enjoy your golf without the disturbances of the weather conditions. Now the question is; how do you select the perfect one? Well, don't fret, here are the 6 essential features you need to look for when buying a golf umbrella.

6 Crucial Features To Look For When Purchasing A Golf Umbrella
1. Canopy Size
If you thought that the typical canopy size often seen on rain umbrellas will work for the golf umbrella, then you're in for a surprise! Why? Just because it won't cut it.
Many people don't know that a golf umbrella's canopy should be incredibly large and spacious. In simpler terms, it should have the ability to shield two people or more without hassle. They will need to shade you, your golf bag, and golf gear as well. So, be generous with size.
That's why we STRONGLY recommend that you always go for golf umbrellas that are about 54 inches. We also have a whopping 64 and 68 inches umbrellas in our line of golf umbrellas.
Apart from this, you may also need to check out the double canopy umbrellas. As the name suggests, the umbrella has another canopy above the major canopy.
This ultimately helps to a greater extent with the resistance of wind and umbrella inversion.

2. The Material Used During Manufacturing
A vast majority of golf umbrellas are made of fiberglass, wood, or steel. Nevertheless, we strongly recommend that you ALWAYS select the ones made of fiberglass. This material is not only long-lasting but also lightweight. It also flexes and bends without sacrificing strength. When you select a shaft made from a
high-quality material, you enjoy the much-needed stability during harsh weather conditions.
While steel ribs are sturdy and long-lasting, they usually don't flex or bend which is crucial when it comes to countering the winds' force. Worse still, steel elements on an umbrella could be dangerous in a thundery climate since it attracts electricity.
The quality of the fabric used in the canopy is very important as well. The Teflon fabric is considered the best material since it not only repels water but is also lightweight. You also need to ensure that you choose the mold-resistant fabric.
3. Umbrella Weight
Remember that unless you have a person to hold the umbrella for you, you'll always carry the umbrella yourself. So, consider going for a lightweight umbrella, which you can hold and carry for an extended period without fatigue.
4. Protection Against UV Rays
When looking for golf umbrellas, you want to select the one that will protect you against the UV rays from the unforgiving sun. Therefore, you should select the one that comes with excellent UV protection features. We advise that you choose the one that boasts a UV protection factor of 50+. In so doing, you are sure that you'll always stay safe and sound from the dangerous rays of the scorching sun.
5. User Comfort
You don't want an umbrella that is a pain in the ass to use. You, therefore, need to check whether an umbrella has the following user-friendly features: Comfortable Grip
Select a grip, which is incredibly comfortable to hold even when playing for an extended period. Your fingers need to be tight, so you don't suffer from pinching accidents as you play. Go for a grip with a wide diameter to enjoy the desired level of tightness.
Automatic Open
There's no doubt that you can survive without this feature. However, no one would hate to have an effortless and easy-to-use umbrella. With just a push of a single button, the canopy should eject and unravel seamlessly. This means you won't struggle or wrestle opening the umbrella single-handedly.
6. Elegance And Visibility
In addition to protecting you from harsh weather conditions, golf umbrellas also play a crucial role in making you visible on the golf course. Brilliant, vivid, and elegant colors will protect you against stray golf balls reducing possible injuries.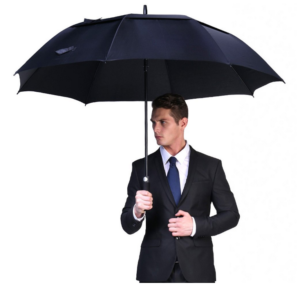 Wrap Up
If you're looking for a golf umbrella manufacturer that will take your business or golfing experience to a whole new level, don't look any further! Check out our high-quality, stylish, elegant, and vigorously tested golf umbrellas here. You can also contact our friendly and prompt customer care executives at info@hfumbrella.com. We wish you an exciting shopping experience.