A complete guide to importing umbrellas from China
Whether you import that transparent, golf umbrellas, logo umbrellas, or brand custom-made umbrellas in wholesale.  China is a great place to get it. This is because not only do you get the best rates for wholesale, but you are also certain about the quality of the product that you purchases provided you have carried out enough investigation on the type of umbrella that you need.
Before making a move to import umbrellas, it is important to carry your own background research especially if you do not know any supplier or if you have never interacted with anyone from China. In fact, you do not need to know a supplier for you to import umbrellas from China.
You, also need to understand things like the material used to make the umbrella, the type of umbrella, whether it's a table, rain, or just an umbrella to block the UV rays. Also, you will need to understand the terms that your supplier operates on, the shipping process, and how to sort any challenges that may arise after you have made your purchases.
Here are some important tips to guide you when importing umbrellas from China.
1: Selecting your products
Before proceeding to search for your umbrella, it is important to be certain of the type of product you have depending on your demand for the particular reason why you need them. Having the niche in mind is not enough since there is a myriad of umbrellas to choose from.
Umbrellas are made from different materials and advantages and these include; oilpaper, nylon, silk, cotton, and plastic. Depending on your demand and, you will need to settle on one.  Also, you need to understand more about the design of the umbrellas.
If in case you are planning to buy and resale them, you can take a variety of colors. If you are making purchases on customized umbrellas, especially table umbrellas, it is vital to get the information right. Always make sure that you have given your supplier your perfect design.
2.Selecting your suitable supplier   
Once you are certain about the type of umbrella that you want, the next step is to settle on a particular supplier. If it is your first time dealing with suppliers from China, you need to come up with ablest of suppliers that have a common product or who can make the product for you. Always make sure that you are choosing a supplier with whom you can start a long-term relationship with.
You can either use a search engine to search for people who sell the same product that you want.   The best way to select the best supplier for the particular type of umbrella is by using the business to a business platform with the main one being Alibaba.
In these platforms, there are always policies that guide the people on how they should make purchases or even file claims in case something has gone wrong. Also, when planning to get your umbrellas in bulk, it is better to consider working with manufacturers.
3: Umbrella Manufacturing Process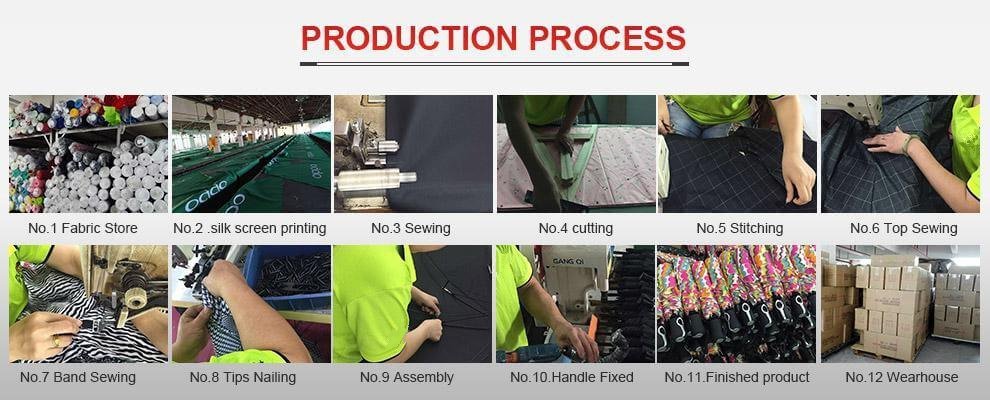 Large Cut:
Cutting the suitable size of the fabric is the very beginning process which is called "Large Cut", sometimes called "First Cut." Use of machine or hand-cutting to cut fabric in rectangle shape from the pile of fabric.  This process is the pre-stage for the second cut.
Small Cut:
This process is called "Small cut", sometimes called "Second Cut". The purpose is to cut the fabric from the rectangle shape into a triangle shape.  Use wood to make a triangle shape of a flame as a mold. Place the mold on the rectangle fabric and hand-cutting the fabric in a triangle shape.  The triangle shape of fabric is called gores which is the panel of the umbrella.
Printing:
In this case, we use silkscreen printing as an example (For detail, please go to the "Printing Method" section). Place the gores on a long table.  Then put the wooden flame on each gore and printing the graphic on the fabric.
Canopy Assembly:
After the printed gores are ready.  The next process is the canopy assembly.  In a normal umbrella, we sew 8 pieces of gores by the sewing machine to make the canopy.
Umbrella Tip install:
The tip is a piece of metal or plastic stick at the end of each rib to stable the canopy with the ribs.  In this process,  we use a special sewing machine to sew the tips on the fabric.  The number of installed tips is the same as the number of ribs.
Join the frame and canopy:
The next process is to sew the canopy with each rib. This process can not use a machine,  it is totally hand-assembly.
Handle install:
There are several methods to install the handle with the shaft such as screwed on, heat up the shaft, or glue to secure the handle.
Quality checking:
Quality Control is the most important area in each process. Therefore we appointed QC staff in each production line in each process.  After all, assembly and production processes are finished, all the umbrellas will send to the quality control department to have the final quality checking process before packaging.
Packaging:
All umbrellas which passed the QC test will send to the packaging department to pack into the carton.  Normally, there are 5 inner cartons in each outer carton.  Each inner carton contains 60 pieces of umbrellas.
4:  Umbrella Manufacturing Process: Taking Care Of Quality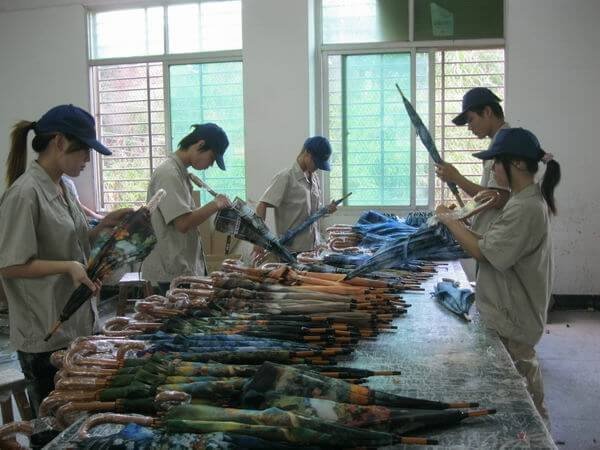 Quality control is an important part of the manufacture of umbrellas because there are so many things that can go wrong with an umbrella. After having bought an umbrella, it is most frustrating when it does not work and it is most likely that you have been saddled with a non-working umbrella for the year.
Pre-production samples are manufactured first for approval by the quality control team. Only after approval is the full production of an order undertaken. Once production starts, in line inspection is continued by the quality control team on a daily basis.
Just before the final stages of production another round of pre-final inspection is carried out by the same quality control team. This also involves the checking of the packaging material, assortments of packing, shipping marks, etc. Once this is over, final production and inspection take place, passing which the umbrellas are ready to be shipped.
5: Shipping
If you have a forwarder agent in China, you can ask the supplier to deliver goods to them. Otherwise, you can use the forwarder which the supplier recommends. But be sure that you should compare the shipping cost and use the right shipping way.
6.Common complications   
There are a number of complications that can arise either before you import your umbrellas or after. You may notice that after your goods have reached you, some of them are broken or damaged. If you were not keen on the product details, then you might end up running on a loss. The buyer-seller agreement is very critical. In some cases, the buyer might decide to use logos of companies that have not been given permission by the original manufactures.
7: Faulty goods return 
You need to ensure that you have a method of solving disputes or sending returns in case the wrong products are sent to you. The best way we are doing this is to ask the supplier to send inspection videos with photos before shipping.
If the issue is with the supplier, then the supplier will have return policies. Most importantly, always select suppliers for your umbrellas from the type of suppliers that you can manage. Choose suppliers who have good reviews online, and those that your laws keep in touch with or even ask how you are faring after the purchase.
8.Bottom line 
Importing umbrellas from China is not as an easy task as it may seem especially if it is your first time you do not want to get conned by your hard-earned money. You carefully have to follow the above processes to ensure that you are not on the wrong. Also, ensure that you use a common and reliable payment method.
Should you have any questions when importing umbrellas from China, pls contact  Justin( ★E-mail:Justinzhang@hfumbrella.com ★What's app:8613527750521): freely.

Contact us for the best quote now!