The term "vintage" is not new to anyone, especially those with a vast enthusiasm for designs. It is a common term used for materials from another era—the past or ancient—that hold valuable and recognizable quality.
The popularity of vintage designs did not stop in the ancient era but has become one of the most sought-after designs in the world. The status of its popularity can be linked to various reasons, among which its rarity is a significant factor. The primary factor that contributes majorly to the value of antiques is their rarity. Hence, any material with a vintage design is greatly valuable than the regular types.
Most of the time, antique or vintage materials are usually termed old and irrelevant. I know you must be thinking that way, but it is an obvious lie caused by a change in an era's pop culture. This can be traced back to the sixties and seventies, using a beach umbrella as a case study. In the medieval days, vintage beach umbrellas were used by people in search of a relaxing oceanside retreat (especially surfers).
These umbrellas were made up of durable materials that offer maximum protection from the sun. Hence, people in the inland region started using these umbrellas to get shade from the blazing sun. The designs incorporated into these umbrellas displayed their pop cultures. These designs are prevalent in today's art galleries for their top-notch abstract arts with deep meanings.
Going on a beach excursion with a vintage umbrella will offer you more than fun and relaxation. It will also provide you limelight by making you distinct and noticeable among the crowd of beach umbrellas. The types of umbrellas you will find today are always filled with vibrant colors and huge logos. But they are all planted in the sand with a sand anchor by the beach-goers. On the contrary, vintage beach umbrellas provide different designs that depict the past and today's pop cultures. Hence, they reflect era and time with specific designs.
Finding the best vintage umbrella is always challenging. You will have to consider materials, quality, and designs beyond vibrant colors. There are only a few umbrella manufacturers that can provide you with vintage umbrellas that reflect era and time. Meanwhile, if you desire a reliable manufacturer to provide your business with the best vintage umbrellas, HFUmbrella is the best option.
The Best Vintage Umbrellas
In today's market, the designs for vintage umbrellas are mistaken for faded colors. Vintage umbrellas are not supposed to look old and faded; else, the different pop culture they reflect would be irrelevant.
There are only a few vintage umbrellas that fit the term "best." Hence, they are difficult to find in the midst of the bad options with attractive appearance. To find the best vintage beach umbrellas, you will have to consider various factors. Although the design is the primary factor that defines a vintage umbrella, you will also have to consider its features and quality.
Considering the significant factors that make a vintage umbrella fit the appellation "best," the best include the following:
Flamingo Beach Umbrella
Mexican Blanket Style "Las Brisas
Vibrant Rose Patterned Beach Umbrella
Monterey Beach Umbrella
Calliope Beach Umbrella
Caribbean Beach Umbrella
Solana Beach Umbrella
Flamingo Beach Umbrella (Vintage Hawaiian)
The Flamingo Beach umbrella is one of the luxury beach umbrellas with vintage designs. It is designed with high-quality materials to shade you from the blazing sun in the afternoon. It also comes with a feature that protects it from turning inside out by strong and gusty winds.
The canopy of this umbrella is covered with a fabric that offers a hundred percent ultraviolet protection. The fabric also retains the vintage design for a long time without fading (fade resistant). The water-repelling microfiber polyester fabric increases the use of this umbrella. Hence, instead of worrying about visiting the beach during rainy seasons, you will gladly go.
In addition to the ultraviolet protective fabric it comes with, it also comes with a sand anchor. The sand anchor keeps your umbrella in place even on windy days. Hence, you will not experience an event where your umbrella will be blown away by the slightest of breezes—it could be embarrassing.
Furthermore, it is made with durable materials that contribute to its lightweight characteristic. It is therefore easy to transport to the beach and back home. It also comes with a carry-on case for easy transportation.
Mexican Blanket Style "Las Brisas" Vintage Beach Umbrella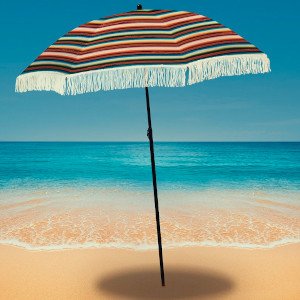 This is a luxury type of beach umbrella with vintage designs. It will make you distinct and unique from various other beach umbrellas. Hence, you will benefit from its aesthetic properties coupled with the maximum protection from the sun it offers.
The canopy of this vintage-designed beach umbrella is constructed to have a 50+ UPF rank. What this means is that it will protect you from direct and harmful sun rays on sunny days. You will be a beneficiary of a hundred percent ultraviolet protection to maintain the fun and relaxation you get on your beach picnic.
Many beach umbrellas do come with designs that tend to fade after exposure to sun and rain. You will, however, be free from such a disadvantage with this vintage umbrella because it comes with a fade-resistant feature. Although it is a great option on sunny days, it is also an excellent option on windy days. This is primarily because of the sand anchor it comes with to prevent it from getting blown away by strong winds.
Vibrant Rose Patterned Beach Umbrella
This type of umbrella comes with a design that depicts nature in a stylish and vibrant way. The design and pattern of this umbrella are highly distinguishable and easily identifiable on a beach with many umbrellas. It is also popular for the adjustable feature it comes with to accommodate people with different heights.
Its canopy is made up of an ultraviolet blocking material (50+ UPF) that can not be affected by water (water-repellent property). It is different from many beach umbrellas prone to fade when exposed to rain and sun rays. Instead, it is fade-resistant and durable irrespective of how well you use it so long as you properly maintain it.
Furthermore, it is light in weight and can be transported anywhere with ease. The simplicity in setting up this umbrella is incredible and does not require any professional guide.
Monterey Beach Umbrella
Monterey beach umbrella is an attractive umbrella with vintage designs and fringes. The beautiful and sleek vintage design it comes with can never go unnoticeable; hence, you will definitely stand out among other umbrellas on the beach. Although it is famous for its vintage design, its features also contribute to its popularity.
The features it comes with make it an excellent option for protection on sunny, windy, and rainy days. It is constructed with a 50+ UPF rank fabric responsible for the 100% UV protection it provides. You will not be worried about sunburn and other forms of discomfort caused by the blazing fireball in the sky with this umbrella.
If there is one embarrassing event that people face on the beach, it will be chasing the chasing of a windblown umbrella. It is mainly due to these umbrellas' weakness to the slightest of winds. Meanwhile, this umbrella comes with a sand anchor that keeps it fixed to the ground on windy days (wind resistant). It is also resistant to water to protect you on rainy days.
Furthermore, it has a stylish accessory pocket to store items that can easily get missing in the sands (keys and cell phones). It is also light in weight for easy transportation and fade-resistant.
Calliope Beach Umbrella
Many people like to look different from others by doing the opposite of what most people do. If you are like this and seek a beach umbrella that will not only offer you comfort but also a different look, calliope is a great option.
It is a beautiful vintage-designed beach umbrella with fringes. The materials it is constructed with offer a hundred percent ultraviolet protection on sunny days. Protecting yourself from harmful sun rays goes beyond the use of sunglasses that only secure the eyes. This Beach Brella product will, however, cover your entire body from direct sunlight while relaxing.
It is also resistant to strong and gusty winds. This property protects the umbrella from falling off or getting blown away by the wind. The feature responsible for this wod resisting property is the fill-in bag it comes with to hold it still. You will have to fill its fill-in bag with sands and then attach a Velcro strap to the ribs. This will protect the umbrella from turning inside out and getting blown away; hence, making it resistant to high winds.
Furthermore, it comes with a denim carry-on bag with a comfortable shoulder strap for easy transport. It is also resistant to water and fades; hence, it is highly durable and long-lasting.
Caribbean Beach Umbrella
If you are going on a beach excursion with your kids, you should definitely be expecting them to pray around with several things, especially water. Most parents usually fear that the water will damage the design and make the design fade. Meanwhile, it is not the case with the Caribbean beach umbrella because it is made with a water-repelling fabric. Hence, rather than hindering the fun of your kids, you should relax without having anything to worry about.
It also offers a hundred percent ultraviolet protection due to the 50+ UPF rank of its fabric. The harsh rays of the sun usually cause discomfort that will ruin your relaxation time. Meanwhile, this umbrella will shield you from such discomfort making your stay at the beach comfortable.
The protective function of this vintage-designed beach umbrella is not limited to only sunny days. It also protects you from getting drenched on rainy days due to its water-repelling property. The Caribbean beach umbrella can withstand high winds to prevent it from falling in response to wind.
The wind withstanding property of this umbrella is due to its fill-bag that is usually attached to the ribs with Velcro straps. You will have to fill the fill-in bag with sand to hold the umbrella firm should there be strong and gusty winds. Furthermore, the exposure of this umbrella to sunlight and rain will not cause it to fade. Hence, you can use it for many beach excursions and picnics.
Solana Beach Umbrella
Solona beach umbrella is another vintage type of umbrella famous for the flower patterns on its canopy. The flower pattern depicts nature with a vibrant color that is easily noticeable from a distance. Hence, your kids will never find it hard to locate it, irrespective of how many umbrellas are on the beach.
It provides maximum protection from sun and wind to provide you with the comfort you need in relaxation. The fabric used in the construction of Solana beach umbrella is rated 50+ UPF to shade you from harsh sun rays. The fabric also has a water-repelling property to protect you on rainy days without causing the designs on the umbrella to fade.
When searching for a beach umbrella that is light in weight, Solana is a great option. It weighs less than five pounds and does not require any manual guide to set it up. It also comes with a denim carry-on bag to transport it after use. The carry-on bag is also light in weight and enhances the easy transportation of the umbrella.
Solana also comes with a fill-in bag usually filled with sand to keep it in place without falling off when there is wind. There are some beach umbrellas in the market that are limited to their screw-bottom system and other forms of anchors. Meanwhile, Solana does not come with such limitations.
Furthermore, it is designed with some accessories pockets to store items that can get missing in the sand. Its beauty is further enhanced with the fringes attached to the canopy.
Conclusion
Beach umbrellas with vintage designs always come with different patterns, such as flowers, palm, and Mexicana stripes. These patterns make this type of beach umbrella distinct and noticeable among other regular umbrellas on the beach. Hence, finding the right umbrella manufacturer that can supply you with such design and quality is essential.
HFUmbrella is one reliable supplier that is popular for the high-quality umbrellas they supply. They also manufacture customized products, depending on the type of vintage designs you desire to place on your umbrella.