Why let a little rain play spoilsport when all you need is the right golf gear to keep you safe and dry?
Strong winds and wet grips can make even pro golfers extremely uncomfortable on the course. Hence, the need to have a high-quality, reliable umbrella close at hand for rainy days. But we are not talking about a standard umbrella you'd carry in your backpack or take into the streets. Golfers need golf umbrellas – bigger shades, double canopies, and sturdy frames.
The options for golf umbrellas are dime a dozen, but a few stand out from the crowd. In this article, we've rounded up the top 10 golf umbrellas 2020. We discuss the good, the bad, and the in-between to help you make an informed purchase.
Finding the best golf umbrella in 2020 is knowing the features to look for. It includes:
Size of the canopy: arc size and diameter as it influences the level of coverage.
Canopy material and design.
Waterproofness, wind resistance, and UV protection.
Stability of the frame.
Open-close function.
Comfortable handgrip.
Weight and durability.
Compactness and portability.
Cost.
1. G4 Free Automatic 68-inch Golf Umbrella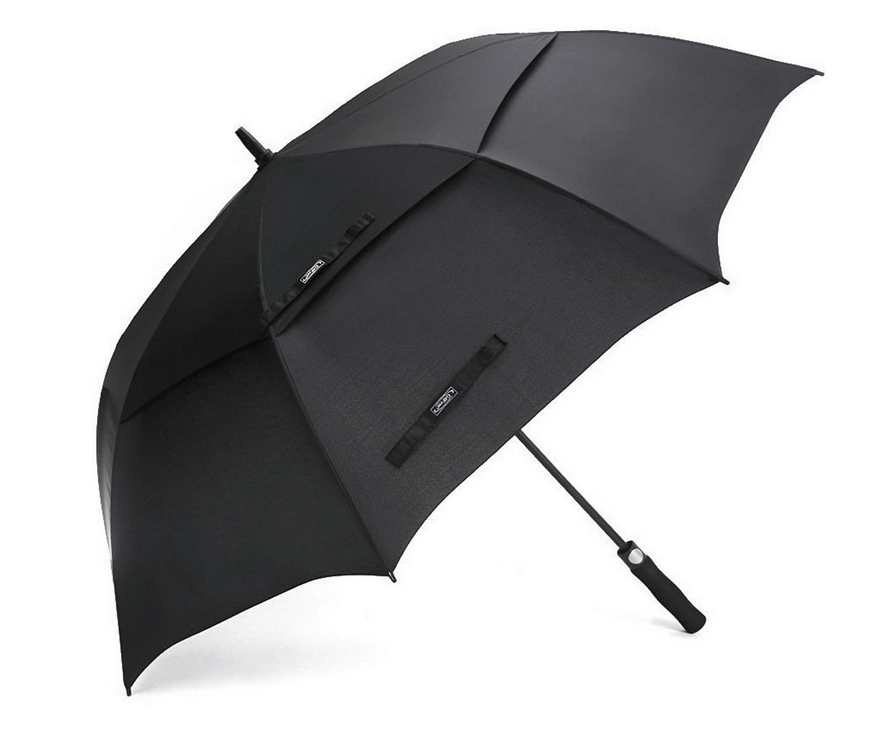 Get A Free Sample Now!
The G4 Free Automatic 68-inch Umbrella is our go-to golf umbrella 2020. Its 68-inch canopy gives it an edge over its competitors. The shade is wide enough to protect a golfer and his equipment. You can also get some of your playmates to huddle underneath.
The 210T pongee fabric used for the canopy shields you from the sun and the rain. Its lightweight, fiberglass-stainless steel frame combo ensures that the umbrella doesn't get too cumbersome, especially when holding for long hours. With its vented design, you don't have to worry about struggling to straighten out an inverted umbrella mid-game. This G4 Free 68-inch brolly is also our pick for a budget-friendly golf umbrella. Adding to its ease of use is its auto-open button. If you prefer a smaller shade, the G4 umbrella is available in 52 and 64-inch options too. Also, if you are picky about colors, there are 21 variants to choose from.
The length of the umbrella is a disadvantage. It measures 39 inches when collapsed; that's not a very compact design.
2. Procella-62"-Golf-Umbrella

Get A Qutation Now!
Procella's 62" offering is a winner for its wind resistance. It holds up extremely well in high-wind conditions with its ability to withstand wind speeds as high as 46mph.
This top golf umbrella 2020 features a roomy, 62-inch double canopy. There's enough coverage for 2-3 people and golf equipment. The vents help release trapped air, adding to the umbrella's wind-resilience while also keeping you cool. The canopy is further reinforced with mesh. It qualifies as an all-weather golf umbrella given its high waterproofness and UV protection.
The other features we liked are the rubberized, non-slip handle, the super-light yet sturdy fibreglass construction, and the auto-open function that makes opening effortless. A wide range of colors means you don't have to settle for the standard black.
3. GustBuster Pro Series Gold 62-Inch Golf Umbrella

Create Your Design Now!
This number on our list of the top 10 golf umbrellas 2020 lives up to its name. The Gustbuster Pro Gold 62" brolly is what most pro golfers recommend for its excellent craftsmanship, wind-resistance, and durability.
The weatherproof canopy measures 62" in diameter, is made of 100% nylon, and uses a patented double canopy design. The solid, all-fiberglass frame flexes in tough winds, ensuring your umbrella does not snap, break, or fly away. The ability to hold out against wind speeds of over 55mph makes this GustBuster brolly our pick for best windproof golf umbrella 2020. Completing its well-thought-out design is its hand-molded, rubber grip. Available mostly in black and navy blue, the umbrella is also known for its lightning resistant shaft. Speaking of price, it features among the higher-end versions but is worth the investment.
4. RainStoppers 68-Inch Golf Umbrella

Want To Know More?
This oversized golf umbrella 2020 grabs attention with its 68-inch canopy. It can shield up to 4 people or a golfer and his golf cart. The nylon coating does a good job repelling and blocking the harsh UV rays. The strong and flexible fiberglass shaft and ribbing can resist intense winds without folding. A sleek, foam rubber handle ensures you don't get tired holding the umbrella for too long. RainStoppers 68-inch is a low-cost, no-nonsense design.
5. Prospo Golf Umbrella

Want to learn more?
Prospo is a simple, reliable, durable golf umbrella 2020. There are three size variants – 58, 62, and 68 inches, with both being large enough to accommodate up to 3 people. An effective venting design on its double canopy prevents flipping and leaking. Further adding structural strength is its fiberglass construction. The downward slope of the canopy deflects rainwater. The waterproof canopy fabric also dries up very quickly. The one-touch quick button sitting on the non-slip handle ensures you don't have to struggle to open your umbrella.
6. Repel Travel Golf Umbrella

Contact Us Now!
If you are looking for great features, exceptional build quality, and an affordable price, Repel is our recommendation of the top golf umbrella 2020.
Its foldable design is the highlight feature. Measuring 11.5" in length when folded down and weighing only 15 ounces, Repel is a compact and lightweight design that is convenient to carry around. A triple-layered, fiberglass framework and 9-rib construction make it a solid umbrella that performs well in windy conditions. The auto-open button causes your umbrella to fly open at the touch of a single button. The Teflon coating makes this brolly durable and resistant to weather elements – dust, snow, water, and sun. The double canopy provides vents for the air instead of trapping it beneath. There's a rubber handle for comfortable gripping. Repel wasn't designed to be a golf umbrella, but offers good coverage.
7. EEZ-Y Portable Golf Umbrella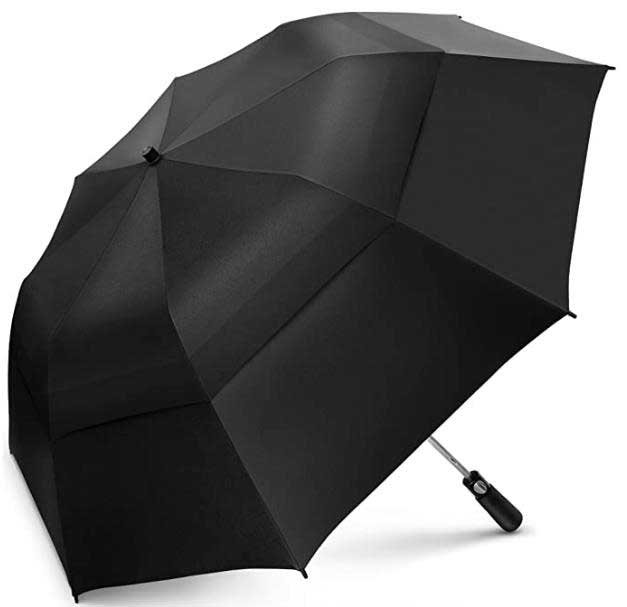 Contact With Your Supplier Now!
EEZ-Y impressed us with its heavy-duty construction, design, and durability. This top golf umbrella 2020 goes the extra mile with its specially-coated 210T water repellent fabric. It keeps you super dry. The large 58" canopy makes it the perfect umbrella for two.
Single canopy designs flip over when exposed to strong winds as the air circulates around the canopy. EEZ-Y takes care of that with its windproof double canopy construction. The upper shell keeps the rainwater out while the vents allow smooth passage of air. The framework, a combo of fiberglass and stainless steel, is built to withstand extreme weather conditions.
The best thing about the EEZ-Y Portable umbrella is that it folds to half its size. At 23 inches long and 1.2 pounds heavy, it is very convenient to carry around. The design includes an ergonomic EVA handle and an automatic push-button for single-handed use.
8. Bagail Golf Umbrella

Get A Free Sample Now!
The Bagail golf umbrella is yet another must-have in every golfer's equipment bag. The double vented canopy does an exceptional job sheltering you from the sun, blustering winds, and the rain.
The 190T pongee micro-weave used for the canopy is a highly durable and quick-dry fabric. Not just this, a solid yet flexible fiberglass frame makes it quite a stable golf umbrella for high-wind weather conditions. With the Bagail Golf umbrella, you do not have to worry about struggling with slippery, wet grips. The non-slip rubber handle fits snug in your hand, without putting any strain. Completing its look is the automatic open function at the end of the handle. Overall, Bagail is a good-looking umbrella available in multiple color options.
9. ACEiken Golf Umbrella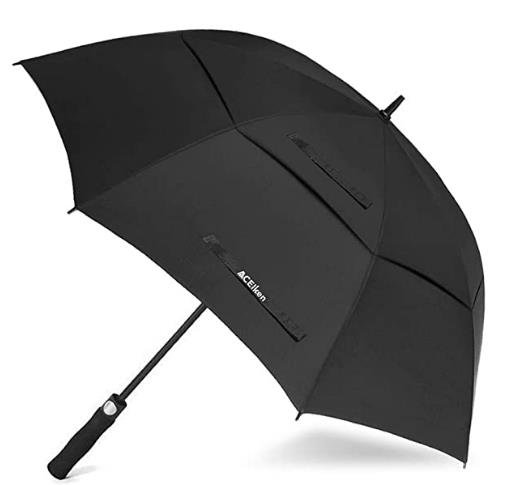 Get A Qutation Now!
Also making it to our list of the top 10 golf umbrellas is ACEiken's supersized brolly. It's an affordable umbrella that does not compromise quality for the price. You can choose from among the 58, 62, or 68-inch canopies; the amount of coverage varies according to the size. ACEiken's range of golf umbrellas boasts of a fiberglass shaft and ribs and double canopy. The vented design ensures your umbrella remains upright if ever you get caught in a storm. The 190T pongee fabric keeps you dry in the heaviest downpour. Its lightweight construction does not make it too heavy to carry around. However, its length is a major drawback; it is too long for a golf bag.
10. Umenice UV golf Umbrella

Create Your Design Now!
We've reviewed umbrellas that are the perfect shelter for a rainy day on the golf course. Finishing off our list of the top 10 golf umbrellas 2020 is the Umenice UV golf Umbrella. It fits the bill for the best UV golf umbrella.
The use of UV protectant fabric offers the highest level of protection from the sun. The double-coated polyester canopy reflects heat. To add, its vented design allows the trapped heat to escape keeping your cool on a hot summer's day. The double diamond canopy is seamless. It is rated for UPF 50+. The material is durable and retains in shape.
While designed as a sun protection umbrella, it also has you covered on a rainy day thanks to its high-density micro weave. With is 51inch diameter and 60-inch arc size, this top golf umbrella 2020 offers coverage for up to 2 people. The auto operating mechanism makes opening the umbrella a breeze.
So, don't let harsh weather conditions force you to stay at home. Invest in good golf umbrella 2020 and keep yourself protected on the course.
You can find good golf gear to keep you safe and dry in Hfumbrella, a reliable golf umbrellas manufacturer in China.

Model: HF20050801

Details / Buy

Model: HF2020050701

Details / Buy

Model: HF20061902

Details / Buy

Model: HF22101001

Details / Buy

Model: HF20082201

Details / Buy

Model: HF2020052101

Details / Buy

Model: HF2022083101

Details / Buy

Model: HF20061901

Details / Buy

Model: HF2023040301

Details / Buy