Looking for the perfect golf brolly to keep you sheltered during your game?
Made in sizes larger than standard umbrellas, a golf umbrella is a golfer's refuge in bad weather. Golf umbrellas are designed to withstand the ruggedness that comes with outdoor use. They are so spacious they comfortably protect the golfer and his equipment. A bigger size can shelter your caddy too. Their frames and canopies are built to withstand strong, gusty winds and the scorching heat.
Non-golfers can buy a golf umbrella too. They make great promotional gifts because of their functionality.
This article is your short buying guide of golf umbrellas. We've discussed in detail the key factors to consider when making a purchase of a golf umbrella.
Golf Umbrella Sizes 
The size of the shade matters. You don't want to get wet in a heavy downpour because the umbrella shade is of a smaller size.
Golf umbrellas are available in multiple sizes, starting from 50 inches going right up to a massive 70-inch canopy. The right size depends on where you are likely to use it and the level of protection you expect. A bigger size is recommended for a game on a golf course. It holds up well in inclement weather and offers maximum protection. A bigger golf umbrella also means that more people will be able to take cover under it should the need arise.
However, a larger size canopy also means a heavier umbrella. So, if you plan to carry it with you, you want a compact, lightweight design that can probably be folded and stashed into your golf bag. To add, if you plan to use your golf umbrella as a substitute for your regular umbrella, you might want to settle for the smallest size available. Wider canopies can be inconvenient on crowded streets.
Canopy Material
While it is obvious an umbrella is waterproof, they differ in the degree of waterproofness. The type of fabric determines how well an umbrella holds in a heavy downpour in terms of waterproofness. Polyester, nylon, pongee, and PVC (for transparent golf umbrellas) are the popular fabric choices for umbrella canopies.
When compared, nylon is the most expensive followed by pongee. Polyester is the cheapest. Of the three, pongee has the highest durability. It brings together the best features of polyester and nylon. The degree of water resistance is highest with pongee. Adding to this is its high level of UV protection. So, you can enjoy optimum protection from the sun and the rain.
Nylon canopies look good with a smooth and wrinkle-free appearance.  However, there have been complaints about shrinking fabric under extreme weather conditions. Polyester does a good job but falls short with its stiff and rough texture. Plastic canopies are not advisable if you will be spending long hours outdoors. Prolonged exposure to weather elements breaks down the fabric.
Bear in mind that while most golf umbrellas are built to protect from sun, rain, and wind, a few are designed with specific weather conditions in mind. For instance, a waterproof double canopy and reinforced construction would hold better in high wind and rain conditions. For sunny areas, we recommend a UV protection of 50+.
Canopy Design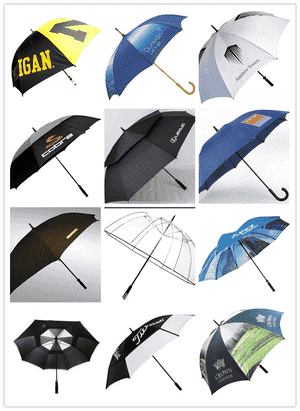 Buying an umbrella also involves choosing between a single and double canopy design. Don't know what that means? Think back to the times you found yourself wrestling an inverted umbrella in the middle of a storm.
A double canopy has vents. These outlets break the force of the wind and provide a passage to release the air. This prevents the umbrella from turning inside out. The vents also allow the trapped heat to escape keeping you cool during the sweltering summers. Despite having vents, a double canopy umbrella keeps you dry by keeping the rain out. The venting design is the chief difference between a single and a double canopy. The double canopy design is your best bet for extremely windy climes.
Speaking of canopy designs, golf umbrella selections include round and square-shaped models too.
Operating Mechanisms
We've all been in situations where we've struggled to open an umbrella. You are all drenched but that stubborn button won't budge. That's the last thing you want to be dealing with while you are busy playing a game of golf.
The opening and closing mechanism can be manual or automatic. Auto-open and close feature on a golf umbrella allows quick and convenient operation, at the touch of a single button. So, you won't find yourself struggling to open your umbrella. Automatic push buttons also enable single-handed operation.
Golf Umbrella Frames
If you want a durable umbrella that will hold up well in extreme weather conditions, filter your search for sturdy frames. Fiberglass, aluminum, and wood are commonly used frame materials.
Fiberglass frames are favored for their high-wind resistance and flexibility. Fiberglass shafts flex and thus do not snap in case of being blown by heavy winds. Despite their solid build, they are extremely lightweight and non-corrosive. They are great for larger-sized golf umbrellas as they cut back on weight. Not just this! There's yet another advantage of using fiberglass. It is resistant to lightning.
Aluminum frames featuring aluminum ribs are heavy-duty, tough, and economical. Powder-coated aluminum shafts are less corrosive. Some aluminum frames use steel and fiberglass ribs instead of aluminum ribs to further reduce frame weight. Their sturdy constructions render them best-suited for commercial and residential applications.
Wooden frames feature solid hardwood shafts with wooden ribs that are built to last. It lends a classic, vintage look. Wooden frames are heavier than their aluminum and fiberglass counterparts. In some designs, stainless steel and fiberglass ribs are used to add flexibility to an otherwise rigid structure. Reinforced constructions and a larger number of ribs make the umbrella sturdy.
Handle design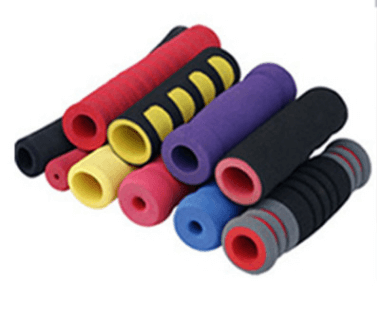 Handles make a difference to the look of a golf umbrella but are more important from the point of view of handling comfort. You need to carefully consider handle design given that golf umbrellas may be used regularly and for longer durations. Ergonomic designs distribute weight evenly and reduce strain on the hand.
There's an extensive range of handle designs to choose from – the traditional curved handle, sleek and stylish wooden handles, or rubberized and textured fittings. Non-slip handles molded to fit the shape of your hand offer the best grip to golfers especially in high-wind conditions.
Given that a golf umbrella will be used outdoors, the best handle material is polyurethane. It is durable, comfortable, and waterproof. Golf umbrellas also feature foam handles. However, they are not as durable as polyurethane. Standard foam handles show signs of wear over time. Avoid steels handles. They are extremely uncomfortable. They are also not safe if in case of lightning.
Curved (J-shaped) handles are easy to hook and store. A golf umbrella with a sleek, straight handle can be packed and carried with your golf clubs in a golf bag.
Weight
Lightweight umbrellas are easy to transport and carry around. The total product weight depends on the material used for the frame, the size of the umbrella, and the number of fabric layers on the canopy.
Folding Designs
Foldable designs are very practical as they are space-saving and portable. There are straight umbrellas that retain their length when closed. Foldable designs collapse into a smaller size and can easily fit into a purse or a side pocket of your golf club. Some umbrellas have two folds while others may have three. Portability is an important feature when choosing a golf umbrella.
Colors, Patterns, and Designs
Functional golf umbrellas need not be dull and drab. You can always choose a design that reflects your personality. There are solid colored umbrellas, from the classic black to brighter shades. You can also choose from among striped, patterned, and theme (sports, floral) golf umbrellas. Select umbrella vendors also offer custom design services. So, you can create a unique design printed with your company logo or tagline.
Price
The price point is the deciding factor in most cases. A higher price tag is not always a guarantee for the best quality. You should get value for the money paid. Look for high-quality, durability, and sturdiness.
Added Features
Only some umbrellas offer a sleeve for storage. If you can get a golf umbrella that includes one in the package, it comes very handily. It keeps your umbrella tidy and makes it more portable.
Some golf umbrellas have a hook at the end of the shaft. It enables golfers to attach the umbrella to other things easily.
Hands-free golf umbrellas are a popular choice among golfers. They enable one to attach the brolly to a golf cart.
Conclusion
Now that we have gone over all the important selection points, take your time to compare golf umbrellas for their size and length, canopy design and fabrics, handle styles, and umbrella weight. Also, remember that selected golf umbrella brands are known for their exceptional quality and competitive pricing. Take your time to peruse golf umbrellas online as well as in-store.  Take time to read up on customer reviews before you finalize your golf umbrella purchase. They give you a better insight into the product helping you make an informed decision.