Corporate umbrellas
Regardless of the kind of organization you're in,  corporate umbrellas imprinted with your corporate logo will keep your company and services ringing in your clients'minds. Having a branded umbrella serves as a win-win situation. You get to keep your clients dry in the soggy weather as they remember who you are.
Additionally, it reinforces your brand awareness and message in a highly impactful manner. Keep the raindrops and run away with our branded corporate umbrellas.
Here are the 10 best corporate umbrellas with your logo
1.AUTO OPEN CLOSE DOUBLE CANOPY GOLF UMBRELLA
The auto open close double canopy umbrella serves as the perfect accessory that protects you from the different weather elements. Whether the rain sun or wind, this umbrella will keep you sheltered.
This umbrella is adequately equipped with the auto-open function that opens it quickly by just a touch of a button. It features a double canopy structure that ensures venting of strong gusts of wind. This design prevents the umbrella from turning inside out.
Its sturdy construction offers a windproof effect that enables it to have extra flexibility and strength during any blustering days. The PGA umbrella is ideal for corporate promotions owing to its professional design.
2. Super large 68 Inch promotional umbrella
Large umbrellas are the perfect choice to keep you the driest. Owing to its classic British gentleman design, our68-inch large umbrella offers elegance and class during the extreme rainy days.
It is designed an aluminum frame making it lightweight and windproof. Owing to its auto open function, this umbrella launches easily by the touch of a button.
As an organization, you can transform this piece of art and excellence into a moving advertisement. It serves as a perfect way to promote your business and services
3.Wooden stick  Hotel Umbrella For Promotional Gifts
Our custom hotel umbrella comes in a tradition executive design that features a 46" canopy. Additionally, it comes with an automatic push button, real wooden tips, traditional curved wooden handle and a genuine wooden shaft.
Its frame system is sturdy to offer an extended product life and added durability. Besides, its high-density canopy is highly repellent to any water absorption. Owing to its high-quality design and stitching, the custom hotel umbrella can be utilized as a corporate advertisement
4.Ultra Light Mini Creative Gift Capsule Umbrella

Get A Quote Now!
Are you looking for a portable, durable, lightweight and stylish umbrella all the time?
The pocket umbrella is just the latest masterpiece you have been looking for. It's specially designed for women. The ultralight weight and extremely compact size make your purse fall in love with it. The high-tech coating prevents 95% of UV, which makes your sexy and healthy skin fall in love with it, too.
The fashionable design with colorized edge fits your sexy clothes well. The durable aluminum alloy and flexible fiberglass ribs help you get rid of the fear of strong wind.
5.Latest Invention Double Layer Auto Open Inverted Umbrella
Get A Quote Now!
Have you ever encountered such a problem in rainy days?
When you jump on a crowded train after escaping a downpour your dripping wet umbrella usually brushes up against your bag, your clothes or -even worse- a stranger. But by inverting the design, the wet side of the umbrella faces inward when closed, exposing
only the dry side. And that's not all: the creative design makes it easier to open when coming out of a car or other covered area, and when not in use the umbrella can stand up on its own!
Double layer Inverted umbrella
Unique design double layer inside out an umbrella, make it easy for you on raining day, won't wet your car, documents or others. Advanced double layer ribs made the inverted umbrella more sturdy.
6. CUSTOM UMBRELLAS FULL CANOPY PRINTED AUTOMATIC FOLDING UMBRELLA

Get A Quote Now!
The full print umbrella is the perfect high-end gift for creating brand awareness. This, in turn, offers a significant long-term promotional gift. Clients can efficiently utilize it for major sporting events, social occasions or product launches that build on your corporate image and identity.
Get A Quote Now!
WALKING IN STYLE: Be an eye-catcher with this elegant transparent bubble umbrella to enjoy your raining days. Keeping you nicely shielded from the rain.

TRANSPARENT: Made of transparent water-proof EVA plastic, it allows you to see in all directions around you and matches any of your outfits. Matching with the colored polyester edge better reveals your nobility. Put on your favorite clothes and enjoy the beautiful scenery along the way when traveling.
8.Wooden Handle Automatic Umbrella

Get A Quote Now!
This 54in large wooden handle umbrella with its vented Double Canopy construction. Allows the wind to pass through the vents preventing it from flipping over or turning inside out. Moreover, our premium Fiberglass and stainless steel frame system cries out NO rust, NO breaking.
Despite being able to protect at least 2 people (54in), this extra large umbrella doesn't sacrifice portability. It folds to only 15.25in and it's much lighter (only 1.3lb) than other golf umbrellas with a similarly sized canopy. Take it while walking the dog, watching your favorite sports, or pick up your school children.
9: Classic Promotional Aluminium Umbrella

Get A Quote Now!
first,  It is a  classic,  British Gentleman Style large umbrella. You will be more elegant when standing in the rainy days. The frame material is aluminum, it is windproof and light weight.
Second, with its auto open function, you only need to press the button and wait the umbrella opens in less than a second, which helps that there will be no delay to your comfort.
Third, Solid shaft and 8 durable ribs make the umbrella stand firm in a heavy rain and strong wind.  27 Inch-sized umbrella canopy is large enough to provide full protection for two people from any weather condition.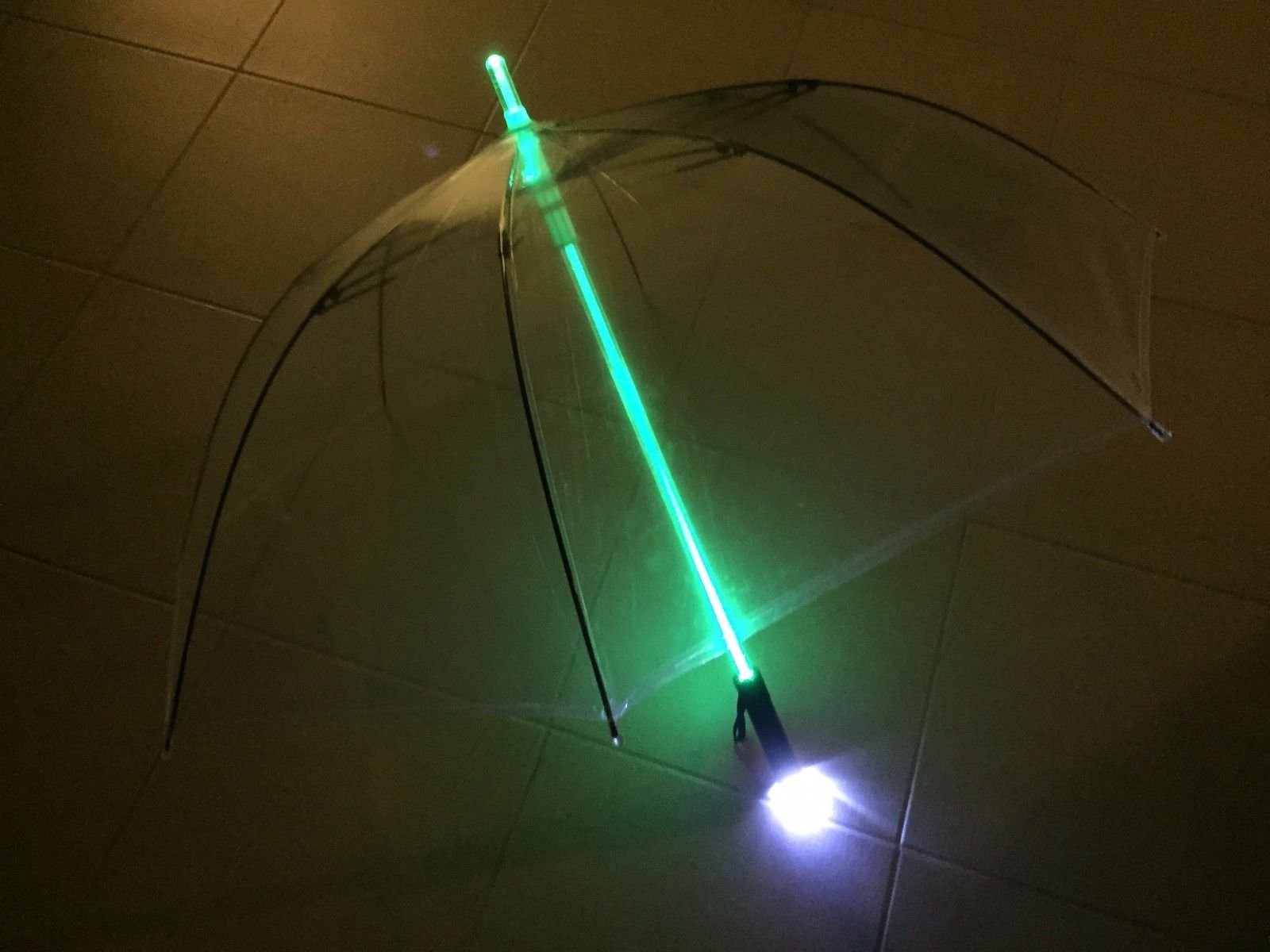 Get A Quote Now!
In the pre-apocalyptic future, the air will be so thick, it will be dark in the middle of the day. Coupled with the almost constant rain, you'll need to find a way to stay dry and light your way to the noodle shop down the street.
Even if you don't live in a quasi-futuristic Los Angeles and you aren't a Blade Runner, you can still have the coolest umbrella on the street. With a push of a button, the shaft lights up, illuminating you and your path. Now, even in the darkest of nights, you're a lot more visible to the cars on the street, making your long walk home through the rain a lot safer.
How to Customize Corporate Umbrellas
A custom corporate umbrella bears your company logo or name proudly. But how exactly do you customize a corporate umbrella? There are many types of printing you can use to brand your custom corporate umbrella. You could choose one of these printing processes or decide to combine a number of these processes.
The type of printing process or method you choose determines how the corporate umbrella manufacturer prints your company's logo on the umbrella. The types of printing processes include dye sublimation printing, silk screen printing, digital textile printing, UV printing, and embroidery.
1.      Dye-Sublimation Printing
Dye-sublimation printing is one of the most common ways of printing images on fabrics. It is a computerized printing technique that uses heat to transfer dye onto an umbrella's fabric.
Using this printing method for your custom corporate umbrella might be an ideal choice because the designs and prints come out looking crisp, clear, and colorful. In addition to these, the graphics do not fade.
The first step in dye-sublimation printing is designing the intended graphics for the umbrella. After choosing the design and preferred colors, a unique digital printer prints the design onto a large quantity of transfer paper. This is possible through the use of special sublimation inks.
Once the printer has put the design on the transfer paper, it aligns the umbrella's canopy and the transfer paper, feeding them into a heated roller. With a combination of pressure and heat, the ink on the transfer paper becomes hot, evaporates, and diffuses into the fabric.
Hence, the custom corporate umbrella's fabric becomes permanently dyed with your company's preferred graphics.
2.     Silkscreen Printing
Silkscreen printing is a popular printing technique that involves pressing ink through a stenciled mesh screen to create a printed design. Silkscreen printing is also known as serigraphy or screen printing.
The starting process of screen printing is similar to that of dye sublimation printing. In the first step, the printer prints out the graphic or design on a transparent acetate film. This is then used to create the stencil.
In the next step, the customizer chooses a mesh screen that is well-suited for the complexity of the design and the umbrella's fabric texture. This mesh screen is then coated with a light-reactive emulsion. For a design that will include more than one color, a separate screen is usually used to apply each layer of paint.
After the emulsion-covered screen is left open for a while, any unhardened emulsion is carefully rinsed away by the corporate umbrella manufacturer. Once the screen is dried, the printer will make the necessary corrections, creating the stencil.
The stencil or screen is ready to be placed on the printing press. The custom corporate umbrella's fabric is laid flat on the printing board, under the screen. The printer presses the ink through the open areas of the stencil, transferring the design to the fabric underneath.
Once the design is imprinted on the fabric, the emulsion is removed with a special washing fluid. The umbrella's fabric is then passed through a dryer to create a smooth, colorfast finish.
3.     Digital Textile Printing
Digital textile printing is a process of printing designs and graphics on fabrics using inkjet technology. The first step in digital textile printing is to pretreat the fabric. This means the material is treated with liquid solutions that prepare it to accept the dye and absorb the colors.
After the fabric is pretreated, the worker feeds it through the inkjet printer that sprays the graphic onto the material. The last step is to fix the fabric.
This step depends on the type of textile and dye used in the printing. Fixing the material may involve steam, dry heat, or pressure, and sometimes, it could require a combination of two or more of those.
4.    UV Printing
UV printing is a unique digital printing method that uses ultraviolet (UV) light to dry or cure the ink. In UV printing, printers use mercury or LED lights for curing instead of heat, used in the traditional printing methods.
UV printing is an environment-friendly method of printing. This printing method speeds up production and allows more printing to be done in less time.
The specially designed high-intensity UV light follows the special ink closely as it is distributed on the fabric; this dries it as soon as the ink reaches the fabric. These UV lights were initially developed to dry gel nail polishes quickly during manicures. But now, this technology has expanded to various industries.
5.     Embroidery
Using traditional embroidery for your custom corporate umbrella makes it stand out even more. This printing method not only beautifies your umbrella, but it also lasts long. Embroidery used to be handmade, but thanks to technology, we have computer-controlled embroidery machines.
A computerized embroidery machine has your company's logo or name saved on the computer. And since the device has multiple heads and allows multiple threads, your preferred colors can then be transferred from the computer to the umbrella's canopy.
NOTE: Bear in mind that you have to decide if you want your logo or company's name printed over the whole canopy of the umbrella or just at a specific position.
Tips for Choosing the Right Corporate Umbrella
Of course, you would want a corporate umbrella of superior quality for your brand or business. To ensure your umbrellas leave lasting, positive impressions on your clients, you must adhere to these tips when choosing your corporate umbrellas.
Umbrella Type
The type of umbrella you choose to use as your corporate umbrella creates a good image for your company. Most custom corporate umbrellas are usually golf umbrellas, men umbrellas, automatic umbrellas, folding umbrellas, bubble umbrellas, or mini umbrellas.
Golf Umbrellas: Golf umbrellas are designed especially for golfers to protect them from the sun and rain. They are usually larger than the standard umbrella. Although it was initially manufactured for golfers, golf umbrellas are also useful for non-golfers. And it makes an ideal choice for your corporate umbrella.
Automatic Umbrellas: Auto umbrellas are convenient as corporate umbrellas because they come with a mechanism that makes opening and closing the umbrellas very easy.
Bubble Umbrellas: Bubble umbrellas are made specially to provide plenty of protection from the elements of weather. This umbrella has a unique canopy that drops lower than the standard umbrella. This protects the umbrella's users no matter the angle of the rain or sun.
Mini Umbrellas: Mini umbrellas are very easy to carry around. They are small enough to fit in the glocar's ve compartment or even your handbag or briefcase.
Frame
If an umbrella's frame is well-built, you can be sure the umbrella will last long. The umbrella frame is the inner workings of the umbrella. It consists of the ribs, stretchers, and runner of the umbrella.
The two materials that can be used in the manufacturing of the umbrella frame are fiberglass and metal. Nowadays, fiberglass has become more popular in umbrella manufacturing.
Fiberglass is also known as Glass Reinforced Plastic (GRP). It is made by combining thin fibers of glass with a binding solution. Fiberglass, which is a multipurpose material, has many benefits. This is why it is common in several industries, aside from umbrella manufacturing.
When an umbrella frame is made of fiberglass, you can be sure of the following:
Durability: Fiberglass ensures longevity. It has a higher breaking point than carbon fiber. It is difficult to break fiberglass; if the umbrella encounters any harsh impact, it will be safe.
Less weight: Fiberglass is not as heavy when compared to aluminum or steel. Do not let its light-weight fool you; it is a solid material.
Flexibility: Fiberglass is very flexible. That is, it can handle extreme flex patterns. No matter how strong or harsh the winds are, you do not have to worry about your umbrella breaking or bending. Additionally, your umbrella is unlikely to change its shape in extremely hot or cold seasons.
We hope these benefits encourage you to choose corporate umbrellas with fiberglass canopies.
Canopy
The umbrellas you choose should not only have visually appealing canopies but also canopies that are strong and long-lasting.
When you open the umbrella, the fabric should be pulled taut. When this is the case, the canopy is firmly stretched, and it will disperse the wind more effectively. That means the umbrella becomes less likely to break under strong winds.
You should also make sure that the umbrella's canopy is well vented. A vented umbrella is one that has wind vents. A wind vent is a flap in the umbrella's canopy that allows wind and heat to escape from its top.
A vented canopy prevents the umbrella from turning the wrong way or turning inside out. Vented umbrellas give the umbrellas extra strength, stability, and durability. Also, vented umbrellas could either be single vented or double vented.
Another thing you should look out for in a corporate umbrella's canopy is the material used to make the canopy. The material needs to be durable and able to withstand any element of weather. Some of the best fabric choices for a sturdy corporate umbrella canopy include polyester, nylon, olefin, and Sunbrella™ fabric.
If you choose any of these fabrics for your custom corporate umbrella, you can be sure that it will represent your company well.
Manufacturer
In purchasing corporate umbrellas, you should get them from a reputable corporate umbrella manufacturer. That is a manufacturer that has a trustworthy name and enough experience in umbrella manufacturing.
It is better to choose an umbrella brand with a solid reputation than to make your umbrella decision based on price alone; a good name is better than low prices.
An excellent corporate umbrella manufacturer should walk you through the steps of choosing the desired corporate umbrella for your brand. Luckily, we have listed some of the best corporate umbrella manufacturers around the world.
Price
It is necessary to prepare a budget before purchasing your corporate umbrellas. This budget will be your guide during your purchase. You often hear things like, "if you want quality, you have to spend a lot of money." This may be true to a point, but nowadays, many corporate umbrella manufacturers are willing to work with the size of your pocket.
However, if the quality corporate umbrella you find is a little above your budget, it might be wise to invest in it. It is never a good idea to sacrifice quality to save some money.
Warranty Offer
Warranty is the assurance that umbrella manufacturers give that their products will meet the required specifications. A warranty is important because it convinces the users of the product of its good quality and performance. Warranty offers separate one brand from the other.
In choosing a corporate umbrella, you must be assured of peace of mind with that choice. This is why it is best to select a manufacturer that offers a warranty on their products.
Some of these manufacturers put a lifetime warranty on their umbrellas. For the sake of your brand or company, it is advisable to choose such corporate umbrellas.
Best Corporate Umbrella Manufacturers
We have chosen these umbrella manufacturers from a wide range of options because of their efficiency and reliability. They specialize in golf umbrellas, folding umbrellas, automatic umbrellas, etc. You can rest assured knowing that they are willing and able to customize your chosen umbrella type, regardless of the large number you need.
1.      Huifeng Umbrella
Huifeng Umbrella or HFUmbrella is a professional umbrella supplier and manufacturer based in China. We believe in providing high-quality umbrellas as well as excellent service. When it comes to prices, we are ready to work with your budget.
We export most of our products to countries like Korea, Japan, Canada, USA, UK, etc. In addition to manufacturing quality umbrellas, we customize umbrellas using the best printing technologies.
Ordering your custom corporate umbrellas from Huifeng Umbrella is easy. We remain that corporate umbrella manufacturer that will never disappoint.
Products Offered:
Beach umbrellas
Folding umbrellas
Golf umbrellas
Mini umbrellas
2.     Totes Umbrella
Totes Umbrella is a US-based corporate umbrella manufacturer. Totes kicked off in 1924 in a small town in Ohio. With each passing year, Totes found new ways for their customers to stay outside comfortably, notwithstanding the weather.
They have spent decades creating products that will make people enjoy the rain and turn the dreary rainy days into days of fun. Totes Umbrella is one of the most dependable names in umbrella manufacturing.
You can be sure that whichever corporate umbrella you get from them is backed by a lifetime guarantee.
Products Offered:
Compact umbrellas
Stick umbrellas
Bubble umbrellas
Golf umbrellas
3.     London Undercover
London Undercover was established in 2008, and they celebrate British heritage to the core. Every umbrella manufactured by them is made with only the finest materials and highest quality craftsmanship.
Although they use age-old techniques in their creations, they add a contemporary twist to their umbrellas. This makes the umbrellas suitable for men and women in the modern-day.
Choosing London Undercover as your corporate umbrella manufacturer is the right choice because you will get a combination of timeless and advanced umbrella designs.
Products Offered:
Compact umbrellas
Folding umbrellas
Telescopic umbrellas
Classic umbrellas
4.    Knirps
After a war injury made it difficult for the founder of Knirps to carry both a walking stick and an umbrella, he created the first umbrella with a telescopic frame. This umbrella was so small it could fit inside his pocket. In 1928, Bremshey & Co partnered with him to produce more pocket umbrella varieties, thus birthing Knirps.
Knirps is a German-based umbrella manufacturing company. The company is always looking for ways to improve its products. This is to meet the needs of the changing climate and trends.
For the company to offer superior umbrellas, they test all their products in the wind tunnel. This helps them to know how resilient their products are and to know where they can make adjustments. With Knirps, you are guaranteed quality.
Products Offered:
Folding umbrellas
Stick umbrellas
5.     ShedRain
ShedRain is an American umbrella manufacturer that began business in 1947. It first began as a small umbrella repair shop. But with a boundless desire to make the best umbrellas, the company expanded across America and the whole world.
The company offers hundreds of different umbrella designs, colors, and options. Even though the company is more than 70 years old, it stays true to its passion and dedication.
Regardless of the changes in consumer tastes and manufacturing technology, the company ensures they stay on top of them. Their umbrellas are of superior quality; if you approach them for your custom corporate umbrellas, you are promised umbrellas with a lifetime warranty.
Products Offered:
Compact umbrellas
Golf umbrellas
Classic umbrellas
Bubble umbrellas
6.    Fulton Umbrellas
Fulton Umbrellas is one of the largest suppliers and manufacturers of quality umbrellas and rainwear in the UK umbrella market. They use only superior-grade materials and engineering standards in their umbrella production.
Knowing how extreme the weather conditions can be in the United Kingdom, Fulton Umbrellas strives to develop umbrellas that can match the British weather. They aim to brighten dreary rain days with their fun, fashionable umbrellas.
At Fulton Umbrellas, they are continually pushing their boundaries on development and creativity. They choose to merge technology with usability to produce their umbrellas. All their products go through tests to prove their strength, safety, and durability, leaving their customers content.
Products Offered:
Automatic umbrellas
Folding umbrellas
Men umbrellas
Ladies umbrellas
UV protection umbrellas
7.     Boy® or Boy 1904 Umbrella
Boy Umbrella is a premium German umbrella brand that was founded in 1904. Their umbrellas stay true to German quality while pursuing fashionable and flexible styles. You can choose from a wide selection of umbrella designs. And not only that, the umbrellas' prices are practical.
Boy 1904 Umbrellas are designed delicately and handmade with the utmost care, making them an ideal manufacturer for your custom corporate umbrellas.
Products Offered:
Travel umbrellas
Mini umbrellas
UV protection umbrellas
Automatic umbrellas
8.    Frankford Umbrellas
Frankford umbrellas are all about providing their clients with exceptional products, reasonable prices, and top-notch customer service, and they stand by this. Frankford Umbrellas is one of the oldest umbrella manufacturers with over 120 years of experience in umbrella making.
They focus on providing exceptional umbrellas to commercial locations like restaurants, resorts, hotels, and cafes. Their clientele spreads across Canada, the United States, the Caribbean, and Mexico.
Products Offered:
Market umbrellas
Patio umbrellas
Beach umbrellas
Cantilevers
9.    Fox Umbrellas Ltd
Fox Umbrellas is another old umbrella manufacturer. The company started in 1868 in the city of London, UK. This umbrella company is a family-run company that keeps to the traditional high standards of making umbrellas. To attain the high quality that customers expect, they rely on the skill of hand workers.
Using hands instead of machines helps them pay more attention to detail, and choosing them as your corporate umbrella manufacturer will leave you with excellent umbrellas.
Products Offered:
Gents umbrellas
Golf umbrellas
Telescopic umbrellas
Ladies umbrellas
Caring for your Corporate Umbrella
After acquiring quality and durable corporate umbrellas, the way you care for them could extend their lifespan.
Opening the Umbrella
In opening the umbrella, the umbrella's ribs could get stuck in the canopy. This could cause the canopy to rip or the ribs to break. Before you open the umbrella, gently shake the umbrella to prevent the ribs from getting tangled with the canopy.
After Use
After the umbrella has performed its function and shielded you from the weather, it is advisable to leave the umbrella to dry completely. If you close your umbrella while wet, it is only a matter of time before the canopy becomes creased and the frame starts rusting.
Cleaning and Maintenance
In cleaning the umbrella, it is better to use tap water only. Other types of water sources could damage the waterproof coating on the umbrella. You could also use a wet rag to wipe the umbrella's canopy.
Storage
Some umbrellas come with sleeves or pouches to store the umbrella when it is not in use. Carefully roll up the canopy, secure it with the umbrella's fastening tape, and then keep the umbrella in its pouch or an umbrella stand.
Conclusion
Corporate umbrellas, printed with your branding & corporate logo. Golf, walking & telescopic branded umbrellas at great low prices.
Shop corporate umbrellas here at HFumbrella to get your logo and contact information seen every time it rains. Get in touch & request a quote.
E-mail: Info@hfumbrella.com
Corporate umbrellas, printed with your branding & corporate logo. Golf, walking & telescopic branded umbrellas at great low prices.
Shop corporate umbrellas here at Hfumbrella to get your logo and contact information seen every time it rains. Get in touch & request a quote.
E-mail: Info@hfumbrella.com