Description
 Extra Large Golf Umbrella
This is one best selling large golf umbrella on Amazon which we produced . Retail service  can be offered on it  by our wholesalers.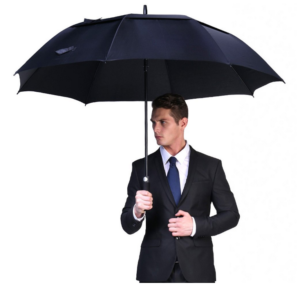 With a 68-inch oversize canopy ,  the Ultimate Golf Umbrella has heavy duty design.
It is an ideal companion for golfers, the business professional or for daily life.
With its sleek all black design, comfortable EVA grip, sturdy frame and auto open mechanism.
The Ultimate Golf Umbrella is perfect in a metropolitan city or a sports field!
A veteran team of travellers and outdoor enthusiasts dedicated to bringing the highest quality travel and outdoor products to the American market. Our philosophy is based on continual improvement and relentless attention to detail. Every item in our range is rigorously tested in the field to ensure only the best are included in our product lines.
YOU (WON'T) BE BLOWN AWAY The double-canopy design and hardened steel frame will ensure that your umbrella is VIRTUALLY WINDPROOF. Wind will simply not break it. The double-canopy design creates a vent during where wind can pass through, making the umbrella much easier to handle in harsh conditions.