Umbrellas in USA are primarily used as a shield to keep the body dry during rain. In most parts of the world, the purpose of the umbrella has remained true and they are used primarily during the rainy season. However, in other parts of the world, the umbrellas are used for much more than just shield against the rain.
For instance, in the Middle East, umbrellas are more of used to provide shade against the sun. In the United States, an umbrella has an all year round use. The umbrella is necessary during the rainy season, the sunny season and during the snow seasons. For many years, the Americans have evolved with the umbrella and made it a part of their lives and now it is more than just a canopy used to shield rain. Umbrellas for the Americans in this age are fashion accessories.
Factors that matter to the American user when buying an umbrella include the size, type, and color of the umbrella. Today, there are plenty of umbrella designs and types on the market than you can imagine. So, what are the available umbrella types and which ones are the best for you?
Types of Umbrellas
The Classic Umbrella

This is the most common type of umbrella. It has a simple design and is made from simple materials. It is made of metals of polyester shafts with a rain protective microfiber fabric canopy. These umbrellas are available in the market and will cost you between $8 and $25 depending on your retailer. They tend to be cheaper if obtained online.
Foldable umbrellas

These are the ultimate lifestyle umbrellas for the common folk. They are convenient due to the fact that they can be folded to fit in your handbag. They are more convenient in times when you expect sudden showers. They are best used during family vacations since even kids can carry their own easily. Foldable umbrellas are small in size but very convenient. You will have to part with cash between $12 and $28 to get yourself a foldable umbrella.
Bubble Umbrellas
These umbrellas are designed to ensure that the body remains entirely dry when walking in the rain. They can be identified by their spherical shaped canopies that tend to cover the users face. They are perfect for kids since they to peer in the rain. The dome is usually made of clear plastic to enhance visibility for the user. You can obtain a bubble umbrella at the cost of $18 to $35 depending on the vendor.
Storm Umbrellas:

Not all umbrellas can be used in storms. Most of the small umbrellas like the foldable ones are only useful during small showers. The storm umbrella is a perfect umbrella during heavy rains and winds. Storm umbrellas are made of strong materials and sometimes the canopy is double layered to hold on from blowing upwards. They are usually large enough to accommodate two adults. Their most undoing is that they are cumbersome to carry around. A storm umbrella will cost you between $19 and $49 depending on the vendor.
Automatic Umbrellas

All the other types of umbrellas can either be made into automatic or manual designs. An automatic umbrella can be opened and closed at the touch of a button. There are designs that are semi-automatic, such that, the umbrella can be opened at the touch of a button but has to be closed manually. Automatic umbrellas are perfect for those who carry extra luggage and may find it difficult to open an umbrella. Automatic umbrellas are generally more expensive than the manual ones. For instance, an automatic storm umbrella will cost you up to $70 while a manual one will cost you up to a maximum of $50.
Golf Umbrellas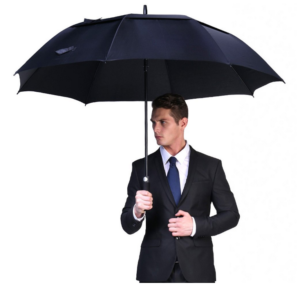 These are umbrellas designed for golfers. They have extra large canopies of up to 70 inches to shield the golfers and their equipment during the rain. The golfer's umbrellas can also be used by families when out on a trip. Having one in the car may be very helpful when you are in a place without shelter. They are also very strong and therefore can be used even in heavy storms. A golfers umbrella will cost you between $22 and $ 36 depending on the vendor.
Umbrella Usage In USA

The US umbrella user is a sophisticated being. The umbrella is used by both men and women. They are a regular item in most households and they are a symbol of family unity. It is common to spot a young couple walking on the streets with a baby on their hands while one partner holds an umbrella to shield them all.
The use of umbrellas as a symbol of love and care is on the rise and does not seem to be coming to an end soon. The use of umbrellas by Americans for show off and fashion display is another factor. It is common in America to spot someone walking with an umbrella even when it is not raining. It is a common behavior among teenage girls to use umbrellas to accessorize their dressing. Besides the aesthetic use of umbrellas, they are also used for the intended purposes of shield against rain, snow, and the sun. The use of umbrellas in the US is year round and the trend only seems to go down during spring.
Where to Buy Umbrellas

There are plenty of options available for those looking to buy umbrellas. The first and most readily available option is to obtain one from a local retail store or a fashion store. However, retail stores tend to sell products at exorbitantly high prices. To get the best offers, you can buy umbrellas from online stores.
You should be aware of shipping costs before you make a purchase otherwise, you may end up paying double the price of an umbrella. When buying an umbrella online, you should look for reliable and reputable online store such as Amazon and e-Bay, although you may not find all the selections you need.
You could find more designs and options from an online store that entirely specializes in the supply of umbrellas such as www.hfumbrella.com. With its wide selection of umbrellas, you have plenty of options to choose from. You can also request for bulk orders from such a site.