In the eyes of many umbrella is probably nothing but a tool that provides shade or keeps out rain and snow. However, for Huifeng Umbrella, the dazzling personalized umbrella are not only traditional articles of daily use, but they also reflect personality.

The personalized inner layer of the umbrella unfolds a picture that speaks for individuality and creativity.
Various types of " personalized umbrellas" can be found everywhere in the exhibition hall of Huifeng Umbrella.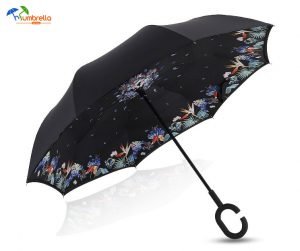 "This inverted umbrella is different from other ones. It closes in reverse." said Justin as he grabbed a seemingly ordinary umbrella from the table and pressed the button on the handle. In an instant, the umbrella folded in the opposite direction.
According to Justin, design of the personalized umbrella was inspired in a rainy day. "I got in the car, with a dripping wet umbrella in my hand. At that moment, I wondered why I had to always close the umbrella before entering the car. I already got wet from the rain as I tried to fold the umbrella.
Besides, the personalized umbrella would, as likely as not, wet my clothes and other objects in the car after I got in." Justin showed the personalized umbrella again and said: "Look, press this button and the umbrella automatically closes in the reverse direction. The rainwater on the umbrella cover is trapped on the inside. This stops rainwater from dropping and saves people from embarrassment."
As observed by the journalist, the reverse-folding umbrella has two layers in total, with a 20cm-thick interlayer. The inner layer surface is evenly distributed with several round holes. "During development, we found that the inner layer of the umbrella creased very easily. Afterwards, we put round holes there, which not only reduced resistance during folding but also facilitated ventilation and heat dissipation under the umbrella." explained Justin. It took a whole year for him to design and produce this reverse-folding personalized umbrella.
In the past, graphic patterns were commonly seen on the outer surfaces of umbrellas. However, on the personalized umbrella designed by Justin, the patterns, be them portrait photos, animal icons or landscape pictures, are all printed on inner layers of the umbrellas. "Since the outer layer is a piece of black rubber-coated fabric toasted under the higher temperature of 280℃, the pattern printed on the inner layer looks nicer by contrast."
Justin took out an personalized umbrella for students from Hong and said: "This is the advantage from using black rubber-coated fabric. See? This umbrella has been used for 3 years, but its color has not faded a bit." He added: "I hope that this umbrella will remind these children of the beautiful days back in school after they start working."
600 custom umbrellas create a far better effect than ordinary advertised umbrellas.
Competition in China's umbrella manufacturing industry has always been fierce. Ahead of the game is Hangzhou Paradise Umbrella Group, the industry's leader that produces umbrellas in batches. What's more, there are a host of small processing factories catching up. How did Huifeng Umbrella, a company founded 30 years ago, manage to get a share of the market?
"The key is to grasp changes of the market in time." answered Justin. "Swift action" is the recipe for his company's growth.
A few years ago when average umbrellas faced sales bottleneck, Justin changed the company's direction timely and started making advertising umbrellas for some healthcare products. However, soon he found that this type of low-end products could never out-compete low-cost family workshops. Again, Justin wanted to look for breakthroughs and eventually targeted at custom-made umbrella business in line with the idea that "even one single umbrella can be personalized."
The cost to produce one personalizedumbrellas was no small. At the beginning of 2014, Justin invested over 200,000 RMB in buying a printing machine for designing and printing graphic patterns of custom-made umbrellas. As Justin explained, customization means that the volume of orders will not be big. Developing a new production process involves high cost, and therefore is not cost-efficient for most umbrella manufacturers. That is why many traditional umbrella manufacturers usually make one production process and then start mass printing and production based on it.
Nevertheless, Justin did not hold back investment. After the new printing machine was purchased, the company received a special order. A large-scale athletic meeting was about to be held in Changchun city. The organizer wanted to print the photos of more than 1,000 athletes on the surfaces of umbrellas. Since the photo on each umbrella was different, making the desired umbrellas in a traditional way would be extremely expensive. However, the technician of the company pulled an all nighter to study how to use the new equipment, and figured it out eventually. At last, the company successfully delivered all the umbrellas ahead of the athletic meeting.
The key to making a personalized umbrella is to ensure zero error in color fastness and joint areas on the umbrella cover.
"Many foreign trade and design companies have purchased custom-made umbrellas from us." said Justin. He felt much honored whenever a customer decided to choose his product over so many other umbrella manufacturers on the market. Currently, the umbrellas that are custom-made and sold account for 60% of his company's overall business. What makes Justine more confident is that individual-based customization has certain technical challenges and not every ordinary umbrella factory can be up to this task.
According to Justin, the most difficult and most important part in making a personalized umbrella is absolutely zero error in each and every joint area on umbrella covers.
He continued: "We have had multiple years of experience in this industry, and have obtained quite a few patents so far. We will make full use of these advantages in the future."
Currently, Justin plans to purchase several more production lines and transform them for custom-made products. He said: "We have to take the lead in the industry. That motivates us to produce newer and higher-quality products to attract more customers."