Description
Walking under the blazing sun or through summer rain showers should not become a misery anymore. Our Luxurious Carbon Fiber Umbrella offers a massive reflective surface on top to deflect sunlight and features a black base to absorb nomadic rays.
It allows you to walk cooler and be better protected. Moreover, its coating sheds water effortlessly, removing the need to wear a sweaty raincoat and gear.
Rugged Carbon Fiber
Our Luxurious Carbon Fiber Umbrella is the perfect solution to gale-force winds. It has a rugged and robust carbon fiber shaft and ribs that won't invert in winds even up to 70mph. The canopy is made from polyester, the same durable fabric as high-end tents and patio umbrellas.
It offers dependable coverage from the elements during heavy rains and fierce storms.
Safeguards from the Elements
You will never be caught in the sun or rain again. Our Luxurious Carbon Fiber Umbrella will defend you from anything our planet can throw at you: shine, hail, or rain. The canopy utilized water-resistant fabric, and the derived material is exceptionally lightweight, water-resistant, and has sun protection.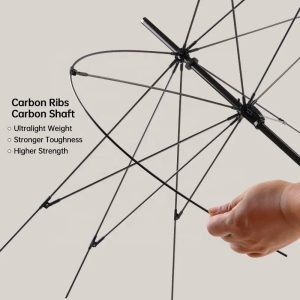 High-Quality Material
Our umbrella is made of water-resistant fabric, cooperated with a firm shaft and reinforced ribs. It protects you from intense sun, sleet, or rain.
Simple and Fast Auto Open
The auto-open button of our Luxurious Carbon Fiber Umbrella enables you to open the umbrella conveniently and comfortably with a single hand in a mere second. That will save you time and energy.
Multifunctional and Large Umbrella
Our Luxurious Carbon Fiber Umbrella offers full coverage for one to two people, ideal for business, sport, golf, business, travel, or even regular use with an extra-big cover. It also comes with an umbrella sleeve for stress-free storage.
You see, our Luxurious Carbon Fiber Umbrella has a portable and lightweight design fit for all occasions. Shop now!