Do you really want to make the boring rainy days more fun, beautiful, and brighter? If yes, then you can purchase and use LED umbrellas. Just like the conventional umbrellas, these high-quality and colorful umbrellas will surely protect you against rain, sun, and wind.
On top of that, they will offer you a unique aesthetic appearance since their construction features illuminating LEDs or light emitting diodes.
Coming to the unique and most notable feature of these umbrellas, the LEDs will be the primary source of light (that are constructed on the umbrella itself) and make them bright and colorful. In most of the cases, the light emitting diodes are lined up on the outer canopy of the umbrella (across its edges). Other than that, they may also have the LEDs on the shaft.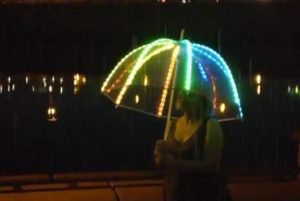 The average canopy size of these beautiful umbrellas is generally around 20 – 45 inches in diameter. But, if you are looking for a different canopy diameter size, then you can contact us and place your order for custom made umbrellas that will feature your specific requirements.
These types of modern umbrellas are typically made of nylon, polyester, and taffeta silk as these fabrics can easily withstand a heavy drenching rain, dry pretty quickly, fold very easily, and come with an extensive variety of color options. Other fabric choice options include linen, cotton, and leather. Most recently, microfiber fabric (with advanced water repellent finishing) is also being used.
How about the color options? Starting from transparent white to bold yellow, they are available in a variety of color options. Therefore, you have the full privilege to purchase a unique LED umbrella as per your own design, size, material, and color preference. Rest assured that these umbrellas are absolutely beautiful, stylish, vibrant, and unique.
Are you wondering when and where you should use these umbrellas? Well, they are most suited for grand occasions and special events. For instance, you can use them for your wedding celebrations, any type of photo shoot events, birthday parties, and more. Apart from that, you can even use a LED umbrella for day-to-day purpose as it provides a sharp, clear glow in the dark and makes the objects/surroundings more visible at night.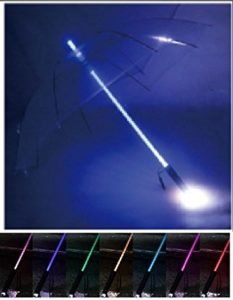 Coming to the primary benefits of using LED umbrella — of course, it renders all the functions of a conventional umbrella. Apart from that, the in-built light emitting diodes offer a clear visibility at night and bring a beautiful, unique vibe. That's why these LED umbrellas are widely used for special events and photography sessions. Another interesting part is — they are available in a plethora of color options, fabric choices, and designs.
Are you now excited enough to purchase a LED-based umbrella? If yes, then please make sure to note three important things before buying it. First of all, ensure that the canopy material is designed from a superior quality water resistant fabric.
Also, the built-in LEDs should offer a great longevity that's because these small light emitting diodes are the fundamental component of this type of umbrella.
Finally, please make sure the manufacturer/seller is reliable, experienced, and ready to incorporate your specific requirements.
In this context, if you are looking for a reliable and experienced manufacturer of custom-made umbrellas, please do not hesitate to contact us. info@hfumbrella.com
We sell a myriad of smart and stylish umbrellas (including LED-based umbrellas) with different choice options for fabric, designing, and size.