If you are searching for something that will truly show off your brand and subsequently exude quality, then knowing how to create a unique advertising umbrella is one of the most effective approaches. Your promotional umbrella can be as exceptional as your distinct brand. Promotional umbrellas can be used just like conventional business cards to promote your brand message or organization.
However, considering the recent popularity in use of advertising umbrellas as a brand/firm promotion tool, there is need to ensure that your umbrella is unique so that it stands out from your competitors (also using the same approach) and also offers you the much needed competitive advantage in your niche. So how exactly can you create a unique advertising umbrella?
Luckily, this excerpt outlines several great ways that you can use to realize this goal. Read on
WAYS OF CREATING UNIQUE ADVERTISING UMBRELLAS:
There are two popular techniques through which you can create a unique advertising umbrella mainly by:
• Designing a unique custom canopy through different printing options
• Printing the custom logo in different creative ways
The uniqueness of your promotional umbrella is dependent on how well you integrate these two approaches to suit and complement your brand effectively. You can decide to use both techniques or pick either depending on your preference as well as the campaign strategy.
To better understand what these two techniques entail, below is a simple breakdown of each option, and how
they can help in creating a unique promotional umbrella.
1. DESIGNING A CUSTOM CANOPY WITH DIFFERENT PRINTING WAYS:
One of the most effective ways of creating a unique promotional umbrella is by transforming or redesigning the umbrella canopy through the numerous custom logo labeling creative finishing techniques and printing methods. Creatively printing the umbrella canopies is an outstanding approach to increasing your visibility. Uniquely designed canopies can not only attract support but can also drive sales, not to mention sticking out from the crowd!
Contrary to popular assumptions, designing custom canopies is a surprisingly straightforward process, especially if done by a professional firm.
Typically, there are several outstanding canopy designs from which you can choose from to create a distinct custom canopy; and in extension a unique promotional umbrella. They include:
• Double Canopy:
The double canopy option is basically a second canopy which affords full branding options inside your advertising umbrella. It can either be a fully-printed inside canopy or a contrasting color reinforcing your branding/logo. The final product is a bespoke advertising umbrella with a luxurious finish. What's more, an advertising umbrella featuring a double canopy affords both you and the crowd a tremendous interior view subsequently allowing you to project your custom logo or branding from all angles uniquely.
• Multi Panel Canopy
Similarly, there is also the multi-panel canopy option which is also a great way to make your advertisement umbrella unique while also making a statement. Usually, conventional advertising umbrella features eight panels; but multi-panel canopy options have 12. Such gives your umbrella a special and unique finish-a superior touch! Each of your umbrella's panel includes a rib attached to the shaft further guaranteeing a studier and stronger umbrella too!
• Pantone Matched Canopy
Usually, logo labels can be printed in numerous different colors. With a custom made umbrella, you can choose to have the color of your Canopy Pantone-matched to ensure absolute branding continuity. There is a wide array of stock canopy colors from which you can opt for this option. This option involves dyeing the umbrella's canopy fabric to your choice of Pantone preference to perfectly match both your custom logo label as well as your campaign.
• Installing Woven Custom Logo Label On Your Umbrella's Exterior
You can give your advertising umbrella a unique finish touch of an exclusive woven custom logo label which sits on the Canopy's exterior. Several great embroidery techniques can give your umbrella a high-definition finish subsequently conveying the name of your company, your brand message, or logo on a custom fabric label. Your custom logo label can be placed in several different positions on your advertising umbrellas like being sewn on their tie wraps, into the umbrellas' canopy seam (horizontally or vertically depending on your preference), not to mention the fabric sleeve.

2. PRINTING THE CUSTOM LOGO IN DIFFERENT CREATIVE/STYLES WAYS:
The other proven and effective way of creating a unique advertising umbrella is through printing the custom logo/brand name in varying creative ways. The logo is undeniably the most crucial component for any promotional campaign since it is what represents the brand/company. Therefore, uniquely displaying it can significantly boost visibility and help a brand stand out. There are numerous different ways that a custom label can be printed on an advertising umbrella to create uniqueness. Here are a few of the most effective ones:
• Printing the custom logo on the decal of an advertising umbrella:
Instill a touch of class to your advertising umbrella is through having a full-color printed decal. Decal is a solid acrylic disk that comprises your branding or custom logo and is located at the end of a conventional straight-handled advertising umbrella. Your logo is printed in full color and high resolution and then held within this disk. It is undoubtedly a smart way of further projecting your company and setting your umbrella apart from typical promotional umbrellas.
• Printing or Engraving your custom logo the umbrella's Metal Collar
Engraved collars offer a posh-look finish for your advertising umbrella and at a low cost. Your custom logo is engraved with high-end metals and subsequently fitted on top of the handle of your advertising umbrella to give it a unique classic appeal. You can also choose to add color to your engraving as well as choose from a wide array of metals.
• Printing your custom logo on the Advertising Umbrella's Sleeves
Most, if not, all umbrellas (including advertising umbrellas) come with fabric sleeves to slip over the top of the umbrella to safeguard them. Also, these sleeves are a useful component especially when the umbrella is wet by keeping the water away while the umbrella is collapsed.
You can take advantage of these sleeves to make your umbrella unique by full printing them to allow you to share your branding/custom logo label, even before you open your advertising umbrella. You can choose between your custom logo, key message, or organization name to be printed on the sleeves.
• Printing the custom logo on the umbrella's Handle & Shaft
What is perhaps among the most visible components that make an umbrella unique is the handle. A handle can instantly transform your advertising umbrella's appeal as well as how the umbrella is ultimately used. When it comes to your choice of advertising umbrella handles, it is vital that you pick the handle that you feel stands out the most (between hooked or straight); as well as decide on a wide array of finishes and handles available.
Once you have a stunning handle, you can then work on getting your custom logo printed on it-helping you uniquely promote your brand. This can serve as an excellent way to not only create a unique promotional umbrella, but also communicate your brand name, slogan, or key message.
• Printing the custom logo on the advertising umbrella's Tie Wrap
One neat way of creating a unique advertising umbrella is to print the umbrella's tie wrap. Despite seeming subtle, tie wraps are seen each time the umbrella is in use. Not only does this make your advertising umbrella unique, but it is also a smart tactic to getting your custom logo noticed on the advertising umbrella.
This usually works best if the tie wrap features a contrasting yet complimentary color allowing it to stand out and pop!
You can print your logo on your umbrellas' tie wraps or go for an embroidered version for an even classier look!
• Printing your custom logo on the Umbrella's Cords
Another technique that can help you create a unique advertising umbrella is advertising umbrella cords. You can usually choose from an assortment of different materials and colors to compliment the cord strap of your advertising umbrella; and in extension creating a unique advertising umbrella.
You can usually print your custom label/logo or name of your company on the cord to give it an enhanced, distinctive finish. Furthermore, you may also decide to have your umbrella cords in color coordinating colors to help augment your branding message; or your logo.
Other Amazing types of printing techniques:
Several natural conditions and external factors can affect what kind of advertising umbrellas you use as well as what type of promotional methods you use; although this is dependent on the area of intended use. For instance, rain is one of the primary factors that affect the choice of promotional umbrellas used. To effectively promote your brand through your advertising umbrellas in areas such as Northern Europe, where rain is a norm, it is essential to have uniquely-adapted umbrellas. How can you do this?
Besides looking for sturdier umbrella designs, you can print your logo, company name, or branding message with some unique printing options. Some of the best available ones include:
1. Wetlook Print: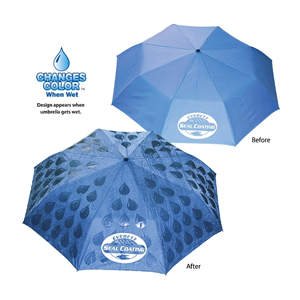 One way to create a unique advertising umbrella is the use of Wetlook print. Usually, while promotional umbrellas with this print appear plain on the first sight, this particular printing technique facilitates that the design on the promotional umbrella only becomes evident/visible after it rains. This form of print originates from the Far East region and effectively suits relatively FARE models featuring polyester cover.
2. Color Magic: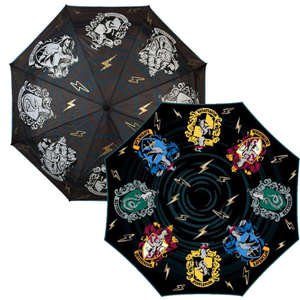 Yet another remarkable type of printing to create a unique advertising umbrella is Color Magic. During the wet weather, the print subsequently changes color with the white print color becoming transparent while a color image emerges. This is a great way to advertise your brand/organization since you can print your logo/organization name/brand message so that it is noticeable even under rainy conditions. One thing worth noting though is that the advertising umbrella's base color needs to be Black!
3. All-over print: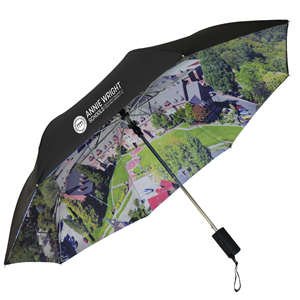 This printing technique basically outlines that the motif (custom logo/ name or any other branding message) is printed from one edge end to the other. It is yet another great way to create a unique advertising umbrella. Print the motif on a white (polyester) pongee material through sublimation printing and consequently stretched over an existing umbrella frame.
Final Word:
Undeniably, different techniques in creating unique advertising umbrellas, and this excerpt outlines some of the most popular and effective ones available. With the ability to effectively promote your motif, these techniques are a remarkable way to create unique advertising umbrellas as well as boost your promotional campaign. By using these techniques, come shine or rain, your brand will stick out over the competition on a colorful, silky, manual-opening unique advertising umbrella.