Enter the world of advertising patio umbrellas—an unconventional yet potent promotional tool. These marketing tools not only give you advertising opportunities but also give shelter to people from the sun and rain. Moreover, they make a place more aesthetically pleasing. Let's learn more about advertising patio umbrellas, some use cases, and how you can find one for your next advertising campaign.
Benefits of Advertising Patio Umbrellas
Increasing Brand Visibility
As a business owner, you understand how important it is to stand out from your competitors and make sure that your target audience knows about your brand.
You can promote your business in public places where people congregate, such as restaurants' patios, beaches, parks, and more, by handing out customized patio umbrellas. Targeted advertising like this can help get the word out about your business to folks who would not have heard of it otherwise.
And because of the high visibility of advertising patio umbrellas, they are frequently positioned in busy public locations. These advertising tools, when strategically placed and designed, can pique consumers' interest in your company and its wares.
Branded patio umbrellas not only help spread brand awareness to new audiences but also strengthen relationships with current clients.
Customers remember brands that they like more than others because they frequently see them employing custom-printed umbrellas at outdoor events and on patios where they eat and drink.
Targeted Marketing Opportunities
With so many different styles and designs available, you can choose a patio umbrella that will appeal to a certain demographic or market segment. This is a great tool for targeted marketing.
For example, if you are targeting families with young children, you may want to choose a brightly colored umbrella with fun patterns or characters. On the other hand, if your target audience is professionals or upscale consumers, a sleek and elegant design would be more appropriate.
By customizing your message to fit your audience's preferences and interests, you can increase the effectiveness of your advertising campaign. This allows you to maximize your return on investment by reaching those who are most likely to respond positively to your message.
Another advantage of targeted marketing opportunities for advertising patio umbrellas is that it allows for greater precision in measuring campaign success. By focusing on specific groups within your target market, you can track results more effectively and adjust strategies as needed based on real-time data analysis.
Enhancing Brand Image
It's possible to send a strong message about your brand and its values with a well-designed and properly placed patio umbrella.
A high-quality umbrella canopy may be customized with your brand's colors and emblem for a striking outdoor advertising display. This will make potential customers more aware of your business and improve how they feel about your brand.
Advertising patio umbrellas do more than only raise awareness and establish trust in your company; they also let you show off your brand's individuality. Whether you're going for a more classy look or a more carefree one, you can easily tailor the look of your umbrellas to suit your needs.
Engaging Customer Experience
Customers' tendency to buy and remain supporters of a brand increase when they experience a sense that they're connected to that brand. You may make a distinct and long-lasting impression on prospective customers by putting ads on your patio umbrellas.
Adding a catchy statement or graphic design to your patio umbrella is a great way to attract attention. Because of this, they can interact with your company in a way you hadn't anticipated. Patios are frequently used as gathering places, thus the probability that others will see your ad increases.
You may increase customer involvement with your patio umbrella marketing by adding interactive components. Customers could receive coupons or freebies by scanning your QR code with their smartphones. Customers can engage with your company and the outdoors through contests and promotions.
Cost-Effective Advertising Solution
For startups with limited resources, advertising may be a major financial drain. Television commercials, billboards, and print advertisements are all examples of traditional advertising strategies that can be both costly and ineffective. Here's where patio umbrellas come in handy; they're an inexpensive way for businesses of all sorts to get their names out there.
Advertising patio umbrellas with logo imprints is a cost-effective way to spread brand awareness. These outdoor advertising technologies shield consumers from the elements while maximizing exposure over time. Cafes, restaurants, beaches, parks, and other public spaces are just some of the places where they can be used to reach more people.
Furthermore, after the first setup, there are no further fees or maintenance charges associated with patio umbrella advertisements, making them a more budget-friendly alternative to more conventional kinds of marketing. In addition to helping the environment and cutting costs, constructing your branded patio umbrella with eco-friendly materials is a great idea.
All-Weather Marketing
Advertising patio umbrellas has many benefits, including the ability to run campaigns in any weather. Patio umbrellas are built to resist the elements, making them a reliable source of outdoor advertising even when other types of outdoor signage are damaged by rain, wind, or snow.
This ensures that your brand message will be seen by potential buyers regardless of weather conditions, be it a light drizzle or a scorching heat wave. In order to get the most out of your advertising budget and boost the likelihood of generating leads and sales, you need to implement an all-weather marketing strategy.
In addition, you can extend your advertising effort beyond the typical seasons by making use of all-weather marketing strategies. Patio umbrellas can be utilized all year long in any environment because of their long-lasting materials and solid structure.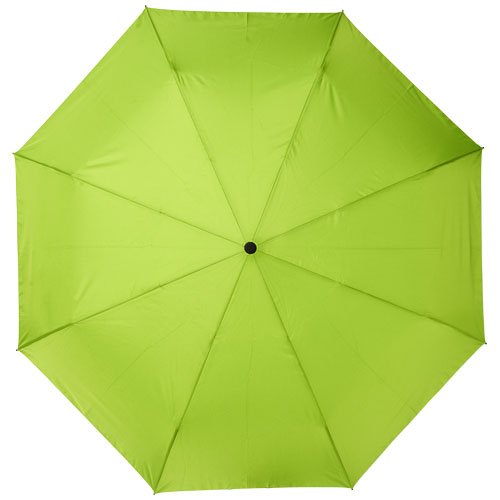 Eco-Friendly Advertising
Eco-friendly advertising is becoming increasingly popular as consumers are becoming more environmentally conscious. By choosing to advertise on an eco-friendly patio umbrella, businesses can show their commitment to sustainability and reduce their carbon footprint.
Using eco-friendly materials in your advertising campaign not only benefits the environment but also enhances your brand image and reputation. Customers appreciate companies that prioritize sustainability and environmental responsibility.
In addition, the long service life of eco-friendly patio umbrellas means less waste and cheaper long-term expenditures than shorter-lasting conventional umbrellas.
Choosing a manufacturer who prioritizes sustainability is crucial in ensuring that your marketing efforts align with your values as a company.
At HfUmbrella we pride ourselves on our commitment to sustainable practices by using recyclable fabrics for our umbrella canopies and components, sourcing wood-certified forests, and implementing energy-efficient production processes, among others.
You can check out this blog for our best collection of eco-friendly umbrellas.
Types of Patio Umbrellas for Advertising
Classic and traditional design perfect for promoting outdoor events and activities.
Another type of patio umbrella for advertising is the cantilever patio umbrella, which has a unique shape that provides ample shade without taking up too much space. This type of umbrella is ideal for placing in high-traffic areas where people can easily see your brand's message.
If you're looking for something more versatile, consider customizing a tilt umbrella with your brand's logo or message. These umbrellas have adjustable angles that allow customers to position them as needed while still displaying your advertisement prominently.
If you want something more eye-catching and attention-grabbing, opt for LED-lighted umbrellas. These illuminated umbrellas come in different colors and can draw attention even during nighttime events.
Choosing the right type of patio umbrella depends on factors such as budget, target audience, location, and branding goals.
You will find many options available in terms of size, design, and customization features. Businesses of any size and budget can find an advertising solution tailored specifically to their needs.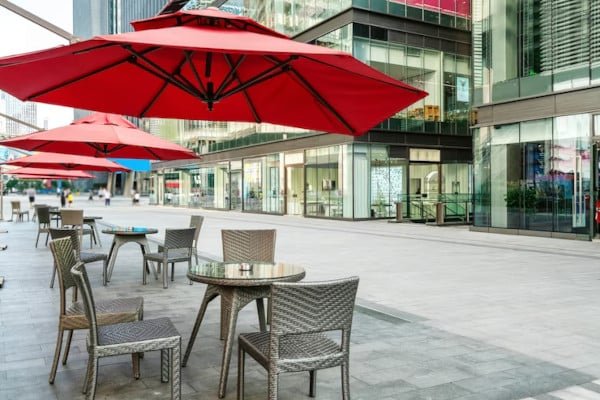 Different Ways to Use Patio Umbrellas for Advertising
Patio umbrellas offer unique and versatile advertising opportunities for businesses. Here are some different ways to use patio umbrellas for advertising:
You can print your logo or marketing message on the canopy of a patio umbrella. This is a simple yet effective way to promote brand awareness.
Consider using patio umbrellas as directional signage at events or outdoor venues. By strategically placing branded umbrellas, you can guide people toward your booth or location.
Host an outdoor event and use custom-branded patio umbrellas to provide shade for guests while also promoting your business.
Fourthly, consider partnering with other businesses or organizations to co-brand patio umbrellas and increase visibility for both parties.
Use illuminated patio umbrellas with LED lighting to create eye-catching displays that stand out at night events.
These are some of the ways. You can find more innovative ideas and incorporate them with your brand to get the most outcome.
Essential Elements of a Great Patio Umbrella Ad Campaign
First and foremost, the design of the ad should be eye-catching and attention-grabbing. It should have a clear message that is easy to read and understand.
Another important element is placement. Ensuring that your patio umbrella ads are placed in high-traffic areas can increase the visibility and potential reach of your target audience.
In addition to design and placement, targeting the right demographic is crucial for a successful ad campaign. Understanding who your ideal customer is and where they tend to spend their time outdoors can help you effectively place your ads in front of them.
Furthermore, incorporating call-to-actions (CTAs) into the design of your ad can encourage customers to engage with your brand by visiting your website or social media pages.
At last track the result of your advertising campaign. You can get the result from your website traffic, and sell in the outlets.
Tips for Designing and Placing Your Ad on a Patio Umbrella
Getting your ad designed and placed on a patio umbrella can be difficult, but done properly, it can yield excellent results. If you want to run a successful advertising campaign, consider the following advice:
First and foremost, keep the design as uncomplicated as possible. Create an eye-catching advertisement with crisp pictures, little text, and vivid hues.
Second, think about where you're putting your advertisement; prime locations include beaches and parks.
The size of your umbrella should correlate to the size of your billboard, so pick wisely. Make sure people can read your logo or message even from far away.
Don't compromise on the visuals; low-resolution images will make your ad look amateurish and unappealing.
Instead of focusing just on showcasing the characteristics of your product, emphasize the benefits it provides instead.
Advertise patio umbrellas by stretching your imagination. Use quirky pictures or humorous text to draw people in while still conveying your brand's message.
Examples of Successful Patio Umbrella Advertising Campaigns From Large Brands
Large brands have been utilizing patio umbrellas in their advertising campaigns, resulting in some impressive and successful marketing strategies.
Coca-Cola uses advertising patio umbrellas in its marketing campaign. Coca-Cola uses advertising patio umbrellas at outdoor events and festivals. By providing shade and comfort to attendees while displaying its recognizable branding, Coca-Cola creates an engaging customer experience that enhanced its brand image.
Similarly, Heineken utilizes branded patio umbrellas at sporting events worldwide. Their eye-catching design featuring the famous green Heineken logo helps them stand out among competitors while providing valuable shade for sports fans.
These examples demonstrate how large brands can creatively incorporate advertising patio umbrellas into their marketing strategies to increase brand awareness and recognition in unique ways.
Similarly, many smaller brands use advertising patio umbrellas to promote their brands and products.
How to Choose the Right Patio Umbrella for Your Brand?
First, think about your target audience and the message you want to convey. Are you targeting a younger demographic or an older one? Is your brand fun and playful or more sophisticated?
Next, consider the size and shape of the umbrella. Do you want a round or square canopy? Will it need to cover just a small table or an entire outdoor seating area? Think about where it will be placed and how much space is available.
Material is also important. Do you want something lightweight for easy transport or something sturdier for windy conditions? Consider both the frame material (such as aluminum or wood) and canopy material (such as polyester or solution-dyed acrylic).
Don't forget about customization options. Can the umbrella be printed with your logo or messaging? Can it come in custom colors that match your branding?
If you are not certain about your demand, you can ask for help from a manufacturer. They will assist you after hearing your requirement.
Considerations When Choosing a Patio Umbrella Manufacturer
First and foremost, you want to work with a reputable manufacturer that has experience creating high-quality umbrellas designed for outdoor use.
It's also important to consider the materials used in the manufacturing process. Look for manufacturers who use durable and weather-resistant materials such as aluminum or fiberglass frames with UV-resistant fabrics. This will ensure your advertising patio umbrellas can withstand various outdoor conditions and last longer.
Certification is also important. Ask the manufacturer about their certification and other documents that suggest they manufacture umbrellas that maintain international standards.
For example, Hfumbrella has passed UV801 Test which ensures our products are UV protected.
Don't forget to ask about the available customization options and factory setup. You want a company that allows you to fully customize your patio umbrellas with your brand logo, colors, and messaging.
Additionally, it's worth considering the lead time required by each manufacturer. Some may offer faster turnaround times than others which could be crucial if you're running against tight timelines.
MOQ is another important factor to consider. You don't want to buy a bulk quantity always. So, choose a company with lower or no MOQs.
Take into account any additional services provided by the manufacturer such as design assistance or installation support. These added benefits can help streamline the process of getting your advertising patio umbrellas up and running quickly and efficiently.
Last but not least, after sells customer service tells how good a company is. Ask them for their refund and re-manufacture process if you find a damaged shipment.
Why Choose HfUmbrella for Advertising Patio Umbrellas
You can not run a successful campaign without the best advertising patio umbrellas from an Excellent manufacturer. That's where HfUmbrella comes in. Our company specializes in producing high-quality custom patio umbrellas that are perfect for advertising your brand.
Since 1987, HfUmbrella has been creating Advertising Patio Umbrellas. We've been doing this for over 36 years, and during that time we've become a trusted and inventive source of top-notch umbrellas.
We've worked with more than 10,000 brands across the globe, including the United States, Canada, Australia, Japan, Korea, Europe, the United Kingdom, and many other countries.
We are the only company in China with a digital printing factory that has 10 digital printing machines. On top of that, we have 2 other factories for umbrella manufacturing. You will get the best customization option with us in a shorter period of time.
There is a dedicated team for quality assurance to ensure the best product for your advertising. The team works closely with our workers. Before shipping umbrellas the team runs a final check to ensure that you get intact advertising patio umbrellas.
What sets us apart from other manufacturers is our commitment to quality and customer satisfaction. We use only the best materials and production techniques to ensure that our umbrellas are durable, long-lasting, and visually appealing.
We also offer a wide range of customization options, including printing logos, slogans, or images onto the umbrella fabric using advanced printing technology.
Moreover, our experienced team of designers can help you create eye-catching designs that will stand out among competitors' advertisements in outdoor events such as trade shows or festivals.
At HfUmbrella we provide providing excellent customer service throughout every step of the process – from product selection to delivery and after-sales support.
Plus, with fast shipping times across North America and competitive pricing options available for bulk orders.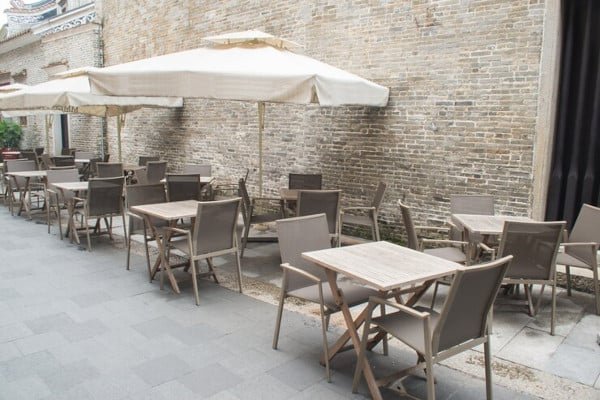 FAQs
Can advertising patio umbrellas withstand various weather conditions?
Advertising patio umbrellas can withstand wind and rain. The high-quality frames, canopies, and weatherproof textiles used in their construction guarantee that they will remain intact in any climate.
How long do advertising patio umbrellas typically last?
Advertising patio umbrellas' longevity is influenced by the materials they are made of and their upkeep. A high-quality umbrella will survive for years, allowing your company's name and logo to be seen in the marketplace.
Are advertising patio umbrellas suitable for all types of businesses?
Yes, businesses of all sizes and in all sectors can benefit from advertising patio umbrellas. These umbrellas offer a novel and eye-catching approach to advertising your brand and interacting with your target audience, whether you're a small local business or a major corporate enterprise.
Can advertising patio umbrellas be used in indoor settings?
While most people think of advertising patio umbrellas as being used outside, they may really be used inside as well, particularly in huge hallways, trade exhibitions, and exhibition halls.
Are there any restrictions or permits required for using advertising patio umbrellas in public spaces?
Before employing advertising patio umbrellas in public locations, it is crucial to check local legislation and secure the relevant licenses. Outdoor advertising buildings can be subject to size, placement, and time restrictions imposed by some jurisdictions.
Which country should I choose to import advertising Patio Umbrellas?
Due to its strong manufacturing sector, affordable prices, wide supplier network, and effective logistical infrastructure, China is a preferred destination for the import of advertising patio umbrellas.
Final Words
Customized advertising patio umbrellas can help you reach new heights. You may improve your brand's visibility, enhance your brand image, and creatively engage with customers by selecting the proper patio umbrella and planning an effective advertising campaign.
At HfUmbrella, we make one-of-a-kind advertising patio umbrellas for each of our clients. To make sure you discover the best fit for your company, we provide a wide variety of styles and designs that can be adapted to a number of different fields.
Get started today by contacting us to discuss how we can help bring your vision to life with our high-quality advertising patio umbrellas!