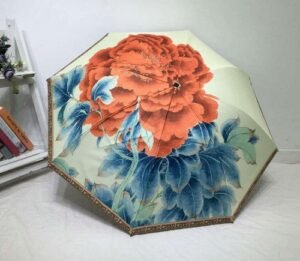 At the just-concluded Canton Fair, the brilliant and fascinating digital printing umbrellas displayed by Huifeng Umbrella (www.hfumbrella.com)caught enough customers' eyes. Huifeng's booth was crowded with many potential clients and captured orders from clients at home and abroad. What makes an ordinary umbrella so fascinating? Let's find out the answer.
Digital printing technology is a process of printing patterns onto the transfer paper with a high-precision printer. And then making the final print onto the products after heating at high temperature through drum machines. This technique is now popular in the world for its feature of environmental protection, energy-saving, and personalization. The Digital printing umbrella is an important innovation in using digital printing technology. International brand designers and customers are very fond of digital printing umbrellas because their designs can be imprinted on the umbrella perfect by digital printing. This printing technology is famous for its bright colors, small min order quantity, and short delivery cycle.
Huifeng Umbrella Co., Ltd. is a traditional custom umbrella manufacturer. This company has been always trying to look for a new technique that can save energy, reduce environmental pollution, and create brand-new products. Since 2006, Huifeng Umbrella has promoted many digital printing umbrellas at home and abroad. After ten years' effort in technical improvement, the umbrellas of Huifeng have met the international standards in the aspects of washing fastness, crock fastness, light fastness, etc. Approved by the international inspection agency SGS, Huifeng umbrellas are harmless in compliant with international environmental requirements. Better yet, Huifeng umbrellas are truly excellent in collage technique. In recent years, Huifeng has expanded its market share by selling umbrellas to about 60 regions and countries in the world including America, Germany, the UK, Canada, Australia, etc.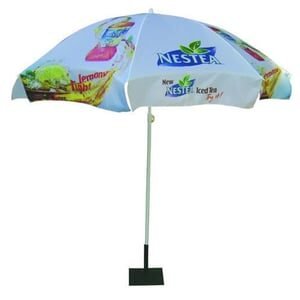 Currently, small order quantity and personalization have become a new trend in the umbrella industry. By virtue of continuous technological innovation and strict service standards. Huifeng Umbrellas has played a leading role in digital printing umbrellas in China. It is believed that Huifeng Umbrellas will embrace greater development in digital printing umbrellas in the future.