Choosing the best product from several kinds of that particular brand is not easy. It is even more challenging if the product is a parasol umbrella, and you will be choosing one umbrella from a variety of its kind. In such a case, the probability of choosing the wrong umbrella is almost certain. By "wrong umbrella," we mean low-quality—umbrellas built with low-quality materials and do not serve their purpose.
There are various branded parasols in the market, and most of them were simply constructed to be attractive. So, the mantra "attractive and fashionable products sell fast" is true. Many attractive umbrellas are not durable because of their low-quality features.
Meanwhile, we focus on building parasols that are not only attractive but also durable. Hence, they can be used to serve your purpose for a long period. We will be providing you with the best-branded umbrellas, but before we do that, we will be showing you the factors to consider before getting parasols for your business.
Factor To Consider To Choose The Best Parasol Ideal For Your Outdoor Space
Finding the best parasol, as said earlier, is a challenging task. Meanwhile, you do not have to be scared or worried because we will help you find the best parasol suitable for your outdoor space. We will provide you with a few factors to consider whenever you are shopping for parasols.
Size
Functionality
UV-blocking or UV protection
Durability
Size
One of the best parasols is those that perfectly fit your outdoor space. So, one of the most important factors to consider when buying parasols is size. The parasol you will buy for a patio table with two seats is different from the parasol required for a four-seaters patio table.
Generally, the parasols designed for gardens often have a canopy size of 2m, 2.4m, 2.7m, 3m, or 4m in diameter. So it is essential that you do the right thing by measuring the size because most circular parasols require a larger space.
Functionality
The primary function of a parasol umbrella is to protect you on sunny days by providing you with shade. When it comes to maximum protection from sun rays, it is advisable to invest in umbrellas with a tilt adjustment. A tilt adjustment is a feature that will help you position the canopy to any angle, hence, offering maximum sun protection.
If the parasol you seek is a cantilever parasol, it is always advisable to get one that comes with a 360° rotating feature. This will protect you from the stress of dragging the entire parasol to shade you, irrespective of the sun ray's angle. You should also consider getting a parasol with a winding crank mechanism to help you adjust the umbrella's height.
UV-blocking or UV protection
You don't always have to wear sunscreen under a parasol umbrella. There are a few parasols designed with UV-blocking fabric to protect you from much more ultraviolet rays from the sun. We use different fabrics to design our canopies to have different UV-blocking ratings. Parasol with the highest ultraviolet protection has a rating of UV50+. It is advisable not to go for parasols with ultraviolet protection with a rating lower than UV30+. At the same time, some parasols are not designed with any protection; hence, you should always check the product's specifications before buying it.
Durability
Durability is one factor every product should have; else, they won't last long. We offer parasols built with a rust-resistant property to make them last longer than an 'ordinary parasol.'
15 Best Branded Parasols
Christow 2.4m Crank And Tilt Garden Parasol
If you are looking for a garden umbrella with a size of 2.4 meters, Christow is a great option. It comes with high-quality features that contribute to its functionality. So, it is a great investment. The canopy of this parasol is built with a polyester fabric. The canopy's fabric (polyester material) possesses a great ultraviolet blocking property to offer its users the best shade on sunny days. The ultraviolet protection rating the canopy offers is 30+.
There are times when the sun's rays will come in a different direction. In this situation, you do not have to bother about shifting the patio table and patio. All you have to do is make use of the tilting adjustment of the parasol to adjust the canopy to get the shade you need. It also features a crank handle for opening the umbrella easily and adjusting the height of the umbrella suitably.
Argos Home 2M Water Repellent Garden Parasol
Only a few kinds of garden parasols are resistant to water because most are designed only as sunshades. Meanwhile, this garden umbrella does not come with UV protection; It is mainly designed for rainfall. This is a stylish parasol, and it is affordable to purchase.
Though this garden parasol is stylish and affordable, it has plain features. By "plain features," we mean the parasol lacks several essential features. It can only protect you from scorching sun rays coming from above because it does not support a tilting mechanism. It also comes with a crank handle, so it has a constant and a height that can not be adjusted. Lastly, the FSC-certified eucalyptus wood pole gives your outdoor space a timeless and traditional look.
Vounot Cantilever Parasol
Not all cantilever parasol is affordable; many are expensive. However, if you desire a cantilever parasol but are on a budget, the Vounot cantilever parasol is the answer. The 300cm diameter umbrella is large enough to provide everyone on the patio table with the shade they need. It also offers a 360 degrees rotation function to position the parasol at any angle for maximum UV protection. You can also tilt and adjust the umbrella's height to shade on sunny days, irrespective of where the sun is located in the sky.
Though the umbrella is often purchased for ultraviolet protection, its canopy is resistant to water. What does this mean? You can use it as a refuge on sunny and rainy days. This parasol comes in different colors, such as Grey, beige, green, red, and khaki. The color you choose should match your company's or target audience's needs, especially if you are using it as an advertising tool. Lastly, the cantilever parasol comes with a cover to protect it and keep it clean whenever it is not in use.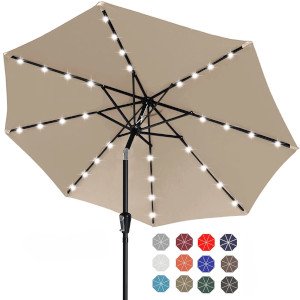 ABCCanopy LED Parasol
If you are hosting a house party or any party at all during the night, getting an ABCCanopy LED parasol will contribute to the attractiveness of your outdoor space. The LED light it comes with can last for about nine to twelve hours, and you do not need a power cord or electricity to recharge it because it is solar-powered.
The parasol is built with sturdy materials to keep it stable even on windy days. It is also water-resistant so that you can use it as a shade on rainy days. The assembling and disassembling of this parasol are easy, and you don't have to follow any complicated procedures.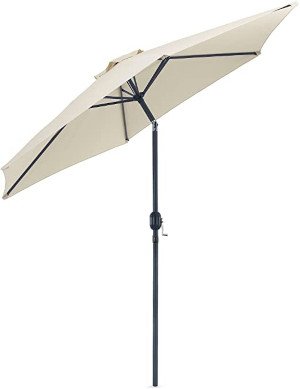 VonHaus Tilting Garden Parasol
When it comes to spending wisely on a traditional parasol, it is almost impossible to find a better model than VonHaus. It has a 2.7-meter diameter to provide an impressive amount of shade on sunny days. You can also make use of the tilting adjustment to make the umbrella offer you the shade you need, irrespective of the position of the sun in the sky.
The parasol is easy to set up because it features only two parts, the umbrella, and the lower shaft. To set it up, you must screw one of its parts into the other. It is also easy to disassemble when not in use. The garden parasol features a crank mechanism for easy adjusting of the umbrella. Hence, it will provide the optimum shade you need during outdoor dinners with your family, even on sunny days.
Not every umbrella is strong enough to withstand strong and gusty winds. However, VonHaus is built with an air vent at the top to allow airflow, hence, preventing the umbrella from picking up or breaking on windy days.
Schneider Schirme Rhodos 3m Cantilever Parasol With Light
Do you desire to get a parasol to brighten your night? Consider purchasing this LED light cantilever parasol for your outdoor space. The fashionable and practical cantilever parasol does not have a central but offers extensive coverage. It may be a bit expensive, but it is a great investment for hotels and hospital outdoor space.
The canopy it comes with is 3 meters in diameter and built with a polyester fabric. The canopy is designed to offer ultraviolet protection of 50+, which is the definition of "maximum sun protection." Although this is a large parasol, it is easier to open, thanks to the crank winding mechanism it features.
The cantilever parasol offers shade from any angle due to its features' tilting mechanism. The rust-resistant aluminum pole it comes with contributes to its durability. The printings or colorful designs also last because the fabrics are resistant to fading.
Jarder Milan Parasol Set
Are you looking for large parasol coverage at your pool or hotel? The Jarder Millan parasol set will provide you with the solution you seek. It is a cantilever built to be very large to offer an ample shade to a number of people. The Jarder Milan comes with an adjustable height and is also able to rotate 360 degrees to provide optimum coverage at any angle. The tilting mechanism it features also plays a significant role in the amount of shade it provides.
Though the parasol is large, it is also user-friendly. You can easily open up the parasol and slide it to a position you need by simply turning the handle. The parasol does not require the use of any tool or machine to erect it. Hence, it is incredibly user-friendly and can be mounted within minutes. The parasol also comes with a cover to protect it from damage. The cover also makes the packing of the parasol easy.
Madison Balcony Parasol
The Madison Balcony parasol has a flat oblong shape. It is designed to be a parasol suitable for gardens and balconies. It features a clip—Madison's balcony clip—for securing the parasol. The balcony clip can be used in place of the base; hence, purchasing a base is not necessarily. The parasol comes in a variety of colors you can choose from, and they are also affordable. It offers a UV protection rating of 50+ to protect you from direct sunlight. Lastly, it is built with durable materials to serve its purpose for a long time.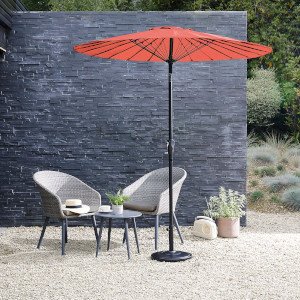 Dunelm Shanghai Coral Crank Parasol
The garden parasol was designed to have a round shape with multiple spokes. The inspiration behind the parasol design stemmed from east Asia. It may be delicate at first sight but do not be deceived because it is sturdy. It is built with a strong metal pole and crank handle to adjust the height to perfectly fit your patio table.
You will also find a tilting mechanism in the garden parasol, and this feature will help you achieve the maximum sun protection you need at any angle. Lastly, the vibrant and stylish garden parasol is also resistant to water. Hence, you will not only be protected on sunny days, but you will also remain dry even when it rains.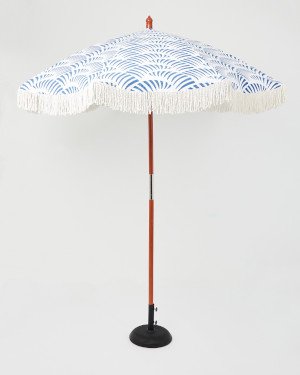 Oliver Bonas Blue And White Fan Print Parasol
Oliver Bonas is a stylish and luxurious garden parasol. It will add beauty and a vibrant look to your outdoor space, especially when the color you purchase matches the design of your patio table and chairs. It comes with a decorative pole that significantly contributes to its aesthetics.
The fabric used for the construction of its canopy is UV-blocking, with a UV protection rating of 50+. The canopy is made up of a hundred percent cotton. Although UV-blocking, you can also use it as a refuge against rain because it possesses a shower-resistant property. But you should not leave it out in the rain for too long.
Fatboy Striped Woven And Aluminum Parasol
This beautiful parasol was constructed by a Dutch brand, Fatboy, to not only shield you from direct sunlight but also add a vibrant and modern look to your outdoor space. It is built with premium quality materials, such as an aluminum pole, which is resistant to rust. Hence, the parasol is durable. The white and black striped umbrella offers a UV protection rating of 50+. You will not be worried when having your dinner in your outdoor space, even on sunny days.
Hayes Garden World 2.2m Round Aluminum Crank Deluxe Parasol
Generally, most parasols either have a circular, square, or rectangular shape. However, this does not mean parasols are limited to only these shapes. If you want to try a classic parasol with a unique shape, consider this Hayes garden parasol with a hexagonal shape. It also comes with essential features that make it suitable for hotels.
It has a smooth crank and tilting mechanism to help you adjust the canopy to a position that will offer the best shade. The canopy is also resistant to water, so you can also use it as shade during heavy rain. The parasol also supports a super concrete base to keep it in place firmly.
Dakota Fields Rosenda Rectangular Traditional Parasol
Having a parasol that offers complete coverage will be great for your patio table because you will not be worried about the discomfort of scorching sun rays and rainfall. The parasol is a retro-styled parasol with a rectangular shape that offers complete coverage from the sunlight when used for outdoor dining.
The parasol comes with a polyester canopy that boasts UV-blocking and water-resistant properties. The aluminum pole used for its construction is powder-coated for durability. The height of this parasol is adjustable, and it also features a tilting mechanism.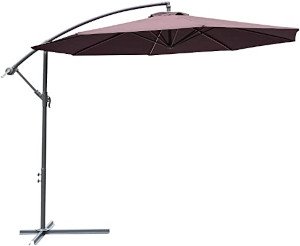 Outsunny 3m Banana Parasol Sunshade Garden Umbrella
Do you have a patio table without a central hole but don't know the parasol to buy? This parasol is an excellent option. You will not need to go through the stress of drilling your patio table or spending on a new patio table before using this parasol. The Outsunny banana umbrella is located at the end of the table and also provides the maximum sun protection you need during dinner.
The parasol is strong enough to withstand gusty winds; it has a crank winding mechanism and a black powder-coated iron frame which makes it durable. Its durability is also supported by its steel ribs and cross-shaped fixation. The canopy is made of polyester material which has a UV-blocking property to serve as a refuge on sunny days.
East London Parasol Company Grey Aretha Octagonal Parasol
This is a luxurious parasol built by an eco-conscious brand. It is a stylish umbrella that will give your outdoor space a luxurious look it deserves. The stylish design of this parasol is an Arabian-inspired design. The thick cotton tassels and sunshiny primrose yellow interior color of the parasol play a significant role in its stylish look. It features a pale wood frame with brass fittings of a high-quality and removable canopy. You can enjoy your outdoor dining in the most luxurious and stylish ways by installing this parasol on your patio table.
Conclusion
These are the top fifteen branded parasols that are the definition of beauty, luxury, and quality. We offer these types of parasols to satisfy the desires of clients. So, instead of wasting your time and money on low-quality products, work with us to get premium quality parasols for your company at an affordable price.