Summer is always a good time to relax and enjoy the fresh air by spending time outside. We can do this outdoor relaxation by staying in our garden, pool, or hammock. Although staying outdoors during summer for relaxation is great, sometimes the intensity of the sun takes away the comfort we seek. In this situation, the sun's rays will cause more damage to our skin than good. This should, however, not restrict us from enjoying outdoor relaxation with our friends and family.
If your business falls under the hotel and resort sector, working with more people from different races is typical. People who lodge in hotels do not often stay indoors; they prefer staying outdoors. Hence, you will always find them relaxing in pools and other places where they can enjoy fresh air to clear their heads.
Staying outdoors is always relaxing with serenity until the sun decides to smile on us. Don't let scorching sun rays take away the relaxation and comfort these people have. Instead, make their stay in your hotel as pleasant, relaxing, and comfortable as possible.
How Do We Make Staying Outdoors Comfortable, Even On Sunny Days?
We can prevent the discomforting effects of scorching sun rays by installing garden parasols. This way, the comfort of people relaxing outside will be lasting and unalterable even on rainy days. Meanwhile, there are a few questions you must find an answer to before purchasing any professional or commercial parasol.
There is no doubt that parasols are designed to make staying outdoors relaxing and comfortable. But you must consider several factors to get the best garden umbrellas. Huifeng Umbrellas will provide you with a parasol buying guide, and which includes an explanation of essential factors that determine high-quality products.
The factors that determine good parasol products are their shapes, sizes, designs, materials, and features. Once you are well-grounded on the factors that define a great parasol product, you will not be a victim of low-quality products when shopping for garden umbrellas.
What Is A Garden Parasol?
It would not be good and educational if we jumped into the core of the topic without talking about its surface. Hence, we will have to provide answers to the "what is a garden parasol?" question. A parasol is a folding fabric commonly called a 'canopy.' A parasol is commonly known as an 'umbrella' and is usually supported by wooden, metal, or fiberglass ribs. These ribs are often held in place or mounted on a plastic, wooden, or metal central pole for stability.
What Is A Parasol Used For?
A parasol is primarily designed for the purpose of shade. It is mounted to protect people from relaxing outside on rainy days and sunny days. Although parasols are sometimes called 'umbrellas,' they are different from hand-held umbrellas because parasols have larger sizes. The sizes of parasols make them a suitable design for gardens, terraces, and beaches. In addition to this, parasols are also mounted on pool sides and over patio tables.
What Are The Benefits Of A Parasol?
A parasol is a canopy structure designed to provide shade. The fabric used for designing a parasol possesses UV-blocking features. Hence, parasols are very effective at blocking ultraviolet rays from the sun. Although sunscreens also protect us from ultraviolet rays from the sun, they are not as effective as parasols.
A parasol will reduce the temperature of the sun by about 10 degrees; hence, it will keep you cool and comfortable on sunny days. Outdoor eating with families with a parasol at the dining table can also be fun, memorable, and comfortable, even on sunny days.
The fabrics used for the construction of parasols mostly focus on the UV-blocking features. So, only a few parasols are built with waterproof fabrics. Buying parasols that are resistant to water or waterproof is the only way we can use the canopy as shades on rainy days. Therefore, the feature of a parasol fabric is an important factor every buyer has to consider to get the benefits they seek.
How Do I Choose A High-Quality Parasol?
Choosing a high-quality parasol depends on your purpose for purchasing it. There are various parasols designed for different outdoor spaces. Hence, you can not use the same parasol, irrespective of your outdoor space. You must consider eight factors before buying a parasol to get the best product for your outdoor space. The criteria or factors to consider before purchasing a parasol include the following:
Purpose of buying a parasol
Available space
Size of shade the parasol provides
The accessories it features
The raw materials used for manufacturing
The type of fixation
Wind resistance
Budget
These factors may be confusing and challenging to check for every product you choose to purchase. Meanwhile, at Huifeng Umbrellas, we will help make the process simple. This way, you will be able to make the best decision in getting the desired product that meets these criteria and your requirements.
What Are The Key Features I Should Look For In A High-Quality Parasol?
High-quality products are what we seek because they are the best products. To find the best parasols, we must look for the various key features. These key features will help us find the best parasols that meet our requirements.
The key features of the best parasols include the following:
The type of parasols you want — There are different types of parasols. We have free-standing, tilting, wall, or overhanging cantilever parasols.
The suitable size and shape of the parasol — The canopy comes in different shapes, such as round, square, or rectangle.
The materials you prefer for your parasol frame and pole — The frame and pole used for supporting and mounting a parasol come in different materials, such as steel, aluminum, and wood.
Parasol accessories like heaters, cover, speakers and light.
Type of parasol fixation, such as permanent and non-permanent fixation.
The UV protection and wind resisting property of the parasol
These key features are essential and must be considered before purchasing any garden parasols. It will protect you from purchasing low-quality parasols made with low-quality materials. It will also save you from purchasing a parasol smaller than the size you need or a parasol with a canopy that does not offer the maximum shade you need. If you do not want your parasol to be easily blown away on windy days or parasol with unstable fixation, it is advisable to consider these key features.
Now let us discuss these key features individually to help you understand their importance. We will also show you how to choose the best parasol for your outdoor space.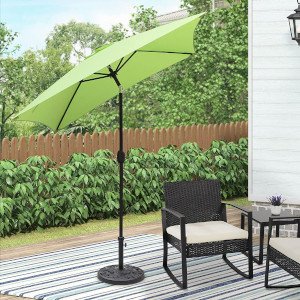 Suitable Parasol For Your Purpose — commercial or garden umbrella?
The purpose of buying a parasol plays a significant role in the product you decide to purchase. The purpose of buying a parasol can be divided into two. Firstly, you may need the parasol as a garden umbrella for your home garden to provide shade for your patio table or garden furniture. Secondly, the purpose of your parasol may be to serve as a commercial umbrella to provide shade for your restaurant, cafe, or pub.
Generally, garden umbrellas are smaller than commercial umbrellas. Commercial umbrellas are larger, heavier, and stronger than garden umbrellas. The reason is that commercial umbrellas are designed to cover larger spaces and are mounted in busy environments to face all weather conditions. Commercial umbrellas' benefits over garden umbrellas make them more expensive than garden umbrellas. The installation and maintenance of commercial umbrellas are also different from garden umbrellas.
Meanwhile, this does not restrict you to buying only garden umbrellas for your backyard space. You can also use commercial umbrellas in your backyard, regardless of its size. All that matters is your purpose and the spaciousness of your backyard. If you also need shade over a large area, it is advisable to purchase a commercial umbrella rather than a garden umbrella, and vice-versa.
How Do I Know The Size Of Parasol To Purchase?
Once you have decided on your purpose of using a parasol and where to mount the parasol, the next thing to consider is the size, shape, and dimensions of your parasol. Many people often mistake the meaning of the "size of a parasol" with the pole height. The size of your parasol does not include the pole height but is determined by the width of the canopy.
There are various sizes of parasols, but the factor that determines the best size for your parasol is the size of your patio table and areas that need shading. Meanwhile, adding about 50 cm extension to the edge of your parasol is always advisable for maximum UV protection.
What Shape Of Parasol Should I Buy?
Parasols come in three different canopy shapes: round, square and rectangular canopies. The most suitable shape to purchase depends on the shape of your table. Hence, a six-meter square canopy would be an excellent match for a two-meter diameter square table.
What Are The Materials Used For Manufacturing A Parasol?
A parasol is made up of three distinct parts; the canopy, frame, pole, and base. The canopy of a parasol can be constructed with different UV-blocking fabrics, such as vinyl, acrylic, or polyester materials. The frame and pole of a parasol can be constructed using aluminum, wood, or steel. The base can be made of granite, concrete, steel frame with tiles, or concrete. Lastly, the material the parasol comes with has a great influence on its cost. Hence, the type of parasol you can purchase depends on your budget.
How Many Types Of Parasols Do We Have?
There are seven different types of parasols, and they are constructed for different purposes and space setups. The seven different types of parasols are:
Free-standing parasols
Cantilever parasols
Tilting parasols
Wall-mounted parasols
Beach parasols
Telescopic parasols
Balinese parasols
Free-standing Parasols
This is the commonest parasol, and it looks like a regular umbrella. It comes with a central pole that can go through the patio table to maintain stability even on windy days.
Cantilever Parasols
A cantilever parasol is constructed with its pole to the side, creating a large space under its canopy. Due to the structure of a cantilever parasol, it is often called different names, such as sidearm parasol, overhanging parasol, and side post parasol. It is often used by people with a patio table that comes with no hole. Getting a cantilever parasol is the best option if you also need an ideal parasol to protect your jacuzzi. Lastly, cantilever parasols are more expensive and require a heavier base than free-standing parasols.
Tilting Parasols
A tilting parasol looks like a free-standing parasol. Although they both have a central pole, they are different. Tilting parasols possess crank handles that can be used for unfolding and tilting the parasol to protect you from direct sunlight coming from any angle. The cantilever parasol also offers this tilting property in only two axes (vertical and lateral sides).
Wall-mounted Parasols
As the name implies, wall-mounted parasols are constructed to be fixed on the wall. Although this parasol is fixed to the wall, it can also be adjusted due to the rotating bracket and mobile arm features. Hence, you can also find the perfect shade with a wall-mounted parasol at any angle.
Beach Parasols
Beach parasols also have a similar structure as free-standing parasols. Meanwhile, the poles they often come with usually have a sharp or pointed base to keep them stable on windy days; hence, they don't require a separate base.
Telescopic Parasols
A telescopic parasol is a different type of parasol that features a central mast built with two separate poles. The two poles are also of different diameters, where one of the poles slides out the other pole making the parasol height easily adjustable.
Balinese Parasols
This is a wooden parasol built to be a decorative umbrella. It is not as strong as the traditional parasols. The Balinese parasol has a laced valance and vibrant colors to make it suitable for branding.
Types Of Parasol Fixation Or Bases?
A parasol base is located at the lower part, and it is designed to keep the umbrella upright and wind-resistant. There are two types of parasol bases, irrespective of the kind of parasol—center pole or cantilever parasol. The two kinds of parasol bases are:
Permanent parasol base or fixation
Non-permanent base or fixation
Permanent parasol base or fixation
This is the strongest type of parasol fixation or base. It is an in-ground base usually buried to reduce the footprint of the parasol.
Non-permanent base or fixation
This fixation can come with caster wheels; their weight usually varies from 15 – 25 kg. However, the weight of this base depends on the parasol setup—if it goes through the center of the patio table or is installed under a deck.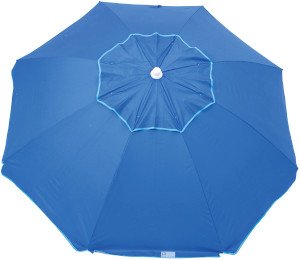 What Accessories Can I Get For My Parasol?
You can increase the functionality of your parasol by attaching accessories to it. The various accessories you should consider getting to enjoy your stay on your patio include the following:
Parasol light
Parasol protect cover
Parasol speakers
Parasol heaters
Rain gutters, insect curtains, mist cooling systems, and screen
Conclusion
To get the best parasol, you must consider a few factors, among which its "usage" is one of the most important factors. Without a purpose, you can't consider the other factors listed above. Now that you know the key features of a high-quality parasol, it is time to buy them. Buying a premium quality parasol is always challenging, even after considering the key features and factors. The reason is that there are many unreliable umbrella manufacturers in the market. Work with us today if you desire high-quality products without wasting your time and money.