There are many options for your branded printed umbrella. We use and combine a number of different print processes to create your promotional printing umbrella: dye sublimation, silk-screen, 4-color process print, transfer print, embroidery, and good old-fashioned sewing and tailoring. We can create eye-catching promotional printed umbrellas to be brand specific. We will always advise you on the most cost-effective methods for your particular design. Please find more details on our promotional printing umbrella print options below.
Screen printing on umbrellas
This traditional method is highly effective and long-lasting. An image is transferred to the umbrella surface by ink, which is pressed through a stenciled "silk" screen and treated with a light-sensitive emulsion. A screen is required for each color to be printed. The benefits of screen printing are as follows:
Over 30 stock colors to choose from
Excellent reproduction of color logos
Cost-effective printing method
Low-cost origination
Varnish print is available
The Print size using this technique on readily made stock umbrellas is roughly A4 size.
There is a restriction to not printing to the edge or close to seams.
When we Custom manufactures our umbrellas we can screen print the panels completely prior to sewing. This allows amazing effects such all over print and bold messages and branding.
Digital Printed Umbrellas and Dye-sublimation.
This is a method of printing umbrellas Digitally and allows for panel printing using vibrant colors and patterns.
As technology has moved on this method of printing has been made more accessible and is available on shorter production runs that previously we would not have been able to manufacture.
The new digital print technology allows us to create some very breathtaking promotional umbrellas that were just not possible a few years ago. We are still learning new visual effects and ways to combine old and new technologies to create ever more visually stunning umbrellas for our clients.
Sublimation or heat transfer printing is the application of sublimation inks onto a surface using a heat press to provide the required combination of heat, time, and pressure. This combination causes the inks to be converted from a solid to a gaseous state enabling them to penetrate the material so that a permanent, full-color image is formed. The color penetrates the surface of the item so that the result is colorful, long-lasting, and resistant to scratching, unlike some other printing methods that merely print onto the surface of the item.
Pantone matched fabric and logo colors from production runs of just 50 umbrellas
Dramatic full panel designs can be achieved, using shading and graduation.
No limits to the number of colors that can be printed
No deterioration of printing after prolonged use, colors stay vibrant.
Digital process for photographic and tonal images. Full photographic prints can be achieved. Both in color and black and white
UV printing of logos and images
This low-energy technology dramatically reduces the use of solvents in the printing process. It delivers a range of quality benefits including:
The excellent print color matches especially on dark fabric
The remarkable level of detail for small text and intricate designs
No limit to print colors possible
Superb registration between print colors
The striking reproduction of 4 color process designs
Environmentally friendly
Smooth and even finish
Embroidery & Sewing Effects
Embroidered Umbrellas look amazing, and can be combined with traditional printing methods.
Because many of our umbrellas are made to measure, we can offer a combination of decoration techniques.
Our factories use the latest in computer-controlled multi-headed embroidery machines.
We can offer a range of embroidery effects, from panel designs to tags and labels and Sleeve Decoration.
How we make custom promotional umbrellas is unique to your brand.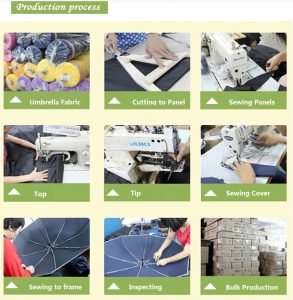 We use and combine a number of different print processes: dye sublimation, silkscreen, 4 color process print, transfer print, embroidery, and good old-fashioned sewing and tailoring, all to create breathtaking promotional umbrellas. We are passionate about our umbrellas and only use high-quality products to create both a durable and visually stunning promotional item.
We have our own in-house design team who can work with you to create a truly bespoke product. As many of our umbrellas are custom and made from scratch, we are able to color match frames as well to create a truly unique umbrella for you. We can also go one step further with other customization options such as engraving the handle, printing the tie wraps and sleeve plus many other bespoke finishing details.
Buy quality umbrellas from a professional umbrella factory now!
5 Things You Need to Know About Submitting Artwork for Umbrella Printing
You see many beautifully done umbrellas in bright colors on various types of umbrella canopies and fabrics, but have you ever stopped to wonder how the beautiful patterns and designs were achieved?
Umbrella printing is quite different from the typical style of printing you're used to. It requires strategic steps that must be followed meticulously to achieve the desired result. Seeing as the beauty of many umbrellas is in their printed designs, umbrella business owners must get familiar with the process of umbrella printing.
The process of printing in umbrella design can be as easy as it can be complicated. We have curated 5 tips you should know before deciding to send in your artwork to us for printing. This will help save time, costs, and energy as you go through with manufacturing your umbrella.
For newbies to umbrella manufacturing or those who have never seen anything being printed on any other object but paper, this article is for you.
What Is an Umbrella Artwork?
People describe many things as artwork, for example, a mural on the wall or a painting at a museum. This just shows that you can use anything as a canvas as long as there's a willing artist. This must have been the beauty that umbrella designers long ago discovered when they started to decorate umbrella canopies with fancy images.
The umbrella is a budding canvas waiting to be explored. Many umbrellas have wide canopies that are usually empty before printing. Many umbrella manufacturers have decided to use this wide empty space to display different designs, including images of buildings, people, animals, flowers, scenery, company logos, and other branding information.
The large space gives enough room for creativity, and so the umbrella designs usually turn out beautiful and eye-catching if done right. Before the artwork gets printed on the umbrella, it is first designed on design software, preferably Adobe Illustrator or Photoshop. The design file is then saved in a PSD or AI file to preserve its quality.
For corporate umbrella printing, the exact colors that match your brand identity or preferred design will be incorporated into your artwork. It will then be matched against the world-recognized Pantone color matching system for preciseness and printing accuracy.
Things To Know Before Sending in Your Umbrella Artwork
Now that we've cleared up what an umbrella artwork is let's break down the things you should know before submitting your artwork to be printed on your umbrella(s).
1. Creating the Artwork
To begin, you would need design software to create the umbrella artwork. For this, Adobe Illustrator, Corel Draw, or Photoshop is your best option. If you are already used to creating designs, then this shouldn't be a problem. You can come up with one easily. If you would rather not, then you can give it to a designer who will create it for you and most likely save it in a PDF file that you can open and view.
Alternatively, if you don't have anyone to do a design for you, we can help you create a design based on your specifications and requirements. We have professionals in-house who can create unique artwork for printing as you design your umbrellas.
How should the artwork look?
After your artwork has been created, expand each of the objects in the design, and save a copy as a Vector EPS file. When this is done, it is wise to check out your artwork on other computers to ensure that it looks the way you intend it. Sometimes, designs can be altered when you open them on other computers asides from the one you created the design on.
When you open a design on Illustrator, for example, if it does not have some of the fonts you used in your design, it will replace it with another font entirely. This could change the entire outlook of your design.
To ensure that your design comes out as intended, send us the specific fonts used when you send it to us. Or, you should make sure the fonts you use are outlined and match your intended design.
When you design your artwork, also ensure that every single color you use is identifiable. Place each of them on a different layer to prevent confusion and allow for precise printing in the end.
Our printing professionals prefer that every item with the same color is grouped together. This will be necessary so that we don't miss any detail or leave anything out.
To give you a precise, quality printing job, we prefer to use the universal Pantone Coated (C) matching system. Tag each layer of design with the necessary Pantone reference to help us get the exact color you require.
Designs can come in different forms, some with huge details while some are relatively tiny. As complicated as achieving some of these details in print might be, we strive to give our clients their heart's desires. For small fonts or gradients which cannot be screen-printed easily, we will use digital printing.

2. Preferred Artwork File
We prefer that you save your file in a Vector EPS file or Vector PDF. This is necessary for a couple of reasons. Firstly, let's look at what Vector files are.
These are generally artworks created using formulas instead of colored blocks or pixels like other forms of artwork. The most common type of vector files is the AI, which is short for Adobe Illustrator. You would find it mostly used to create print media, digital graphics like logos for businesses, etc.
Other vector file types include EPS or PDF. A PDF can be a vector file based on how it is saved. We prefer that you save your work in this type of document because it can be easily resized as is necessary for your artwork. You can scale your image to any size you wish, and it will not lose its resolution quality or sharpness.
After designing, vector files are usually quite large. To send it as a file via email, the vector file is changed to a smaller file.
These include JPEGS, PNGs, GIFs and are also called raster images. These types of files are made from a fixed number of colored pixels. This is what makes them low resolution and not so great for printing work. If you attempt to make them bigger, they will lose their quality and sharpness.
If you want to tell the difference between a Vector file and a non-vector file, zoom into the image. If any curved line in the picture looks altered and pixelated, then you have a non-vector file. If it remains the same, it is a vector image. You would usually find many non-vector images online.
3. Your Printing Options
Printing your design can be done in a variety of options.
Our most preferred option for umbrella printing is Screen Printing. In this style of printing, the artwork is transferred onto the umbrella canopy using a mesh. Here is how it is done:
We create a mesh screen using a stencil.
Next, we squeeze ink into the stencil and then directly onto the umbrella.
Screen printing uses only four colors. This makes it the most economical type of umbrella printing. It is also one of the best for printing items for outdoor use, umbrellas inclusive.
The second printing option is Digital Printing. In this style of printing, the artwork is transferred onto the umbrella with heat.
The printing press is heated up to a degree.
Next, it is pressed onto the umbrella fabric.
We leave the item in the press for a while then release it.
This option takes the shortest time but is more expensive. It's excellent for colorful artwork. To get your umbrella artwork printed with this printing option, it needs to be saved at a specific resolution or size. For precise printing, save it at 300dpi. This will ensure that you get good quality when the printing is done.
If you're not sure what your umbrella template or model's size is, find out from our umbrella experts, who are always available to serve you. Since it is impossible to scale down an artwork (you can only scale it up), you must make sure that you save the artwork in the right size.
The final type of printing option available is Dye Sublimation. Here, we print on the umbrella's surface using sublimation ink. Through heat, pressure, and time, the ink converts from a liquid into gas. It is this gas that now penetrates the umbrella fabric, printing done.
This type of printing takes a lot of time but lasts very long.
4. Give Room for Bleeds
Many times when printing, it's possible that an image spans across the entire width of the umbrella. If the umbrella is made of different panels, then we would have to stitch each panel together to form a continuous artwork pattern and not eight different artworks on each panel.
Again, it is not every artwork that appears only in the center top of the umbrella. Sometimes, there could also be images on the bottom part of the umbrella panels. To ensure there is no break in the artwork as we stitch each panel together, we need the panels to have bled.
This means that on each umbrella panel, we will print across the entire panel and some more. It is important so that when we stitch the panels together, the artwork forms into one big image and not mismatched images on the eight different panels.
5. Sending Your Artwork
When an artwork is done and ready to be sent, the file may be quite large. If your finished image is not upwards of 3MB, that might give you an idea of whether it is high-resolution enough. Anything in KB is definitely not going to turn out great when it is printed.
Sending a large file via email may not be ideal. This is why we recommend that you send your artwork file via WeTransfer. It's free and saves you the stress of uploading and sending such large files through email.

Other Things to Consider as You Design Your Artwork
There are other bits of vital information to consider as you prepare to send your artwork. Printing on one umbrella is hardly an issue, but you must do everything according to specification to minimalize errors when it is a bulk order. Please note the following:
1. Understand The Umbrella Use
Before you design your artwork for printing, you must know the umbrella's use. There are different types of artwork, and there are also various types of designs. Using the wrong kind of design on the wrong umbrella will make the finished product look askew.
Printing children's cartoon characters on a corporate umbrella defeats the purpose of production. Neither child nor adult can use it. Using boring designs on beach umbrellas will also create unattractive beach umbrellas that no one will like to buy.
Before you begin to design, ask yourself if it pairs rightly with the umbrella's intended use. If you're not sure the best types of design to use for what umbrella, feel free to contact us with your questions.
2. Be Aware of the Canopy Fabric
Different types of fabric will need different types of printing. Some fabrics will be able to endure digital printing, while some are more suited for screen printing. Before you begin your design, work out, and be sure of the type of fabric your umbrella canopy will use.
If you create a design that cannot be used on the type of fabric the umbrellas have, you would have wasted your time and resources. Get the facts right before you proceed to design.
You must also know how many umbrella panels the design will be placed on and how large the canopy is to ensure that the design fits precisely.
3. Know the Costs of Printing
The number of panels to be printed on is the primary determinant of the cost of printing. If you're printing the same design on only two panels of the umbrella, then the printing cost may not be high. On the other hand, printing eight different artworks on the eight different umbrella panels will make the costs rise very high.
One way to bring down costs will be to either reduce the number of panels you will print on or go with digital printing. Here you can print on the panels all at once, so your printing costs will reduce a little.
Conclusion
Printing on an umbrella can be a walk in the park when everybody does their part accurately. Any mistake that occurs will be evident in the finished product; all that can be avoidable, however. At HF Umbrellas, we have professionals who have done umbrella printing for many years and understand what is necessary to do a seamless job. We also have graphic designers available who can prepare artworks of various designs and styles for any type of umbrella you want to print on. If you're finding all the information above a little too overwhelming, we can handle it for you. Contact us at info@hfumbrella.com to help you get started. I NEED A QUOTE!