Many of you fancy customized umbrellas. You might prefer them for personal use or corporate branding
purposes. The applications are endless. However, seldom do individuals know how to go about the process.
That is what, we will help you out with today. We at Hfumbrella, believe in providing our customers with
complete freedom to design their unique umbrellas.
We understand that you might not be well versed with the selection of the frame or the handle and therefore we provide you with an easy way out. You can easily choose between the predetermined frame and handle options while designing your umbrella canopy from scratch.
Today, we will help you understand how you can draft the design for your umbrella. Our step-by-step guide
will make it easy for you to design the type of umbrella which you prefer.
1. Umbrella Size:
You have to first and foremost decide the size of the umbrella which you want to order. The size of the
umbrella is measured in terms of the arc size. The design, as well as the cost of the umbrella, will vary
according to the size of the umbrella.
There are also a few additional options which you need to consider like whether you want to buy the vented or the non-vented umbrella. The vented ones have higher wind resistance. There are quite a few size options to choose from like:
•  30 inches to 35 inches are suitable for kids.
• 40 inches to 45 inches are ideal for adults.
• Golf umbrellas usually have arc size between 50 inches to 80 inches.
• Beach umbrellas generally have arc size between 7 feet to 13 feet.
We can manufacture all of these umbrellas and more, but before you start creating the design, it is essential
to decide the size. Accordingly, you can create the design.
2. Design:
Let us now look at the designing aspect of the umbrella. Once you are clear regarding the size, you have to
draft the design which you want on the canopy.
The best thing about ordering the customized umbrella from us is that you need not worry about the minimum quantity or the printing process. Once you provide us with the design, you are good to go.
The design can be a corporate representation, intrinsic design or a geometric one. We have extensive
experience in printing all of these on the umbrella canopy.
• Corporate branding design:
If you are looking to create a corporate design, you should choose the background color in such a way that
the logo is visible clearly. Only when that is the case, you will benefit from the branded umbrella. The
example which we have highlighted in the picture above will help you understand how with the use of
minimal colors, you can make your logo stand out when you're creating an umbrella design which represents
your brand.
• Intricate design:
If you're looking for visually appealing layouts, you should always go with the intricate umbrella designs.
The more intricate the design, the more visually appealing it will be. Again, you have to be very careful
about the colors so that in a single glance, the viewers can decipher the design.
• Geometric design: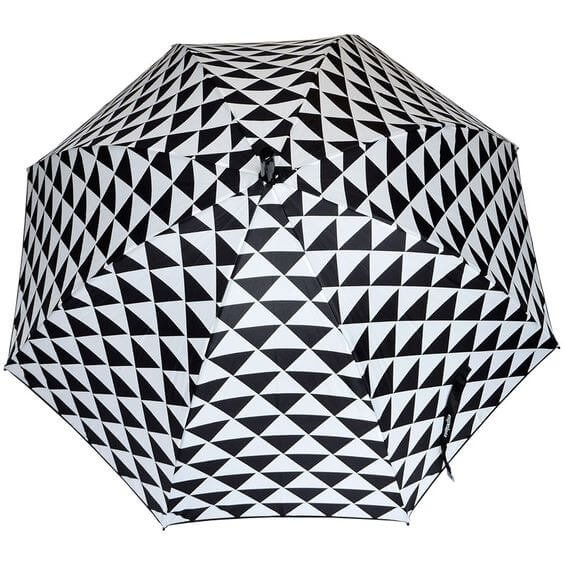 If you want to play it safe and go with the versatile design, you can opt for any geometric design. You can
choose the combination of shapes like circles, triangles, and rectangles or go for symmetric umbrella
designs. Both of these options will ensure that your umbrella design stands out. You can fill these with the
different solid colors or leave them blank. The choice is entirely yours.
• Floral designs:
If you want to go with the casual look, you can easily opt for any of the floral designs. These floral designs
will make your umbrellas highly versatile. People whom you are gifting it to can use it for a more extended
period. With the help of the right color combination, you can easily make it stand out. Floral designs are
your best option when you want to go casual.
These are some of the umbrella designs ideas which you can go with when you're looking to create
umbrella designs. You might now have the question, how to get the design ready digitally? We will
highlight that in our guide below.
3. Sources of umbrella designs:
You have to get the design images online. If you look to create one, it can take an extended period. There are
a few sources which you can go through to find the kind of design which you want. These include:
• Pinterest  • Royalty free image sites • Google images
When you go through these websites, it is easy to get an idea about the type of design which you need. You
can after that modify the design if required.
4. Modifying the design:
If you want to mix and match a couple of drawings or pictures which you have found on the Internet, you
can use photoshop to do so. Using Photoshop, you can also superimpose your logo on any design. After this
short step, you can easily export the design and send it to us through our website.
Our digital printers can print any design with the following specifications
• Design size bigger than 200 DPI 。The minimum size of 100 cm x 100 cm • AI/CD/PDF file format
As long as you can export the design satisfying the above requirements, we can easily print it for you.
Pro Tip:
You can easily adhere to the above requirements by exporting your picture using photoshop.
5. Choosing the final look of the umbrella:
Once our executives go through your design, we at Hfumbrella will provide you with the option to select the
remaining parts of your umbrella. We understand that designing the frame or a handle can be a difficult and
expensive task.
That is why we provide you with the ready-made frame and handle design options to make
the entire designing process easier for you. There are a few options available for the frame like:
• Fiberglass • Steel • Aluminum
You can directly choose the frame between these frame options. When you do so, you can concentrate on the
canopy design rather than worrying about the structure. After that, you can choose from the list of canopy
materials available.
We provide you with a variety of material options like:
• Pongee、 Polyester、 Nylon
The fabric options have been chosen carefully to ensure that you can design an umbrella which is durable
and on which, you can get any print which you want.
With the help of our guide above, all you need to focus on is the canopy design. You can choose between them
rest of the frame and material options readily on offer.
We understand that initially, you might not want to place a bulk order. That is why we also accept small orders without any minimum order quantity. That is what set us apart from the other umbrella manufacturers.
So, if you want to order a custom umbrella but are not sure how to go about it, you can follow our guide
above. The guide above will help you not only create the perfect design which you want but also order it
right away through our website.
After you submit your design, our representatives will get in touch with you shortly. The process of designing a custom umbrella was never this easy.
We take great pride in providing you with a seamless experience so that you can get your umbrella in no
time. With a plethora of frame and material options which we have, you can easily customize your umbrella
up to the last detail.