Are you planning to spend a relaxing day on the beach? Don't forget to bring your sunscreen, towel, and the most important item of all – a beach umbrella!
Beach umbrellas
are also great for corporate gifts as it gives you free branding for a long time.
Not only does it provide shade from harmful UV rays, but it can also enhance your overall beach experience. There are tons of beach umbrella providers, and it is not easy to find a good product without proper knowledge.
In this buying guide for beach umbrellas, we'll cover everything from size and fabric to price and popular brands. So, let's start our journey!
Table of Content 
Size: What size Beach Umbrella should I get?
The size of your beach umbrella is an important consideration. The number of people who will be under the umbrella is the primary factor to think about. A 6-to-7-foot umbrella should cover you adequately if you're going it alone.
Choose an 8- to 10-foot umbrella if you plan on traveling with a large group. Don't forget that a bigger umbrella means greater shade, but it'll be harder to carry.
The choice between a portable and a fixed umbrella is another option to think about. Unlike larger, stationary umbrellas, portable ones are often smaller and easier to take along.
Also, personal demand is a crucial factor. Need more room to spread out beneath the canopy? Choose a larger size. Are you comfortable with closer proximity beneath the canopy?
If that's the case, maybe anything on the smaller side will do.
You should consider elements like the number of people who will be using it, the need for portability, and your own tastes when deciding on the size of your beach umbrella.
By giving these things some thought before buying an umbrella, you can make sure that everyone has a great time at the beach under a shaded, comfortable umbrella.
Price: How much does a beach umbrella cost?
Who doesn't care about price?  There is a wide range in beach umbrella prices due to variables such as size, quality, material, and manufacturer.
The price of beach umbrellas starts from USD 10 and can range up to USD 100 or beyond. Of course, the quality will vary according to the price, but investing in a high-priced umbrella is not always a good idea.
Investing in a higher-quality beach umbrella may be worthwhile if you're searching for something that will last longer, have some special customization, and better shield you from the sun's rays.
Remember also that price isn't always indicative of quality regarding umbrellas.
Some companies command a higher price for their products because of their prestige or special features, but there are also several that are reasonably priced without sacrificing quality.
Prior to making any purchases, you should give careful consideration to your individual requirements. Find the best value option without breaking the bank by prioritizing your budget and most desired features.
While price is certainly a factor, it shouldn't be the sole factor. You should consider other factors beyond price. Consider not only price when looking for this summer staple but also its durability and practicality.
Some companies may give you lucrative offers, but their umbrellas are not up to the mark.
At Hfumbrella we offer the most competitive price for beach umbrellas, and we never compromise on quality.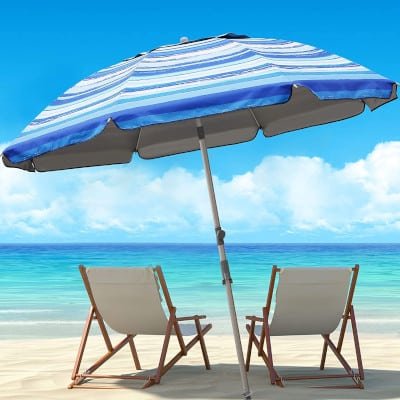 Sand anchor: How do you use an anchor beach umbrella in the sand?
Everyone who visits the beach should bring an anchor for their beach umbrella. Even on the windiest days, a sand anchor will prevent your umbrella from flying away.
The first step in using an anchor is deciding where you want to set up your umbrella. Find a level area that is devoid of rocks and other obstacles. Then, make a hole just big enough to accommodate the auger of the anchor.
To secure the anchor, first, insert the auger end into the hole and then tighten the twist. Make sure it's tight with your hands or a tool like pliers.
Then, using the anchor's screw mechanism or clip system, secure the pole of your beach umbrella to the anchor's top. Before you leave your umbrella unattended, double-check that everything is locked and loaded.
By following these easy instructions, you may rest assured that your day at the beach won't be spoilt by flying umbrellas.
Fabric: What fabric is best for a beach umbrella?
There are a number of things to think about while deciding on the ideal fabric for your beach umbrella.
Selecting a material that can resist outdoor exposure is the first and most important step. Umbrellas on the beach are constantly subjected to the elements, including the sun, the sea, and the wind.
Among the available options, UV-resistant polyester is frequently chosen. Stay cool and protected from the sun all day long with this fabric's water resistance and UPF 50+ rating.
While polyester is the most common material for beach umbrellas, nylon and acrylic are also available.
Another crucial consideration is choosing a beach umbrella fabric that will last for many uses.
A good umbrella should last more than one rainy season without ripping or fading. Invest in long-lasting products with a high-quality rating. If you need an umbrella for outdoor use, steer clear of cotton or canvas varieties.
Visual appeal is important, so give some thought to your favorite colors and patterns. If you want to stand out on the sand this summer, a vibrant beach umbrella could be the perfect accessory.
Colors: What is the best color for a beach umbrella?
Choosing the right color for your beach umbrella requires some forethought.
Choose a hue that best expresses your personal style and preferences. Doesn't matter which color you prefer. There is always a solution.
But don't forget the science when picking the color. The color of your beach umbrella should reflect the light instead of absorbing it. We all know from high school that darker color absorbs heat. So, it's better to select a lighter color.
When picking out the shade of your beach umbrella, functionality is just as important as aesthetics.
For example, if you're planning on using it frequently in sandy areas, lighter colors may show dirt more easily than darker options.
Most importantly, the best color for your beach umbrella will depend on your individual needs and preferences. Some popular choices include classic navy blue or white stripes for a timeless look or vibrant shades like coral or turquoise to add some fun and flair to your setup.
Height: What is the standard height of a beach umbrella?
Considering the user's height is essential when selecting a beach umbrella. The industry-standard height of a beach umbrella varies depending on who makes it.
The pole of a typical beach umbrella is 6 to 8 feet in height, providing sufficient shade for even the largest of gatherings. However, options with poles as high as 9 or 10 feet are available from some manufacturers.
The primary factor in selecting a beach umbrella is the function you intend to put it to use in.
If you are willing to sit on a low chair or on the sand, a taller umbrella is a good choice. On the other hand, if you want to sit on a high chair then pick a low height umbrella.
Be sure to choose one with sturdy construction and proper anchoring mechanisms, such as sand anchors or augers, so it does not blow away during windy conditions.
Selecting an appropriate-size beach umbrella requires careful consideration based on individual needs and preferences.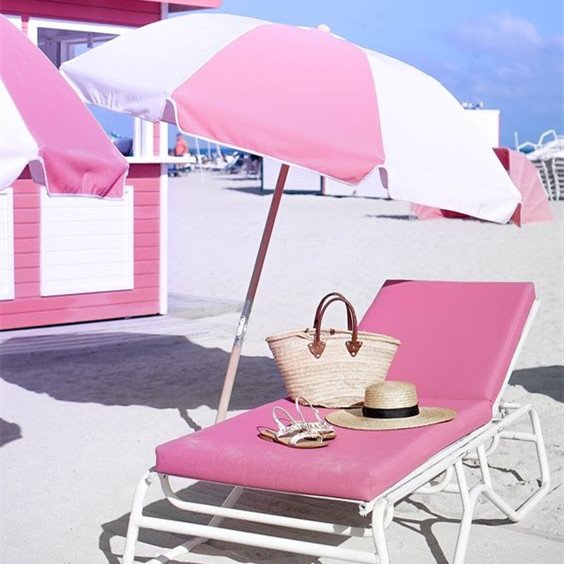 Type: What are the different types of beach umbrellas?
Well, this is a hard one to tell because it can vary according to person to person. If you are planning to offer a beach umbrella as a corporate gift or for official purposes, then the style must meet your brand style.
Standard beach umbrellas typically feature a circular canopy supported by a single pole. These umbrellas can give shade to several people. Moreover, these umbrellas are portable and require little effort to set up.
You can also buy a tilting beach umbrella. They will give you the ability to change the canopy's angle to suit your needs. This sunshade may be adjusted to provide optimal coverage at any time of day.
The recently introduced Sport-Brella design umbrella is a hit since it is more robust than regular umbrellas while still providing complete protection from the elements.
A portable tent-like structure with zip-up windows provides privacy along with protection against harsh winds or rain on windy days.
For those who prefer more luxurious options, cabana-style umbrellas come equipped with side walls and curtains, providing extra privacy while lounging on beaches or beside pools.
Some brands offer highly specialized choices, such as wind-resistant umbrellas designed specifically for areas prone to strong gusts or sand anchor models that optimize stability in sandy conditions.
No matter what type you choose, always prioritize features like durability, UV protection, and ease of use when making your purchase decision.
Here are the main 4 types that are popular among most consumers:
Standard Beach Umbrella- One of the most common kinds of beach umbrellas, the standard model has a pointed base that can be planted in the sand.
Cantilever beach umbrellas – Cantilever beach umbrellas have a pole off to one side, so they can be used to block the sun without blocking the scenery.
Pop-up beach umbrellas – Pop-up beach umbrellas are convenient for individuals who are short on time because they can be set up and taken down quickly.
Beach tents – Beach tents offer complete protection from the sun and are a great option for families.
Popular Beach Umbrella brands 
Thankfully, there are many reliable brands out there that offer top-notch beach umbrellas. Some popular options include Sport-Brella, Costway, and Business & Pleasure C. Each of these brands offers its unique take on beach umbrellas with various features such as sand anchors or UV protection.
Let's find out some industry-popular brands.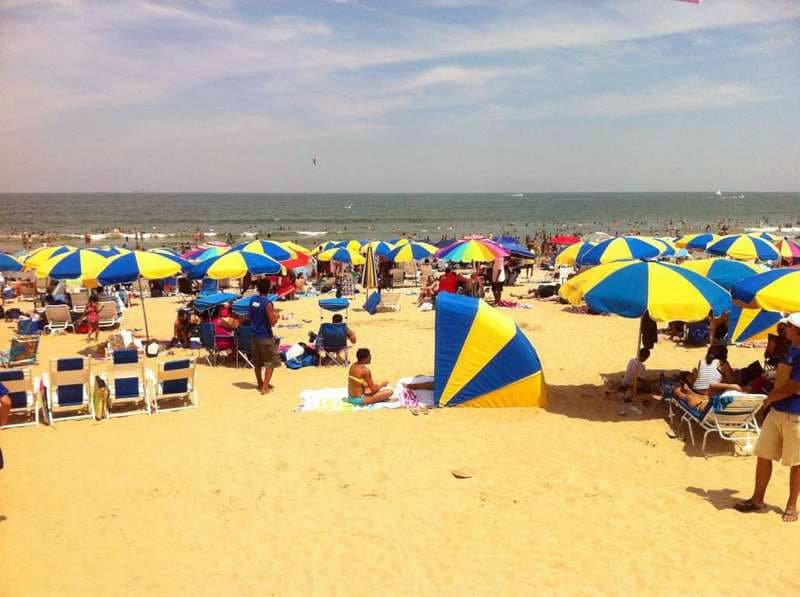 Sport-Brella
Sport-Brella is a well-known company that produces several types of unique and flexible beach umbrellas. Their umbrellas are constructed to block as much sunlight, wind, and rain as possible. They're perfect for camping, hiking, fishing, or any other outdoor activity thanks to features like side flaps, windows, and a revolutionary umbrella base.
Costway
Costway offers a range of affordable beach umbrellas. They use good quality materials to manufacture their beach umbrellas. Also, they offer portable and lightweight umbrellas which are easy to carry. The brand is very prominent, and you can trust its products. You can find beach umbrellas of various sizes from this brand.
Business & Pleasure Co
The beach umbrellas from Business & Pleasure Co. are the epitome of elegance. Their umbrellas are constructed from high-quality materials and are made to last while still being simple to use and aesthetically pleasing. All eyes will be on you in one of the many eye-catching designs available.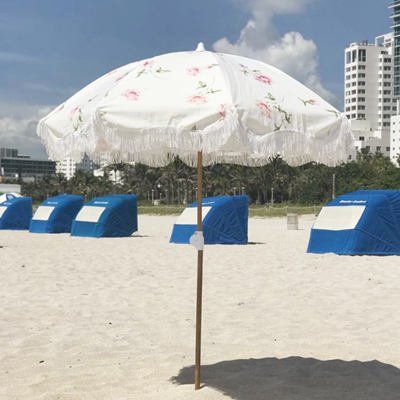 Frankford Umbrellas
Frankford Umbrellas is a trusted name in the industry, as the company has been producing umbrellas for a very long time. Their beach umbrellas are built to last, to be simple to use, and to withstand the elements (wind and rain). Umbrellas from this company come in a variety of sizes and colors, making them a popular option for businesses.
Sol Coastal
Sol Coastal is a well-known company that produces several models of high-quality beach umbrellas at reasonable prices. Their umbrellas are built to last and designed to be carried around with ease, thanks to their lightweight construction and compact size. They are available in a rainbow of eye-catching hues and eye-catching designs, guaranteeing attention on any beach.
BeachBUB
BeachBUB is an established company that makes a unique and practical product—an anchor for your beach umbrella. Every one of their umbrellas includes a sand-filled base that serves as a secure anchor. They are easy to set up and can withstand winds of up to 35 miles per hour.
Wrapping Up
The quality of your time at the beach can be greatly improved by purchasing a suitable beach umbrella. There are various alternatives; therefore, you should consider dimensions, cost, sand anchor, fabric, color, height, and type.
There are several well-known manufacturers of high-quality, long-lasting beach umbrellas to select from, whether you're shopping on a tight budget or treating yourself to the best of the best.
Promotional beach umbrellas are a win-win for businesses looking to help customers and get their names out there.
You may avoid getting sunburned and having a miserable day at the beach by taking the time to pick the best umbrella for your needs.
If you are looking for top-quality beach umbrellas, send us a message, and our beach umbrella experts will contact you shortly.