There are various life-changing stories where the main characters create their road to success. These characters made use of their creativity, skills, and vision to build a successful business. They did this without falling for the societal pressure of a 'fixed path to success.' Society's 'fixed path to success' involves securing a profession and working for a boss.
When it comes to success, trying new things was not an option in India. The Indians would rather work for a boss than venture into an entrepreneurial field. Being an entrepreneur was new and risky at the time. You can end up making lower than your capital if you invested in the wrong product. Everyone feared the risk of being an entrepreneur in India but Pratik Doshi.
Pratik Doshi and The Society's Definition Of Success
Pratik was an ordinary man from India with a different philosophy and principle. He was not the type to be weighed down by conformity in society. He was more of a leader than a follower. So Pratik going against the societal norms of a 'specific pathway to success' should not come as a surprise. He believed more in the hidden but obvious power of creation rather than being controlled by a particular set of persons for success. Thus, he put his creative and imaginative skills to create his own definition of success.
Pratik's friends, like every other person in the world, were blind to the power of creation. Instead, they all followed the same ideology of securing a profession. Thus, Pratik's friends aspired to be engineers, lawyers, doctors, and nurses, to increase their chance of securing a life with reasonable payrolls. To them, this was a success as per the society's definition.
Pratik, on the other hand, did not chase society's path to success by securing any profession. Instead, he decided to build his own career as an entrepreneur starting as a hustler. The path he chose was strange to his friends, who usually questioned and mocked his career path. Whenever he tells them he aspires to be the "Umbrella man," they all scoff at his career path by laughing out loud. Pratik's goal to eek a living by selling umbrellas was not believed by anyone but himself, and that was enough for him.
The Origin Of Pratik's Career Idea
Pratik Doshi was raised in Wadala, South Mumbai, India. Pratik's father is a middle-class businessman, he had a chance to join his father's business, but his desire to build his own success story won't let him settle for his father's business. Pratik's grandfather was also a businessman who specialized in making corrugated boxes and paper boats. His grandfather's small business was doing well but Pratik was least interested.
Why was Pratik so bent on eking a living by selling umbrellas?
The number one reason Pratik desired to venture into the selling of umbrellas was that there had never been anyone. This will, however, give him unaltered access to the untapped and raw market. Secondly, Pratik believes in the creation of new roads rather than following a particular route designed by society. Thus, he was against the monotony of the day jobs that society defines as being a successful route. In simple terms, Pratik would rather prefer creating his business than getting peanuts for helping someone get rich.
Pratik's dream was to create a success that did not follow the society's definition of success. He was also against securing a profession because it was society's definition of success, and it is not innovative. However, this does not mean that Pratik halted his education. Pratik enrolled and completed his MBA program.
Pratik started his entrepreneurial dream after completing his MBA program. It was a challenging dream to realize, but he enjoyed it because it was a dream driven by passion and fueled by his vision. In 2014, Pratik established his first venture, which he named "Cheeky Chunk." He made use of his newly established venture market umbrellas. His business began to get the positive response he desired quickly. Then he decided to expand his business by selling different designs of umbrellas at cheap prices.
Pratik's Entrepreneurial Journey
Pratik's entrepreneurial journey appears to be smooth because of his current status. Meanwhile, don't be deceived by the great outcome of his business because Pratik had a rough entrepreneurial journey. There were times he had to question his dream. Let's talk about his entrepreneurial journey from scratch.
Pratik brought his idea to work, as discussed earlier, in 2014 with Cheeky Chunk, which was his startup venture. When he was asked why he ventured into the umbrella business, his answer was simple. He said he planned to build umbrellas that would be more than mere utility.
Pratik's answer goes thus, "Everyone uses umbrellas, and I thought why not design it in a way that people will get emotionally attached to it and then carry it for the love of it rather than just for utility. That's how Cheeky Chunk was formed."
Pratik's answer will make you think he had a smooth journey. Meanwhile, he faced several challenges along his way. The challenges he experienced were so intense and disappointing that he questioned his dream.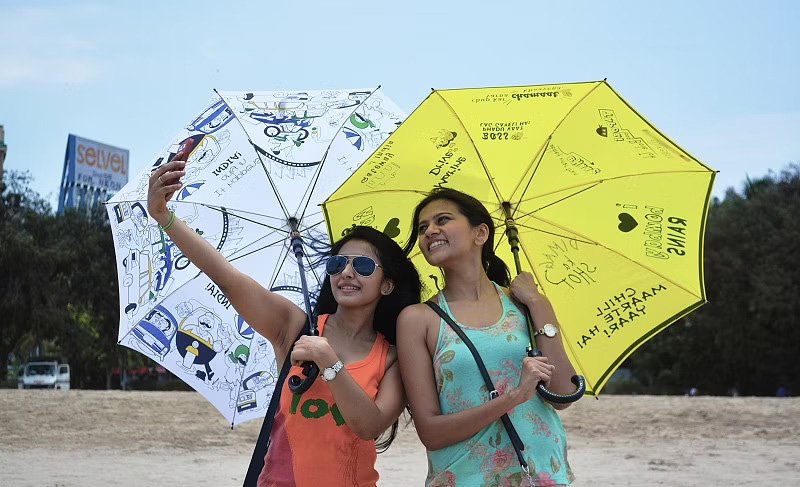 How did he start?
Pratik started with doodle designers. He was working with a talented and creative art student. He invested in his dream with the Rs 1,35,000 he earned by working as a tutor during his college days. He spent his capital on designing and manufacturing umbrellas. He also spent a part of his money in the creation of a website to facilitate client and customer communications. The quantity of Pratik's first umbrella production was 500 umbrellas.
The selling of these umbrellas was not profitable to him because he did not have customers aside from his friends and family. Pratik's family supported his dream by giving him strength. Pratik had no place to manufacture umbrellas in large quantities, but his father allowed him to manufacture his umbrellas in his factory.

Pratik's increased Cheeky Chunk's employees to four in June 2015. The increment in staff increased the number of umbrellas he manufactured to 700 pieces, which is 200 pieces more than his first production. He experienced the greatest loss this year. None of his umbrellas were getting bought by anyone around. So he made use of the website he created for his business for the advertisement of his umbrellas but made no sale.
The loss Pratik experienced this time made him disappointed and worried. In the midst of his stress, panic, and disappointment, he began to question his dream. He started criticizing himself for wasting his money on his umbrella business. Anybody at this junction will give up, and Pratik was close to quitting until something positive happened—it rained cat and dog.
It rained heavily, and Pratik's umbrellas started selling faster than ever. People were not only purchasing his umbrellas from his venture because over four hundred people bought his umbrellas online. The heavy rainfall was the hope Pratik's business needed to stay afloat again.
Three weeks after the rainfall and rapid sale of Pratik's umbrellas, his product became the most sold umbrella on Amazon. This time, his umbrellas were not only sold via his website but through a variety of e-commerce marketplaces, such as Snapdeal and Flipkart. Online marketing played a significant role in the rapid sale of his umbrellas, and he also stated this when asked about his rapid product sale.
"Our growth is all because of online marketing, and we want to go big in the next few years and expand out of India," says Pratik
After the recognition Cheeky Chunk got by becoming the most sold umbrella on Amazon, Pratik started looking for a way to expand his market. He then found out that the best way to make his business grow in the market was to work with investors. Once he figured this he started working towards making it happen, and he did, but it took a while.
Pratik's Choice Of Umbrella Design And Reason
Pratik also decided to add a flavor to his umbrella. He decided to produce umbrellas with different colors, hence, making his products fashionable for other purposes aside from being only a utility.
Here is what he said about the importance of umbrellas with unique designs.
"When you see a crowd of 10 people carrying boring black umbrellas, you will smile when you see the eleventh person carrying a yellow one, designed Cheeky Chunk Umbrella. That's what we are aiming to do for all our products."
The primary reasons for Pratik's idea about umbrellas with unique designs:
The primary goal of Cheeky Chunk was not to specialize in the production of only a particular design of umbrellas. Pratik's objective was to produce umbrellas with creative themes and designs to connect the memories of the rain with the emotion of the umbrella users.
Pratik also planned to manufacture different designs of umbrellas to sell at an affordable rate, like the common black umbrellas. Thus, making his products fairly affordable to every Indian considering Indian Marketing Standards.
What Are The Barriers Pratik Encountered During His Entrepreneurial Journey?
As an entrepreneur, you will be faced with many barriers that will make you question your dream. These barriers and challenges will come from your society. Societal pressure is the enemy of a dreamer, but you can use it to your advantage as Pratik did—it will not be easy, though.
Let's take a look at the challenges Pratik faced from the beginning of his entrepreneurial journey.
The first barrier every college graduate but jobless person faces often comes from society. Pratik had his own share of societal pressure from the day he decided that he would eek a living by selling umbrellas. His colleagues laughed at his dream to own a business instead of securing a profession as they did.
The pressure increased when he graduated from college and completed his MBA program. He was trying to realize his dream by starting an umbrella business, but because he wasn't in front of a desk, he was jobless to everyone. However, he did not make the pressure that society subjected him to hinder his dream.
After the establishment of Cheeky Chunk, Pratik was not financially buoyant enough to hire workers. Hence, he handled the manufacturing of his first pieces of umbrellas alone. The planning, designing, and marketing of Cheeky Chunk's first pieces of umbrellas were single-handedly controlled by Pratik.
Transporting of the umbrella's raw materials
One of the difficulties Pratik faced when he started his business was sourcing and transporting umbrella materials for manufacturing. He often transported raw materials in his back to ensure his umbrellas were manufactured as early as possible.
As his business gradually grew, he hired four workers. They helped reduce the stress he faced when he worked alone, but they were not enough for the work the business required. It was challenging for his small team of four employees to individually deliver each order, cross-check the products, and create invoices.
One of the toughest challenges Cheeky Chunk experienced was rejection in almost every stage of business. To find a reliable umbrella manufacturer and supplier to design and supply umbrellas, respectively, was a challenging task. Whoever Pratik reached out to, be it a manufacturer or supplier; he often got rejected. He would continue to search for a manufacturer that would work with him until he successfully found one. Meanwhile, most of the time, it usually takes about eleven rejections before an acceptance is often a coincidence.
From the barriers Pratik faced to realize his dream, one can tell he was dedicated and passionate about the umbrella business. Although he almost gave up when he ran at a loss, he somehow got back up. It only takes passion to avoid quitting your dream after investing in a business without acquiring any profit.
In Conclusion
The entrepreneurial journey of any big umbrella business is not as sweet as they currently look. They have all had their shares of challenges that tested their strengths and confidence in their dream. Pratik's struggle is an example of what an entrepreneurial journey means. Pratik's story proves that you need more than just skills to be a successful entrepreneur. It would be best if you also were focused, passionate, and ready to fail.