UK UMBRELLAS IN  LONDON
Although London has gotten rid of the term "Foggy Capital," it often rains and is still the objective truth today. Even if the annual rainfall is not as high as in some tropical cities, the weather in Britain's oceanic and climatic conditions is still quite different from the monsoon.
The nature of Rain alongside the wind pattern is almost synonymous with the bad weather conditions in this part of the country. Unlike countries with four different clear seasons, such as Britain, which has nearly a year of drizzle or torrential storms, the wind, which is into the night of rain, and the common domestic summer thunderstorms are also part.
London is in southeast England, and its highlands are in the North and have a much harsher climate. However, the southeast coast, which seems well suited to holidays, is cold and un-swimmable for most of the year. The wind pattern mixed with the rain is always bitter and unfavorable during bad weather.
Besides, variability is also a cause of Britain's miserable climate during the rainy season. When you come to the UK, it is essential to be conversant with the weather condition as there are no tangible reasons why people talk about the weather. White clouds over the horizon would soon be overcast, temperatures would drop, and rain would fall.
When the weather is so rainy, there is a considerable possibility that umbrellas would have a place in the traditional image of the English gentleman. The London newspaper Evening Standard said of the five gentlemen selected for 2012 by country life magazine: 'The perfect British Gentleman It used to be "sporting a beard, proudly wearing a white tie, eating risotto for breakfast and always showing off with a cigarette in-between."
This image, coupled with the top hat and leather carrying bags with a long handle umbrella, should constitute the classic image of the old-school Gentleman.
The Chinese invented the umbrella in ancient times, but the British made the connection between the umbrella and the way of life. It was not until the 17th century that European women began to use umbrellas, mainly to protect themselves from the Sun; by the 18th century, umbrellas were being used to keep out the rain.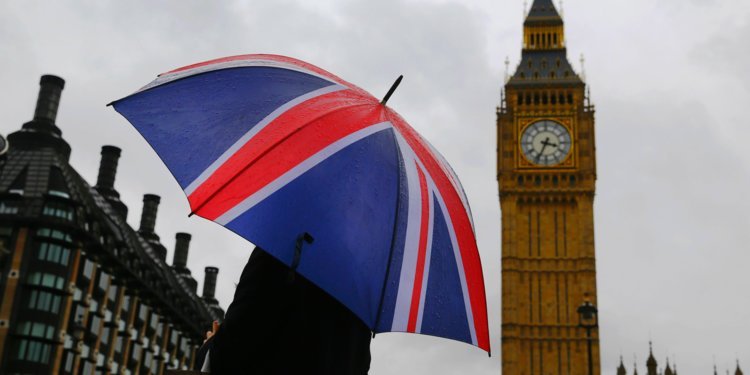 The First British Gentleman who used an umbrella
In 1750, a British gentleman, Jonah Hanway by name, started to use an umbrella, which caused him a lot of ridicule. The ridicule is because, at that time, only women used umbrellas, but at least Hanway didn't get caught in the rain. Hanway held on to an umbrella for 30 years, and by the late 18th century, it was becoming socially acceptable for men to use it.
The world's first umbrella shop was opened in 1830 by Mr. James Smith at 53 Bond Street, London. The umbrellas he sells are works of art: shelves made of wood or whale bones, umbrellas of Alpaca skin or felt; he even pays artisans to decorate them.
For example, carved patterns on Precious Blackwood umbrella handles. Of course, these umbrellas were expensive and were a luxury item at the time, as a result of elaborate carving through rare materials.
And the umbrella, usually made of wood and Linoleum, is heavy and difficult to handle. 1852's steel-framed umbrella evolved into the umbrella we see today, and its inventor, Samuel Fox, a British and the founder of the British Steel Company.
Victorian women's love of parasols was related to their values. A pale complexion is a symbol of beauty but also a sign of social class and an elegant lady who does not need to work outdoors.
Parasols became essential accessories such as gloves, shoes, hats, fans, and stockings and were incorporated into the pattern in which women look every day. Every outfit had a parasol to go with it. This made parasols and fans famous, along with lace handkerchiefs, until the Edward era of the 20th century.
But the way of life changed dramatically in the 20th century due to changes in time and technology. Because of the evolution of democracy and social class and the development of science and technology, the details of human life have changed.
As more people choose the fastest plane, the loading, and unloading are done mainly by the conveyor belt so that the Heavy leather suitcases are gradually replaced by light and sturdy bags, even if the latter seems more imposing.
In the same way, when the heavy head in the luggage becomes a heavy computer with information rather than a few pieces of clothing and a few books, there will be less market for a heavy suitcase without wheels and most especially when there are fewer baggage handlers at transportation hubs.
However, in the olden days, ladies and gentlemen were constantly being taken out by servants. Nowadays, more families are no longer employing people or sorting out the tasks that need to be done manually by professional servants such as Nannies, gardeners, and drivers.
It is hard to imagine that a trip with a mountain of suitcases and a hat in a box could have been so successful. So does the briefcase, and so does the umbrella.
Reproduction and functionality are characteristic of Industrial Society, and even so, aesthetic schools emerged during this period. The overall aesthetic of human beings is moving in the direction of popularization.
The 20th century saw two world wars, significant economic growth, and the Great Depression accompanied by a cultural revolution. However, if not the greatest in human history, with the emancipation of the mind brought about by the eventual collapse of a millennia-old feudal system which is enough to be at the top of the list.
Parasols returned to fashion consciousness in 1990, largely because of a new understanding of skin cancer. The return has led to the popularity of parasols in many countries, but the designs are the familiar folding umbrellas that block ultraviolet light.
But London is London, and Europe is Europe. Even though the young people in the streets are as casual as those in other parts of the world, there are still old-fashioned people or people who are not too old but stick to the retro look, wearing full suits. Moreover, Casual Modernity and archaic insistence can live in harmony, and both can accept and appreciate the other.
Presently in London, there are no shops that specialize in selling umbrellas.  In a highly commercialized society where accessories are more profitable than fashion, the umbrella is not certainly the best-selling accessory.
A good gentleman's modeling would want to match the long handle umbrella that suits his outfit but not easy. Burberry's men's collection is sold with umbrella accessories with the price tag of # 400 and such a relatively high pop. But in my experience, a good style, quality, and a long umbrella enhance sharp modeling.
Would you believe me if I said that another famous Trench coat in England could be regarded as an essential tool to shelter from the wind and rain? Nowadays, even if it rains in the sky, neither people do use umbrellas to shelter from the rain or raincoats to shelter from the rain.
What do you do when it rains? The answer is simple. If it's not too big, get wet. If it's too big, find shelter. Like the Evening Standard Pundit put it, today's English gentleman, switching from a nicotine obsession to a boyfriend, eats healthy cereal with blueberries, has a clean-shaven beard, and never wears a tie.
Undoubtedly, everyone has an umbrella in the UK, which is why many of the world's best umbrella brands were born in the UK. For Britain, a good umbrella can not only shelter from the wind and rain, but also with a good symbol of identity and status.
Famous UK Umbrella Brands Shop
Today, we are bringing together some new umbrella groups with descriptions which would guide you on the nature of the umbrella you would like to buy in the UK.
The following members will be introduced to you as the famous British umbrella brand with some classic items. I hope you can find their favorite umbrella.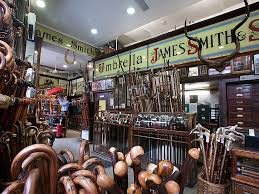 James Smith & SONS
Founded in 1830 in Piccadilly, London by James Smith & SONS and is regarded as the oldest umbrella brand in Europe. Their umbrellas are handmade and the holder and stem are carefully selected. Whether it's good wood or light steel, it's up to the customer to comment. It's the height of the umbrella industry. Made out of umbrellas, UH, waterproof and wind wear resistance. In the Windy Day is still firm, and It's such an absolute fan that suits any weather.
PENCIL UMBRELLA WITH LEATHER CROOK
The James Smith & SONS HAND-MADE UMBRELLA has a buttonhole and long handle, ensuring the frame doesn't blow apart even in the rain or wind. The tips and handles are made of Italian leather. The golden embellishment makes the entire umbrella instantly stylish and elegant. This umbrella has black, red, brown, dark green and blue colors.
SWAINE Adeney, Brigg
Swaine Adeney Brigg (SAB) is also a UK royal certification umbrella and has been part of the UK royal umbrella supplier. But Unlike James Smith & SONS, which produces only umbrellas while SAB is also a high-end leather goods merchant and makes leather whiplash purses, of which Brigg makes high-end handmade umbrellas, and his family's umbrellas, attract a large number of royals. For example, Charles, Prince of Wales, carries a Brigg umbrella with him everywhere he goes. In kingsman, uncle Kirlin was holding a Brigg umbrella. BRIGG's umbrella handle is made of whole oak, Ebony, Cherry, walnut, and other materials, cut from natural wood with nylon silk and selected according to one's own needs. If you change it to gold, silver, and rare leather, it will be more expensive than the ones regarded as the most costly.
BRIGG MALACCA
The handle of this hand-made umbrella is made of Sab Classic Malacca Rattan umbrella handle, and the hand's hold has Sab Classic Gold Silver Ring because the surface of the umbrella is tight, and when it opens, you can hear 'the sound of stepping on the first snow'. You can also choose a nylon or silk umbrella top. The whole umbrella looks simple and low-key, but the details show the quality of high-end luxury; the key is such a good and durable umbrella. There are nearly 20 colors to choose from besides black.
Fulton
Fulton, founded in 1956, is also Britain's designated royal umbrella provider and has long been a favorite of Queen Elizabeth, with Kate and the princesses regularly carrying Fulton's umbrellas to essential events. Fulton has also teamed up with renowned Fashion Houses, like Cath Kidston, Lulu Guinness, ORLA Kiely, Morris & Co. With more than 50 years of umbrella-making experience, the Fulton umbrella is a stylish, sophisticated and durable combination of style and price.
Tiny-2 Rose Jack
The ribs of the umbrella are made of lightweight aluminum and fiberglass, making them easy to lift, less rigid, and more flexible, so they don't break in the wind. This one comes in a lot of different colors.
BIRDCAGE-1 BLACK
This is the bird cage umbrella, the Queen's favorite umbrella, Oh, Prince William and Kate attend the prominent event with constant use of this umbrella. The same umbrella bone is made of flexible and high hardness of glass fiber, black and white umbrella edge alternate. And this kind of transparent design itself is very fashionable, AH, but the umbrella is relatively fragile, and it is better to be lighter. In addition to this solid color, Fulton has a lot of clear prints.
Fox Umbrella
Fox's umbrella is well known in China; Fox was founded in 1868 by Thomas Fox in it, Fox is best known for its steel umbrella. The umbrella bone uses steel bone which is light and compact, and the whole is much smaller than the wood material's volume and weight. The Nylon Material Quality of the umbrella surface is soft and thin, firm and fast to dry, and is a tendency to choose the material color of the umbrella by oneself. Some handles are carved out of animal metalheads. Many celebrities, government officials, and royal family members have also become fans. If the SAB family's umbrella is too expensive, you can buy an equally durable high-end Fox umbrella with Oh.
BROWN FINISH ANIMAL HEAD HANDLE UMBRELLA
The Fox Classic Steel Tube Umbrella has excellent surface tension and a fragile umbrella bone. The whole umbrella in hand is very light, the handle is like an animal-carved umbrella, and the entire umbrella attracts attractive people. Choose Horses, dogs, ducks, wood and silver snakes, etc.
Whanghee Handle, Manual
This umbrella is also a hand-made steel tube umbrella, but the bamboo knot design of the handle suits an English gentleman's temperament and is hard and steady inside. The same type of female umbrella is also equipped with the ear drop because the Bamboo Knot Girls fight the atmosphere and a bit more British Gas!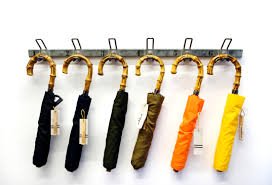 London Undercover
London Undercover is a relative youngster in the umbrella business compared with previous umbrella brands. The brand was founded in 2008 by designer Jamie Milestone, who made the umbrellas in the traditional British hand-crafted style, but with a wider variety of designs. Most of his umbrellas are Solid and are also known as umbrella handles made, with a block of wood. This type of umbrella is stronger but is also made of solid. The price is much lower than the previous ones.
BLACK & BRITISH WOODLAND
The whole piece of wood is used as the handle of the umbrella. The firmness of the umbrella is greatly improved. With Lu's trademark orange button inside, the camouflage lining is unusual for a downpour!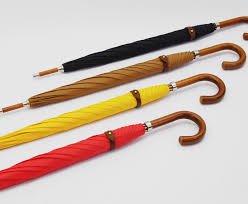 The details of this solid-colored umbrella are very flattering. The handle is also made of real wood, and the Brown Leather straps of the umbrella have hand-stitched wiring visible, with copper snap buttons. The umbrella side is made of woven cotton, while the top and handle are decorated with a silver color, engraved with the logo of Lu, and looks comfortable in particular. In addition to yellow, black, red, blue, orange, and many other colors, walking on the street let a Bright Ah!
Hey, hey, hey. Blunt
Blunt is a New Zealand umbrella brand with very technical umbrellas. Their rounded edges solve the problem of water dripping from the sides of the umbrellas and eliminate the need to worry about stabbing others while using them. But the committee felt Blunt's umbrella was best known for its patented anti-roll Technology, the anti-roll-radial tension system, which distributes the canopy's tension evenly and tested its umbrellas in real-world storms to minimize the chance of the umbrella turning over. This umbrella is very handy, and its design is still much special!
ASPINAL OF LONDON
ASPINAL OF LONDON IS A British luxury brand and is not known for its umbrellas, but many of the umbrellas on this list are of her family's classic floral print, with hand-stitched leather on the ends. Hand-stitched seams can be seen, and this one also has a more durable double canopy and comes in red, white, red, and blue.
Today we will introduce some good quality umbrella brands that are well-recognized in the UK. They have unique craftsmanship and fashion sense, but it's not the only place in the UK where you can buy an umbrella. Supermarkets, Harrods, John Lewis, Ted Baker, and Lulu Guinness all have lower-quality umbrellas.
Hfumbrella- The manufacturer of UK Umbrellas
Specializing in manufacturing umbrellas, Huifeng umbrella, an umbrella manufacturer based in Guangdong, China, was founded in 1987. It makes umbrellas for several British brands and has remained unknown because of its low profile. In recent years, HFumbrella has attracted young talents, such as Justin, the head of the overseas division, who was the supply chain director of a fast fashion group in Asia. The company continues to invest in research and development to support emerging designer brands, collaborating with some of Britain's post-80s and 90s fashion designers to create a range of umbrellas that appeal to young Britons. Because they know that innovation is the umbrella industry's future, they hope that more fashionable umbrellas will appear in the British market.
Buy quality British umbrellas from a professional umbrella factory now!
Save your 30%-50% cost!
25% Discount from 15 Apr-30 Apr.
Email: info@hfumbrella.com  What's app:86 13527750521