Customized pub umbrellas have a greater purpose than simply keeping guests dry.
Additionally, they are useful for boosting the popularity of a company's name and attracting new customers.
Personalized pub umbrellas can make a long-lasting impression if designed and distributed strategically.
Let's dive into the custom pub umbrellas and find out how they can impact your branding strategy.
Types of Custom Pub Umbrellas
Pub umbrellas come in a variety of styles, each with its own set of advantages and disadvantages.
Traditional wooden-framed bar umbrellas are by far the most popular variety.
These umbrellas are perfect for any outdoor occasion because of their timeless design.
They are a solid choice for businesses looking for permanent branding solutions due to their durability and tolerance to harsh environmental conditions.
The umbrella with an aluminum frame is yet another well-liked selection. These umbrellas are ideal for pop-up shops and festivals due to their portability and low price.
Umbrellas with fiberglass frames offer a more modern aesthetic option.
Your company's colors and logo can be printed on these in a variety of styles.
It's vital to think about things like longevity, usability, and personalization choices while deciding on a pub umbrella.
How to Make the Most Out of Your Investment in Custom Pub Umbrellas
Investing in custom pub umbrellas can be a smart move for businesses looking to enhance their branding efforts. However, it's important to make the most out of your investment by utilizing them effectively.
Benefits of Customization
Customization offers many benefits for businesses looking to boost their branding efforts with custom pub umbrellas.
Firstly, it allows companies to create a unique and memorable design that sets them apart from competitors.
Businesses can provide a strong visual representation of their brand by designing an umbrella with their brand's colors, logo, and messaging prominently displayed.
In addition, personalization boosts customer involvement since it enables a more dynamic and engaging brand experience.
Customers are more likely to interact with your company when they see a branded umbrella at an event or on a patio.
Customization also allows for greater versatility in terms of application, since each component can be made specifically for the task at hand.
For example, you could have beach-themed umbrellas for promotions held near beaches and golf-themed ones for events held on golf courses.
Customization is one of the best ways for businesses today to increase their visibility and stand out from the competition. Also, customization creates meaningful connections with customers through creative designs tailored specifically to their needs.
Design Elements for Customization
There is a wide variety of options for customization when it comes to pub umbrellas.
Using the brand's colors and logo is a good place to start. This will not only increase brand awareness but also increase sales of your umbrellas.
Another important aspect of customization is choosing the right font for your text or message on the umbrella. It should be legible from a distance and match the overall theme of your branding.
You can also experiment with different patterns and textures to add more depth and interest to your custom pub umbrellas. For example, adding stripes or polka dots can create a fun and playful look while still keeping things professional.
If you want to take customization even further, consider adding some unique features such as LED lights or built-in speakers. These extra touches will not only make your umbrellas stand out but also provide added value for customers.
With so many ways to customize them according to your branding needs, you're sure to find a style that perfectly represents your business.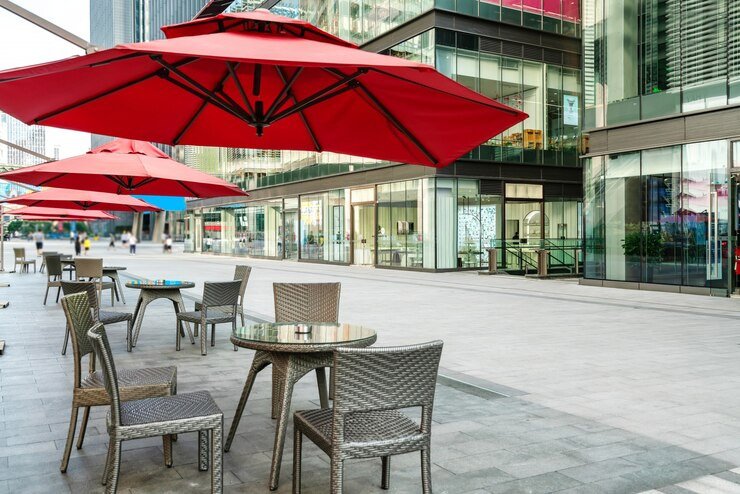 Creative Ways to Use Custom Pub Umbrellas to Enhance Brand Recognition
Custom pub umbrellas are not only practical but also a great marketing tool to enhance brand recognition. With the right design and strategy, they can be used in creative ways that go beyond providing shade or cover from rain.
You can utilize custom pub umbrellas by hosting outdoor events under them.
Branding the umbrellas with your logo and colors creates a visible presence of your brand at the event. The guests will remember seeing your brand throughout their experience, which reinforces its significance in their minds.
Another idea is to use branded pub umbrellas as décor for an outdoor dining area or patio space. This elevates the ambiance while promoting your business's name and services simultaneously.
In addition, custom pub umbrellas can be given away as gifts or prizes for contests on social media platforms.
These digital promotions create buzz around your brand while giving customers something tangible that they can use every day.
Using branded pub umbrellas outside of trade shows or exhibition halls draws people's attention toward your booth even from afar!
It makes it easier for potential clients to locate you among other booths while making a lasting impression!
There are numerous ways to creatively incorporate custom pub umbrellas into branding strategies. With some creativity and careful planning, these promotional items can deliver remarkable results in enhancing brand recognition!
Maximizing Return on Investment (ROI)
Maximizing return on investment (ROI) is a key consideration when investing in custom pub umbrellas for your business.
Make sure your money is well spent by increasing sales and awareness of your business.
Selecting premium materials for your umbrella is a way to increase your return on investment. Fabrics like polyester and nylon are more resistant to wear and tear, so your umbrella will last longer and provide greater protection from the elements.
Design is also a critical aspect to think about. You want your custom pub umbrella to be eye-catching and stand out from the crowd.
Use bold colors, eye-catching graphics, and clear branding elements to create an unforgettable look.
Once you have designed your custom pub umbrella, use it strategically in different situations to increase its reach and effectiveness.
For example, if you sponsor local events or host outdoor gatherings at your business location, make sure to display your custom pub umbrellas prominently so that people can see them.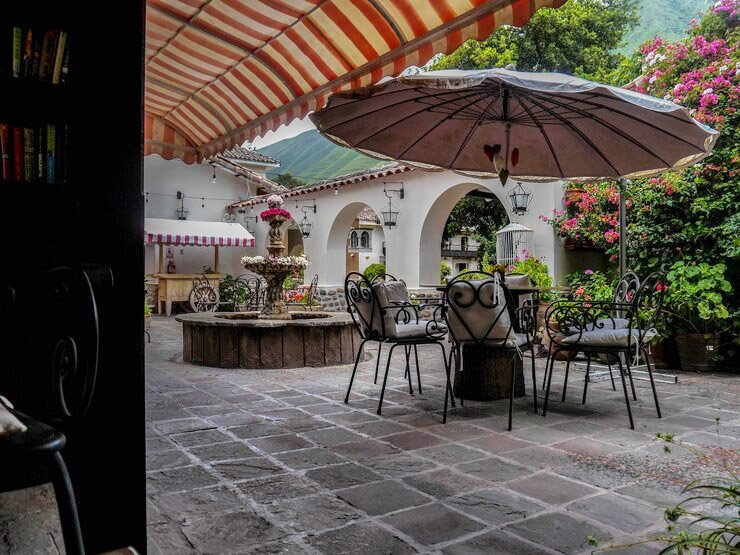 Examples of Successful Branding with Custom Pub Umbrellas
Customized pub umbrellas have long been used as a reliable means of advertising for companies of all sizes and in all sectors.
The widespread acclaim of Guinness, an Irish stout drink, is a big example. The company's custom pub umbrellas are a highly effective form of advertising that helps to spread awareness of its name.
Heineken, one of the largest brewing companies in the world, is yet another illustration of corporate success.
They often feature their iconic green color on their custom pub umbrellas along with their logo, making it easy for consumers to identify and associate them with the brand.
In addition to alcoholic beverage companies, other businesses in the hospitality industry have also successfully utilized custom pub umbrellas for branding purposes.
For instance, Hard Rock Cafe features its signature guitar logo prominently on all of its customized patio umbrellas.
Moreover, even non-food or beverage-related brands can benefit from using custom pub umbrellas for advertising purposes.
For example, fashion retailer H&M has used branded outdoor seating areas featuring customized patio umbrellas in front of some of its flagship stores.
These successful examples highlight how custom pub umbrellas can help enhance brand recognition while providing practical benefits such as shelter and shade for customers enjoying outdoor spaces at pubs and restaurants
Factors to Consider When Choosing a Custom Pub Umbrella
Firstly, the size and design of the umbrella should match the space available at your establishment; otherwise, it may look out of place or awkward.
The quality of materials used is another important factor to consider.
Cheap materials may save money in the short term but will likely lead to frequent replacements and ultimately cost more in the long run. Make sure you invest in high-quality materials for maximum durability.
Another crucial factor is branding visibility: ensure that your logo or message is able to stand out from a distance and can easily catch people's attention.
This means considering color schemes, font sizes, and styles used on both sides of the umbrella.
Don't forget about functionality! If your pub has outdoor seating areas exposed to constant sunlight or rain, choose an umbrella with features such as UV protection or waterproof fabric.
Select a manufacturer that has UV protection certification and only makes umbrellas from high-quality materials.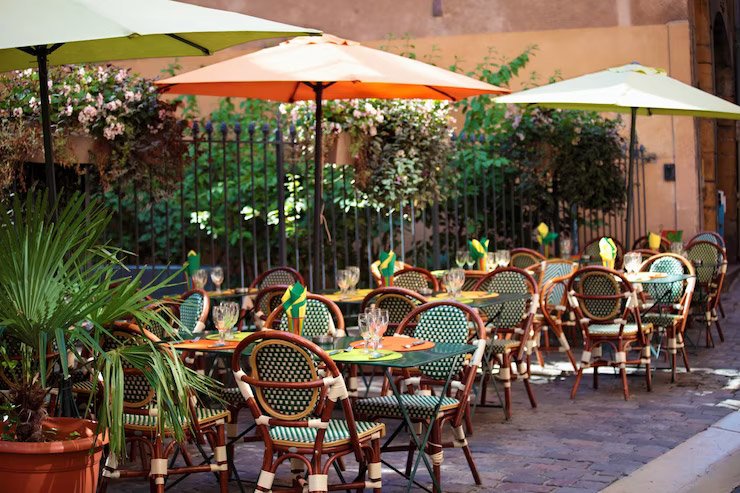 How to Choose a Custom Pub Umbrella Manufacturer 
Reputation and Experience
It is crucial to work with a manufacturer with a solid reputation and a proven track record in the industry.
Look for manufacturers who have established themselves as reliable and trustworthy. Seek recommendations from industry professionals or conduct online research to read reviews and testimonials from previous clients.
A manufacturer with a positive reputation is more likely to deliver on their promises and provide excellent customer service.
Hfumbrella is exporting custom pub umbrellas in Korea, Japan, Europe, the UK, the USA, Canada, and Australia which make us one of the leading manufacturers in the world.
Customization Capabilities
Evaluate the manufacturer's ability to meet your customization requirements.
Discuss the extent to which they can accommodate your specific branding needs, such as incorporating logos, colors, and other design elements onto the pub umbrellas.
Inquire about their range of customization options and whether they can provide samples or examples of their previous custom pub umbrella projects.
This will allow you to assess the quality and precision of their customization work.
With one dedicated factory and 10 digital printing machines at Hfumbrella we are proud to say that we can produce any design you want.
Quality and Durability
Ensure that the manufacturer emphasizes the use of high-quality materials and craftsmanship in their pub umbrellas.
Inquire about the materials used for the umbrella canopy, frame, and other components. Ideally, the canopy would be constructed from materials that could survive the effects of the sun, the rain, and the wind.
To keep the umbrellas in good condition for their intended use, the frame needs to be strong and long-lasting. A trustworthy manufacturer will be up-front about the components used and may even detail their quality assurance protocols and certifications.
At Hfumbrella we only work with top-quality materials and source our materials only from top vendors.
Communication
Effective communication and collaboration are vital when working with a custom pub umbrella manufacturer.
Evaluate their responsiveness and willingness to address your questions, concerns, and specific requirements. A manufacturer who values open communication and collaboration will be better equipped to understand your needs and deliver a product that aligns with your vision.
Additionally, inquire about their production timelines and lead times to ensure they can meet your project deadlines.
At Hfumbrella, we have a dedicated customer support team to work with our clients 24/7.
Price and Value
While cost should not be the sole determining factor, it is important to consider the pricing and value offered by the manufacturer.
Compare quotes from multiple manufacturers, taking into account the quality of materials, customization options, and overall service provided. Remember that investing in higher-quality pub umbrellas may yield greater longevity and better overall value in the long run.
MOQs (Minimum Order Quantities)
When choosing a custom pub umbrella manufacturer, you need to inquire about their MOQs. MOQs can vary among manufacturers and significantly impact your ordering decision.
Some manufacturers may have higher MOQs to optimize their production processes and reduce costs.
However, if your business requires a smaller quantity of custom pub umbrellas, you need to find manufacturers that are flexible and accommodating to lower MOQs.
Alternatively, you can consider collaborating with resellers who can help you meet the minimum requirements.
At Hfumbrella, we don't have any MOQs, So, you can order any quantity you want.
Lead Time
Lead time is a critical consideration when selecting a custom pub umbrella manufacturer. As a business owner, you need to understand the lead time of a manufacturer.
Lead times can vary based on factors such as order size, customization complexity, material availability, and production capacity. By discussing lead times with potential manufacturers, you can ensure they can meet your desired timeline.
Additionally, it's beneficial for you to inquire about their production process, quality control measures, and shipping options to gain a comprehensive understanding of the overall lead time for your custom pub umbrellas.
This information will help you effectively plan and manage your inventory and marketing campaigns.
Here is our lead time in Hfumbrella:
Sample delivery – 3-5 days. 
Bulk item delivery – 15- 30 days. 
Transfer day – 10- 30 days (depending on the shipping method you choose)
Why Hfumbrella is the Best Custom Pub Umbrella Manufacturer
Hfumbrella is the only umbrella company in China with 10 digital printing machine facilities. So, far we have worked with over 10 thousand brands all over the world. Our proven track record made us one of the best custom pub umbrella manufacturers in the world.
We have a wide range of quality materials available to use in our products. From sturdy metal frames to waterproof fabrics, Hfumbrella ensures that its clients receive durable and long-lasting umbrellas that can withstand any weather conditions.
At Hfumbrella you have no boundaries in the customization options. We offer a variety of printing techniques such as screen printing and digital printing, allowing businesses to showcase their brand identity in unique ways on each umbrella.
Moreover, Hfumbrella's team consists of skilled professionals who prioritize customer satisfaction by providing personalized services from start to finish. Their attention to detail ensures that every aspect of the client's vision is executed flawlessly.
We have a dedicated quality control team to look after each product's quality. This team closely monitor every product in various production phase. Finally, the team runs a final test before processing your order for shipment.
Hfumbrella offers competitive pricing without compromising on quality or service. This makes us an affordable option for small and large businesses alike looking for high-quality promotional items.
FAQs
Conclusion
In today's competitive market, it's essential to look for creative ways to enhance your brand recognition.
Custom pub umbrellas are an effective way to do so while providing a practical solution for customers. By investing in custom pub umbrellas, businesses can increase their visibility and create a lasting impression on their target audience.
We hope this guide was helpful to you. If you have any queries you can send us a message to know more about custom pub umbrellas and how can Hfumbrella assist you.