Are you an artist in search of a fresh revenue stream? Do you ever think about using umbrellas as a canvas? These items are great for everyday use, but they also serve as a blank slate on which you may showcase your creative flair.
In this detailed guide, we'll explore every facet of the custom art umbrella industry, from sourcing materials to making designs that sell.
Our advice can help you create a recognizable brand around your artwork while selling fashionable and functional umbrellas. Okay, so let's begin!
Why Art Umbrellas?
Art umbrellas are not just your average rain gear; they offer a unique canvas for artists to showcase their creativity and make a statement about their brand. By adding custom designs, patterns, or color schemes to an umbrella's canopy, artists can create fashionable and functional accessories that customers will love.
One of the main reasons why art umbrellas are becoming increasingly popular is because they provide an excellent platform for artists to express themselves creatively. Unlike other products, such as t-shirts or phone cases, which have limited space for designs, umbrellas offer ample room for intricate and detailed artwork.
Here are some other reasons:
The profitability of selling custom art umbrellas
Custom art umbrellas are a unique and profitable way to turn your artistic talents into income. By designing or licensing artwork for umbrella covers, you can create stylish and functional products that appeal to a wide range of customers.
One advantage of selling custom art umbrellas is the high-profit margins they offer. Unlike many other types of artwork, which may require costly materials or framing, creating designs for umbrellas typically only involves digital file creation or printing costs.
Another benefit is the versatility of these products. Art umbrellas are useful in all types of weather conditions and can be used year-round by consumers around the world. This means that there's always demand for new designs, making it a great opportunity for artists looking to build their brand and reach new audiences.
Furthermore, custom art umbrellas offer an excellent platform for showcasing your style as an artist while also providing practical value to customers.
The ease of creating and selling art umbrellas compared to other products
One of the main advantages of designing and selling art umbrellas is that it doesn't require a large investment in materials or equipment. The umbrella itself serves as the canvas, while the design can be printed onto the fabric using digital printing technology.
Another benefit of art umbrellas is that they appeal to a broad audience. Umbrellas are used by people from all walks of life, making them an ideal product for both personal use and gift-giving occasions.
In addition, unlike many other products that have strict sizing requirements or fit limitations, umbrellas come in one size fits all. Though umbrellas come in different sizes, that doesn't differ from T-shirts or other mediums.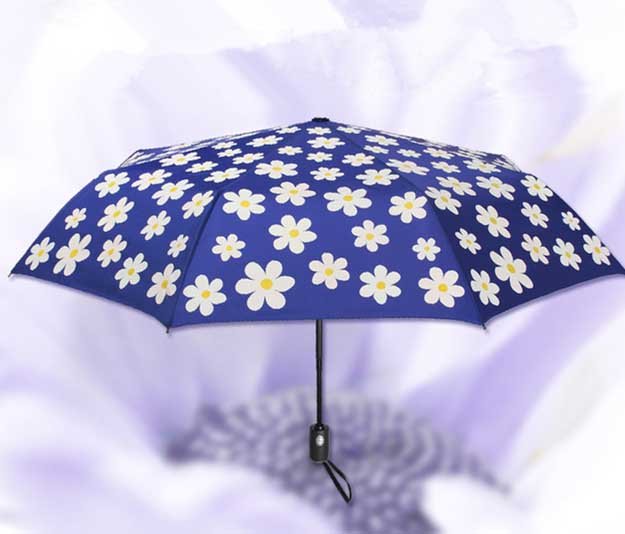 Hot-Selling Umbrella Designs
Popular art umbrella designs and style
Using contrasting colors to great effect is currently trending in the design world. This could contain everything from geometric patterns to abstract art to animal skins. These umbrellas are great for giving an outfit some much-needed color on a drab day.
Adding reproductions of great paintings to the umbrella canopy is another common design.
From Van Gogh's "Starry Night" to Monet's Waterlilies, these artistic masterpieces add elegance and sophistication to any rainy day look.
For those who prefer more subtle designs, minimalist umbrellas with simple lines or typography can be striking yet understated options. If you get an order from a brand, you have to mix their brand color and name with the design.
Here are some common styles for designing umbrellas:
Full-Print
Folding Umbrella
Bubble Umbrella
Clear Umbrella
Trending color schemes and patterns
When it comes to creating custom art umbrellas, choosing the right color scheme and pattern is crucial for attracting customers. This year, bright and bold colors are on-trend, with a particular emphasis on neon shades like hot pink and electric blue.
For those looking for a softer palette, pastels are also popular choices, especially in shades of lavender and mint green. Patterns that incorporate natural elements such as flowers or leaves are also gaining popularity this year.
Another trend is the use of geometric shapes to create eye-catching designs. Triangles, hexagons, and circles can give an umbrella design a modern edge while still being playful. Here are some trending color schemes and patterns you can follow:
Bold and Bright Colors
Geometric Patterns:
Watercolor
Floral Patterns
Animal Prints
Ombre
Abstract
Tropical Prints
Minimalist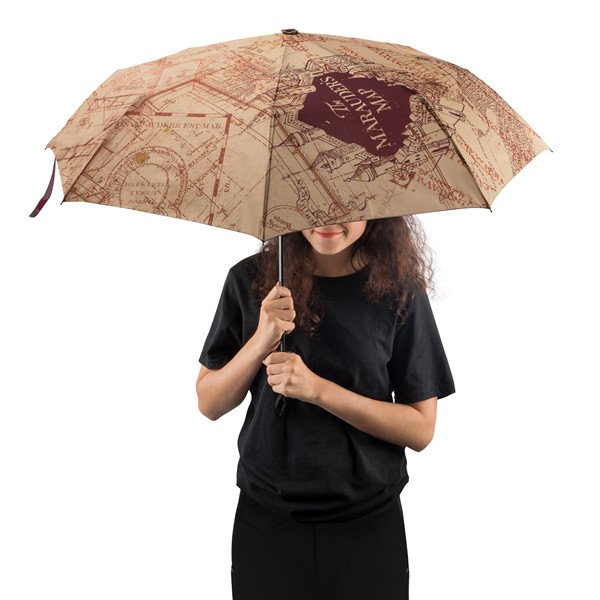 Unique design ideas that could catch customers' attention
People these days are more creative and choosy than in the earlier days. So, you have to be very careful to get customers' attention. There are lots of ways to do that. For example, you can use vibrant or bold colors to make your umbrella eye catchy, even in a crowd.
You can also use unexpected color combinations to make your umbrella unique. Moreover, you can use interesting patterns or textures in the design. Geometric shapes are getting popular these days. You can also use those in your design.
Abstract brushstrokes or even photographs printed onto the umbrella fabric is also a great way to create an eye-catching umbrella.
If you're feeling adventurous, consider adding some three-dimensional elements to your design.
This could be anything from embroidered patches or appliques to dangling charms or tassels hanging from the umbrella's handle.
Try different design themes. From nature-inspired designs featuring florals and foliage to trendy pop cultures references like memes and TV show quotes – there's something out there for everyone!
The key is finding a balance between creativity and marketability. While it's important for your design to stand out among competitors, it also needs to appeal to enough customers so they would want them as their own accessories.
Finding a Reliable Art Umbrella Supplier
Researching potential suppliers
Start by doing a thorough online search and compiling a list of potential suppliers. Look for reviews from other customers and check their website for information on their production process, lead times, and minimum order quantities.
Once you have narrowed down your list, reach out to each supplier with specific questions about their products and services. Ask about pricing, customization options, and any additional fees or charges not listed on their website.
It is also important to assess the quality of their products before making a decision. Request samples or photos of previous work they have done so you can see first-hand what kind of product they produce.
Questions to ask when selecting a supplier
When selecting a supplier for your custom art umbrellas, it's important to do some research and ask the right questions. Here are some key things to consider:
1. What is their minimum order quantity? Some suppliers may have higher MOQs than others, so make sure you can meet their requirements.
2. What is their pricing structure? Make sure you understand how much each umbrella will cost and factor that into your own pricing strategy.
3. How long does production take? Lead times can vary depending on the supplier, so be sure to plan ahead if you have specific deadlines or events in mind.
4. Do they offer customization options beyond just printing designs on the canopy? Some suppliers may allow for more unique features like colored frames or handles.
5. Do they offer a sample free of cost(Most reputable manufacturers will send you a free sample)?
Assessing the quality of the supplier's products
The first step is to request a sample and examine its quality. Verify if the umbrella is constructed from sturdy material. Get some assistance evaluating the umbrella's quality if you're not an expert.
Look at the condition of the canopy and the grip. Make sure the canopy and the handle are of good quality.
The next thing to think about is the degree of personalization available. Regarding personalization choices, manufacturers aren't always on the same page. Verify the supplier's ability to meet your needs.
Another thing to consider is the reputation of the supplier. If the supplier has a track record of working with many brands, then there is a high chance that you will get top quality products. Visit their website and learn about their clients.
For example, Hfumbrella worked with over 10 thousand brands all over the world.
Creating Your Custom Art Umbrella Design
Tips for designing an attractive and marketable art umbrella
Designing a custom art umbrella can be an exciting process, but it's important to keep in mind that your design needs to appeal to potential customers. Here are some tips for creating an attractive and marketable art umbrella:
We suggest researching the latest trends to get new ideas.
Make sure your design is not too busy or complicated. Simple yet bold designs tend to work best on umbrellas as they are easily visible from a distance.
Don't feel like you need to fill every inch of the canopy with the artwork. Leaving empty spaces can create visual interest and balance.
Consider adding unique touches such as metallic accents or embroidery which could set your umbrella apart from others.
Always ensure that your final design meets manufacturer specifications so that it translates well into the finished product. With these tips in mind, you'll be well on your way to designing an attractive and marketable art umbrella!
Working with a graphic designer to create your design
Collaborating with a graphic designer can be an excellent way to create a high-quality and marketable art umbrella design. When selecting a designer, consider their style, experience with custom designs, and ability to work within your budget.
It's important to communicate your vision clearly and provide any necessary background information on your brand or target audience. The more specific you are about what you want, the easier it will be for the designer to bring your ideas to life.
Be open-minded and receptive to feedback from the designer as they may suggest changes that improve the aesthetic appeal or functionality of the design. Remember that ultimately, your goal is not only creating an attractive art umbrella but also one that customers will want to buy.
Ensuring your design meets manufacturer specifications
Research the specific requirements of the supplier you have chosen. Each manufacturer may have different guidelines for their production process, so it's important to understand these before beginning your design.
Work with a graphic designer who has experience in creating designs specifically for umbrellas. They can help ensure that your design is compatible with the manufacturing process and provide color choices and image placement recommendations.
Consider using vector graphics instead of raster images to create a higher-quality print. Vector images are created using mathematical equations rather than pixels, allowing them to be scaled up or down without losing resolution.
Make sure any text included in your design is legible when printed on an umbrella canopy. Use fonts that are easy to read and avoid small font sizes or intricate details which may not transfer well onto an umbrella surface.
Placing Your Order
You should consider several factors before placing your order. Here are some key factors you should consider:
MOQs or Minimum order quantities and pricing considerations
The minimum order quantity might range from 50 to 500 units, depending on the manufacturer. It is important to think about your finances and projected sales before committing to an order quantity.
Your design's complexity, quantity ordered, and personalization choices will all impact the unit price. The easiest method to find a supplier within your price range is to shop around and acquire quotations from other businesses.
Payment terms and options
When it comes to ordering custom art umbrellas, payment terms and options are important factors to consider. Most suppliers require a down payment or full payment upfront before beginning production.
You need to know which methods of payment (such as credit cards or wire transfers) are acceptable to the vendor.
You should also be aware of any costs associated with the payment method you choose to use. Certain types of credit cards and wire transfers may incur additional fees from suppliers.
For larger orders or immediate full payment, certain vendors provide price breaks.
However, keep in mind that paying the entire amount upfront can be risky if you haven't worked with the supplier before.
Lead times for production and shipping
When it comes to production time, some suppliers may require more time than others due to their manufacturing processes or workload. For example, a supplier who handcrafts each umbrella may have a longer production time than one using automated machines.
The number of factories and machines also can hample the lead time. For example, at Hfumbrella, we can produce 200,000 umbrellas per month. Therefore, we have a shorter lead time than other manufacturers.
Shipping is another factor that affects lead times. The location of the manufacturer and destination of the shipment will impact how long it takes for your umbrellas to arrive. Shipping method is another concern. Airships will travel fast but will take more money which will increase your production cost. Contrastly, sea shipping is a time-consuming but cheap method.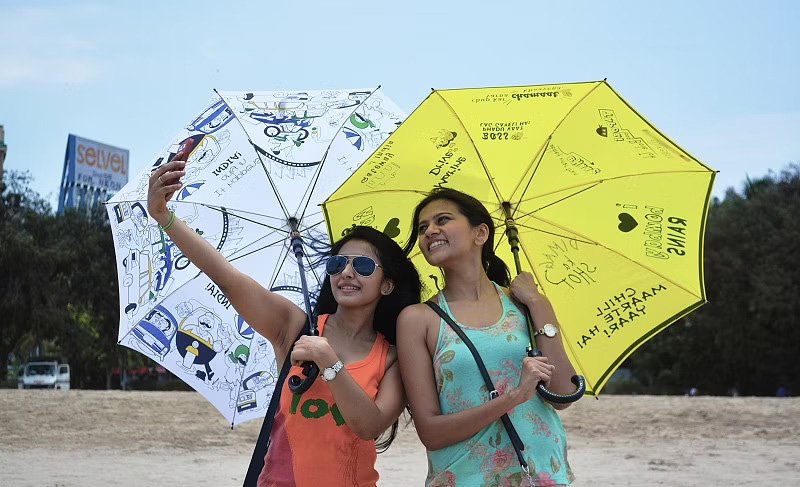 Marketing and Selling Your Art Umbrellas
Creating a brand identity and story
When it comes to selling your art umbrellas, having a strong brand identity and story can be the key to success. Your brand should reflect your values and mission as an artist while also appealing to your target audience.
Start by defining what sets you apart from other umbrella sellers. What makes your designs unique? Why did you choose to create art umbrellas in the first place?
Take into consideration how you might include these aspects in your brand's backstory.
Once you have established who your brand is, you can start thinking about how to best convey it to consumers. Logos and taglines that capture the essence of your brand are one option, as are branding standards that specify the visual tone to be used in all advertising.
You should also give some thought to how and where you will market your umbrellas. Is setting up an internet shop your top priority, or do you also want to sell at flea markets and other offline events? To engage with potential clients, you may need to use a variety of various messaging tactics and graphics for each approach.
Developing a website or online store
One of the most important things you can do to promote your business and sell more art umbrellas is to create a website or online store. Customers may research your company, peruse your designs, and make purchases without leaving the house.
Remember, user experience is the most important part of your website. Both search engines and users prefer user-friendly websites. So, don't make the website over complicated. If you don't know about the technology very well, you can hire a developer to build the website for you.
Another important matter is navigation. Don't make your website tough to navigate. Make sure users can easily find out their desired umbrella from the Home page or simply navigate from the menu bar. You can use a search box so people can search for specific products and designs.
Another important thing is Branding. Use specific color schemes on the entire website that represent your brand.
People remember colors other than anything. If you can create a good impression when people visit your website, there is a high chance that they will make a purchase or come back again.
Use high-quality images of your umbrellas. We suggest hiring a professional photographer and, if possible, using models for your top products. People like products more when they see a human with the product.
You may also want to include customer reviews or testimonials on the site to build trust with potential buyers.
If designing a full-blown e-commerce site seems daunting at first glance – don't worry! There are plenty of platforms out there that can help you create an online store easily without any coding knowledge required.
Some popular ones include Shopify, Big Cartel, and Squarespace. WordPress is another platform you can use if you are short on budget.
Selling through online marketplaces or social media
You may reach more people and more potential buyers by selling on online marketplaces and social media. Etsy, Amazon Handmade, and eBay are all convenient online venues for selling art umbrellas.
Do your homework to make sure these platforms are a suitable fit for your company before registering an account with them. Investigate competing vendors to check if their wares are comparable to your own.
Promoting and selling art umbrellas via social media can be an effective strategy.
Platforms like Instagram, Facebook, and Pinterest allow you to showcase your designs and interact with potential customers.
To make the most of social media, create eye-catching posts that feature high-quality images of your products. Use hashtags relevant to your niche so that people can easily find your posts.
Strategies for building a customer base and generating sales
Now that you have your custom art umbrellas ready, it's time to focus on building a customer base and generating sales. Here are some strategies to help get your business off the ground.
We covered branding and creating a website earlier. Here are some other tricks you can apply
Use Social Media –  This is a huge way to establish your brand. You can spend some money to advertise your brand through different social media platforms.
Attend Art Fairs and Markets – This will give your connections and physical identity in the industry.
Collaborate with Influencers – This is a huge way to promote your brand. Find influencers in your niche and offer them to promote your brand.
Offer Customization Options – You can offer users to choose their own color, design changes, and insert some names on the umbrella.
Offer Gifts – To generate repeat business, consider offering personalized services such as gift wrapping or handwritten notes with each order.
Reviews – Encouraging satisfied customers to leave reviews on websites like Yelp or Google and your website's social media pages can also build trust with potential buyers.
Provide Exceptional Customer Service – Many businesses fail because of poor customer service. Try to use a dedicated person to help you here. If your business grows, you can plan to use paid software and dedicated people for better customer satisfaction.
Addressing Designer Concerns
Common concerns designers may have when starting an art umbrella business
Designers may have a few concerns about the viability of beginning an art umbrella business. The expense of making one-of-a-kind art umbrellas is a constant worry. Designers are wary of putting money into a product they aren't convinced will sell.
There's also the question of whether or not the market for personalized art umbrellas can support production. Since this is still a relatively small market, designers may be concerned about finding buyers for their specialized wares.
In addition, designers may have anxiety about bringing their products to market. They might be unsure of how to promote their product or service effectively.
Last but not least, there's the issue of proper inventory and financial management.
Strategies for managing inventory and finances
For new businesses, these can be the most challenging task. Here are some strategies to help keep your costs in check and your profits flowing:
Firstly, it's important to track your inventory levels closely so that you don't run out of stock or over-order products that aren't moving. Use spreadsheet software or an online platform like QuickBooks to stay on top of this.
Secondly, consider implementing a just-in-time (JIT) inventory system where you only order new umbrellas once you have received customer orders for them. This can help reduce waste and lower storage costs since you won't have excess product lying around.
Thirdly, be sure to negotiate with suppliers for better pricing as your business grows. Also, try to take advantage of any discounts they offer when buying in bulk.
Fourthly, always separate personal expenses from business expenses by setting up a separate bank account for the latter. This will make tracking income and expenses easier come tax season.
Use financial management tools like Profit First or Trello Finance to monitor cash flow regularly and set aside money for taxes and other expenses ahead of time.
Managing both inventory levels efficiently, along with keeping track of finances meticulously, can improve profitability tremendously!
Maintaining motivation and creativity in the face of challenges
As with any business venture, starting an art umbrella business can be challenging and requires hard work. However, with the right mindset and strategies in place, you can turn your passion for art into a profitable enterprise.
Remember to stay motivated by setting achievable goals for yourself and celebrating each milestone you reach. Stay creative by regularly coming up with new designs that will set your brand apart from others in the market.
Don't be afraid to seek help or advice when faced with challenges. Join online communities of artists and entrepreneurs who can offer support or mentorship. With persistence and perseverance, turning your art into profit through custom art umbrellas is within reach!
FAQs
What are the most popular types of art umbrellas, and how can I ensure that my design stands out from the competition?
Floral, landscape, and animal patterns are common among artistic umbrellas. Differentiate yourself by putting your creative energy into making a layout that is both one-of-a-kind and appealing to your intended demographic.
What materials and printing techniques are available for creating custom art umbrellas, and how do they affect the overall quality and cost of the product?
Custom art umbrellas can be made from a variety of fabrics, including nylon, polyester, and Pongee. Sublimation and screen printing are two types of printing methods. Materials and printing methods can have an impact on product quality and price.
How do I choose the right supplier for my custom art umbrella order, and what factors should I consider when evaluating different options?
Select a supplier who uses only the best materials and printing processes, has a stellar reputation, and prioritizes satisfying their clients. When choosing among available choices, considering cost, turnaround time, and minimum order size is important.
What is the typical lead time for custom art umbrella orders, and how can I ensure that my products are delivered on time and in good condition?
The standard turnaround time for an art umbrella order is four to six weeks. With the right amount of machinery and labor, certain factories can produce goods far more quickly than that. If you want your order to arrive on time, you should tell your supplier that you have a strict deadline and anticipate any problems.
How can I price my custom art umbrellas competitively while still making a profit, and what marketing strategies can I use to increase sales and brand awareness?
Put some thought into how much you can really make on each custom art umbrella sale and price them accordingly. Research the prices of your competitors to get a clear idea about pricing. Raise your brand's visibility and sales using strategic marketing approaches, including social media, influencer relationships, and participation in art fairs.
How can I prevent others from stealing my ideas and using them without my permission?
Register your designs and trademarks, and employ non-disclosure agreements. Also, watch over competitors and take immediate action if you find anyone using your design.
What are some common mistakes to avoid when ordering custom art umbrellas, and how can I prevent these issues from arising in my own business?
Common mistakes to avoid when ordering custom art umbrellas include not conducting enough research on suppliers, not clearly communicating your design requirements, and underestimating the time and cost involved in production and shipping. Prevent these issues by thoroughly researching suppliers, providing detailed design specifications, and planning ahead for any potential delays or issues.
Wrapping Up
Making money off your creativity by selling custom art umbrellas may be a satisfying and lucrative business.
Successful businesses understand that the key to growing their customer base and revenue is to create a distinct brand identity, produce high-quality goods and services, and employ efficient marketing tactics.
You can transform your creative endeavor into a successful business with the right preparation and focus.
We hope this guide was helpful to you. If you are a beginner or have been doing this business for a while, don't forget to contact us for more information on custom art umbrellas. We will be glad to be a partner in turning your passion into an income source.