What's a better companion for rainy, snowy, or sunny days than a beautifully designed umbrella? Apart from shielding us from the elements, umbrellas are so versatile that they can serve many purposes. They're also universal items, and as such, different kinds of people find them valuable.
Undoubtedly, umbrellas are here to stay, and we wouldn't be getting rid of them any time soon. Nowadays, it's not just enough to have an umbrella or two for when you need them. You must be strategic in planning the types of umbrellas you need to suit your lifestyle and preferences.
However, umbrellas come in different styles, shapes, designs, and colors, so it may be challenging to make a choice. Other times, you may have a unique design in your head that you can't find in the market. You can decide to make your designs and send them to a manufacturer to create in such cases. We'd show you how.
What Is an Umbrella Design?
An umbrella design has two meanings. First, it's a decorative pattern, a piece of art imprinted on an umbrella to give it an aesthetic appeal. An umbrella's design could be in the form of a fringe, flowery patterns, graphics, etc. Anything that is placed on an umbrella to make it look more beautiful is an umbrella design.
An umbrella design has a second meaning. It also means a sketch representing a visual projection of what an umbrella should look like before production. In this context, an umbrella design is a detailed drawing or layout of an umbrella before its manufacture. The design gives the umbrella manufacturer a clear blueprint to follow in creating the umbrella.
The significant difference between both meanings is the purpose of the design. The first meaning is a decorative pattern on a physical umbrella. However, in the second context, the manufacturer hasn't made the umbrella yet.
The design is a plan that shows how the umbrella should look like when the producer creates it. For this article, we'd discuss an umbrella design as a detailed drawing or layout. In creating the umbrella design, we'd also discuss the decorative patterns. We'd show you how to make an umbrella design based on both definitions. Are you excited yet?
10 Steps to Design Umbrellas
If you can't find the kind of umbrella you like anywhere, you can create a design. After designing it, you can then send it out to a manufacturer to bring them to life. When you design umbrellas, you make it easy for producers to create the exact thing you want.
Since they can't read your mind, an umbrella design gives them the clarity they need to work. However, not everyone knows the nitty-gritty of designing umbrellas. So, we've created an easy ten-step procedure to design umbrellas that you can understand. They are:
1. Make a Sketch
To design umbrellas, you must have an idea of what you want in your head already. You must have imagined every detail of it so that you can reproduce your imagination on a piece of paper. Great designs always start with a great, clear, and detailed vision. So, presenting your ideas as clearly as possible is an essential process in designing umbrellas.
When you become sure of what you want, you can then sketch it on a piece of paper. Your sketch is like a first draft, so it doesn't need to be perfect. It's just a preliminary drawing that you will develop later.
2. Choose Your Umbrella Frame Size
An umbrella frame refers to the umbrella's structure; it includes the handles, ribs, and shaft. In more precise terms, the frame is to an umbrella what a skeleton is to a human. The frame gives the umbrella a defined shape and layout. So, it's essential to pay attention to this process.
There are different frame sizes you can choose from. There are the compact manual, compact auto, full-size standard, and large gold sizes. You can also decide to go with the mini umbrella if you wish. Choosing the size of your umbrella frame is essential because it determines the size of your draft.
However, designing an umbrella frame can be a challenging task. Many people become discouraged at this point. If you wish, we can provide you with already-made options to continue with the design process without stress.
3. Choose the Type of Print Effect
When you design umbrellas, deciding the type of print effect is vital to the process. You can decide to go with a basic logo imprint or a fully custom umbrella. When choosing print effects, you must also determine if you want the print on the umbrella exteriors or interiors. Your print effect will also affect the type of frame because some umbrella frames don't support interior printing.
Again, are you printing a graphic image or a photograph? Will the print cross the umbrella panels? Deciding on your print effects based on these questions will help you design an umbrella that suits your needs.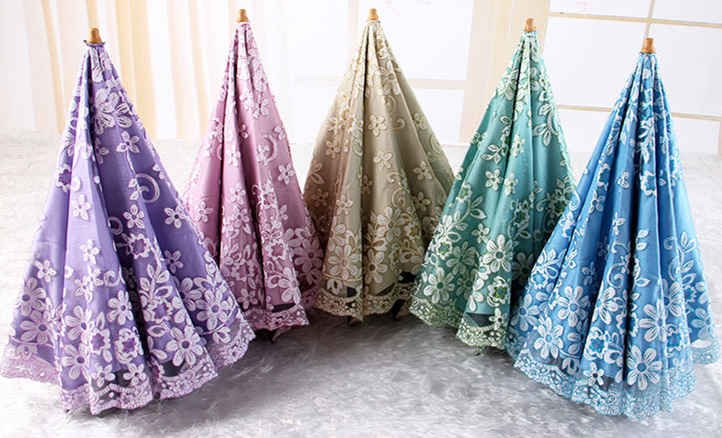 4. Download Umbrella Design Templates
As a novice, explanations can't help you design umbrellas as much as a template would. Except you're a designer, creating an umbrella design without a comprehensive model to follow would be extremely difficult.
So, after deciding your frame and print type, the next process should be to download the template of your desired umbrella. If you're confused about what template to download, we can help you with one.
5. Create the Design or Artwork
Now, we've come to the most exciting part of the design process. Here, your creativity and innovative capabilities come to play. An umbrella artwork is a design you want on your umbrella. It can be geometric, floral, intricate, or minimalistic. Depending on the purpose of your umbrella, it can also be your company logo.
Many fantastic application programs can help you design your artwork. We prefer Adobe Illustrator, Corel Draw, or Photoshop. These programs are user-friendly, so even if you haven't used them before, you can learn how to in no time.
After creating your artwork, the next step is to broaden the objects and save them as a copy and vector EPS. Saving your artwork as a vector PDF, AI or EPS makes it easy to resize them without losing its sharpness or resolution.
Sometimes, you may decide to print a logo or artwork that goes across all the umbrella panels. In this case, the artwork will have a bleed. Bleeding an artwork means printing across the whole panel and some more. That way, the producer joins the panels to create a single, continuous artwork instead of eight different images.
6. Choose Your Fabric
In designing your custom umbrella, you are at liberty to choose the fabric type you want. Your fabric choice should match the purpose you need the umbrella for. The fabric you also choose affects the cost of producing the umbrella.
There are different types of umbrella fabrics to choose from. There are polyester, pongee, satin, UV fabrics, and lots more. If you want a color fabric to produce your design umbrella, we can help you with a range of colored materials to choose from. If you have a custom color fabric, we give you a bit of advice on that.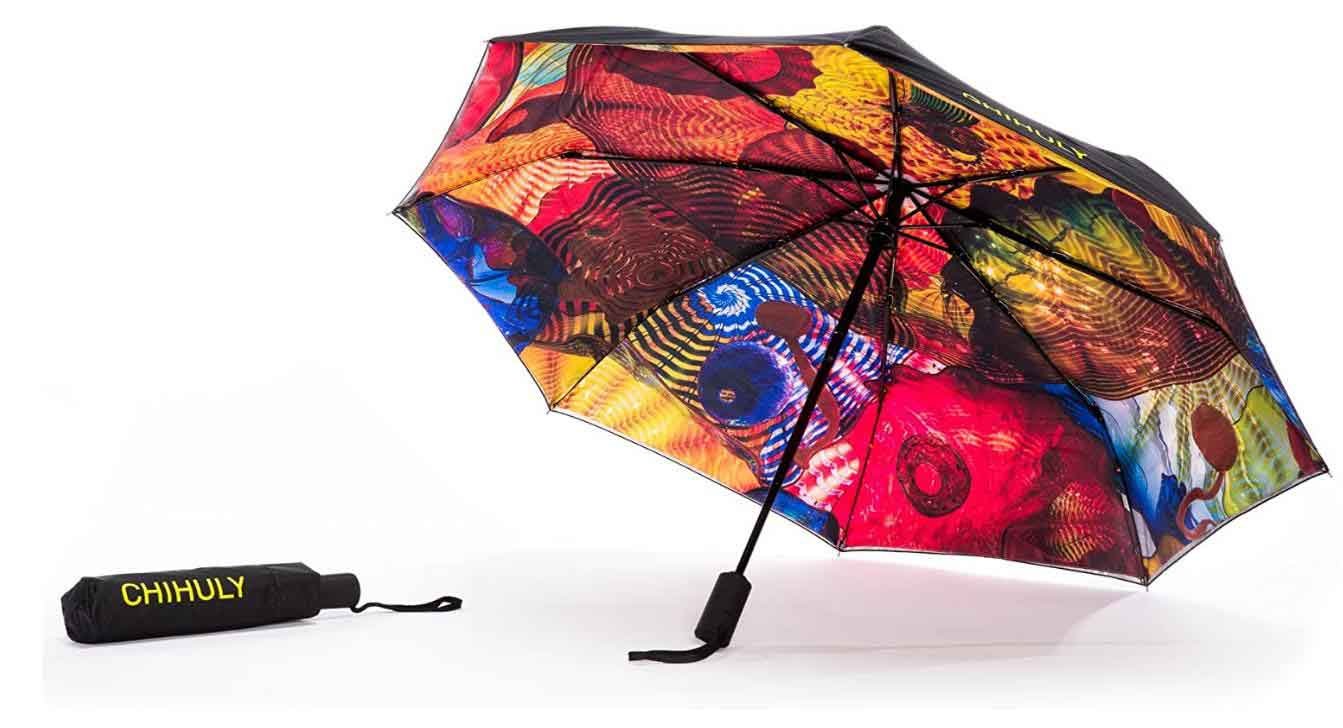 7. Pay Attention to Layering and Color Patterns
One crucial tip or process you can't ignore when you design umbrellas is layering and color patterns. If you're layering correctly, one color would appear on a different layer. This makes for easy color identification before printing. It also ensures that we don't get confused and that we print exactly what you want.
It's also important to group objects according to color patterns; that is, group identical colors together. Refusing to group objects together can make you lose some details as you click on them. Since even the most minor details are essential in the design umbrella process, you must take this seriously.
To make it easier to interpret your artwork, you can add Pantone references to each layer. Your artwork should be detailed and bold. Avoid hairlines, small fonts, gradients, and shading as much as possible, especially if you want digital printing.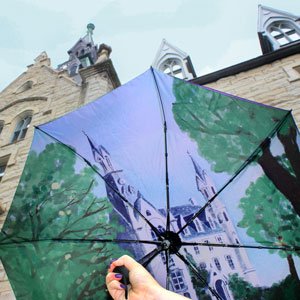 8. Create Your Final Layout
Now that you have made your sketch and created your design, it's time to draft your final layout. While a sketch is an excellent place to start your design, your final structure embellishes the drawing. The final configuration is one of the essential processes in designing umbrellas. A suitable format helps us to decide on the best method to produce your umbrella.
Like with other processes, a layout option can affect the overall costs. For example, the layout of your print artwork, if it's a photographic image across all eight panels, is more expensive than repeating panels. Two-layer umbrellas are also more costly than single layers.
If this process is tedious for you, we can help you create your final layout either for approval or accuracy. We'd also love to answer any questions you may have on the layout process.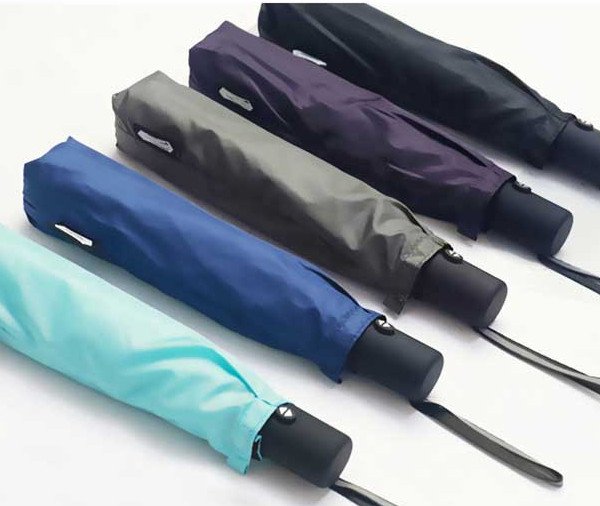 9. Choose Your Printing Option
There are different printing options to choose from depending on what your aim is. Each printing option carries varying features and peculiarities. The three most common printing options are the screen, digital, and dye sublimation printing types.
With screen printing, we create a mesh using a stencil and use it to transfer ink to the umbrella. Screen printing is one of the cheapest printing options available. It allows for only four colors and looks great on outdoor umbrellas.
Digital printing is different from screen printing because of its transfer mode. While screen printing uses mesh to transfer ink, digital printing uses heat. After hitting the printing press for a while, we press it on the umbrella when it attains a certain degree. We leave it for some time on the umbrella to ensure that it stays in place before removing it.
The advantage of digital printing is that it isn't as time-consuming as other methods. It's also suitable for printing colored patterns. However, it's pretty expensive. In Dye sublimation, we use sublimation ink on the umbrella. This printing option ensures that prints last longer than many other types.
10. Save Your Designs with the Right File Types
Finally, it's time to save your designs and send them to use for production. It's not just enough to complete or design umbrellas. How you save them matters. Like we noted earlier, it's usually best to keep and send them in as vector PDF or EPS files. That ensures that we don't lose out on any design detail as we click on it.
It's best to save graphics images and logos in illustrator formats. Also, use Pantone® colors to match print colors to aid clarity of design.
In saving files, you must consider resolution and sharpness. File types like JPEGs and GIFs have low resolution and can affect the quality of your umbrellas. Note that if you're using different artwork designs, you must save them separately.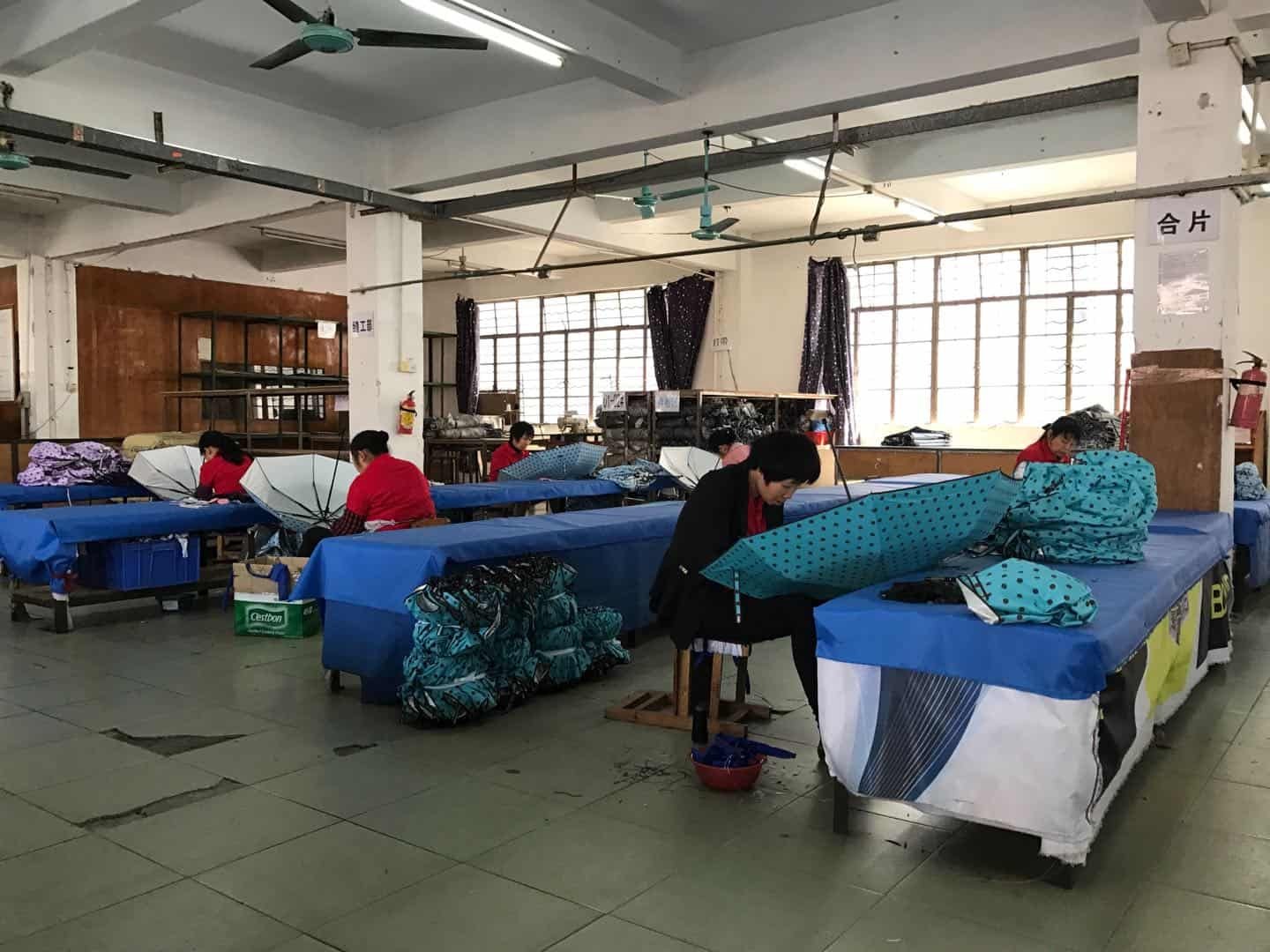 When choosing to design umbrellas, there are many choices and options to make. Sometimes, they may seem so complex that it's difficult to remember everything. As such, it's always best to decide what factors matter most to you and itemizes them.
This will prevent you from missing out on the most critical aspects of designing your umbrella. We've listed eight factors to consider when planning an umbrella design below:
1. Size of the Umbrella
The size and type of umbrella you need are some of the first factors to consider. Your decision should align with your purpose for creating your umbrella choice. For example, if you're making a design umbrella for children, you wouldn't need extra-large sizes. You have the liberty to choose any size you want when it's for personal use.
In a nutshell, your purpose determines the size, and the size affects your design outlook. Therefore, it's essential to ponder on this factor and decide on it before you start designing.
2. Fabric or Material
What fabric or material do you wish your umbrella to come in? This factor is significant when designing artworks and printing them. The fabric you use determines what printing option you'd choose. It also determines how durable the prints will be. Many people love to select polyester or oxford fabrics because they're economical and suitable for many purposes.
3. Type of Design
Like fabrics, there are different designs to choose from when designing artworks for your umbrellas. You can decide to go with shapes, a splash of colors, flowery designs, etc. The type of design you choose can determine your printing option too.
4. Purpose
The purpose is everything when it comes to umbrella designs. It's the reason you considered designing an umbrella in the first place. What you wish to use the umbrella for determines the entire design process.
For example, if you want to promote your brand, it affects the artwork. You will have to stick with logos or something your brand identifies with instead of random patterns. If you're gifting your loved ones after a get-together, you will use a different style. What matters is that you stick with your purpose throughout the design process to avoid getting an umbrella that's not suitable for use.
5. Type of Frame
Recall that choosing a frame type is one of the processes in designing your umbrella. It's so vital that it's here, again, as a factor to consider. Like we said earlier, the frame is the skeleton of the umbrella. If anything goes wrong with it, the umbrella cannot take shape.
When choosing an umbrella frame, you must think about the types of artwork and prints you want. If you wish to have your images on the umbrella interiors, then go for frames that allow you to do that. While all frames allow for exterior printing, some structures have spikes that extend all over the umbrella. Those types of tips make it challenging to print inside the umbrella.
6. Cost of Production
Designing an umbrella shouldn't leave you broke. It's never a wise idea to create an umbrella that costs way more than your budget. It's easy to incorporate so many features into your umbrella design and arrive at high production costs in the end. To avoid this, it's best to plan a budget and ensure that your umbrella design strictly accommodates it.
To plan a proper budget, you must have an estimate of what each design feature costs. For example, bleeding costs more than making repeated prints on each panel.
7. Quality
Quality is everything, and it's no use going through all those processes only to design umbrellas of inferior quality. Quality is also essential when you need your umbrella to be durable. If you're creating a promotional umbrella, you mustn't compromise on this factor.
The quality of your material can determine the type of prints you use. For instance, inferior materials can make a mockery of your design process by not reflecting your unique design patterns. Again, quality materials are very easy to work on and ensure a stress-free design process. Furthermore, the quality of your fabrics can also determine the printing option you choose.
8. Colors
Even when it doesn't seem like it, coloring is essential when you design umbrellas. The number of colors you choose affects the final configuration and image format. The colors you choose in your design should reflect your brand if you're designing for promotional purposes.
In essence, you shouldn't just choose the first colors that come to mind. What effect do you wish to create? Can people associate the colors with your brand? Would transparent umbrellas have a better result? How many colors do you need to produce the outcome you desire? You must consider these before you choose your design colors.
Advantages of Designing Your Umbrella
It's much easier to purchase an umbrella from a shop or market than to design one. However, some situations require that you must design your umbrella. Creating your umbrella may be the only option you have to get precisely what you desire.
Fortunately, there are lots of unique benefits to designing umbrellas. We've highlighted some of them below:
1. You Get to Choose Everything
Designing your umbrella gives you the liberty to create something unique for yourself. You decide everything you want, from the frames to the fabrics, colors, shapes, etc. This is much better than having to stick with an umbrella feature that you don't like.
2. It Enhances Your Creativity
Designing your umbrella helps to develop your creative side. It revives your imagination and allows you to discover other passions that you may have. It also enables you to learn new methods and processes in umbrella designs.
3. Fulfillment and Satisfaction
Nothing gives more fulfillment and satisfaction than creating reality from imagination. Designing your umbrella from scratch to finish makes you feel pleased and accomplished. You wouldn't trade that feeling for anything else in the world.
4. Cost-efficiency
When you have an umbrella idea in your head, you can decide to design it yourself or have a designer do it. Giving it to a designer increases your expenses. You can cut many costs by creating your designs yourself and not bothering to pay anyone for them.
5. It Can Be a Fun Activity
Are you looking for a creative way to while away the hours while also providing value? Designing your unique umbrella can be the way to go. You can turn it into a fun activity with friends and loved ones. It's a great way to bond with people around you.
Conclusion
At HFUmbrella, we love to see you create magic. We know just how pleasurable the design process is, and we want you to enjoy the thrills too. That's why we've created this 10-step guide to design umbrellas just for you. Following the processes without skipping any will help you design the unique umbrella that you love.
We love it when you reach out. So, if you get stuck in any process or need help at any stage, don't hesitate to let us know. Furthermore, we'd help you bring your designs to reality with our top-notch production processes. Contact us at info@hfumbrella.com to make inquiries about designing your umbrella or to get started.