Owning and running an umbrella line or business can be very competitive. This is because there are several umbrella businesses around the world today. Each company or line wants to grow and advance in one way or the other.
There are numerous ways to expand your umbrella line, but have you considered adding custom outdoor umbrellas to your line? Outdoor umbrellas are versatile umbrellas that have made a significant impact in the umbrella industry.
Due to the several uses for outdoor umbrellas, they have a high demand in the umbrella market. To make the most of this, introduce custom outdoor umbrellas to your umbrella line. It will help you to develop and expand your umbrella business.
This article will address various topics on custom outdoor umbrellas. One of the main topics we would be discussing is why this umbrella type (outdoor umbrellas) is a huge investment for umbrella businesses.
Types of Custom Outdoor Umbrellas
Outdoor umbrella is the general name for large umbrellas that you can use outdoors. There are three primary types of custom outdoor umbrellas. These umbrellas are classified based on the places they are used, and they are:
1. Patio umbrellas
The patio umbrella is a custom outdoor umbrella specifically designed for patio use. A patio is located outside a house, and it is often an excellent spot for relaxation. It is only fitting for such places of leisure to have a shaded area. This way, you can be comfortable outdoors, without having to worry about the sun or rain.
There are various types of patio umbrellas, including cantilevers, pagodas, and table patio umbrellas. Cantilever umbrellas have their supports at their sides, not at their centers. Pagodas are small umbrellas that look almost like a circus tent due to their pointed tip. Finally, you station table patio umbrellas inside holes in patio tables.
2. Market Umbrellas
These are mostly found in markets or streets for buying and selling. It's used to shade products and people. Their frames are often made with wood, but also, they can be made of steel or fiberglass. However, wooden market umbrellas are heavier and more expensive than steel market umbrellas.
A market umbrella is attached to a straight pole and held down by an umbrella base. People use market umbrellas outside, and so, their canopies must be made with durable fabric like Sunbrella or polyester. Additionally, umbrella manufacturers, most times, make their ribs with steel or fiberglass.
3. Beach Umbrellas
These umbrellas are considerably large umbrellas that shade people when they go to the beach. Beach days are often sunny days, and beach umbrellas are good protection against harsh ultraviolet rays while also shading you from the sun. Essentially, they make beach days safer and more enjoyable.
They come with a wide canopy which are sometimes adjustable. That means they can be tilted to protect you from whatever direction the sun is facing. An umbrella base also accompanies beach umbrellas to keep the umbrella in place during use.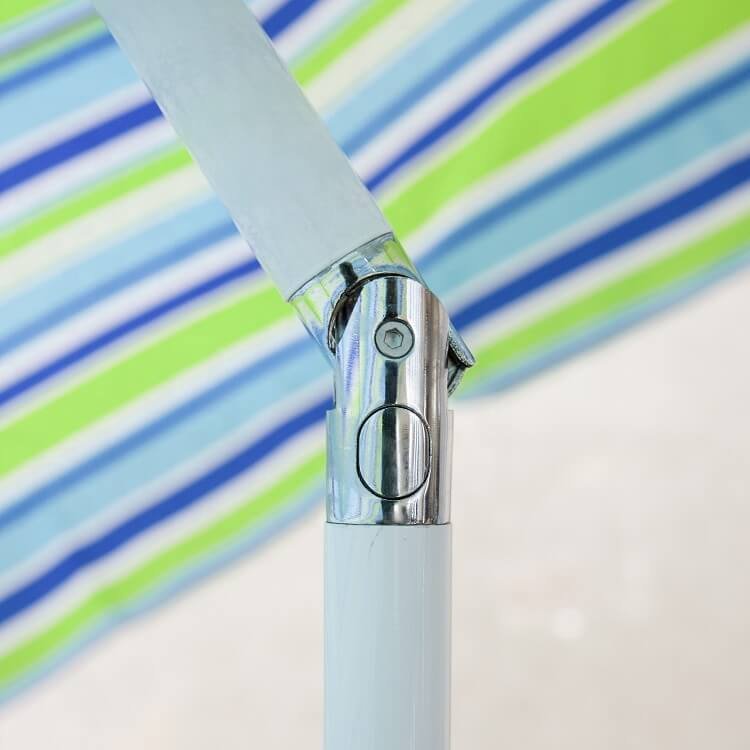 Why Custom Outdoor Umbrellas Are in High Demand
When you consider expanding your umbrella line, you should add products that would add value to your business. For instance, the addition of high-demand products in your business will surely bring more customers your way; this inevitably helps with expanding your business.
Custom outdoor umbrellas are in high demand in the umbrella market. So, including custom outdoor umbrellas in your umbrella line is a great business choice. You might wonder why outdoor umbrellas are so popular and wanted; we have mentioned nine reasons outdoor umbrellas are in high demand.
1. They Protect from All Weather Conditions
An outdoor umbrella is helpful in all seasons and weather conditions. During the spring, your outdoor umbrella protects you from the rain. In the summertime, an outdoor umbrella shields you from the sun's harsh rays. Even during the winter, this umbrella protects you from the snow.
An outdoor umbrella, for example, a patio umbrella, is handy all year round to offer protection from weather elements. This is one of the top reasons outdoor umbrellas are in such high demand all around the world.
2. Great for Relaxation in the Backyard or Patio
Imagine you have had a long, tiring day at work, and all you want to do is enjoy a relaxing evening as you watch the sunset. An outdoor umbrella in your patio or backyard will ensure you have the complete relaxation experience.
With outdoor umbrellas, you get a cool shade and environment to carry out your relaxation. Do you want to do some yoga in the backyard? Or maybe stretch on a hammock? Outdoor umbrellas are your best bet. They keep you protected and comfortable while you relax.
3. They Are Useful for Businesses
You might wonder how outdoor umbrellas can be helpful in businesses; we'll tell you. Cafes and restaurants use outdoor umbrellas to provide a conducive environment for their customers who patronize them and sit outside.
As a cafe or restaurant owner, you want your customers to be as comfortable as possible if they come to your business. It won't be right to keep them in the sun or the rain while they make use of your services. Because some cafes and restaurants provide the option of sitting outside, they need outdoor umbrellas to protect from the weather elements.
Also, custom outdoor umbrellas can be used as promotional items. Promotional items are useful for advertisement for businesses. A business owner might imprint their logo on a custom outdoor umbrella to advertise their business to customers and potential customers.
On the other hand, another business owner might use the custom umbrellas to appreciate their staff or clients for sticking with them. Custom outdoor umbrellas can also be useful for business events as souvenirs.
4. Outdoor Umbrellas Bring You Closer to Nature
If you love nature as much as we do, we understand how you would feel if you do not get enough of it. An outdoor umbrella would help you get closer to nature. If you have a beautiful garden and you're wondering how you can enjoy your garden more, try getting an outdoor umbrella.
Putting up an outdoor umbrella and some chairs in your garden would give you a setup you would love so much. Aesthetically pleasing for you and for your visitors who come calling.
An outdoor umbrella in your garden would offer you a sense of peace and tranquility while surrounded by nature. You can spend your time reading a book, meditating, sipping a cup of tea or coffee, or just enjoying the outdoors.
5. They Are Handy at the Beach
A day at the beach is meant to be fun and calming. However, if you are not well-prepared for your visit to the beach, it could end up being a catastrophe. One way to prepare for the beach is to get a beach umbrella (one of the common types of outdoor umbrella).
Beach umbrellas keep beachgoers safe and protected against the elements of weather. At the beach, you need protection against UV rays and strong winds. Most beach umbrellas come with Ultraviolet Protection Factor (UPF), a protective feature against UV rays. Others have wind-resistant features like a fiberglass frame, etc.
6. They Make Balcony Time More Relaxing
Balconies are lovely fixtures and additions to a home. They give homeowners grand views of the city, beach, or any other stunning sights. You can enjoy your balcony experience even more, when you add an outdoor umbrella.
There are outdoor umbrellas that have canopies small enough to fit on your balcony. So, they won't hog up space, and at the same time, they'll add style and comfort to your balcony.
7. They Provide Privacy
An outdoor umbrella will give you privacy when you're on your patio, in your backyard, or at the beach. If you want to keep yourself from the prying eyes of your neighbors, then you should get an outdoor umbrella.
There are cantilever umbrellas that you can adjust to whichever direction you want to block. Also, there are beach umbrellas structured like tents that give you privacy even at the beach.
8. They Protect Your Outdoor Furniture
Adequate sunshine makes you feel good and provides you with vitamin D. However, sunlight can also destroy your outdoor furniture as time goes by. Your patio tables and chairs or cushions would end up fading or drying out if they are exposed to the sun for too long. With an outdoor umbrella, you can be sure your furniture will last longer because it would preserve them from the sun.
9. They Add to Your Decor
If you are looking for decor to beautify your patio, backyard, cafe, or restaurant, adding an outdoor umbrella would do the trick. Since outdoor umbrellas come in different shapes, colors, sizes, and styles, you can decorate your space to fit your preferences.
You could also decide to match your custom outdoor umbrellas with your furniture. Your outdoor umbrella adds class and definition to your space.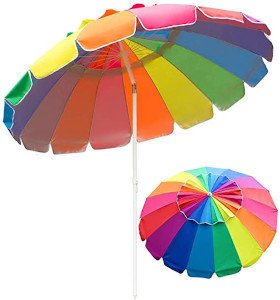 Tips for Choosing the Right Outdoor Umbrella
Before making your choice of outdoor umbrellas, there are certain things you have to consider. Failure to carefully select the right outdoor umbrella can lead to you getting disappointed with your end products. In the long run, this can affect your umbrella line negatively.
To avoid this, you should ask yourself the following question when purchasing your outdoor umbrella:
1. What Umbrella Fabric Should I Choose?
The fabric you choose for your outdoor umbrella can determine if you have a long-lasting and durable umbrella at the end of your purchase. There are various umbrella fabrics that you can choose from for your custom outdoor umbrella.
a. Acrylic Fabric
This fabric is made from synthetic fiber, and it has a wool-like texture. The acrylic material has a soft feel, but that does not make it any less durable. With acrylic, you get a lot of color choices. It is resistant to wrinkling, which makes it retain its beauty. Also, it does an excellent job of maintaining its color.
b. Sunbrella Fabric
Sunbrella fabric is a high-grade fabric for outdoor umbrellas. This fabric is resistant to weather elements, so you don't have to worry about the sun or rain with this fabric. It has excellent retention of color; that is, the fabric's color does not fade for years. Sunbrella fabric is available in hundreds of designs (colors and patterns).
c. Polyester Fabric
Polyester is a trendy fabric that umbrella manufacturers use for outdoor umbrellas. This fabric is soft and features rich colors. They are naturally sun-resistant and are also treated for mildew resistance. You can easily care for and clean this fabric. Furthermore, they are easier to afford.
d. Olefin Fabric
Olefin is a popular umbrella fabric with UV resistance that keeps you protected against harmful rays. Also, this fabric can quickly dry when wet. In addition to being durable, you can get different colors, textures, and styles of the olefin fabric.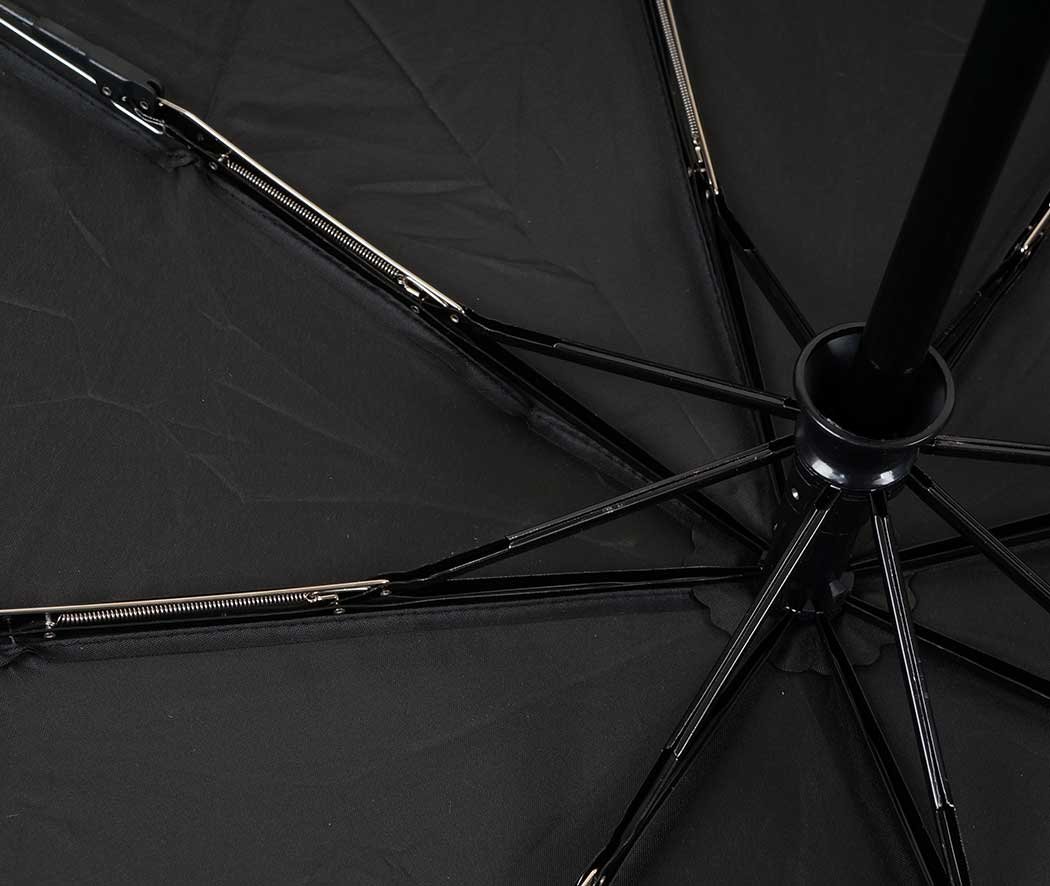 2. What Is the Frame Made of?
The material of your umbrella is an important feature to consider when selecting the right outdoor umbrella. Wood, fiberglass, metal, and aluminum are the most common materials that umbrella manufacturers use to create outdoor umbrellas.
Wood: Wood umbrellas are classic, sophisticated, timeless, and natural-looking. They might be expensive, but a well-cared-for wooden umbrella can be an accent to your patio. They are not as durable as other frames, however.
Fiberglass: Fiberglass frames are flexible and durable. They give the outdoor umbrella the ability to withstand strong winds without bending or breaking. Additionally, they are lightweight and do not rot.
Metal: Metal frames are also very common in outdoor umbrellas. It has a sleek feel. They are naturally resistant to corrosion or rust. However, constant exposure to saltwater can damage it.
Aluminum: Aluminum umbrellas are not as expensive as wood frames, and they are even more durable. This frame is also lightweight; you do not have to struggle to transport the umbrella. Aluminum frames can resist corrosion and winds.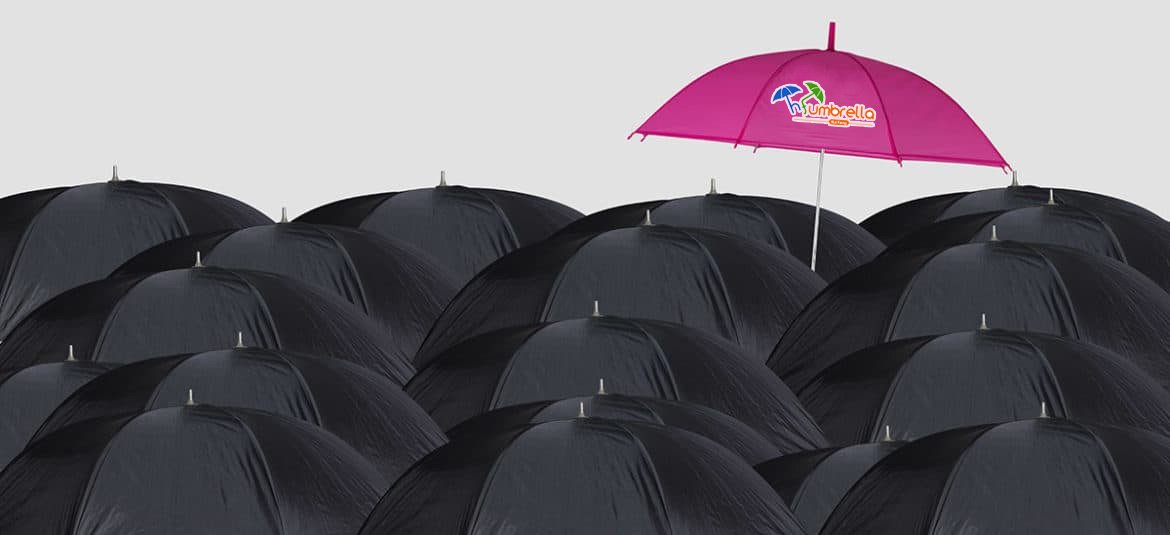 3. What Is the Right Outdoor Umbrella Size to Get?
In deciding the appropriate size for your outdoor umbrella, you need to assess or survey your landscape. The arrangement and structure of your backyard, patio, or café determines how big or small the canopy of your outdoor umbrella should be. For instance, you should note plants, roofs, furniture, etc., in your desired location before purchasing the umbrella.
Also, it would help if you considered what you intend to use the umbrella for before you buy it. If you want to use the umbrella for heavy-duty activities, you might need a large canopy. But if, for example, you need it for a relaxing day at the beach by yourself, you need a smaller canopy.
4. What Should be the Shape of the Outdoor Umbrella?
Outdoor umbrellas do not only have different sizes, but they also have different shapes. The traditional shape of outdoor umbrellas is round or circular. However, in recent models of outdoor umbrellas, you can find other shapes like an octagon, rectangle, etc.
5. Do I Need an Outdoor Umbrella with Accessories?
Some outdoor umbrellas come with unique accessories that make them stand out from others. For example, some beach umbrellas come with pockets or pouches to help beachgoers keep their belongings while at the beach.
Also, some patio umbrellas come with LED lights. These lights make it easier for the umbrella's users to enjoy an evening of relaxation in their backyards. And still, some outdoor umbrellas come with cup holders.
These accessories and features make the outdoor umbrellas more desirable. Getting umbrellas with these unique abilities makes them even more desirable to your customers.
6. What Printing Technique Should I Use for Customization?
Several industries make use of printing technology nowadays, and the umbrella industry is not exempted. How can you carry out customization without making use of printing techniques? Because of technological advancements, there have been improvements in old printing techniques and even new methods.
Each printing method has its advantages and disadvantages. It would help if you carried out proper research on these various printing techniques; we would briefly discuss five of them.
Digital Printing: Digital printing is a more modern approach to printing. It makes use of inkjet or LaserJet printers in transferring images from the computer to the fabric. It has a low cost for setup, and it is faster.
Silkscreen or Screen Printing: Screen Printing is one of the oldest methods of printing. In this printing method, a stencil design of the image is created on a mesh screen, layers of ink are pressed into this stencil design, and then onto the umbrella. Images that are screen printed can be used for a long time.
Dye-Sublimation Printing: Dye-sublimation printing uses a combination of heat and pressure to transfer an image to the substrate (surface). The inks used in this process are sublimation inks. This printing technique is easy to use, and it provides excellent print quality.
Embroidery: Embroidery involves stitching your logo or graphic onto the canopy. Some could be hand-stitched, while machines could do others. It might be more expensive than other techniques, but it lasts long.
UV Printing: UV Printing makes use of special inks and Ultraviolet light in its process. After the image has been transferred to the fabric, the UV light dries (cures) the ink instantaneously. The result is a consistent, high-quality finish.
Best Manufacturers of Custom Outdoor Umbrellas
If you decide that you want to expand your umbrella line by including custom outdoor umbrellas, the next step is deciding if you're going to manufacture them yourselves or not. Outsourcing the manufacturing and customization of your outdoor umbrellas to other manufacturers is known as private labeling.
Private labeling has numerous benefits, and it is small business-friendly. However, to have a successful private label relationship with an umbrella manufacturer, you have to choose the right one.
Below is a list of some of the top umbrella manufacturers worldwide that you can produce custom outdoor umbrellas for your business.
1. Huifeng Umbrella (HFUmbrella)
Huifeng Umbrella came into being over 30 years ago in China. At Huifeng Umbrella, we specialize in all kinds of umbrellas. Our products range from rain umbrellas to outdoor umbrellas. We put in all our efforts to ensure our clients are satisfied at the end of the transaction.
We enter into business relationships with clients from the UK, USA, Europe, Canada, Korea, etc. Our staff at HFUmbrella are dedicated to giving you good service and producing high-quality umbrellas.
When it comes to making custom umbrellas, we offer top-notch services. With our modern printing techniques, we provide personalized umbrellas that embody our clients' brands.
Additionally, we offer competitive prices for umbrellas. So, visit our website today or speak with a customer service representative through our email.
2. TUUCI
For twenty years and more, TUUCI has been in the business of creating innovative, trendy, and one-of-a-kind umbrellas. Every single one of their umbrellas can perfume excellently well in any environment. Their umbrellas are unrivaled when it comes to style and design. Furthermore, they are durable.
Website: www.tuuci.com
3. Frankford Umbrellas
Frankford Umbrellas have been in the umbrella industry for over 120 years. In this time, they have made a lot of impact in the industry. They provide their customers with exceptional umbrellas at a reasonable price and with excellent customer service. Their umbrellas come in modern and traditional designs.
Website: www.frankfordumbrellas.com
4. BeachBUB USA
BeachBUB USA is an umbrella manufacturer company that specializes in beach umbrellas. They add a touch of innovation to all their beach umbrellas to make them stand out. Because of their excellent services, they develop long-lasting relationships with their customers. Their umbrellas are durable and easy to use. Additionally, BeachBUB umbrellas come with a three-year warranty.
Website: www.beachbub.com
Conclusion
The success of your umbrella line and business is important. Introducing custom outdoor umbrellas to your business would significantly boost your sales and profits.
This article will help you make the right choice of umbrella manufacturer so you can begin manufacturing or selling custom outdoor umbrellas. With us, you'd have no regrets. If you need more information on custom outdoor umbrellas, or would like to do business with us, get in touch with our 24/7 customer care service at info@hfumbrella.com.