Description
Waterproof, weatherproof, and instantly dry, the super waterproof fabric & non-slip rubber handle make it surpass other umbrellas. It's easy to operate with one hand by pressing the automatic open&close button. Folding style is easy to fit into briefcases, backpacks, luggage, etc. The vented folding led umbrella with reflective stripe has a vented canopy that allows the wind to pass through, preventing it from flipping and breaking in strong winds, giving you excellent protection!
The led umbrella with reflective stripe features eight resin-reinforced fiberglass ribs that are slightly curved to withstand the strong wind without turning inside out and high-quality aluminum alloy. So your umbrella never breaks or rusts.
The bottom of the umbrella handle has nine color-changing LED lights that are brighter than other LED light umbrellas.
Importantly, this umbrella with reflective stripe can protect you well in the evening. People with led folding umbrella with reflective tape will catch the eye of the driver. Not only can the umbrella provide shelter for you on a rainy day, but it also protects your safety.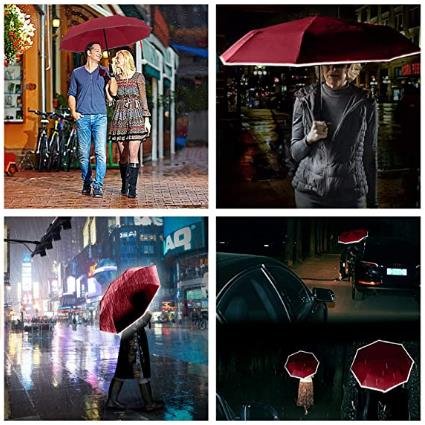 Click here and know more about our led umbrellas.