Custom umbrellas with logo
Logo umbrellas as a modern novel advertising carrier, with large fluidity, bright colors, and good visual effects, the advertising of creative patterns. The design is not limited, the structure can be chosen arbitrarily, and the beauty and durability, high quality and low price, etc., makes it a kind of advertising for enterprises. Important Form. Logo umbrellas offer advantages unmatched by other forms of advertising.
Let's dive right in now, and you can click on the question that interest you,
1: What are the logo umbrellas?
2: What Are Logo Umbrellas Used For?
3: What Are The Types Of Logo Umbrellas?
4: What is a Budget Logo Umbrella?
5:How To Design Custom Logo Umbrella?
6: The process of ordering custom logo umbrellas
7: The process of ordering custom logo umbrellas
Logo umbrellas or custom umbrellas are mobile shelters that are designed for two specific purposes. To
shield people from rain and the intensity of the sun, and to promote brands or logos. Personalized umbrellas
are irresistible and should form a huge part of your brand's marketing campaign.
People always use umbrellas and this makes it easy for them to remember the brand or company that gave it
to them. In fact, according to recent statistics, approximately 89% of customers tend to recall the brand
promoter that gave them a promotional gift, with logo umbrellas being a prime example of such gifts.
Also, with promotional or logo umbrellas, marketers can take full advantage of strange weather
phenomena when trying to appeal to customers. Who doesn't want a big and durable logo umbrella in
rainy or sunny weather? Nobody!
Aside from marketing products and promoting your brand, logo umbrellas are gift items that your
employees, colleagues, family members, and friends will truly love.
Turn heads and grab attention with beautifully designed logo umbrellas at your outdoor events or golf
tournaments while you stay dry and protected from the weather.
2: What Are Logo Umbrellas Used For?
Aside from the obvious use of an umbrella which is to shield us from harsh weather conditions, logo
umbrellas can be used for so much more. Below are a few of them.
1. Huge Return On Investment
Umbrellas have practical uses. They are essential commodities in tropical areas that experience a lot of
rainfall during the course of the year.
This means that logo umbrellas will be used and seen regularly by the people that use them and passersby who are attracted to the logo design and beautiful colors printed on them.
Also, umbrellas are budget-friendly. With a small budget, you can roll out mini umbrellas that will have the
same marketing effect that other means of advertising will generate.
You can also opt for large and expensive branded golf umbrellas if you wish to make quick yet lasting impressions.
2. Wide exposure
Big and oversized logo umbrellas are perfect gift items for both sporting and corporate events. The big
surface area of these umbrellas means that more people are likely to see printed logos and designs. Everyday
umbrellas gifts, on the other hand, are the tool that reminds customers about who gave them the gift and the
brand that they got it from.
3. Large Surface Area For Printing
Whether it's a golf umbrella or a mini umbrella, there is always ample space to print logos and brand names
on. Little marketing messages can equally be sneaked in without disrupting the overall design idea.
However, regardless of what the printing or design idea may be, companies and brands need to be careful not to complicate things by adding too many colors and text on the umbrella's surface.
Doing this will likely put customers off and the goal for which the umbrella was designed will be defeated.
While the umbrella has a large surface area, simple designs should be adopted always.
4. Use Logo Umbrellas For Event Decor and Props
Although promotional umbrellas are good advertising tools, they can equally be used for other things such as
props and decoration items. Beautifully designed branded umbrellas can bring life to any photoshoot set
whether it is staged outdoor or indoor.
For example, you can add a beautifully branded umbrella to a red carpet set up to give it an extra flare. Umbrellas can spark the creative ideas you have for an event decoration gig to live while promoting your company or brand in the process.
Once the event is over, you can hand these beautiful logo umbrellas to attendees as souvenirs. They'll be eternally grateful to you and your brand!

3: What Are The Types Of Logo Umbrellas?
If you wish to create branded umbrellas for your company, there are quite a number of types you can
consider. However, you have to put your budget into consideration and the demographics of your clients.
Below are a few examples you can choose from:
– Logo Golf Umbrellas
Bad weather can ruin a perfect golf tournament if the safety measures are not employed beforehand. This is
why golf umbrellas are so important. They are big and strong enough to shield you from rain and sunny
weather conditions during a golf game. It is no wonder why golf logo umbrellas are so popular and are used
to promote brands at any golf event. While people are enjoying the golf game, it is impossible to ignore the
beautifully designed promotional umbrellas that are being carried around by attendees.
– Logo Folding Umbrellas
These umbrellas are perfect gift items that will appeal to most business class people. This is because they are
foldable, and can fit into small bags. They can follow you everywhere and provide protection from weather
conditions when you need them to. Folding umbrellas are good tools for advertisement because they'll be
seen by thousands of people during their lifetime.
-Logo Wooden Umbrellas
These are umbrellas bear wooden handles. They are also fortified with strong frames which makes them a
perfect gift item at any event. Everyone loves a durable gift item that is also long-lasting. Wooden umbrellas
are easy to use and have the appropriate surface for printing logos and marketing messages. You can try
handing out personalized versions of these at your next event, and you'd be surprised at the reception you'd
get.
-Logo  Clear/Transparent Umbrellas
Transparent umbrellas can sometimes be difficult to print on but they are highly trendy and your clients will
love them. While their sizes may be different, they all make the same fashion statement and will look
incredibly good on anyone who uses them. To get people to notice your brand on this type of umbrellas, you
need to be clever with colors and design since they are not like regular colored umbrellas that we get to see
every day.
– Logo Hat Umbrellas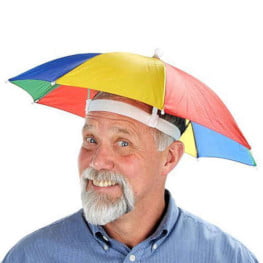 Most people consider hat umbrellas to be novelty items. People love this type of logo umbrella not because
it offers a lot of protection from the sun or rain but because it is fanciful and funny to look at. A hat umbrella is small umbrella attached to a band that sits firmly on the head when worn. They are mostly used in event
situations and not in everyday life. Regardless, they are still a great way to promote your business or brand
and you will certainly receive praise from people who love to have novelty items.
–  Logo Beach Umbrellas
You can be a part of your customer's beach and holiday experience by giving them branded beach umbrellas
carrying your company name or logo. Beach umbrellas are not like your everyday umbrellas. They are quite
big and have long handles that are designed to accommodate more people. Unfortunately, beach umbrellas
do not last very long and are quite expensive. So, put that into consideration if you decide to hand out
personalized beach umbrellas at your next event.
4: What is a Budget Logo Umbrella?
Branded budget Logo Umbrellas are a range of affordable printed or customized umbrellas. They are perfect
for businesses that wish to advertise their brands and products on a low budget. While these umbrellas
cannot be compared to their high-end counterparts, they still manage to get the job done one way or the
other.
On the flip side, cheap promotional umbrellas may not last very long due to the low quality of the material used in
making them. This, in most cases, may have a negative impact on the perception of your business.
But in general, low-budget umbrellas are great for increasing your business's ROI in the long term.
For instance, a low-budget promotional umbrella would cost you $1 to $3 or a little more. Distributing these
cheap umbrellas bearing logos could go on to attract customers who may patronize you bring business
opportunities that will earn you triple the invested amounts.
While low budget umbrellas may misrepresent the true financial state of your business, they remain useful
publicity tools.
5: What is a High-end Logo Umbrella?
These are high-quality logo umbrellas that are given as gifts at corporate events. You'd also find these
expensive umbrellas at golf events where style and fashion statements are of prime importance. High-end
custom umbrellas do not come cheap and are adopted when there is a big budget to play around with.
Since they cost so much to make or mass produce, high-end promotional materials are made using top
quality materials.
They are durable and can last very long. Customers given gift items such as this will
remain grateful and loyal to your brand for a very long time. High-quality logo umbrellas allow for more
design templates which creates room for limitless creativity.
High-cost logo umbrellas are also a means of showing gratitude t6:o loyal customers. An expensive logo
umbrella will make a bigger impression than a low-budget umbrella would. A typical high-end logo
umbrella could cost as much as $6-15 depending on the sophistication of design that you wish to have.
However, it is important to make sure that the expenses incurred by purchasing a high-end custom umbrella
will yield a significant ROI.
6: How To Design Custom Logo Umbrella?
When it comes to designing personalized umbrellas there are a few ideas that you can take into consideration.
– Logo on the Umbrella cover
Placing a big print of your logo on the cover of umbrellas is one of the few ways to customize them.
Unfortunately, the disadvantages of this technique outweigh the advantages. The surface area is not big
enough and it won't be seen by many people since they will be removed when the umbrella is pulled out.
– Logo on the Umbrella Handle
This is a strategic area to place your brand logo or marketing message. While it won't be seen by many
people, there is a guarantee the user will see it before and during use.
– Logo on the Umbrella Canopy
Printing logos and advertisement quotes on the canopy of umbrellas is the most common way of designing
custom logo umbrellas. This makes use of the umbrella's large surface and the printed logo or marketing
message is visible to everyone.
– Labels Of Custom Umbrellas
Logos can be printed on the labels of the Umbrellas also. But they are not as effective in a marketing sense
as when they are printed on the canopy for example.
– Logo on the Button
7: The process of ordering custom logo umbrellas
a: Choose the umbrella style most suited to your requirements from our website or send your favorite umbrella photos for our reference.
b: Decide on the number of umbrellas required and advise your expected delivery date with the address.
c: Decide the canopy colors required for your umbrellas
d: Send us your artwork, design brief, or general description of the umbrella required.
e: We will then create an umbrella visual for you to ensure we have interpreted your design correctly. Sample lead time: 3-5days
f: On approval of the sample umbrella, we will make your umbrellas.
g: On completion of the umbrellas, we will organize all the shipping of your order according to your requirements.
BUY LOGO UMBRELLAS FROM THE DIRECT FACTORY  NOW!
Are you want to start creating your logo umbrella at a lower cost? Contact Hfumbrella :info@hfumbrella for a FREE DESIGN!