Custom Umbrellas Tips
Want a unique umbrella? With custom printed umbrellas, the rainy season never looked so bright! Custom umbrellas are picture-perfect gifts for meetings, conferences, and tournaments.
Here are some things that you should consider in ordering custom umbrellas:
Size – In custom umbrellas, there are two sizes that you should consider: the measurement of canopy and shaft. The length of the shaft is usually determined by the size of the canopy. The canopy can be measured in terms of arc or diameter. The size of the canopy should be determined by what type of umbrella you want to make—kids, fashion, golf, patio, or just an ordinary umbrella for daily use. Each umbrella type has a standard size range.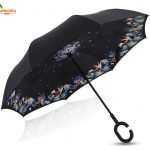 Materials – You need to choose the fabric for the canopy and the material for the shaft and handle of your custom umbrellas. For the canopy, you can select from a wide range of fabrics such as cotton, leather, silk, nylon, or microfiber. For the shaft and handle, you can choose wood, metal, plastic, or fiberglass. Choose the materials wisely based on your needs. If you want a more durable umbrella, use metal instead of wood. Just make sure that the metal is stainless so it would not have rusts when the custom umbrella gets wet.
Design – When you choose the materials for your custom umbrellas, you can already select a fabric that has designs. However, if you want a unique design, you can just choose a plain colors fabric then print your design on it. This is fit for companies who want to put logos on their custom umbrellas for promotional activities.
Aside from the basic requirements mentioned above, there are other factors that you should consider.
These factors usually require you to choose between two options:
Stick or Compact– You need to stick umbrellas if you want a big canopy size. These umbrellas are really useful during heavy rains. They can also be used as canes and as a tool for self-defense. Meanwhile, if you want an umbrella that would fit your bag, buy the folded one. This is easier to bring anytime, anywhere.
Manual or Automatic – Manual umbrellas require you to push and pull in order to open and close the umbrella. Meanwhile, automatic umbrellas open and close at the touch of a button. Stick umbrellas are usually manual, but there are also automatic ones. The choice between manual and automatic is completely based on your preference.
Single or Double Canopy – Most of us use single canopy umbrellas, but if you want an umbrella that would not be blown away or turned upside down with heavy rain and winds, the double canopy would be perfect for you.
Regular or Inverted – Lately, there has been a trend of creating and using inverted umbrellas because they keep you dry even when going out of a car or leaving the building. Though it is still not mainstream, you can order customized inverted umbrellas from factories.
Lastly, consider how the manufacturer can make the umbrella windproof and UV protected. There are a variety of ways to make your umbrella windproof and different levels of UV protection to choose from. Ask the umbrella manufacturer for the available options.
It's very easy to create your customized umbrellas. You just have to upload your logo or choose from our gallery of hundreds of images! We take the estimation out of crafty custom umbrellas by referring a comprehensive proof for your approval before we initiate printing.
Currently, we are having our own team of designers who not just work but put their ideas into reality to create a masterpiece who can work with you. Most of our umbrellas are a custom which is free from scratch; we could provide a number of multi-colored umbrellas to counterpart frames as well to provide you a beautiful umbrella.
How we manufacture custom umbrellas is exceptional to your brand.
Custom Printing On Umbrellas
We introduce and pool a series of different print methods: silkscreen, digital printing, multiple colors process print, dye sublimation, embroidery transfer print and good vintage fashioned tailoring and stitching.
Custom Umbrellas With logo
We could stand this process a bit further with other options of customization such as design the handle, tie wraps printing and with lots of other designing in detail. Whatever we are manufacturing is also as per the requirement of our clients with no compromises with the quality. We are noticed for our brand for the custom-built manufacturing process which creates both durable and sensational custom umbrellas.
Custom Umbrellas No Minimum
These custom umbrellas are printed and embossed with the best color available in the market and protected with all-season resistance material which ensures a long-lasting and a fresh look. We use the latest printing techniques. We are experts and specialize in custom umbrella designing subject to the customer's requirements (design and specifications).
If you got stuck during any process and you require any kind of help Need. No problem! We are happy to help. We provide timeless customer service providing services seven days a week to take your grievance, requests and assist you with the most suitable solutions.
Custom Umbrellas Ordering process:
– All our established orders come with a FREE printed pre-production custom umbrella model to promise you are wholly pleased with our product and the quality of the print before we initiate manufacturing -of your umbrellas.
– It takes almost takes 3-5 days to print sample piece of your umbrella.
– Once your order is confirmed, it will take 10-25 days for the manufacturing of your order as per complexity or requirements.
– Currently, we are offering various means of shipping, including overnight shipping and ground shipping.
We provide timely delivery of your custom umbrellas within two weeks with a tracking facility. You can track your shipment details anytime.
Contact ou umbrella expert for a custom umbrella: Info@hfumbrella.com