Do you want to find a way to improve the look and feel of your outdoor area while also providing shade?
Patio umbrellas are your best bet. These multipurpose additions shield you from the sun and inject your deck or patio with color and character. Branded patio umbrellas make excellent promotional items and employee incentives.
But it can be difficult to narrow down your options when there are so many variations in terms of size, type, material, color, and shape. For this reason, we have compiled this detailed buying guide to assist you in selecting the ideal patio umbrella for your needs. Okay, so let's begin!
Table of Content
Sizes: What is the most popular patio umbrella size?
Patio umbrellas are best judged by their size. A patio umbrella with a 9-foot diameter is the most common and convenient size. You can set up a table and chairs or some lounge chairs here, as there is plenty of shade.
However, a 10-11 foot umbrella may be more appropriate if you have a larger outdoor area or want more shade coverage. These larger sizes are perfect for shading a number of people at once, making them ideal for public spaces.
On the other hand, a 6-7 foot umbrella may be exactly the thing for your balcony or deck if a room is at a premium. These proportions work wonderfully for cozy bistro sets and similar settings for two.
The optimal size of a patio umbrella is one that suits your demands and tastes. Before settling on a solution, think about the available space and the amount of shade protection you require.
Here is the standard size you can choose from
For a shaded area up to 36 inches in diameter, a 7 to 8-foot umbrella is recommended.
If you need a shaded area up to 48 inches in diameter, consider using an 8 to 9-foot umbrella.
A shaded area up to 60 inches in diameter typically requires a 9 to 10-foot umbrella.
For a shaded area up to 72 inches in diameter, a 10 to 11-foot umbrella is recommended.
An 11 to 12-foot umbrella is ideal for a shaded area up to 84 inches in diameter.
If you need a shaded area up to 96 inches in diameter, consider using a 12 to 13-foot umbrella.
Finally, for a shaded area up to 108 inches in diameter, a 13 to 14-foot umbrella is recommended.
Type: What are the different types of patio umbrellas?
The most common type is the market umbrella, which features a traditional shape with a straight pole and a canopy that opens up like an inverted cone.
Another popular type is the cantilever or offset umbrella, which has its base off to one side instead of in the center. This allows for more flexible placement and better shading coverage without having to move furniture around.
There are also specialty umbrellas, such as beach umbrellas or sports team-branded ones, but these are not typically used for patios.
Some patio umbrellas even come equipped with LED lights built-in so you can enjoy your outdoor space day or night.
If you're looking for something eco-friendly, bamboo umbrellas offer a sustainable solution while still providing ample shade. No matter what type of patio umbrella you choose, ensure it fits your style and functional needs!
Here are the most common types of patio Umbrellas
Market Umbrellas
The most typical patio umbrellas are market umbrellas. They have a straight central pole and a round, square, or rectangular canopy.
Market umbrellas are adaptable to a variety of settings because they come in a wide variety of sizes and materials. They can be swung into place in seconds and tilted to cast the desired amount of shade.
Cantilever Umbrellas
Cantilever umbrellas, also called offset umbrellas, have a pole that is offset from the canopy, allowing for angled placement.. Cantilever umbrellas can be purchased in a variety of sizes and forms, and their rotation allows for complete 360-degree protection.
The Tilt Umbrellas
As the name suggests, you can tilt the canopy to follow the sun. Because they offer continuous cover from the sun, they are ideal for those who plan to spend a long time in the great outdoors. Tilt umbrellas can be found in a variety of sizes and materials, and they require nothing in the way of upkeep or expertise to operate.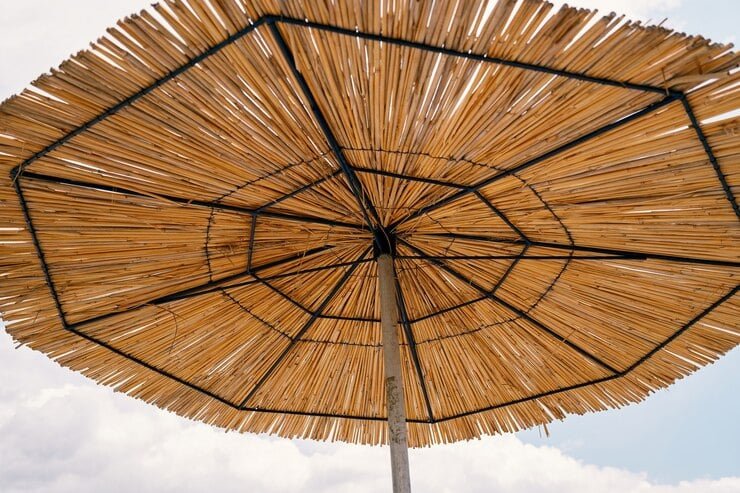 Thatched Umbrellas
With the help of a thatched umbrella, you can bring the beach right into your garden. The canopy is typically made of natural materials like palm leaves, bamboo, or straw.
Each of the many sizes and designs available for thatched umbrellas adds a special touch to a backyard or patio. However, more maintenance is required than with other types of umbrellas because of the natural materials used in their construction.
Material: What is the best patio umbrella material?
Polyester, acrylic, and olefin are common materials for patio umbrellas. Polyester is the cheapest option but doesn't hold up as well as the others.
Materials like acrylic and olefin are more durable and can stand up to severe weather. Fabric on certain patio umbrellas is protected from the sun's rays by a special UV-resistant coating.
Umbrella frames can be fashioned from aluminum, steel, or even wood.
Due to its low weight and high strength, aluminum is frequently used. Because of its durability and low upkeep requirements, it is ideal for usage in the great outdoors. However, direct sunlight can cause aluminum to heat up to an uncomfortable level.
Wooden patio umbrellas have a classic look that many people love.
They can add warmth and charm to any outdoor space. However, wooden umbrellas require more maintenance than other materials as they need regular sealing or staining to prevent warping or cracking from exposure to moisture.
Fiberglass is another popular option for its durability and flexibility. It won't crack or break easily as some of the other materials might do under heavy winds but remain strong enough against them while being quite light compared to others.
Consider factors such as style preferences, climate conditions, and budget constraints before making your final decision on the material.
Height: What is the standard height of a patio umbrella?
The standard height of a patio umbrella typically ranges from 7 to 8 feet, but make no mistake, this information is not suitable for all situations!
In reality, the specific design and style of each individual umbrella can vary vastly. Some high-end models come equipped with height-adjustment mechanisms that allow you to customize your shade experience.
This means you can tailor the height to your personal preferences while safeguarding yourself against undesirable sunlight.
You must keep in mind that the stability of the umbrella is directly connected to the height of its pole. Those looking for extra support would benefit from investing in an umbrella sporting a longer pole.
This will provide added protection against the unpredictable forces of nature, particularly strong winds.
Before you rush out to buy any patio umbrella, it is critical to confirm that the height of your chosen product is appropriate for the intended location in which it will be utilized.
And in the event that you're planning on using an umbrella in less predictable weather conditions, look for caution and prioritize choosing a model with a stable pole.
Color: What is the best patio umbrella color?
The best color for your patio umbrella depends on various factors, such as personal preference and outdoor decor.
Neutral colors like beige, cream, or grey are great choices if you want to create a classic and timeless look that complements any outdoor setting. These colors also tend to blend well with different furniture designs and accentuate the natural beauty of your garden.
If you prefer bold and vibrant hues, consider opting for bright shades of red, blue, or green. These colors can instantly add personality and character to your backyard space while creating a cheerful ambiance perfect for summer gatherings.
Another popular option is patterned umbrellas which offer an eye-catching design element that can tie in other decorative accents in your outside area.
When selecting a patio umbrella color, it's important to keep in mind how sunlight affects certain hues. Darker shades absorb more heat than lighter ones, so lighter tones may be more suitable for keeping cool under the shade if you live in a hotter climate.
You can also choose a color to promote your brand and use your logo anywhere on the umbrella for promotional purposes/
Maintenance: How do you maintain a patio umbrella?
If you are making a long-term investment in patio umbrellas, taking regular maintenance steps to ensure their longevity is pivotal. To that point, here are some tactics you can employ to keep your patio umbrella in optimal condition.
First and foremost, maintaining proper hygiene by cleaning your patio umbrella must be your top priority from time to time.
Employ a mild soap solution with a soft brush or cloth to scrub away dirt and stains that may have accumulated over usage. Rinse thoroughly with water, and air dry it before closing the umbrella.
In addition, when not in use, store your patio umbrella appropriately. Ensure that it is entirely moisture-free before storing it in a cool, dry space like your garage or basement.
Since prolonged exposure to nature's elements can cause severe damage, avoid leaving it outside for extended periods of time.
Moreover, routinely inspect your patio umbrella for signs of wear and tear. Check the frame for any signs of rust or corrosion and ensure that all bolts and screws are tight and secure. If you notice any damage, promptly repair or replace components as needed.
Lastly, it is advisable to consider using protective covers when storing your patio umbrella for extended periods, like during off-seasons such as winter months. This will help prevent dust accumulation, keeping your patio umbrella clean and fresh until you can use it again.
Shapes: What shapes does the patio umbrella come in?
When it comes to patio umbrellas, there are a variety of shapes available in the market that can fit any style and preference. The most common shape for patio umbrellas is round. Round patio umbrellas provide an even amount of shade all around and look great with circular outdoor tables.
Another popular option is square-shaped patio umbrellas which work well with square or rectangular tables. These types of umbrellas offer a more modern and sleek look compared to their round counterparts.
For those looking for something unique, hexagonal or octagonal-shaped patio umbrellas may be the perfect choice. These unconventional shapes add visual interest to your outdoor space while providing ample sun coverage.
Some other less common but equally interesting shapes include oval, rectangular, and even triangular! However, keep in mind that these non-traditional shapes may require specialized stands or bases to ensure stability.
In short, choosing the right shape for your patio umbrella largely depends on personal preference as well as practical considerations such as table size and available space.
Popular Brands for Patio Umbrellas
By now, you should know what to look for when buying a patio umbrella. Remember to consider the size, type, material, height, color, and shape that best suit your needs. Additionally, maintaining your patio umbrella is crucial in ensuring it lasts for years.
When choosing brands for your patio umbrella purchase, plenty of options are available on the market. Some popular brands include Best Choice Products, Costway, and Hampton Bay – all known for their high-quality products.
Let's learn about some of the popular patio umbrella brands:
BEST CHOICE PRODUCTS
The patio umbrellas from Best Choice Products are best-seller because of the variety of styles available. Their low prices and wide selection of high-quality goods make them a go-to for any homeowner. Umbrellas from this company are built to endure the elements and come with convenient extras like tilting mechanisms and crank handles.
Costway
Costway is another popular manufacturer that provides a wide selection of patio umbrellas fit for either home or business use. High-quality materials that are impervious to rot, corrosion, and moisture are used in the production of their wares. Costway umbrellas are perfect for anyone who wants to make their outside area look chic, as they are available in a wide range of sizes and forms, including rectangular and square alternatives.
Hampton Bay
Hampton Bay is a popular company that makes various items for use in the great outdoors. Their umbrellas are made to provide homeowners with shade and comfort while adding to their backyard's visual appeal. Umbrellas from Hampton Bay are constructed from high-quality materials and are available in a number of different designs (such as offset and market umbrellas). It's worth noting that Home Depot sells umbrellas labeled as Hampton Bay, but such umbrellas are actually manufactured in China under a different name.
 Abba Patio.
Abba Patio is a popular company that sells a wide variety of high-quality patio umbrellas. Easy-to-use tilt and crank mechanisms, as well as long-lasting, weatherproof materials like polyester and aluminum, characterize their wares. Abba Patio also provides a wide range of color options, making it simple to choose the right complement for any garden or patio.
California Umbrella
The patio umbrellas manufactured by California Umbrella are among the finest available. Sunbrella fabric and aluminum frames are just two examples of the long-lasting components they use in their products. Rectangular and square alternatives are among the many that California Umbrella provides so that customers can select the appropriate size and shape for their needs.
Tropishade
Tropishade is another well-known manufacturer of high-quality patio umbrellas at reasonable prices. Their products are ideal for use outdoors because they have durable metal frames and are made from weather-proof materials. Tropishade umbrellas can be found in a wide range of shapes and sizes, with many featuring convenient tilt and crank mechanisms. Further, the reassuring buyer is a 12-month guarantee on everything they sell.
Wrapping Up 
Patio umbrellas are an excellent solution for both house and business owners. At Hfumbrella, we have worked with over 1 thousand global brands and delivered them with the highest quality patio umbrellas. We also worked with many corporate businesses. So, if you are looking for an original patio umbrella manufacturer, send us a message, and one of our experts will contact you soon.