Generally, the thought of going to the beach with your partner, friends, or family makes an individual restless. Restless Ass is more like an anxious feeling for the experience you are yet or are about to get, which is fun and relaxing. Meanwhile, there are some factors (especially climate change) that can alter your primary purpose of being at the beach.
One of the factors that will cause you discomfort at the beach is the sun's harsh ultraviolet rays. It is always fun, relaxing, and comfortable at a beach with a cool ambiance until the weather becomes hot. The skin is sensitive to a change in temperature, scorching temperatures that tend to be discomforting. As a result, most people usually go to the beach with sunglasses to protect their eyes. This is primarily because of the way they relax at the beach—lying back flat with their eyes facing the sky.
Studies and research have shown that the sun's ultraviolet rays cause a cancerous effect on the skin. What then is the essence of using sunglasses that only shield the eyes and not the body? The only possible way to protect your entire body, including your eyes, from harmful sun rays, is by using a beach umbrella.
Beach umbrellas are constructed to provide shades that will protect you from sunburn due to exposure to sun rays. These umbrellas are designed with features that contribute to the maximum protection they provide. The canopy, the main part of the umbrella that shades you, is made of UV-blocking fabrics. These fabrics serve as a barrier against ultraviolet rays on sunny days.
At the same time, the canopy part of a beach umbrella is resistant to water. As a result, it can be used to protect you from getting drenched on rainy days. A beach umbrella is constructed with durable materials of high quality to serve its primary purpose at the beach.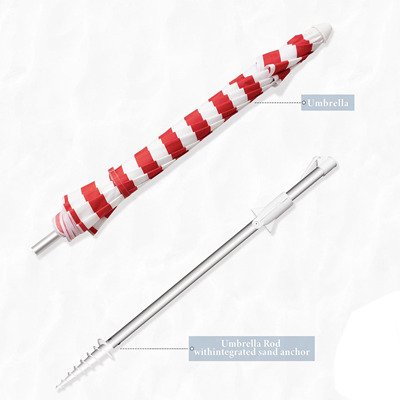 A beach umbrella must be large enough to provide you with the maximum protection you need. Meanwhile, the large size of a beach umbrella comes with a limitation, especially to people carrying other items to the beach. Most people prefer to carry all the items they would need at the beach in a single bag. How is that possible with a large beach umbrella?
Most items are requisite and can not be left behind, and neither is the beach umbrella of less importance. The carrying of your beach umbrella alongside other beach items does not require multiple bags. This is, however, possible only if you purchase a portable beach umbrella. Portable beach umbrellas are constructed with materials that make them foldable into a smaller size in a carry-on case. As a result, there will be enough space to accommodate them alongside other beach items in a single bag.
Finding suitable portable umbrellas may be challenging, especially when it comes to quality and durability. This challenge stems from the different umbrella manufacturers in today's world of umbrellas. Meanwhile, you can minimize these challenges by working with one of the most reliable manufacturers from China, HFUmbrella.
Best Portable Beach Umbrellas
Nautica 7-Foot Beach Umbrella
AMMSUN 6.5 ft Twice Foldable Beach Umbrella
KITADIN 7.5FT Beach Umbrella
SANSUNTEK Beach Umbrella
SUNPLAY Beach Umbrella
Ogrmar 7 FT Beach Umbrella
Conclusion
There used to be a time when beach umbrellas were responsible for the bulkiness among other beach items. Hence, most people leave them behind to avoid the uneasiness in transporting them. Meanwhile, it is different now; there are various umbrellas with lightweight and portable properties. They can be disassembled and divided into parts to fit into your bag without occupying much space.
They also come with a carry-on bag with shoulder straps to enhance easy transport. They are easy to assemble and disassemble in a few minutes without the need for a professional guide. The features and properties of portable beach umbrellas make them one of the most sought-after types of beach umbrellas today.
If you are still in search of a reliable manufacturer of portable beach umbrellas, the search is over. HFUmbrella is one of the most reliable manufacturers of all kinds of umbrellas. If you want the best quality in designs and features, work with HFUmbrella to make your dream come true.