Going to the beach as an individual or with your family or friends is fun and relaxing. These are the mundane purposes behind most people's excursions to the beach. Once you decide to visit a beach for those purposes, your choice of umbrella would lack aesthetic properties. Meanwhile, it goes beyond just the fun and relaxation you get in an ambiance of people under their umbrellas with their kids running around. You also need to pay attention to the aesthetic properties of your umbrella to stand out rather than being hidden.
The probability of finding more than twenty people at the beach is one—that is, it is certain. Irrespective of where you mount your beach umbrella, people will see you and complement or mock your umbrella depending on how it looks. In most cases, you will find most of the kids flaunting the beauty in their umbrellas by showcasing it to their new friends. This means a lot to kids; you do not want to take this pride away from them, do you?
The pride, your kids, get when you choose to purchase a beautiful beach umbrella is not limited to them alone. Most adults also develop such flaunting habits when the beach umbrella they use is attractive. They will always find a reason to showcase its beauty to people even if the reason is redundant. Whether the reason is redundant or not, the main objective is to get compliments and have people ask, "where did you get such a beautiful beach umbrella?"
Meanwhile, to get such attention and compliments, people do fall into avoidable traps of getting bad but beautiful umbrellas. These types of umbrellas were constructed with bad materials, but they come with vibrant and attractive designs. Yes! You will get the compliment you seek, but it will end in an embarrassing way when nature tests its quality.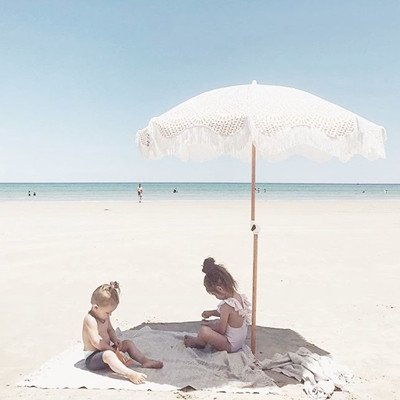 These embarrassing outcomes of using pretty but poorly constructed beach umbrellas can occur in different ways. The wind could blow it away from its spot, and you would have to chase it. The wind can also turn it inside out; hence you will be left with no umbrella to shade yourself from the sun rays. Imagine how you will feel when these embarrassing moments occur after receiving compliments and hypes about the aesthetic quality of your umbrella. Trust me; it is not an event anyone would wish to experience.
The only way to avoid such embarrassing events is to get a well-constructed beach umbrella with attractive designs. Although there are various types of designs or styles incorporated to beautify umbrellas, the boho design is one of a kind. In the current world of design, regarding beach umbrellas, boho beach umbrellas are becoming prevalent.
Boho beach umbrellas are also constructed with durable features to withstand wind and provide shade from the sun. The designs, styles, and features of this umbrella make it a great option for beach excursions and picnics. These are the general characteristics of boho beach umbrellas; the properties of the actual one you purchase depends on the manufacturer.
There are different types of umbrella manufacturers, and their products vary in quality. You may consider various factors to choose the most reliable manufacturer, but it will cost you time and money. You may still end up purchasing beauty over qualities after considering various factors. Instead of going through the stress that may turn out to be what you are running away from, you should work with HFUmbrella. They are arguably the most reliable manufacturer of beach umbrellas from China.
Best Boho Beach Umbrella
You will find various boho beach umbrellas in today's market with attractive designs. Meanwhile, the aim is to purchase quality and design rather than design alone. Considering various factors that determine if an umbrella is a good or bad choice, this article will provide you with the best. It will also show you the factors and features that make them distinct from poorly constructed umbrellas.
The list of boho beach umbrellas that fit the term "best" considering their qualities and features include the following:
Eyelet Boho Beach Umbrella
Eyelet boho beach umbrella is one of the best umbrellas in this category. It comes with features that will provide you with the maximum protection you need for a comfortable stay at the beach. It is made up of an ultraviolet-resistant canvas and waterproof fringe.
The ultraviolet-resistant canvas is a 50+ UPF ranked material that will protect you from the harsh rays of the sun. Hence, you do not have to worry about sunburns or other discomforting effects of direct sunlight. It also consists of ultraviolet-resistant cotton that will offer 98% protection from the sun. Attached to the canvas is a fringe that is water-resistant polyester in nature.
There are times when the sun's rays do not come directly above you but from other angles. The beach umbrella comes with an adjustable hinge feature should you find yourself in such a situation. The adjustable hinge allows you to control the direction your umbrella should face to perfectly shade you from the sun.
Furthermore, it is light in weight (6.98 pounds) and can be transported with ease. It also comes with a carry-on bag for easy transport without being a burden or an overload.
Lauren's Sage Stripe Beach Umbrella
If you decide to purchase a beach umbrella for your next beach vacation or picnic, Laurel's sage stripe Beach umbrellas with a boho design are a great option. It will protect you from the harmful sun rays from the blazing body in the sky and also protect you from rain.
It is made up of an ultraviolet-resistant canopy with a 50+UPF rank to protect you from harsh sun rays. The canopy of this boho-designed umbrella is also resistant to water and can protect you on rainy days. The canopy is held wide in place by durable fiberglass ribs.
It also comes with an aluminum hinge that can be positioned at various angles to shade you from the sun. The fringe it comes with Is made of cotton, which is also an ultraviolet resistant material; hence, enhancing the protection you get from the sun.
In addition to this, it is light in weight. It weighs nine pounds and can be transported anywhere with ease. It also comes with a carry-on bag that matches the canvas to enhance its aesthetic properties. The bag also helps transport the umbrella and other items to the beach without going to the car boot twice.
Paisley Bay Beach Umbrella
When it comes to durability, Paisley Bay is designed with durable materials to serve its purpose. The purpose it serves does not focus only on the protection from rain and sun rays. It also focuses on the aesthetic properties that will make you stand out at the beach.
The materials used for the construction of this umbrella include an ultraviolet-resistant canopy. This canopy is held in place by fiberglass ribs to perfectly shade you from UVA and UVB harmful to the skin. Instead of depending solely on the use of sunglasses that do not protect the entire body, this umbrella will protect you from sunburn.
In addition to the sun protection it provides, it also protects you on rainy days. An umbrella must have a water-resistant canopy to stay in the rain; else, the umbrella will develop faults that will limit its lifespan. Paisley Bay umbrella is designed with a water-repelling canopy to protect you on rainy days. Hence, instead of seeking shade from other people's umbrellas on rainy days, you will relax and enjoy the weather while relaxing under this umbrella.
Furthermore, it is light in weight and comes with a carry-on bag to enhance the easy transport of the umbrella.
Atlantic Blue Boho Beach Umbrella
Most of the time, people are found purchasing a particular type of beach umbrella, especially if it is designed in their favorite color. Hence, if you are a lover of blue color, this type of beach umbrella is suitable for you.
It is designed with a canvas that has a 50+ UPF rank to protect you on sunny days. A polyester fringe that is water-resistant is attached to the canvas. The pole of this umbrella has a diameter of 1″ with an adjustable hinge. The main purpose of the adjustable pole hinge is to change the position of the umbrella to an angle of 180° in any direction.
Ultraviolet rays from the sun do not always shine at the top part of the umbrella's canopy. It also comes from various angles that a vertically standing umbrella would not shade you from it. Meanwhile, if you find yourself in such a situation, you would not be bothered about discomfort with this umbrella. The adjustable pole hinge is used to position the umbrella in such a way that you get maximum protection from the harsh sun rays.
Okl Indian Block Print
This is another type of umbrella designed with one of the best prints that can not fade due to frequent usage. Meanwhile, you will have to maintain it to make this happen properly. The boho-designed beach umbrella is also equipped with features to make your stay at the beach comfortable and relaxing.
It is designed with a canvas to block harsh sun rays from altering your comfort and fun. The canvas is designed to shade you from about 98% ultraviolet rays—UVA and UVB—that can harm your skin. The ultraviolet rays blocking properties of this umbrella are ranked 50+ UPF; hence, you will retain your maximum comfort even on sunny days.
It is easier to carry than heavy-duty beach umbrellas because it is light in weight (seven pounds). You can transport it with ease without stress due to its lightweight.
Mocka Tropical Beach Umbrella
No one wishes to get sunburns when they choose to visit the beach on a picnic or excursion. The only time this may occur is when you go unprepared—going without a beach umbrella. Going to the beach with a Mocka Tropical beach umbrella will protect you on sunny days. Hence, you will get the comfort and relaxation you desire without alteration.
The maximum protection you get from the sun by using this umbrella stems from its fabric. The fabric is designed to block ninety-nine percent of the sun rays from getting to you while under the umbrella. The fabrics are polyester and cotton that are ranked 50+ UPF to shade you on sunny days.
Sometimes the sun does not shine in a way directed towards the top of the canopy but the side. Once the sun rays come from the side, you will not be shaded from it; hence, you will experience discomfort. To avoid this, it comes with a tilting mechanism feature that makes you control the position in which your umbrella is facing for maximum protection from the sun.
70'S Santorini
This is another beach umbrella that falls in the luxury umbrellas category. The canopy of this umbrella is divided into segments with different colors. If you are a fan of multiple colors designs that can make you noticeable in a crowd, you should purchase this umbrella.
Kids also like multiple colors incorporated as one design. Hence, you should get this if you have kids to put a smile on their face while you relax. It comes with an ultraviolet blocking canopy to protect you from sunburn and discomforts caused by the harsh sun on sunny days.
The ultraviolet-resistant canopy is 50+ UPF rank; hence, irrespective of how sunny a day is, you will not be affected when you use this umbrella. It is also lighter in weight than heavy-duty beach umbrellas and can be transported with ease. The canopy is held up by fiberglass ribs and a pole.
On the pole is an adjustable hinge feature with a tilting mechanism. The main purpose of this adjustment hinge is to adjust the umbrella's position to any angle that provides the perfect shade. Furthermore, it comes with a carry-on bag to ease its transport from your car to the spot you choose to mount it within a minute.
Conclusion
These are the best designs of boho beach umbrellas with different canopy designs and styles. The difference in styles and designs suits people's requirements without affecting other people's desires or requirements of the best boho beach umbrella.
If you want to find the best boho beach umbrellas, you will have to focus on their features ahead of their attractive designs. Only a few umbrella manufacturers can fuse attractive designs and best features to make the umbrella provide you with maximum protection from the sun. HFUmbrella is arguably the most reliable of them all. Working with them will provide you with the best boho beach umbrellas of your designs and styles.