Going to the beach as an individual or with your family or friends is fun and relaxing. These are the mundane purposes behind most people's excursions to the beach. Once you decide to visit a beach for those purposes, your choice of umbrella would lack aesthetic properties. Meanwhile, it goes beyond just the fun and relaxation you get in an ambiance of people under their umbrellas with their kids running around. You also need to pay attention to the aesthetic properties of your umbrella to stand out rather than being hidden.
The probability of finding more than twenty people at the beach is one—that is, it is certain. Irrespective of where you mount your beach umbrella, people will see you and complement or mock your umbrella depending on how it looks. In most cases, you will find most of the kids flaunting the beauty in their umbrellas by showcasing it to their new friends. This means a lot to kids; you do not want to take this pride away from them, do you?
The pride, your kids, get when you choose to purchase a beautiful beach umbrella is not limited to them alone. Most adults also develop such flaunting habits when the beach umbrella they use is attractive. They will always find a reason to showcase its beauty to people even if the reason is redundant. Whether the reason is redundant or not, the main objective is to get compliments and have people ask, "where did you get such a beautiful beach umbrella?"
Meanwhile, to get such attention and compliments, people do fall into avoidable traps of getting bad but beautiful umbrellas. These types of umbrellas were constructed with bad materials, but they come with vibrant and attractive designs. Yes! You will get the compliment you seek, but it will end in an embarrassing way when nature tests its quality.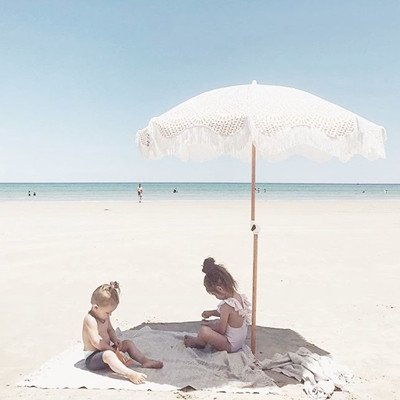 These embarrassing outcomes of using pretty but poorly constructed beach umbrellas can occur in different ways. The wind could blow it away from its spot, and you would have to chase it. The wind can also turn it inside out; hence you will be left with no umbrella to shade yourself from the sun rays. Imagine how you will feel when these embarrassing moments occur after receiving compliments and hypes about the aesthetic quality of your umbrella. Trust me; it is not an event anyone would wish to experience.
The only way to avoid such embarrassing events is to get a well-constructed beach umbrella with attractive designs. Although there are various types of designs or styles incorporated to beautify umbrellas, the boho design is one of a kind. In the current world of design, regarding beach umbrellas, boho beach umbrellas are becoming prevalent.
Boho beach umbrellas are also constructed with durable features to withstand wind and provide shade from the sun. The designs, styles, and features of this umbrella make it a great option for beach excursions and picnics. These are the general characteristics of boho beach umbrellas; the properties of the actual one you purchase depends on the manufacturer.
There are different types of umbrella manufacturers, and their products vary in quality. You may consider various factors to choose the most reliable manufacturer, but it will cost you time and money. You may still end up purchasing beauty over qualities after considering various factors. Instead of going through the stress that may turn out to be what you are running away from, you should work with HFUmbrella. They are arguably the most reliable manufacturer of beach umbrellas from China.
Best Boho Beach Umbrella
You will find various boho beach umbrellas in today's market with attractive designs. Meanwhile, the aim is to purchase quality and design rather than design alone. Considering various factors that determine if an umbrella is a good or bad choice, this article will provide you with the best. It will also show you the factors and features that make them distinct from poorly constructed umbrellas.
The list of boho beach umbrellas that fit the term "best" considering their qualities and features include the following:
Conclusion
These are the best designs of boho beach umbrellas with different canopy designs and styles. The difference in styles and designs suits people's requirements without affecting other people's desires or requirements of the best boho beach umbrella.
If you want to find the best boho beach umbrellas, you will have to focus on their features ahead of their attractive designs. Only a few umbrella manufacturers can fuse attractive designs and best features to make the umbrella provide you with maximum protection from the sun. HFUmbrella is arguably the most reliable of them all. Working with them will provide you with the best boho beach umbrellas of your designs and styles.