Back in the day, umbrellas primarily shielded people from the sun. But, today, because of technology, people use umbrellas for so much more than just to protect themselves from weather conditions. One of those uses is to promote brands and events. This is the main function of printed umbrellas.
We know that the process of customizing your printed umbrella from scratch can be very complicated. This is why we have written this comprehensive buying guide to lead you through the process of customizing and printing your umbrellas.
If you follow this guide, you can rest assured that you would have minimal difficulty during and after your purchase.
What Are Printed Umbrellas?
Some people call printed umbrellas promotional or customizing umbrellas. A printed umbrella is a marketing item often custom-made to meet a specific need. Essentially, custom-printed umbrellas suit the needs of whoever wants to use them for advertisement.
They are excellent advertising mediums that accomplish more than one function. They are instrumental in protecting people from harsh weather; they also serve as tools for publicity.
Why Umbrellas Are Good Promotional Items
There are several reasons why printed umbrellas are perfect as promotional items. We would be discussing three of these reasons below.
1. They Are Versatile
The custom-printed umbrella can do multiple things efficiently. Like we stated earlier, the printed umbrella protects its users while promoting the brand. For example, a printed golf umbrella is convenient protection when golfing on a sunny day. Additionally, it showcases whatever brand you print on its canopy. Thus, in this case, it serves two purposes at the same time.
2. They Are Practical
Fundamentally, umbrellas are more potent in promotion than other promotional items like key-chains, mugs, water bottles, etc. Using printed umbrellas for advertising is a good idea. This is because umbrellas are often carried around. Or, they are more frequently seen and used in public places than the other promotional items.
3. They Are Economical
Printed umbrellas are cost-effective promotional tools. Printed umbrellas allow you to achieve the purpose of advertising, even with a limited budget. The wide range of printed umbrellas makes it possible for them to fit your budget. Even better, a lot of umbrella manufacturers give discounts on printed umbrellas.
Umbrella Print Options
There are multiple choices regarding the format in which your printed umbrellas come in. We will be briefly looking at four umbrella print options.
1. Photo Print
For this, the manufacturer prints a picture onto panels of the umbrella's canopy. This is digital, and you are free to choose any color or picture you want. Your printed umbrella could have an individual picture on each panel. Or you can print just a single picture across the entire canopy.
2. Double Canopy
The hallmark of the double canopy is uniqueness. Although double canopy umbrellas are slowly becoming more popular, it does not make them any less unique. The designs you choose are done on all eight panels of the umbrella's canopy, inside and outside. Then they carefully put them back together to create your double canopy umbrella.
3. All Over Print
This type of print involves forming an image that covers the entire canopy of the umbrella. The manufacturer plasters the image on each panel. Then each panel is hand-crafted together to form the canopy and create the image you desire. This way, the image on each panel comes out as a whole.
4. Logo Print
This is the most common type of print in brand advertising. In this print option, your brand's logo is boldly imprinted on the canopy of your umbrellas. Each panel of the canopy will then have your logo written across it. This form of print principally gives your brand exposure and displays your brand name or logo.
Different Types of Umbrellas for Printing
The umbrella industry is always increasing and adding new umbrella types and styles. As someone interested in purchasing printed umbrellas, you may not know the various types of umbrellas available in the market. In this guide, we would discuss different types of umbrellas you can use for printing.
1. Golf Umbrellas

Umbrella manufacturers originally designed golf umbrellas, particularly for golfers. This type of umbrella protects the golfers and their belongings if there is sudden rainfall on the course. This umbrella type is usually durable.
Printed golf umbrellas are large umbrellas that have extra-wide canopies of about 70 inches or more. Some golf umbrellas come with golf bags that make it easy to carry the umbrellas around.
Some printed golf umbrellas come with single or double vented canopies to give them that extra protection against high winds. Furthermore, golf umbrellas give you the opportunity of having a wider space for your printed graphics.
2. Classic Umbrellas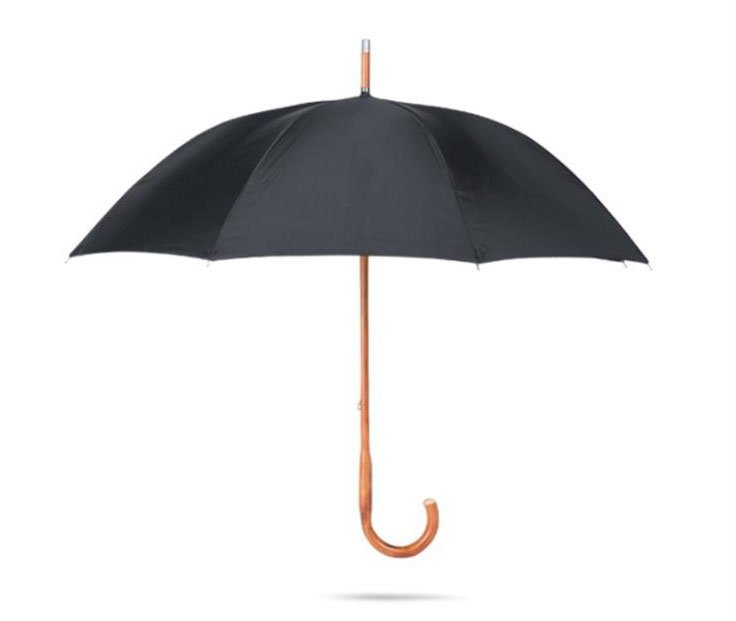 The printed classic umbrellas are the most common types of umbrellas on the market. The classic umbrella has an ageless look. It has an arched canopy and a wooden hook handle.
The classic umbrellas are not foldable like the telescopic umbrella. Most classic umbrellas use microfiber fabric for their canopies which keep the users dry during a downpour. Umbrella manufacturers use metal or wood for their shafts to give that extra durability.
Printed classic umbrellas come in a variety of sizes and colors. This gives you a lot of options to choose from. The colors and designs of the classic umbrella make the umbrella type fashionable and trendy.
3. Beach Umbrellas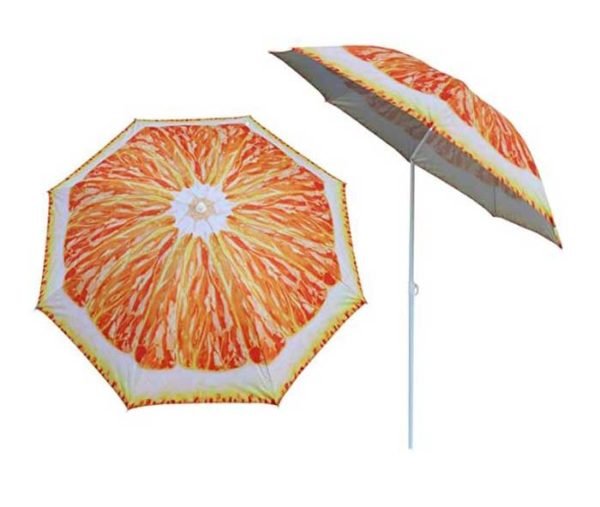 People go to the beach for a relaxing day and to enjoy some sunshine. However, too much exposure to the sun can be harmful to the body. Printed beach umbrellas make the day at the beach a very comfortable one.
A beach umbrella has a long pole that you stick into the sand for stability. Also, it has a fairly large canopy that protects beachgoers as they lay in the sun. Most printed beach umbrellas come with the UV protection feature, protecting users from exposure to ultraviolet rays.
Some beach umbrellas allow you to adjust the canopy to whatever angle, giving you ample coverage. With beach umbrellas, you can just lay and enjoy a bright summer day.
4. Automatic Umbrellas

Automatic umbrellas are perfect for you if you want printed umbrellas. They are very convenient and easy to use. This is because automatic umbrellas come with a mechanism that allows you to open and even close the umbrella with one hand.
Automatic umbrellas come with a button near the bottom of the handle. All you have to do is push it to open the umbrella, and the canopy would spread and extend. To shut the umbrella, push the shaft down towards the handle.
Apart from being easy to open and shut, the automatic umbrella is also compact, making it portable. This umbrella can fit into your bag or purse. So, anywhere you go, you can be sure you would be covered.
5. Mini or Pocket Umbrellas

Mini umbrellas are made lightweight and portable. They are small enough to fit into your pockets. And if you happen to find yourself in an emergency where you are caught in the rain, the pocket umbrella would come in handy.
Printed mini umbrellas come in a variety of stylish designs. Mini or pocket umbrellas do not take up too much space. The umbrella's canopy ranges between 30 and 40 inches when it is open.
However, because mini or pocket umbrellas are small, they are at a disadvantage when it comes to durability. If you stay too long under the rain, you could get wet using a mini umbrella.
6. Inverted Umbrellas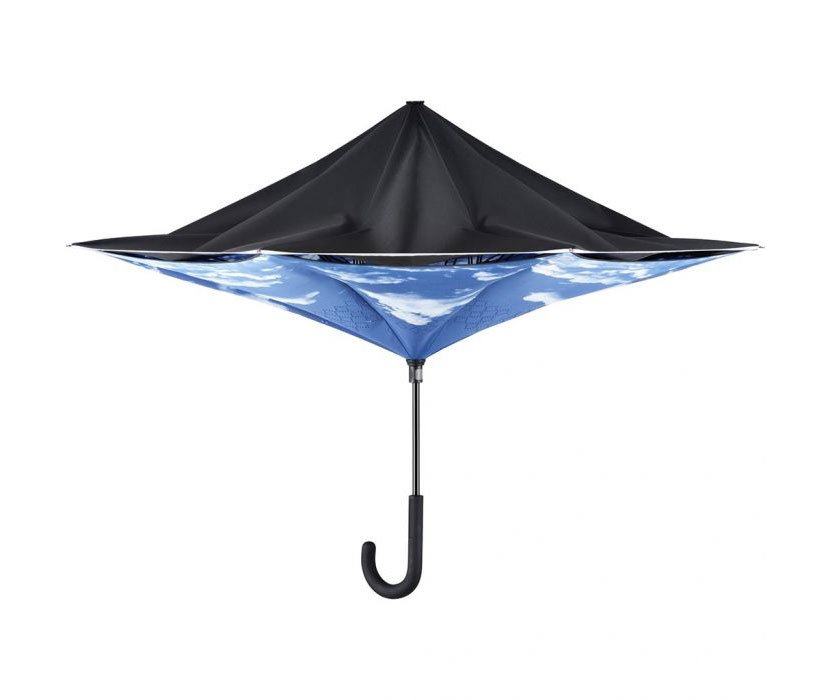 Inverted umbrellas are unique umbrellas that close invertedly. This makes it easy for the excess water on the umbrella's canopy to drip off easily. Inverted umbrellas are a fashionable innovation and addition to the umbrella industry. The inverted umbrella's canopy closes in the opposite direction (upwards). So, some people refer to this umbrella as the reverse umbrellas.
Also, with the design of this umbrella's handle, you can place it around your arm if your hands are not free. For instance, when you are carrying groceries, and it starts to rain. All you have to do is secure the umbrella's handle on your arm, and you are good to go.
7. Bubble Umbrellas
Bubble umbrellas are spherical in shape. So, people call them dome umbrellas as a result of their dome-shaped canopies. Bubble umbrellas are gorgeous and stylish. The canopy of a bubble umbrella extends downward to the chest region of the user. This means they provide excellent coverage from the rain.
Most bubble umbrellas have their canopies made from clear materials. This makes it possible to see where you are going even though you are with an umbrella.
Other types of umbrellas for printing include printed patio umbrellas, printed market umbrellas, printed kids umbrellas, and many others.
What to Consider When Buying Printed Umbrellas
If you are relatively new to the umbrella business, knowing the best umbrella for your needs can be overwhelming. Suppose you go into the umbrella market ignorant of what to look out for when choosing a printed umbrella; you might end up being disappointed with your selection.
To make the purchasing process easier, we have highlighted eight things to consider when buying printed umbrellas.
1. Your Budget
Before you purchase printed umbrellas, you need to know how much you are willing to spend. A budget would play a major role in determining the type and number of printed umbrellas you get.
Some manufacturers offer discounts to those who buy printed umbrellas in bulk. If you are working with a fairly small budget, you might want to keep an eye out for discounts and promos. Also, try searching for manufacturers that have printed umbrellas with no Minimum Order Quantity (MOQ).
2. The Umbrella Manufacturer
The umbrella manufacturer or supplier you decide to get your printed umbrellas from could determine if you would end up with umbrellas you love or hate. If you do not carefully research the best umbrella manufacturers you can take your business to, you might not be happy with the results.
We would discuss some of the best umbrella manufacturers for printing later in this guide. You can contact any of them for your printed umbrellas.
3. The Umbrella's Canopy Size

The umbrella's canopy size is an important factor to consider when buying printed umbrellas. In deciding which canopy size is right for you, you have first to figure out where you want the umbrellas to be used. For example, if you want your printed umbrellas to be used at the beach, you need a fairly large canopy.
You can choose canopies as large as 70 inches or as small as 40 inches when choosing the canopy size. Note that large canopies give more printing area than small canopies. Ensure that your printed umbrella has a canopy size that would meet your customers' specific needs.
4. The Umbrella Frame

In the past, umbrella frames were made from metal and wood only. But now, manufacturers use several other materials to create the umbrella frame.
Aluminum Frame: Aluminum is lightweight and inexpensive, making it a good choice for your printed umbrella. When you anodize aluminum, it can resist corrosion or rust.
Fiberglass Frame: A fiberglass frame is the most durable frame in the umbrella market. It is lightweight and can endure strong winds without breaking.
Metal Frame: Metal frames are cheap, and although it is not as light as fiberglass, it is not too heavy.
5. Its Wind-Resistance Feature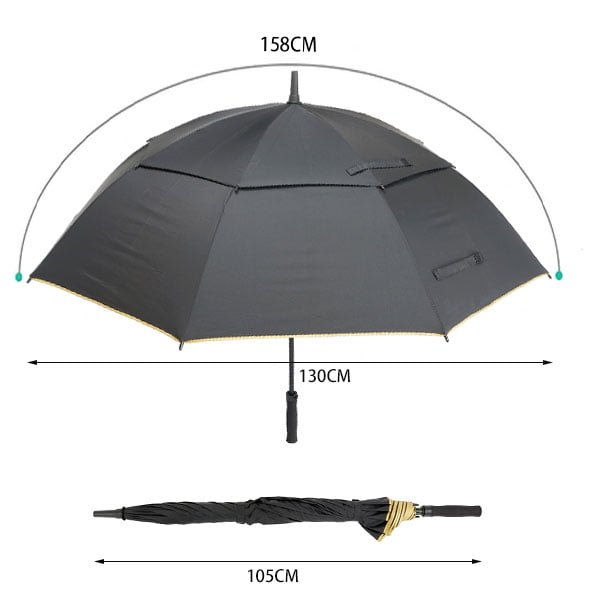 One thing that destroys umbrellas quickly is high winds. Once a strong gust of wind blows an umbrella that is not sturdy, the canopy could turn inside out, completely ruining the umbrella.
When selecting your printed umbrellas, you need one that has provision to withstand strong winds. Some umbrella manufacturers include how much wind their umbrella can resist. When you are shopping for printed umbrellas, look out for notes like "this umbrella can withstand winds of up to 50km per hour" in the description.
Furthermore, umbrella manufacturers have started venting their umbrella canopies. Vented canopies give the umbrella stability and strength against strong winds. There are single or double vented canopies.
6. The Canopy Fabric

The type of fabric that the printed umbrella is made from can determine if the umbrella would last long or not. You need to get umbrellas that would not fade or tear easily. Some of the most popular umbrella canopy fabrics are polyester, nylon, and pongee.
Polyester: Polyester makes colors look brighter. So, whatever color you chose to print on your umbrella would appear vivid. It is also cheap and has a smooth feel. Additionally, stretching or shrinking does not affect it.
Nylon: This is the most popular fabric for umbrella canopies. It is water-resistant, and it can protect umbrella users from UV rays. The material is also lightweight, and it dries quickly after rain exposure.
Pongee: Pongee is a Chinese fabric that feels like cotton. Although pongee material is more expensive, it is waterproof and offers UV protection.
7. Your Preferred Printing Technique
Because of technology, there are various printing methods in the umbrella industry today. If you hope to get a printed umbrella, you have to acquaint yourself with these techniques.
Dye Sublimation Printing: This printing method involves using heat to transfer pictures and graphics from a special paper to an umbrella. The heat turns the paint from solid to gas, and then it enters the umbrella canopy.
Silkscreen Printing: Silkscreen printing involves using a stenciled mesh screen to print graphics on umbrellas. This technique produces vivid graphics, even if the canopy is of a darker color.
Digital Printing: Digital printing uses special inkjet printers to transfer graphics on umbrella fabrics. The desired design is put into the computer, and from there, the printer prints out this design on the umbrella. It is a relatively faster printing method.
8. Prevalent Weather Conditions
You should also consider the weather conditions prevalent in your area before you settle for a printed umbrella. For example, in countries like the UK, their weather is most times unpredictable. It could be sunny one moment, and in the blink of an eye, a heavy downpour.
In such countries, you need to get printed umbrellas that are easy to carry, durable, and provide adequate weather protection. Umbrellas perfect for such weather are city umbrellas, golf umbrellas, classic umbrellas, etc.
If, on the other hand, you live in areas that are sunny most of the time, you would need umbrellas that have canopies that do not fade. You also need umbrellas that are lightweight and have UV protection.
5 Best Printed Umbrella Manufacturers to Get Started
The umbrella industry is full of various umbrella manufacturers and suppliers all around the world. Finding the best umbrella manufacturers to help you with your printed umbrellas may be difficult. In this section, we would discuss five of the best-printed umbrella manufacturers to help you get started.
1. Huifeng Umbrella (HF Umbrella)
Company Profile
Huifeng Umbrella has been in existence for more than 30 years, and in this time, we have greatly improved in our umbrella manufacturing. With HF Umbrella, you can save up to 30% on costs.
We take pride in manufacturing customized umbrellas that represent our clients' brands fully. At HF Umbrella, our printed umbrellas have no Minimum Order Quantity making us small business-friendly. We deliver umbrellas to several countries of the world.
Umbrellas Offered
Beach Umbrellas
Golf Umbrellas
Kids Umbrellas
Mini Umbrellas
Straight Umbrellas
Website:www.hfumbrella.com
2. Fulton Umbrellas
Company Profile
Fulton Umbrellas is the largest supplier of quality umbrellas in the UK. This manufacturing company kicked off in 1956 and has continued to push the boundaries of umbrella development.
They use only the highest quality materials in creating their umbrellas. ANy printed umbrellas you get from them would serve you for a long time.
Umbrellas Offered:
Women Umbrellas
Designer Umbrellas
Men Umbrellas
Kids Umbrellas
Website:www.fultonumbrellas.com
3. Branded Brolly
Company Profile
Based in the UK, Branded Brolly is well known for its customized umbrellas. They allow you to customize each part of the umbrella how you wish. More so, its staff is always ready to guide you through your purchase.
Branded Brolly boasts of having high-quality but cheap umbrellas for the United Kingdom and all over the world.
Umbrellas Offered:
Kids Umbrellas
Parasols
Telescopic Umbrellas
Golf Umbrellas
City Umbrellas
Website: www.branded-brolly.co.uk
4. The Umbrella Workshop
Company Profile
The Umbrella Workshop is fully committed to manufacturing superior promotional umbrellas. Its focus has always been on its intricate designs and excellent umbrella creations.
The Umbrella Workshop also prides itself on the outstanding services it provides to its clients. It has offices in the UK and other parts of the world. Furthermore, their umbrellas come with a 2-year warranty.
Umbrellas Offered:
Sport Umbrellas
Wooden Umbrellas
Telescopic Umbrellas
City Umbrellas
Auto Umbrellas
Website:www.umbrellaworkshop.com
5. iBrolly
Company Profile
iBrolly is an umbrella manufacturer that specializes in customized umbrellas. It is dedicated to creating high-quality umbrellas that are made to specifications.
iBrolly has its headquarters in the United Kingdom but ships to different parts of the world. Additionally, it offers a free design service.
Umbrellas Offered:
Golf Umbrellas
Telescopic Umbrellas
Parasols
City Umbrellas
Website:www.ibrolly.co.uk
Conclusion
Printed umbrellas are useful for many things. They offer coverage from the weather and also help with business promotions and making an event unique. This buying guide is apt for people looking to purchase printed umbrellas for corporate use or retail business.
Knowing how daunting it can be to choose an ideal type of umbrella for printing, we have listed eight things to look out for when making your choice. The umbrella manufacturer has a significant role to play in the final outlook of your umbrella, so choosing the right one is essential.
At HF Umbrella, we listen to our clients and carry out their wishes to the tee; your wish is our command. We have over 30 years of experience in this regard, so you can rest assured that we will turn your vision into a reality.
We also offer the best deals and discounts to our customers. Get in touch with us today at info@hfumbrella.com; we're sure to wow you.