Best believe, there are only a few things as exciting as packing for the beach. The seaside is the best place for solitude, and it's also great for some adventurous get-together with friends.
With beaches, you can switch on and off your extroverted side in an instant and still have an exciting time. It's the spontaneity of it that makes it fun!
Either way, you must plan for your trip to the beach to get the best out of it—there's no blanking that. That includes bringing your sunscreen, food, and drinks, sunglasses, change of clothes, etc., along with you.
No matter what you throw in your beach bag, you mustn't forget the all-important item—the beach umbrella. That's because while you may visit the beach to soak up some sun, you could do without a sunburn.
The beach umbrella allows you to enjoy sunbathing while shielding you from harsh UV rays. There are many delightful kinds of beach umbrellas to choose from, although we fancy the beach fringe umbrellas the most. Come along with us; let's show you our favorite picks.
The Best Types of Umbrellas for Your Beach Hangout
There are various ways to classify umbrellas that are suitable for beach hangouts. For example, you can classify umbrellas based on their style, functionality, or size.
For us, the best beach umbrellas are the ones that combine the best of the three worlds. As such, we love these three umbrella types the most:
1. Fringe Beach Umbrellas
Fringe beach umbrellas are our absolute favorites for a beach get-together. Not only are they stylish, but they also top the list in functionality too. They can also be a combination of different types of beach umbrellas.
First of all, fringe beach umbrellas provide maximum shade from the harsh effects of sun rays. They're unlike other umbrella types that provide maximum shade from the sun from the top only. With fringe beach umbrellas, you get some cover from the sides too.
The fringes on the umbrellas add to their aesthetic appeal. These are one type of beach umbrellas that everyone, regardless of age and size, will love.
2. Tent-Style Beach Umbrellas
When it comes to maximum coverage, few beach umbrellas do the work like tent-style beach umbrellas. Apart from providing ample shades, this umbrella type provides utmost privacy too. If you cherish some solitude on the beach, this umbrella type will serve you best.
These umbrellas fully anchor on the ground, like a tent, to cover users from the elements. Many of them have Sun Protection Factor (SPF) ratings of 50 and above.
Others come with a function that can transform the umbrella into a conventional, upright one when needed. Tent-style Beach Umbrellas have vents for proper air circulation. It's one cozy beach umbrella that you'd be proud to own.
3. Tilting Beach Umbrellas
Due to the earth's rotation, the sun changes motion regularly. That means that on the beach, you may have to change the position of your umbrella frequently to avoid the sun's shifting rays. However, many umbrellas can't tilt, making it impossible to get the perfect shade all the time.
Some manufacturers make umbrellas with a tilting function to help you move your umbrella in the sunray's direction with ease. Tilting beach umbrellas ensure that you have a great time at the beach, devoid of worries.
Why Do You Need a Fringe Beach Umbrella?
There are many umbrella options to go for when going out on the beach. That makes it challenging to choose the option that suits you best.
However, understanding the unique benefits each beach umbrella offers can help you make a choice. That's why we've compiled these three beach fringe umbrella benefits for you:
1. Extra Shade
A regular beach umbrella provides some cover for its user. However, it provides shade from the top and doesn't consider the UV rays coming in from the sides.
For the beach fringe umbrella, however, the shade you get increases. The fringes ensure that it blocks some sun from the corners that would have otherwise been bare.
Therefore, asides from your sunglasses and sunscreens, fringe umbrellas play an extra sun-blocking role by limiting sun-skin contact. So, if you're visiting the beach on an extra-sunny day, you know to take a beach fringe umbrella with you.
2. Aesthetics
Do you want to add pizzazz to your beach umbrellas? Then consider a hand-painted design and, of course, a fringe. Fringes act as unique embellishments for outdoor umbrellas.
They add such allure and appeal to your beach outings, making you and your company the attraction of all eyes. Since fringe umbrellas are conspicuous and attractive, you can quickly notice them among the seas of umbrellas on the beach. How's that for the perfect beach gathering identifier?
3. Structure
An edifice is to buildings what a fringe is to beach umbrellas. If you love some perfect structure for your beach hangouts, a beach fringe umbrella serves you best.
More than just an umbrella, a beach fringe becomes a well-put-together makeshift home for your beach gatherings. The well-defined umbrella makes your space feel more personal and comfortable.
Our Top Ten Beach Fringe Umbrellas for 2021
Whenever you're making a purchase, it's essential to weigh a lot of options first. That way, you get to pick the best available instead of settling for the first thing that catches your eye. That's especially true for umbrellas.
While there are many beach fringe umbrellas with decent quality in the market, there are twice as many bad ones. You wouldn't want to have to change umbrellas all the time. So, make sure you do all the research you can before purchasing.
To be safer, buy umbrellas from well-renowned and reputable brands. You can also ask your friends for suggestions. Again, you can take a pick from the umbrellas we've listed below. They're all from great brands with verified quality.
First, Hf Umbrella is a top umbrella brand, so you can always trust us to deliver the best quality umbrellas or nothing else. That's precisely what we have done with this beautiful Collection Fringe Beach Umbrella.
Talking about convenience and maintenance, this umbrella is very easy to clean. It's very durable and has high resistance to rain and wind.
It ticks all your boxes, from its sturdy and stable frame to 100% UV protection and fade-resistance; you can't hope for a better umbrella. But that's not all.
The Collection Beach Fringe Umbrella has an adjustable tilt mechanism that gives you shades from whatever angle you'd like. Hf Umbrella offers a 100% guarantee for this beach umbrella. Amazing right?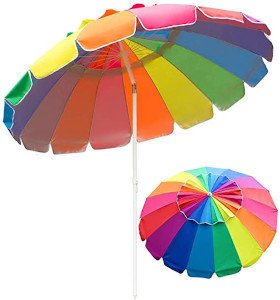 If you love a blend of bright colors, this portable beach umbrella will amaze you. The rainbow-colored canopy is made from Silver Coating Oxford Fabric, while the frame is aluminum. These quality materials make the umbrella sturdy and durable.
The canopy has an air vent for easy airflow, and with its easy-to-use sand anchor, your umbrella stays firmly rooted. It gives ample sun protection, is easy to assemble, and is thick enough. You'd love the carry bag with a shoulder strap that accompanies this umbrella.
What's more, it has a tilting mechanism for easy adjustment to the sun's direction. This umbrella is a great addition to your beach collection.
This umbrella is 8ft. in diameter and can conveniently cover up to four persons. Its ribs are made from thick fiberglass to ensure high resistance to strong winds. It's the best choice of umbrella for wild climes.
The EasyGo Umbrella is heavy-duty and has a sturdy pole to make it stand the test of time. It features an easy tilt adjustment technology for convenience and a UV canopy for sun protection.
It comes with a carry bag for easy transportation and storage. Furthermore, its sand anchor and heavy-duty screw keep it steady on the ground without hassles.
Our favorite feature of the Impact Canopy Beach Umbrella is its reliable push-button locking mechanism. It fits tightly to hold the umbrella securely when open.
Like the EasyGo Umbrella, this beach fringe umbrella is heavy-duty with 16 inches of extra-strong fiberglass support ribs. We love its sand anchor auger tip and rust-free lightweight aluminum pole stand. Although it comes in a large size, the umbrella also manages to retain portability.
The 8-foot umbrella folds conveniently into a carry bag for easy transportation. With an adjustable tilt and UPF 50+ UV protection, its large canopy effectively shields you from the sun. It's highly affordable too.
This umbrella from the stables of Frankford umbrellas is nothing short of remarkable. As is characteristic of Frankford umbrellas, this commercial beach umbrella is a classic beauty.
We doff our caps for the top-notch artistry and attention to detail evidenced in this piece. Made from high-quality and durable acrylic fabric, this 7-foot umbrella comes with a superior warranty.
The Pacific blue color is warm and gratifying to look at. You don't have to worry about fading because of the special technique used in ingraining the color.
With its high wind-resistance technology, you can have a bash on a windy day without any concerns. It's another sturdy umbrella that offers excellent value for more. It'd suit you if you have a strict budget.
Words don't do justice to this umbrella's magnificence. If you want an umbrella that combines aesthetic appeal with top-notch operationality, don't miss out on this one. It's made from 100% quality polyester that enhances its water resistance.
It has a tilt function that's easy to operate and runs smoothly. With UV 50 protection, you can kiss goodbye to sunburn with this bright and stylish umbrella. You can also adjust its height to suit your needs.
This unique, fashionable umbrella is great for a solo beach-outing. A short warning, though, it'd make you the center of attraction on the beach. If you're comfortable with that, you're good to go with this fantastic Garden Beach Umbrella.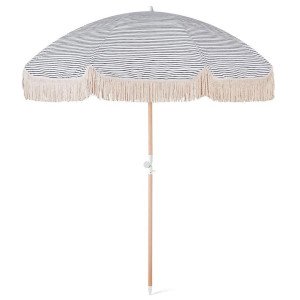 If you'd like to enjoy a sunny day on the seashore, Etsy's fringe beach umbrella should grace your starter pack. It has a beautiful embellishment with a handcrafted wooden pole that boosts its aesthetics. We love how it makes its user look stylish against any landscape.
We precisely love the Etsy Fringe Beach Umbrellas details, especially on the fringe. The fringe significantly adds allure to the umbrella and matches perfectly with the striped canopy fabric.
This beach umbrella has its fringe made from cotton. It also has a matching carry bag for transportation and portability; it's a practical gift idea for a beach-lover.
How about some custom printed fringe umbrella for the road? You can print your patterns on its canopy conveniently. If you're big on pictures, this umbrella makes for a lovely photo background for your social media.
The great thing about this custom-printed umbrella is that it kills two birds with one stone. How cool it is to have fun at the beach while also marketing your brand and increasing visibility.
If you're a business owner, you shouldn't sleep on this one. With the latest digital printing technology, Hf Umbrella will engrave your logo beautifully and clearly to attract your desired audience.
Furthermore, it's the most portable beach umbrella we've ever seen. You can even divide it into two parts to fit in its carrier bag. It makes for easy assemblage too.
Its canopy is made from polyester with UV coating. This umbrella is sturdy, stylish, and stable; you'd fall in love with it at first sight.
If there was ever an umbrella made to impress, the Serena & Lily Beach Umbrella is it. There's no missing this umbrella among an ocean of other umbrellas on the beach. It stands out from all others, and effortlessly so.
First, we love its beautiful, bold, and color patterns, with dreamy blue undertones that send you to La La Land. The Serena & Lily Umbrella line is known for its magical effects, making us short of words.
Serena & Lily aptly describes this umbrella as "the classic glamor of pagoda-style umbrellas and added scalloped edges and a fun fringe." Classic, glamorous, and fun—we totally agree.
Las Brisas means 'breezes' in Spanish and is also the name of a big beach in Venezuela. This Venezuelan beach in Miranda State is a beautiful sight to behold with a fantastic landscape.
Like Las Brisas Beach, the BeachBrella brand produces quality, colorful and fashionable beach umbrellas that catch our eyes. The Las Brisas Umbrella matches the coolness of Las Brisas, accelerating it with its color inspiration from Bohemian serape. We can see that the brand put in a lot of effort and thoughtfulness into creating this masterpiece of an umbrella.
Coupled with its bouncy and dashing fringe twists, this umbrella is a sight for sore eyes. It comes with a sturdy sand anchor and a beautiful denim carry-on for an extra chic look.
Buying Guide for a Beach Fringe Umbrella
Now that you'd like a beach umbrella with fringe, how do you know the most suitable types for you? What factors should you consider before choosing one? How about budgeting for the umbrella of your choice?
There are many questions and concerns you may have after you decide to buy a beach umbrella. We'd answer most of them in this all-encompassing buying guide. Now, right to it— here's how to buy a beach fringe umbrella:
1. Consider Size
What size of fringe beach umbrella do you need? That's one of the first things to contemplate before making a purchasing decision. In choosing the size, you should think about how many people you want to shield.
You must also consider the number of adults and children you're planning for. Adults require more umbrella space than children.
The higher the number of guests you have, the bigger the size of your umbrella. For example, if you're planning the umbrella for four persons, a 180cm diameter umbrella is a big NO. Instead, it would be best to think more of sizes of about 270cm or 9 feet. It's better to buy slightly bigger sizes than the number of users to be on the safer side.
2. Factor in the Fabric
After deciding on the size, the next thing to consider when purchasing umbrellas is the material. Fringe beach umbrellas come in different materials. What you should look out for is the quality and thickness of the fabric.
Low-quality or fragile textiles equals reduced durability. Because the beach's weather is much breezier than usual, it's best to choose heavy-duty materials.
Again, your umbrella fabric should be weather and waterproof. Rain should drain off of it as soon as possible after contact.
Our favorite canopy fabrics for a fringe beach umbrella are polyester, olefin, acrylic, and canvas. For poles, we love aluminum and steel.
3. Go for UV-proof Beach Fringe Umbrellas
Never neglect the sun protection factor whenever you purchase a beach umbrella. Sunburn is a genuine concern, and apart from destroying your skin, it makes you more susceptible to cancer.
You want to enjoy your beach hangouts without worrying about your skin health. So, our simple remedy is to choose UV-proof umbrellas for UV rays protection. You must not go out on a beach without these umbrellas, especially on an extremely sunny day.
Beach umbrellas with an inside silver lining give the most protection from the sun. Also, choose beach umbrellas with UPF50 and above for up to 90% protection from the effect of harmful sun rays. Don't forget to top that up with a pair of sunglasses and some sunscreen.
4. Choose Convenience
Imagine chasing umbrellas instead of having fun at the beach because your umbrellas don't stand in place. Or spending precious hours trying to fix a beach umbrella when you should be relaxing?
Apart from the inconvenience, that isn't very pleasant either; you wouldn't want that. When it comes to beach umbrellas, it's great to consider ease of use.
Are you able to conveniently secure the pole to the ground? Do the umbrella features make it easier to operate?
How about your beach umbrella comes with add-ons and accessories that make them more useful for you? Can you maintain the umbrella easily? Think about these before you purchase one.
5. Consider Value for Money
The best umbrella buys are the ones that meet all your requirements and fall within your budget. You don't have to rob a bank to own a fringe beach umbrella. When it comes to budgeting for umbrellas, it's important to note that being expensive doesn't always mean the best quality.
Again, before you buy a pricey umbrella, consider value for your money in the long term. Sometimes, a $150 umbrella is a cheaper option than a $50 one if it offers more value to you in the long run.
How-to Guide for Adding a Fringe to Your Outdoor Umbrella
What if you already own an outdoor umbrella and you want to convert it to a fringe beach umbrella? You can do that by adding extra hanging clothing on its sides. No need to fret; we will show you how.
1. First Things First, Get Your Kits Together
To avoid distractions, it's best to gather your supplies and ensure that they're complete before you start. You'll need a polyester fringe, permanent frantic glue, rick rack trim, rubber gloves, and alligator clips.
You can use clothespins in place of the clips if you wish. Of course, you need the outdoors within sight too.
2. Add Fringe to Umbrella
First, unwrap the fringe neatly and put on your rubber gloves. Next, add glue along the umbrella edges. Cautiously stick the fringe top to the glue while holding them together at the start and end with the pins.
It's better to add the fringe to the glue gradually. Start with 6 inches, and add more 6 inches till it covers all edges. When you get to the end, add some glue to the endpoint to make it stay in place.
3. Join Rick Rack to the Umbrella's Top
The next step is adding the rick rack to the top flap of the umbrella. To do this, repeat the process in step 2, only interchange fringe with rick rack.
You can skip this process if you wish. Adding rick racks only helps to embellish your fringe umbrella further and nothing more.
4. All Done
If you followed the processes in detail, congratulations, you've just made a fringe beach umbrella. You can now take a few steps back to appreciate your craft.
Conclusion
At Hf Umbrella, we believe that you can have it all. A fantastic beach party, relaxed nerves, and top-level sun protection aren't mutually exclusive when you shop your umbrellas from us.
We have top-quality, fashionable fringe beach umbrellas with unique features that you'd love. Regardless of your choice of materials, size, style, and budget, we've got you covered.
If you are an umbrella-enthusiast looking to build an umbrella brand of your own, we can help you get started. We will help you manufacture beach fringe umbrellas of your choice or any other type of umbrella you prefer.
Contact us at info@hfumbrella.com for further consultation or inquiries. We're your go-to for all your umbrella needs and are always eager to attend to you.