Umbrellas might be a simple tool but there hasn't been an alternative that's as effective. Those who live in a place where clouds pour often or anyone who loves collecting umbrellas will agree that we have seen some cool designs. From full body umbrella to goggles on the canopy and from bunny ears to cartoon characters, this thing always catches the eyes.
And now, LED umbrellas are the new "it" sensation in town. While it surely is your best friend on a rainy day, there's a lot more to LED umbrellas than saving you from heat, rain, and rough winds. There are many types of LED umbrellas. Some come with a bright LED fitted in the shaft while others have a lit canopy. Then you have solar power led umbrellas that do not require batteries. The led lightens up by the kinetic energy from piezoelectric fabric. As the raindrops fall, your umbrella lights up. Some may find it cute but it actively lifts up the mood for many of those who feel sad during the rainy season. It can be said that there's no more melancholy with LED Umbrellas over your head.
So, without further delays, ahead we bring you a list of eight things you must try with LED Umbrellas.
Light up a rainy day with LED Umbrella
Like any other regular umbrella, LED umbrellas also provide shelter during the rain or protect from the scorching heat. It comes in different colors and sizes and can put a smile on your face when you are at your lowest as the sky pours. The canopy has high beam LEDs which not only look the cutest but show you the way on a dark night. And let's not forget the vibe it gives you.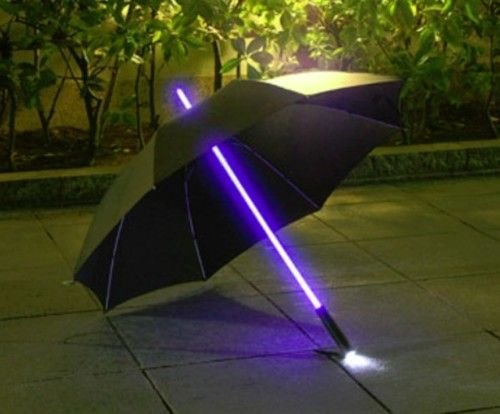 #1. An Amazing Addition to Hippie Room Décor
Gone are the days when renovations were a long and tedious task costing a hefty amount. This is the era of DIY projects. You can customize a boring room into the one you had been dreaming about and LED umbrellas can be of help here. All you got to do is grab a couple of fairy lights and choose your cozy spot. Light it up with LED Umbrellas over the top and voila, your coolest room is ready in no time without breaking your bank.
#2. A Popper for the Party Animals
While planning parties at home, we often pay more attention to the menu and music. And very generally, making room for enough people to sit and dance. Party decorations are always the last thing while it should be the very first. Of course, we understand the need for food and music but preparing a happening party place can automatically turn it up better. What you can do is make a dark and flashy dance corner and hanging colorful LED umbrellas. That's surely going to blow everybody's minds.
#3. A Pretty Prop for the Photo Booth
Attract more people to your photo booth by adding this one amazing prop. It goes quite well with a bicycle, mirrors, hats and all the other crazy props. It's cute and fun all at the same time. To make it even brighter, try LED Umbrellas in many colors.
#4. Something Unique for your Social Media Stories
Louder for the bloggers at the back, now you can light up your Instagram Feed. You can try all your good clothes or even a raincoat and pose with an LED Umbrella under the Sun or starry sky. The pictures are sure to get your heart reacts like anything.
#5. Make the most of your Photography Skills
Many high street fashionistas are always searching for something unique and cool, something that can become a trend and break records. LED Umbrellas can be used to up your game of photography. Be it for professional purposes or for your blog, you can always spice things up and make it a masterpiece.
#6. A Romantic Date under the Shade
Surprise your partner this valentine's day with a dinner date at the rooftop terrace. You can use any outdoor space, a lawn or the top of your apartment building, put two chairs and a table and use LED umbrellas for the twist. It will give you the right amount of light as well as add a flick to your thing. There might be elite restaurants out there but all of us would agree that something done on your own is the best anyone could give as a token of love.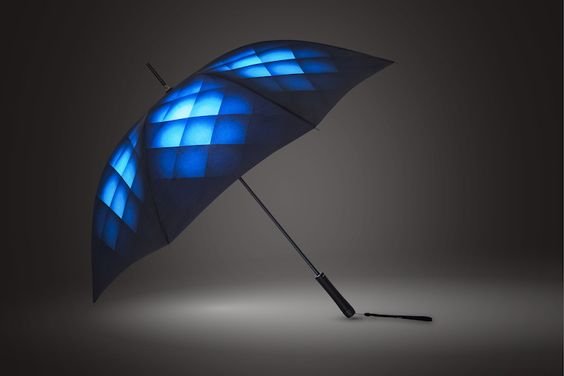 #7. Lit Christmas Decorations
What are the three things that pop in your mind when thinking of Christmas décor?
A Christmas tree of course
Garlands
Lots of lights
Let's do it a little differently this year and make a lit Christmas party place with LED Lights. You can hang them in your garden or do it upside down in a room. The canopy looks as amazing as ever in any place what so ever.
#8. Interesting Classroom Projects
If you or your loved one is looking for ideas for a classroom project, we have an amazing one. There are LED Umbrellas with blue and white lights that can make for the most interesting jellyfish. Try adding some ribbons for the tentacles and there you go.
If you are also a star war fan, we can bet that you love LED umbrellas as much as we do. Besides providing shelter in the rain, it gives you that lightsaber feels and makes a unique style statement. These are powered by batteries so you don't have to go through the hassle of charging it. Once the battery runs out, you can easily replace it and go out and about in your swag again. Or if you like, you can get your hands on one of those battery-free LED umbrellas.
So these were all the coolest ideas you can try with an LED umbrella. Can you think of more? Tell us in the comments section.