In the past, gentlemen used the umbrella as a fashion accessory. Nowadays, the umbrella is not just an accessory, but it can also make a statement. When it comes to style, an exquisite men's umbrella can make a lot of difference in an outfit.
Knowing how unpredictable the weather is in the UK, having a quality umbrella with you at all times is very important. You could buy men umbrellas as a gift for someone else or yourself. But, in the end, you want one that lasts long and leaves a good impression on the user. This is where we come in.
This article will help make your choice easier as we discuss the 15 best men umbrellas for those in the UK for 2021.
Best Men Umbrellas UK
The outstanding features and trustworthy manufacturers of these men umbrellas make them some of the best umbrellas on the market. We are sure you won't be dissatisfied with any umbrella on this list.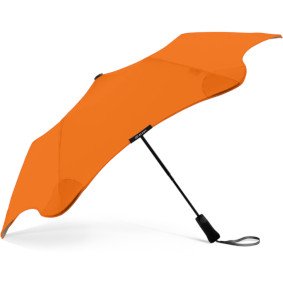 I NEED A QUOTE!
The Blunt Metro Umbrella is compact, convenient, and collapsible, perfect for urban dwellers and busy people living in busy places. With about 39 inches of coverage, the umbrella is ideal-sized without taking up too much street space.
The Metro Umbrella has an automatic opening mechanism that easily opens it with just a button's push. When the umbrella is no longer in use, it collapses and slides easily into its carry sleeve.
Because of its compact nature, the umbrella can easily fit into your bag without being an inconvenience. The Metro Umbrella is designed to resist winds of up to 55 mph. This is made possible with its aerodynamic canopy, ensuring your protection.
Lastly, this umbrella's tips are not pointed to protect against poking while walking on a busy street.
2. Fulton Knightsbridge Gents Umbrella
I NEED A QUOTE!
This umbrella is a stylish gentleman's umbrella. It has a new design from Fulton that is 30% lighter in weight than a standard umbrella. In addition to this lightweight feature, it has a fibreglass frame that gives it extra strength.
The Fulton Umbrella has an automatic opening mechanism that prevents you from struggling to open the umbrella. The umbrella's canopy is made from high-performance polyester fabric.
The umbrella is approximately 36 inches or 91 cm long, while the canopy has a span of 116 cm or approx. 46 inches.
3. M & P Black Gents Automatic Opening Long Umbrella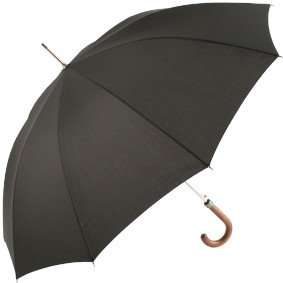 I NEED A QUOTE!
This M & P men's umbrella is an ideal walking umbrella, with its stylish design. It is an automatic opening umbrella that has ten metal ribs as against the usual 8. It also has a hardwood crook handle and metal shaft.
The umbrella's canopy is made from quality pongee fabric. When not in use, this Gents umbrella has a sheath to cover the rolled-up umbrella. This sheath helps to protect the umbrella's canopy while in storage.
The umbrella's full length is 96 cm (approx. 38 inches), and the canopy's diameter is about 115 cm.
4. Stormking Classic Black Vented Walking Umbrella
I NEED A QUOTE!
This Stormking umbrella is a large golf umbrella with a vented canopy. The vented canopy provides better resistance to the umbrella during higher and stronger winds. The umbrella's crooked wooden handle gives it an elegant yet classy look.
To open the umbrella for use, press the button at the bottom of the umbrella shaft, and the umbrella's canopy will extend immediately, shielding you.
The umbrella's ribs and shaft are made with super-strong fiberglass, making it less heavy.
5. London Undercover All Black City Gent Umbrella
I NEED A QUOTE!
If you are looking for a practical, simple, and classic British umbrella for men, then try London Undercover's All Black City Gent Umbrella; it is of the best quality and price. Also, the canopy's fabric is made with quality polyester.
Its handle is made of Malacca wood, while its shaft is made of Beechwood. These two kinds of wood combine to give the umbrella a sturdy structure. The umbrella has silvertip caps and spokes to protect its users from getting injured.
The umbrella's length is 91 cm, and the canopy opens up to 42 inches in diameter.
6. Paul Smith Black Compact Umbrella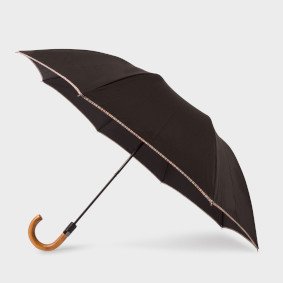 I NEED A QUOTE!
The Paul Smith black compact umbrella is a smart and practical option for guarding against unpredictable weather. It uniquely comes with a signature stripe border. With the Paul Smith umbrella, you get a 100% polyester canopy and a 100% wood handle.
Its grained wooden crook handle and black pouch are of superior quality. The umbrella is finished with a press stud fastening to keep it secure while it is no longer in use.
Lastly, you can find the 'Paul Smith' embossed signature on the umbrella's handle.
7. Totes X-tra Strong Auto Open/Close Umbrella
I NEED A QUOTE!
The Totes X-tra Strong Umbrella is a relatively new umbrella that has a large extra wind-resistant canopy. Its frame is reinforced to make it even stronger. This makes it withstand winds that are up to 60% stronger.
Like the others, this Totes umbrella is treated with Totes Coat™, which is a silicon water repellent. This coating is applied to the umbrella's canopy to give it superior water repellency.
The auto open and close feature in the umbrella makes it easier to operate. The rubberized crook handle gives you a more comfortable grip on the umbrella.
8. GustBuster Metro Automatic Umbrella
I NEED A QUOTE!
GustBuster makes use of innovative technology to create an unflappable and non-leaking umbrella. This umbrella has a unique double canopy that defies the wind, keeping you dry in all conditions. While the umbrella's canopy is made from nylon, the frame is made of alloy steel.
This umbrella has a superior construction with a pinch-less open and close system and a comfortable handle. This umbrella is admirably compact enough to fit comfortably into your backpack or briefcase.
9. James Smith & Sons London Umbrella with Leather Crook
I NEED A QUOTE!
London's James Smith & Sons have produced some of the most elegant and sophisticated umbrellas in the country since 1830. They specialize in creating "trustworthy companions" and "an eclectic distinction of made-to-measure umbrellas."
The James Smith & Sons Umbrella with Leather Crook is handmade using a lightweight yet strong frame. The smooth leather handle is made from Italian calf leather. The umbrella's handle has a nickel tip cap, which protects the frame when the umbrella is wet but not in use.
From tip to handle, the length of the umbrella is 35.8 inches. The canopy's diameter is 41 inches when opened.
10. Fox Umbrellas Grained Hardwood Umbrella
I NEED A QUOTE!
Fox Umbrellas have been manufacturing quality and stylish umbrellas since 1868. When you buy a Fox Umbrella, you get a British umbrella that perfectly captures years of craftsmanship and experience. Also, a Fox Umbrella has a little bit of British history engineered in its form.
When opened, the canopy's diameter is about 110 cm or 43 inches. This umbrella is functional, elegant, and very durable. It has a black polyester canopy and steel tube umbrella frame.
The Fox Grained Hardwood Umbrella is a perfect companion on your journey. It also showcases your impeccable style and your understanding of true craftsmanship.
11. Pickett Men's Metal Shaft Auto Matt Umbrella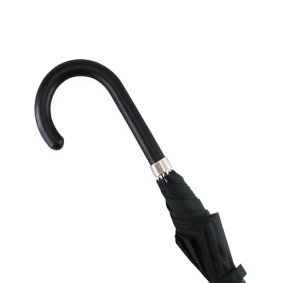 I NEED A QUOTE!
The Pickett Men's Umbrella is a product of England, as it was handmade in the country. It has a high-density polyester fabric cover. The umbrella has a solid wooden handle that is sure to last long without breaking.
The umbrella's shaft is metal. This reassures you of its durability and its ability to withstand winds of up to 27 mph. The umbrella has a canopy diameter of approximately 43 inches.
The Pickett Men's Umbrella collection has an assortment of wooden handles such as Malacca, Chestnut, Polished Hardwood, and Whangee. Lastly, the umbrella comes in the color black only.
12. Lockwood Solid Stick Umbrella
I NEED A QUOTE!
The Lockwood Solid Stick Umbrella was handmade in North London. Its manufacturer's employed centuries-old techniques in building them. They also used the finest of cloths for the canopy and woods from sourced woodlands around the world.
The umbrella is built to last long with its Grade A steel frame, hand-sewn reinforcements, brass fittings, and water-resistant cloth. Its handle was made from Solid English Oak Wood, sourced from sustainable woodlands in West Europe.
The total length of the umbrella is 36 inches, while the diameter of the canopy is 41 inches, to give you ample protection.
13. Marks and Spencer Classic Umbrella with Stormwear™ and Windtech™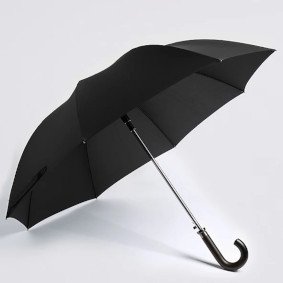 I NEED A QUOTE!
This Marks and Spencer Classic Umbrella keeps you protected and stylish no matter the weather. The umbrella's canopy is made of 100% polyester. It also has a generously sized canopy that can save you from the rain and sun.
This umbrella comes with Stormwear™ and Windtech™ technologies. Stormwear™ is a water-repellent technology that comes in handy during the rainy season, while the Windtech™ technology gives your umbrella that extra buffer against the elements of weather.
To top it all, this quality umbrella has an elegant wooden handle to make it look even more traditional.
14. Davek Solo Umbrella
I NEED A QUOTE!
The Davek Solo Umbrella is a lightweight umbrella that has an automatic opening and closing button system. The umbrella was manufactured to endure harsh weather. It has a fiberglass reinforced 9-rib frame system. Also, the shaft material of the umbrella is made of steel to give it extra strength.
The Davek Solo Umbrella is the perfect individual-sized, weatherproof umbrella for men. As regards its size, when the umbrella is closed, it is 11.75 inches. Additionally, the fabric used in making the canopy is a 210 thread-count micro-weave fabric, which keeps you sheltered from the weather.
The gorgeous handle has a functional clip that you can attach to your belt, making it easy to carry. Finally, Davek Solo promises their customers that if the umbrella fails to work at any time, they could fix or repair it for free.
15. Collar and Cuffs London Windproof Vented Canopy Umbrella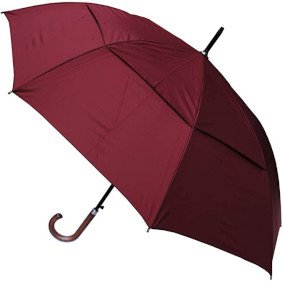 I NEED A QUOTE!
People sometimes refer to this umbrella as the budget version of a Fulton umbrella. It has similar features as a Fulton umbrella, but it is a less expensive umbrella. The Collar and Cuffs Umbrella is another standard and quality British umbrella.
This umbrella meets the requirements of an excellent windproof compact umbrella. It has a strong frame made of fiberglass, which makes the umbrella last longer than others. The umbrella's canopy, made of polyester, is double vented, giving it extra protection against harsh weather conditions.
Its canopy size is 97 cm as a compact umbrella, and its folded length is 29 cm.
What to Look Out for When Buying Men Umbrellas
Before you buy a men's umbrella, you have to be sure about what you want, so you do not end up with the wrong umbrella. Here are some key features to look out for:
Umbrella Frame: The umbrella frame should be made of fiberglass or steel. A fiberglass or steel frame gives the umbrella more flexibility, strength, and less weight.
Design and Color: Most men's umbrellas come in dark colors like black, navy blue, army green, etc. Other umbrella designs could be the Classic Checkered style.
Canopy's Fabric: Take note of the fabric used to make the umbrella's canopy; it must be water-repellent and windproof. The material could be polyester or nylon, which will help the umbrella last long.
Umbrella Size: Before you buy a men's umbrella, you have to decide if you want a golf brolly, walking brolly, or compact umbrella. These umbrellas have varying sizes and use.
Number of Ribs: Note that the number of ribs on the men umbrellas you choose should be a minimum of 8. With this number, the umbrella will shield you against the elements of weather and retain its shape.
Conclusion
Men's umbrellas UK can be essential, especially in a country like the United Kingdom, where the weather is irregular. After all that has been said about men umbrellas UK, you could decide to customize the umbrellas as a gift or for branding purposes. Whatever the reason is for getting men's umbrellas, it is good to get them from reputable sources.
Huifeng Umbrellas is reliable and capable of getting you quality and elegant men umbrellas, even in the UK.
You can contact us at info@hfumbrella.com; we will be glad to help you.]I