What is the best patio umbrella?
When it comes to purchasing a particular product, the question everyone asks is, what is the best product to purchase? This question is similarly asked before any purchase is made on patio umbrellas. There are various factors to consider before answering this question; hence, there is not a universal answer to this question. The best product is subjective—it varies from one person to another.
There are various types of patio umbrellas that offer different coverage features to protect from the harsh sunlight and keep you dry when it rains. The coverage they offer depends on their various sizes to shade more than an individual. Now, the question is, how can you find the most suitable patio umbrella? To be very honest, it is a challenging task to find the best patio or outdoor umbrella. You will have to consider a few factors, such as your home and environment size and budget. Meanwhile, you will learn more about patio umbrellas, such as their materials, features, and designs, as you continue to read this guide. The knowledge you get from this guide will provide you with the ideal answer to "what is the right patio umbrella?"
Different Styles Of Patio Umbrellas
The first factor every buyer must consider when buying a patio umbrella is the style they prefer to purchase. There are various components that contribute to the style of patio umbrella ideal for you, and they include your outdoor space, layout, and how you want to use it. Although all these factors are essential in making a decision, your scale of preference is a significant determinant of the style of outdoor umbrellas you will purchase.
There are various styles of patio umbrellas, but they all fall into two main categories. These categories include the following:
Center pole patio umbrella
Offset patio umbrellas (also known as cantilever umbrellas)
Center Pole Patio Umbrella
Center pole patio umbrellas, as the name suggests, are patio umbrellas that have a straight pole. The straight pole is found in the middle of the umbrella (from the top to the canopy to the base). Center pole patio umbrellas are the commonest style of patio umbrellas. They come with different types of bases to secure the umbrella, and they are mobile base and fixed base.
This style or type of patio or outdoor umbrella is effectively constructed to blockade direct sunlight by reflection or diffusion. There are, however, various kinds of patio umbrellas under this center pole patio umbrellas category, and they include;
Half umbrella
Market umbrella
Beach umbrella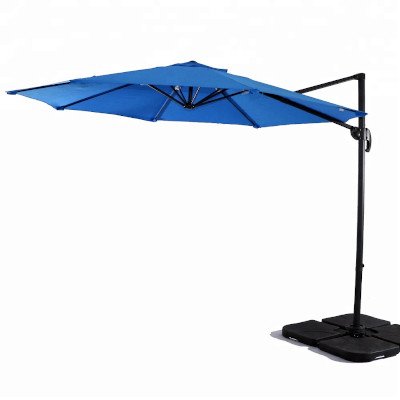 Half Umbrella
Half umbrellas are a type of center pole umbrella customized to have one flat side. Hence, they are often assembled against a wall. This type of center pole umbrella is designed primarily to provide you with cool shades on your confined balcony or porch. Lastly, the canopy half umbrellas come with are mostly round in shape or straight canopies that have a clean edge or drapes.
Market Umbrella
Market umbrellas are a kind or style of patio umbrella that belong to the center pole patio umbrella's category. It is arguably the most famous kind of center pole you will find around. The canopy of a market umbrella is customized to have two types of shapes; octagonal and round shapes.
Furthermore, the canopies are sometimes vented for airflow and stability to ensure the umbrella withstands a windy atmosphere.
Beach Umbrella
Beach umbrellas are the last type of patio umbrella with a center pole. Their canopies often come in round shapes along with edges occupied with valences. They feature a secured base—usually a spiked base—to keep the umbrella in place without falling off or flying when the wind gets gusty.
Offset Patio Umbrella
An offset patio umbrella is the second type of patio umbrella commonly called a cantilever umbrella. Unlike center pole umbrellas with their pole extending from their canopy to the base, an offset patio umbrella often comes with jointed or arched poles. These poles are attached at the side of the umbrella for support rather than the middle of the umbrella, as seen in center pole patio umbrellas.
The main advantage of an offset patio umbrella over a center pole umbrella is the broad coverage it is designed to offer. They offer this coverage without obstruction; hence, cantilever umbrellas are often assembled to shade a dining table without an umbrella hole. The other benefit of an offset umbrella is the 360° coverage rotation is featured to provide maximum protection in a versatile manner. Lastly, offset patio umbrellas require a heavier and sturdier securing base, and they are more expensive than cantilever or offset patio umbrellas.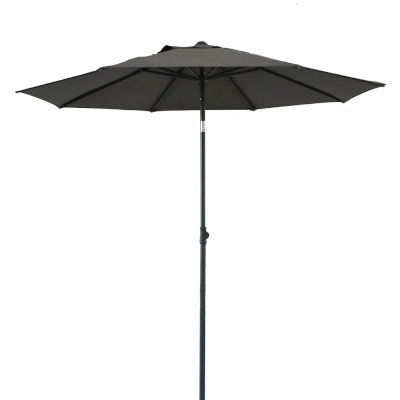 What is the most suitable frame or pole material for a patio umbrella?
Umbrellas With weak poles and frames that are not durable are susceptible to snap when exposed to windy conditions. This will be frustrating, disgraceful, and annoying when it breaks in public. No one would like to experience such a disgraceful event; therefore, it is essential that you consider the type of pole and frame material that must be present in your patio umbrella.
The materials used for the poles and frames of an outdoor umbrella are three in numbers, and they are aluminum, wood, and fiberglass. These materials are ideal for every patio umbrella, but they differ in the benefits and properties they feature. Hence, you will have to weigh their benefits against one another to arrive at the most suitable material for your patio umbrella's frame and pole.
Type Of Frame And Pole Materials
Metal
Two main types of metal are used as an ideal material for constructing a patio umbrella's frame and pole. These metal materials are stainless steel and aluminum.
Aluminum
Aluminum is an affordable alloy that is light in weight and has long-lasting properties. These features or properties—lightweight and long-lasting—make aluminum an excellent option for outdoor patio umbrellas. Aluminum frames are corrosion-resistant because they are mostly anodized or powder-coated. One of the beneficial characteristics of aluminum over wood materials is its malleability (it can be transformed into various shapes).
Stainless steel
Stainless steel is another material ideal for building a patio umbrella because of its corrosion-resistant natural property that stems from the nickel and chromium components they contain. Although they are naturally resistant to rust, they are susceptible to corrosion in extremely saltwater conditions. Hence marine-grade stainless steel is usually used to make them resistant to corrosion even in salty conditions due to the molybdenum they contain.
Wood
Umbrellas made of wood are popular for Showcasing classic appeal and aesthetics. Various kinds of wood—hardwood—can be used for building a patio umbrella's frame and pole, and the commonest hardwood used for umbrellas are bamboo, teak, and eucalyptus. These types of hardwood are expensive and simultaneously influence the cost of purchasing wood umbrellas (they are expensive).
Metal materials, such as aluminum and especially stainless steel, are naturally durable, but wood materials are not. Hardwood is susceptible to termite attacks which prevent them from lasting longer. They must, however, be treated with certain chemicals to maintain their durability. These chemicals will make the wood resistant to insect damage. Wood is also vulnerable to decay and weather damage, and they are usually treated to avoid these problems.
Furthermore, wooden frames and poles are vulnerable to snapping in windy conditions because they are not as durable as fiberglass and aluminum materials. You can, however, need your patio umbrella to have metallic durability and a wooden outlook. To do this, the umbrella manufacturer will apply faux woody finishes on the metallic and fiberglass components of the umbrella.
Fiberglass
Umbrellas With metallic poles and frames are durable, but they are not as durable as those made of fiberglass materials. Fiberglass material is the most durable material in today's market. They are flexible and sturdy at the same time as wood and metal materials. The flexible property of fiberglass makes it able to bend without snapping or breaking when exposed to strong wind. Unlike wood materials that need treatment to avoid damages due to wet conditions, fiberglass is built to last in every condition. Hence, they don't need any sort of treatment to be resistant to rust and rot.
The premium durability of fiberglass is responsible for its high price. They are more expensive than other umbrella materials (wood and metal). But they are great investments because of their ability to last for a longer period, irrespective of the weather condition. Most patio umbrellas are often built with fiberglass ribs and aluminum poles to ensure the umbrellas are durable and strong enough to withstand different weather conditions. Lastly, there are various colors of fiberglass you can choose from for blending or matching the umbrella.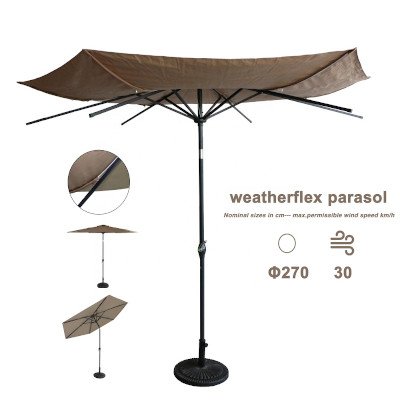 Ideal Canopy Fabric For Your Patio Umbrella
Choosing the material or fabric that your umbrella's canopy must be made of is one of the most important decisions you will have to make. Although aesthetics, such as styles and designs, are fashionably essential in the canopies of umbrellas, the fabric is the most important factor. What use is an attractive umbrella that does not protect you from the scorching sun? Hence, do not place fashion over fabric quality when choosing your patio umbrella's canopy.
The canopies of umbrellas are made of different fabrics. These fabrics vary in their benefits, limitations, and the characteristics or properties they feature. Talking about benefits and limitations, some umbrellas are constructed with styrene-acrylic or PVC canopy fabric. This fabric increases the durability of the umbrella in various weather conditions. But it sacrifices the canopy's tensile tearing strength to achieve its durability, which is a limitation of using such a fabric for an umbrella's canopy.
Common Canopy Fabrics Brands and Options
Acrylic – Sunbrella®
Polyester – Pacifica®
Acrylic – Sunbrella®
This is a gold standard canopy fabric option used for various patio umbrellas. This fabric is resistant to various damaging factors, and it also features a fade-resistant property; hence, it can maintain its color and design for several years. This fabric—Sunbrella acrylic—comes in over a hundred colors and patterns suitable for patio umbrellas.
Benefits Of Sunbrella Acrylic Canopy Fabrics
They contain UV-blocking components and offer over 98% UV protection. They are water-resistant, fade-resistant, and mildew resistant; hence, they can last for several years without decreasing their aesthetic properties.
Polyester – Pacifica®
Polyester fabric is one of the commonest materials used in constructing umbrellas canopies. It features proprietary fibers to ensure the fabric holds colors without fading away easily. It comes in various colors, and it provides UV protection of UPF 40 to provide you with cool shade on hot days. It is also resistant to mildew and water; hence, durable.
Umbrella Base Or Stand
The next essential factor to consider while searching for the best and most suitable patio umbrellas is the base they should feature. The type of base you choose will determine if your umbrella will be upright and stable even in the midst of wind; hence, this factor is critical. There are various kinds of outdoor umbrella bases for cantilever and center pole patio umbrellas, and they are:
Mobile Base
This is the commonest kind of base often bought by outdoor umbrellas users for their residential patio umbrellas. They can be moved from one point to another without difficulty. They often come in different shapes, such as round, rectangular and square shapes.
Fixed Base
This is the other type of outdoor umbrellas base often used for large deck umbrellas in windy environments. They are not portable like mobile bases but are fixed in one place. A fixed base is a great option that guarantees stability in various conditions. There are various types of fixed bases, and they include floor mount, in-ground, and wall mount bases.
Working With A Reliable Patio Umbrella Manufacturer
The final factor that determines whether you will get premium quality patio umbrellas or low-quality umbrellas is the manufacturer you choose to patronize. If your firm needs patio umbrellas that depict their quality, working with a reliable manufacturer like Huifeng Umbrellas will bring your dream to reality.
Everyone is always on a budget and mostly settles for less, which is not supposed to be. We offer the cheapest product you will find for premium quality in the market. Stop using the budget as an excuse for settling for less; contact us now!